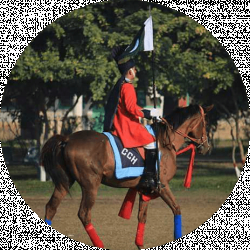 Latest posts by Boo Ali Khan
(see all)
If you're just starting your equestrian journey, the different horse tack equipment may sound exotic but unfamiliar at the same time. When I started out, I went through the same confusion involving stirrups, spurs, and saddles (they even begin with the same letter!).
So, if you're not sure about stirrups, especially Oxbow stirrups, let me start with a brief introduction to their use and practicality before I get down to some of the best options on the market.
The Oxbow Stirrup first appeared in the late 19th century. Named aptly for its shape, which resembles an Oxbow yoke, the design quickly caught on. These stirrups are usually round, featuring a curved bottom, and are designed such that the arch of the rider's foot sits across its footbed.
And just like ordinary stirrups, not only do they assist in mounting, but also boost the control and command of the equestrians over their horses.
So, in this best Oxbow stirrup guide, I will focus on what makes the Oxbow stirrups such a distinctive choice and what options you have when it comes to choosing a pair. In the guide, I will also share some of my experiences and tips to make your purchase smoother and help you avoid the problems I faced myself.
I also hope that the frequently asked questions section at the end will benefit you regarding some of the common queries you might have about Oxbow stirrups.
Bottom Line Up Front
Although I have recommended more than a few Oxbow stirrups in this buying guide, the Don Orrell Custom Oxbow Stirrup easily takes the cake. I am a huge admirer of this custom stirrup. It provides greater customization and personalization than any other stirrup, allowing you to assemble it just the way you want.
You can choose the tread and inside width to fit your riding boots, the 11 different options of the wood type, and even add decorative engravings with your initials inscribed upon it. Not to mention, the heavy-duty leather treads allow for greater comfort and provide a smooth grip while riding.
But if this stirrup isn't much to your liking or you want a cheaper option instead, you can go for any of the options from the list below.
My Top Oxbow Stirrups Picks
Black Metal Oxbow Stirrups: A deeper seat for your feet and a lighter option for your pocket, the Black Metal Oxbow is a fancy choice for equestrians.
Tough-1 Rawhide Oxbow Stirrups: The shiny aluminum engraved with brown leather in a rounded shape, these Oxbow stirrups provide great value.
Weaver Leather Wooden Oxbow Stirrups: High-quality wooden material, galvanized metal, and meticulous design are what set these Weaver Leather Oxbow stirrups apart.
CHALLENGER Horse Saddle Stirrups Western Saddle Aluminum Engraved Oxbow Stirrups: The beautiful leather accents and a non-slip rubber tread make these aluminum stirrups an absolute must-have.
Don Orrell Custom Oxbow Stirrup: When it comes to customization, there is no competition to the Don Orrell Oxbow Stirrups.
Showman Polished Aluminum Oxbow Stirrups: Simplistic and cozy, these leather-covered stirrups have a sizeable base for equestrians with wider feet.
Equi-Sky 1in Aluminum Oxbow Stirrups: These Equi-Sky Oxbow stirrups, rounded with a narrow band, are lined with premium leather for added comfort.
Weaver Leather Rawhide Covered Oxbow Stirrups: The Weaver Leather's Rawhide Aluminum Stirrups have a synthetic frame, covered in bleached rawhide, and molded with precision.
Cactus Saddlery Oxbow Stirrups: The Cactus Saddlery Oxbow Stirrups are reasonably priced and a classic option for trail rides.
Coronet Aluminum Modified Oxbow Stirrup: Convenient and inexpensive, the Modified Oxbow stirrup by Coronet is durable and robust.
What Makes Oxbow Stirrups So Special?
As this guide focuses explicitly on Oxbow stirrups and a lot of aspiring equestrians don't know about them, I feel compelled to tell you how they help the riders improve balance and positioning. Oxbow stirrups normally have a very snug fit and are quite comfortable on your feet. The curved bottom design lets the rider's feet sit deep at the base by allowing the heels to go down. This ensures that the horseman can maintain better positioning while riding.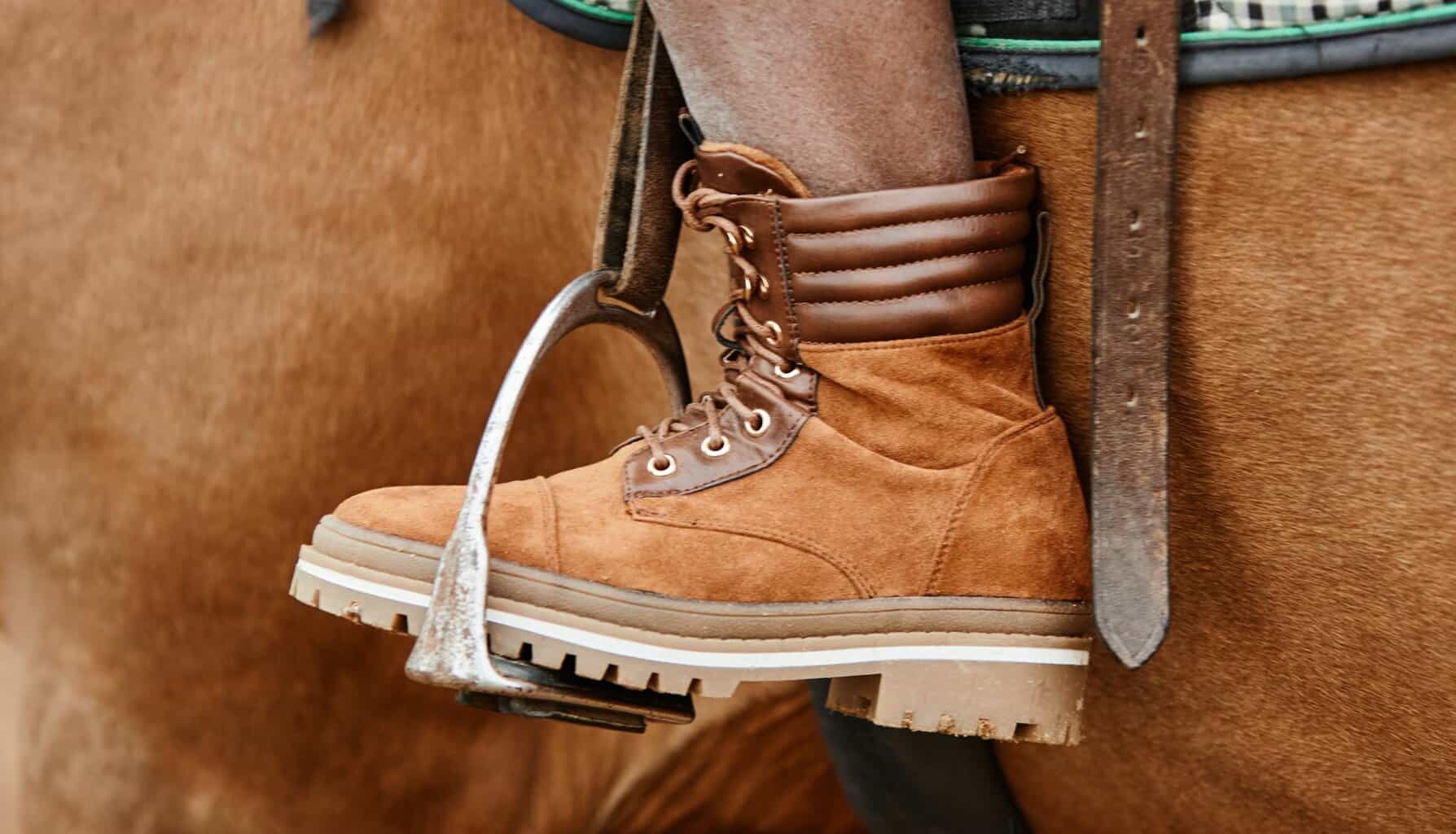 Oxbow stirrups are usually made of metal or wood with a leather lining. They are most commonly used in cutting and barrel racing, as their round shape allows greater balance. After all, the better the balance and positioning, the less likely you are to fall off. Oxbow stirrups are also sometimes used for breaking young horses and riding horses that have gone wild.
My Selection Criteria For Oxbow Stirrups
I have tried to ensure that the Oxbow stirrups featured in this guide meet the criteria listed below:
All the Oxbow stirrups are available and currently in stock.
All the sites used for Oxbow stirrups in the guide are genuine and trustworthy.
All the top picks feature a good grip and have their own unique styles.
All the stirrups are made of enduring material.
Buying Tips
When it comes to purchasing Oxbow stirrups for your saddle, I have chosen the following buying tips to assist you in getting the best fit for your needs.
Determine Your Use
Stirrups come in various types for different disciplines. A western stirrup, for instance, isn't suitable for English Dressage. Similarly, the Oxbow stirrup you purchase must be suitable for the type of riding you will be doing. Also, make sure the stirrups you have chosen are compatible with your saddle type.
Check Its Size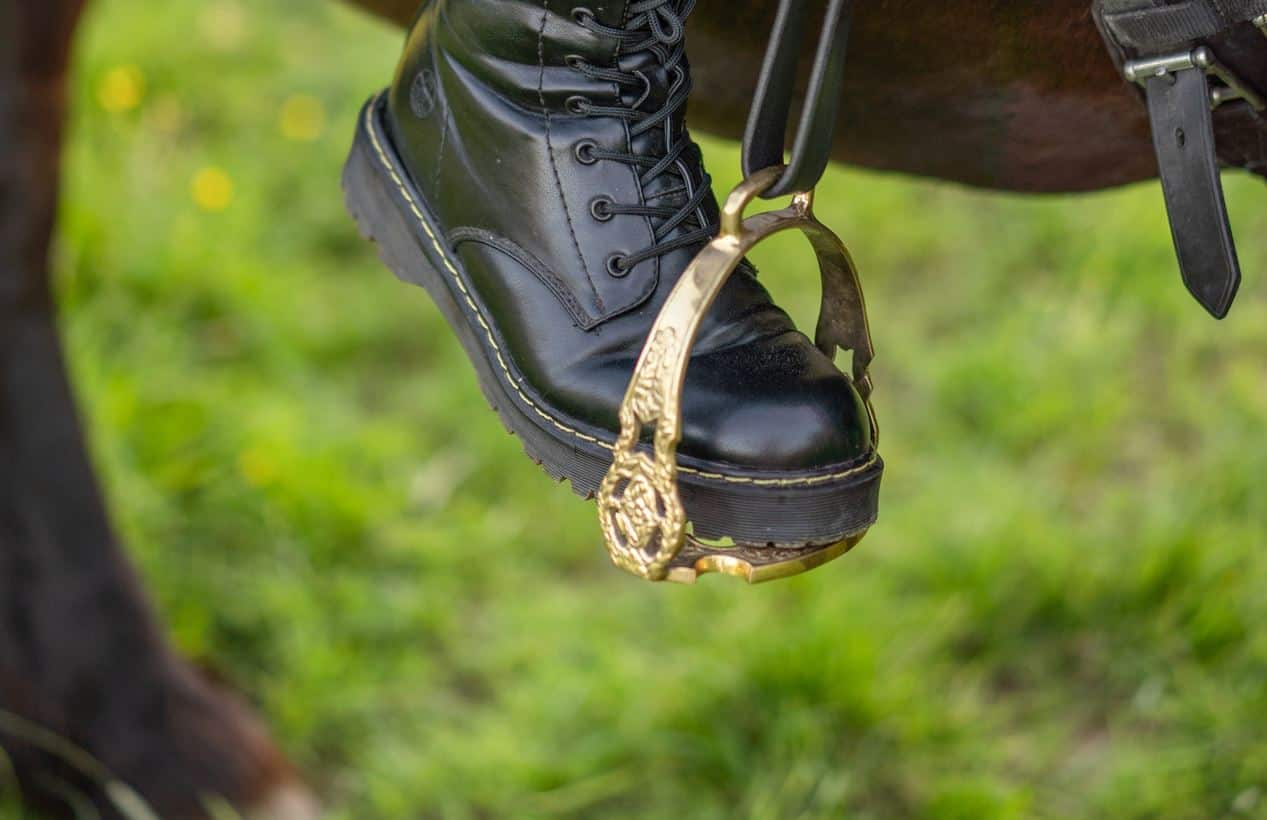 Always check for the specifications of your desired stirrup on the websites. Carefully determine the length of the stirrups as well as the width of the base and neck. To assess the width of your feet, wear your riding boots and measure at their widest, then add an inch to the result to give yourself some extra room on both sides.
Sort By Parameters
The websites provided in this guide permit you to use different parameters to sort the Oxbow stirrups. If you're on a limited budget, I recommend sorting by price. Likewise, if you're looking for an Oxbow stirrup from a particular maker, you can also sort by the different available brands. Furthermore, these sites also allow sorting by color, size, and rating.
Form A Budget
Being aware of what you can afford is essential. Cheaper Oxbow stirrups may not be a good option in the long run, but that doesn't mean you should go for the most expensive ones. Instead, you can compromise on certain features that do not add to safety.
Therefore, try constructing a budget range and finding a pair within those confines.
See Availability And Shipping Cost:
There are very few things as frustrating as choosing my desired stirrup only to realize it isn't available for shipping. Consequently, I've now made a habit of setting my location very first whenever I explore a website to buy a product.
I would advise you to do the same. It saves you a lot of time and hassle and would also let you know the shipping fee to help you get a better estimate of the total cost related to your budget.
My Top 10 Oxbow Stirrups Recommendations
Black Metal Oxbow Stirrups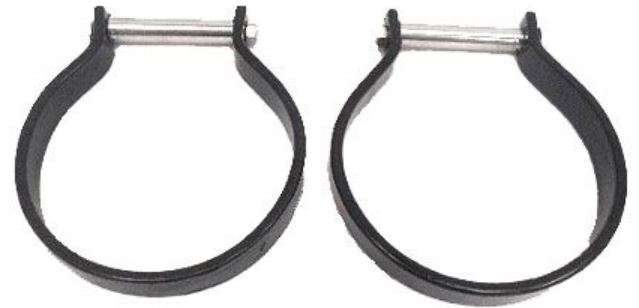 Description
Graceful and elegant, the Black Metal Oxbow stirrups are fancy in their own way. If you're not looking for anything particularly flamboyant to get the job done, these stirrups are a reasonable choice at an excellent price.
The Black Metal Oxbow Stirrups by Chick Saddlery – like most other Oxbow stirrups – have a rounded bottom. This allows the arch of the rider's foot to be deeply seated within the stirrup at a low heel. They are extensively used in gaming disciplines and for breaking horses.
Whenever I see the shape of these black metal stirrups, it reminds me of my geography class, where we learned about Oxbow lakes formed by the cutting of river bends. And just like the water that does not flow in and out of the Oxbow, these Oxbow stirrups are designed to keep your feet in place without having to repeatedly slide them in and out.
However, as they say, you get what you pay for. The cheap build on the Black Metal Oxbow stirrups means they aren't as durable as some of the other more expensive options in this guide.
Pros
These stirrups are very cheap and affordable.
They allow for a deeper seat for your feet to keep them from slipping out.
Cons
These stirrups aren't very durable.
No leather tread for a smooth grip.
These stirrups are very bland that might appeal to most equestrians.
Tough-1 Rawhide Oxbow Stirrups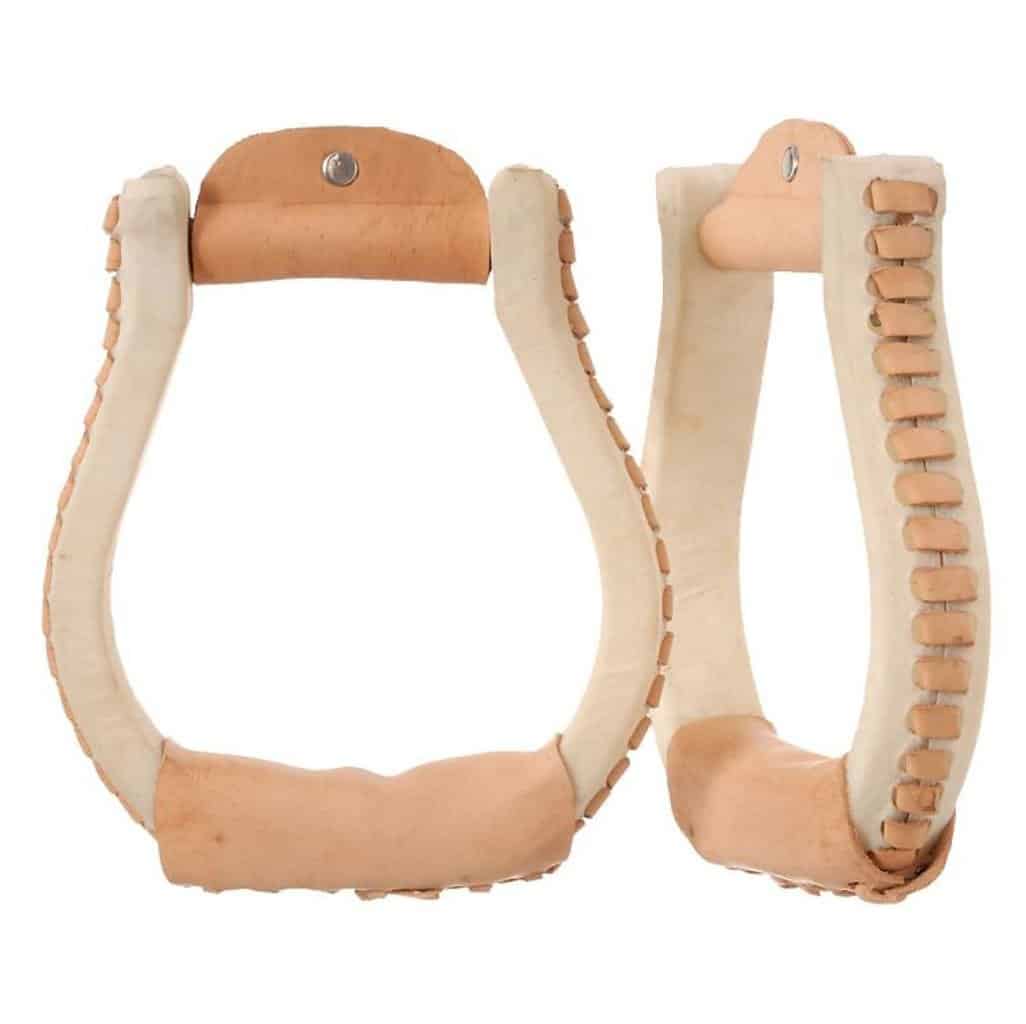 Description
Light in color and lighter on your budget, the Rawhide Oxbow Stirrups manufactured by Tough-1 are a comfortable and smooth option for your daily riding.
Personally, I love the consistency of the color combination on this stirrup. While the frame is pale in color, the outer flank designs, leather tread, and stirrup hobble on the neck offer a slightly darker shade, an appealing mix of orange and skin color.
The Tough-1 Rawhide stirrups have a 3-inch-wide neck and an inch-wide tread on the bottom. The tread is laced with leather to ease riding and alleviate foot pain, making it a much more pleasurable experience while on a trail ride. As Oxbow stirrups require boots to be placed deep in the stirrup, the leather grip ensures the feet remain in place, enhancing your control and handling of the horse.
Pros
The stirrup is laced with leather, giving it a premium look.
They are pretty comfortable for your feet.
The stirrups incorporate a thick rubber tread for better grip.
Cons
They tend to get dirty a lot quicker.
Weaver Leather Wooden Oxbow Stirrups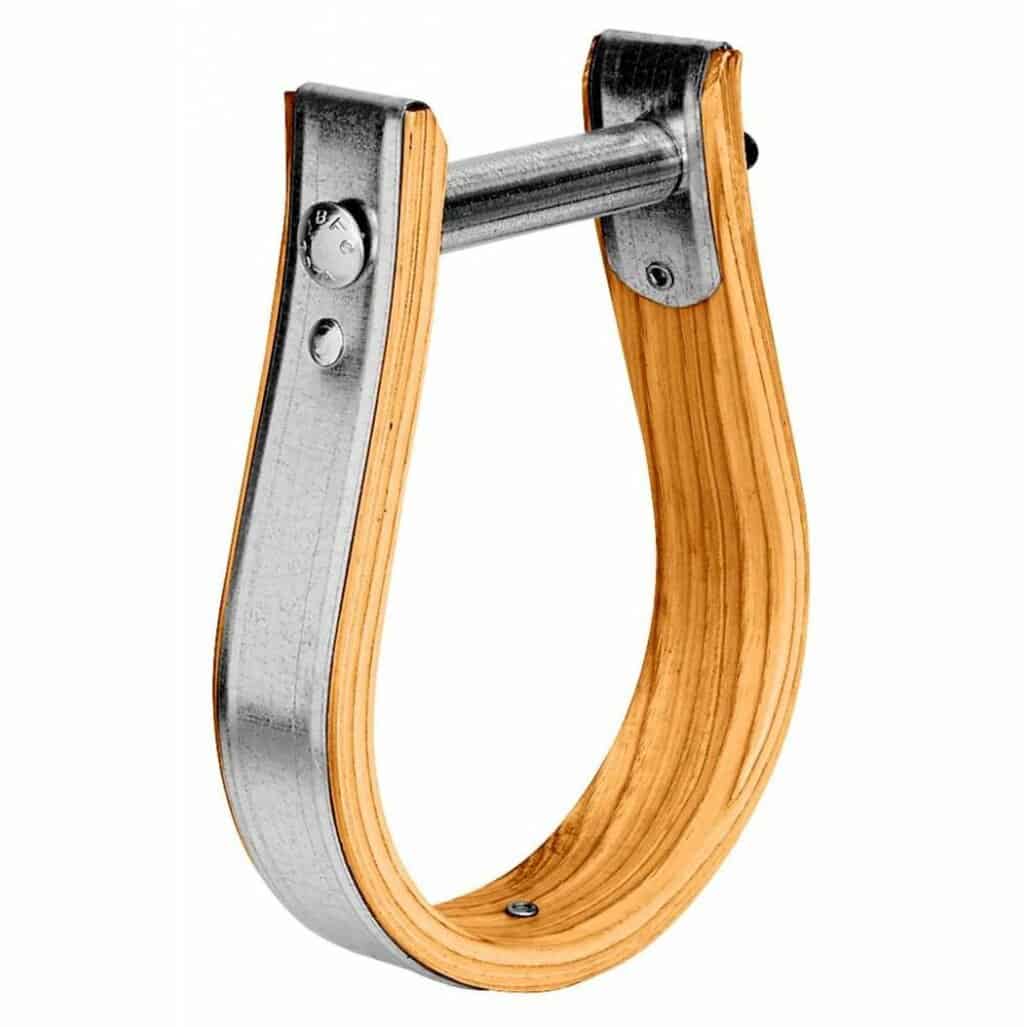 Description
Bored with all those similar-looking aluminum stirrups or the unattractive rawhide alternatives? Try the Weaver Leather Wooden Oxbow Stirrup, a distinctive arrangement of high-quality wood bound in metal with ultimate care and precision.
To say that these wooden Oxbow stirrups are only classy would be an understatement. The refined hickory wood that is used in its construction gives it a very premium feel and also enhances its shock-absorption capability. I am especially fond of its polished surface, reminding me of the small shiny coffee tables at my grandma's house.
I have found that the 5-inch width these Weaver stirrups offer is pretty adequate for most equestrians, with a 3-inch wide neck and a safety bar attached. The metal used to bound the wood is galvanized to protect against rust. And to ensure that the wood splinters don't end up injuring the rider, all edges are meticulously scraped and varnished.
Without a doubt, it is a worthwhile investment for your arena requirements.
Pros
Offers an extremely pleasing design.
Uses thick wood bound into metal for greater strength.
It is bound in galvanized metal to prevent rust.
Cons
These wooden stirrups aren't particularly comfy.
They include no rubber tread on the footbed, providing less grip.
CHALLENGER Horse Saddle Stirrups Western Saddle Aluminum Engraved Oxbow Stirrups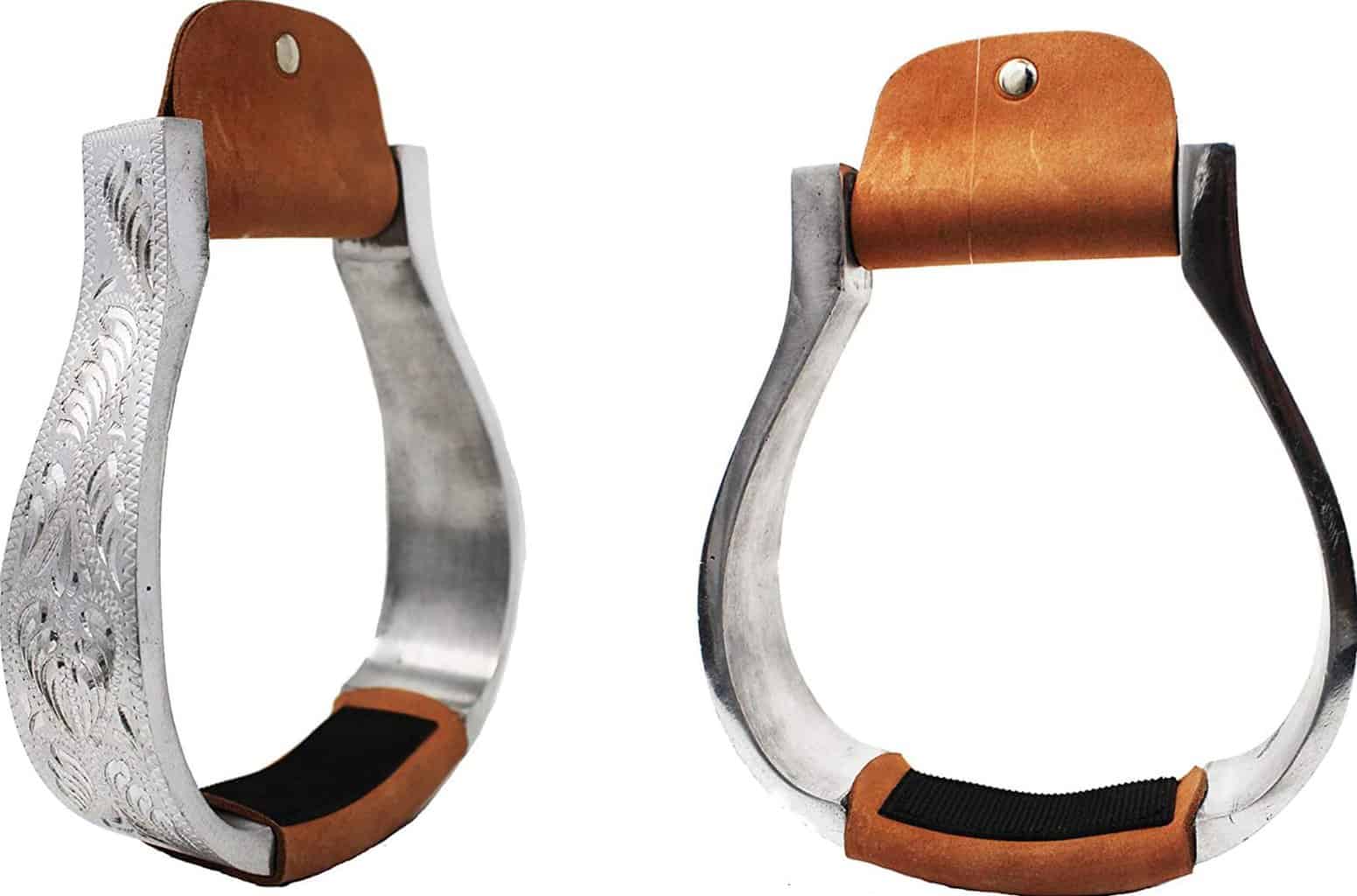 Description
If you're looking for an Oxbow stirrup that is robust as well as fits the definition of stylish, the Challenger Horse Saddle Aluminum Oxbow Stirrups have your back. And what's more, they provide all this at an exceptionally fair price. Pretty exciting, right?
The Challenger Oxbow stirrups are made from aluminum which makes it an extremely lightweight option. You might argue that a two pounds stirrups pair might be a bit heavy, but considering its broad build, it is nothing compared to its Western counterparts.
The silver engravings are another thing I admire about these, as they greatly enhance their beauty and looks. While the color of the rubber tread on the bottom complements the silver accents, I found that the tread wasn't particularly effective in preventing slips.
The Challenger Aluminum Oxbow stirrups are slightly wider than the Weaver Leather's wooden stirrups. They are more suitable if you have broader feet, allowing more side leverage. The height of these stirrups is 5.5 inches, perfect for providing a deeper seat for your riding boots.
Pros
They are made from durable aluminum.
Decorated with gorgeous silver engravings.
The challenger stirrups are lightweight despite their broad build.
Cons
The rubber tread isn't very effective.
Don Orrell Custom Oxbow Stirrup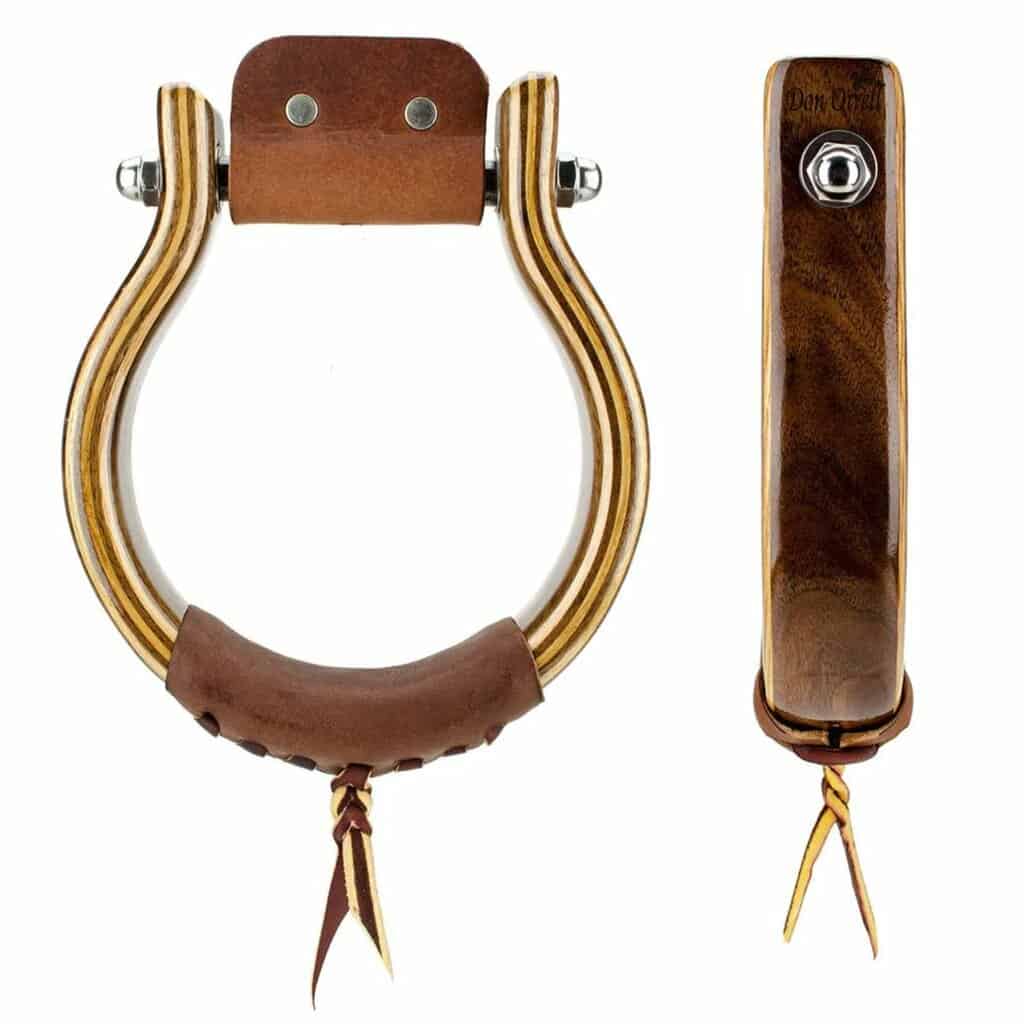 Description
Are you looking for the perfect Oxbow stirrups for your Western saddle but never content with what you find on the internet? Do you require an elegant narrower fit, but all the stirrups you find are way too broad? Or are you unable to choose the width of the neck and tread? Well, if the answer to these questions is YES, look no further. With the Don Orrell Custom Oxbow stirrups, you can rest assured that you have the perfect addition for all your needs.
As John Keats said, A thing of beauty is a joy forever! When it comes to looks, the Don Orrell stirrups exhibit astonishing flair and grandiosity. The intricate layered patterns express the level of mastery and artistry on display by the manufacturers.
To put it simply, any stirrup that Don Orrell offers is nothing less than a piece of art. Frankly speaking, the first time I saw a Red Elm Oxbow stirrup, I was utterly transfixed. And perhaps that's why they are my favorite Oxbow stirrups.
Talking about customization, the inside width and the tread's width are available in 3 different options. The neck width, where the stirrup attaches to the saddle, is also available in both 2.5 and 3 inches. However, the main attraction is wood customization, where Don Orrell offers a vast array of wood types to choose from. The Red Cedar, Walnut, and Gloss Black are all dazzling options, in my opinion.
Pros
These Don Orrell Oxbow stirrups have a unique, premium layout.
They offer great customization for your needs.
They are available in different sizes for a better fit.
Cons
Don Orrell stirrups are pretty expensive and may be challenging to fit into a tight budget.
Showman Polished Aluminum Oxbow Stirrups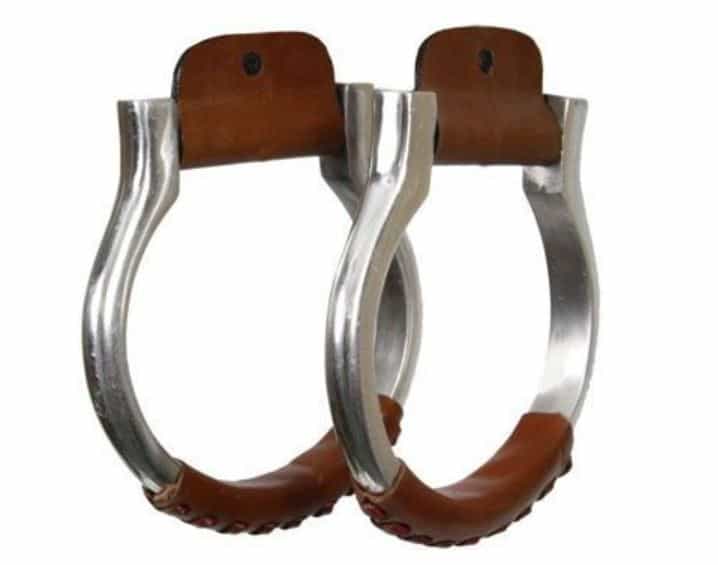 Description
If you are a cowboy, it is nearly impossible that you are not inspired by bull rings. With their sturdy and unruly nature, it becomes really hard to control these mighty bulls without these nose rings.
Similarly, if you want to exert the same control over your horse, especially when it is not listening to your cues, it is better to infuse the spirit of these rings into your stirrups. So, allow me to present Showman Oxbow stirrups that will never let you forget who the actual boss is!
Talking about their design, these Oxbow stirrups show an uncanny resemblance to bull rings. With their perfectly round frame, these stirrups speak for the craftsmanship that was put into their production. And let's not forget about the aluminum finish, which makes these stirrups easily recognizable from a distance. However, I don't know if it is just me or this Aluminum finish does offer a very strong glare that might dazzle the other horses working at the stable.
Still, these stirrups offer sufficient width to easily fit riders with broad feet. Not to mention the brown leather present at its footbed, which provides quite a grip to keep the feet in place. However, this grip could have been much better if the treads were on the inside of the stirrups rather than on the outside.
In my opinion, these stirrups are a must-have if you are looking for a classy yet affordable cowboy stirrup.
Pros
The bull ring design offered by these stirrups appeals to the cowboy culture.
These stirrups are pretty affordable despite their quality build.
Cons
The polished Aluminum surface offers a blinding glare in the sunlight.
Equi-Sky 1in Aluminum Oxbow Stirrups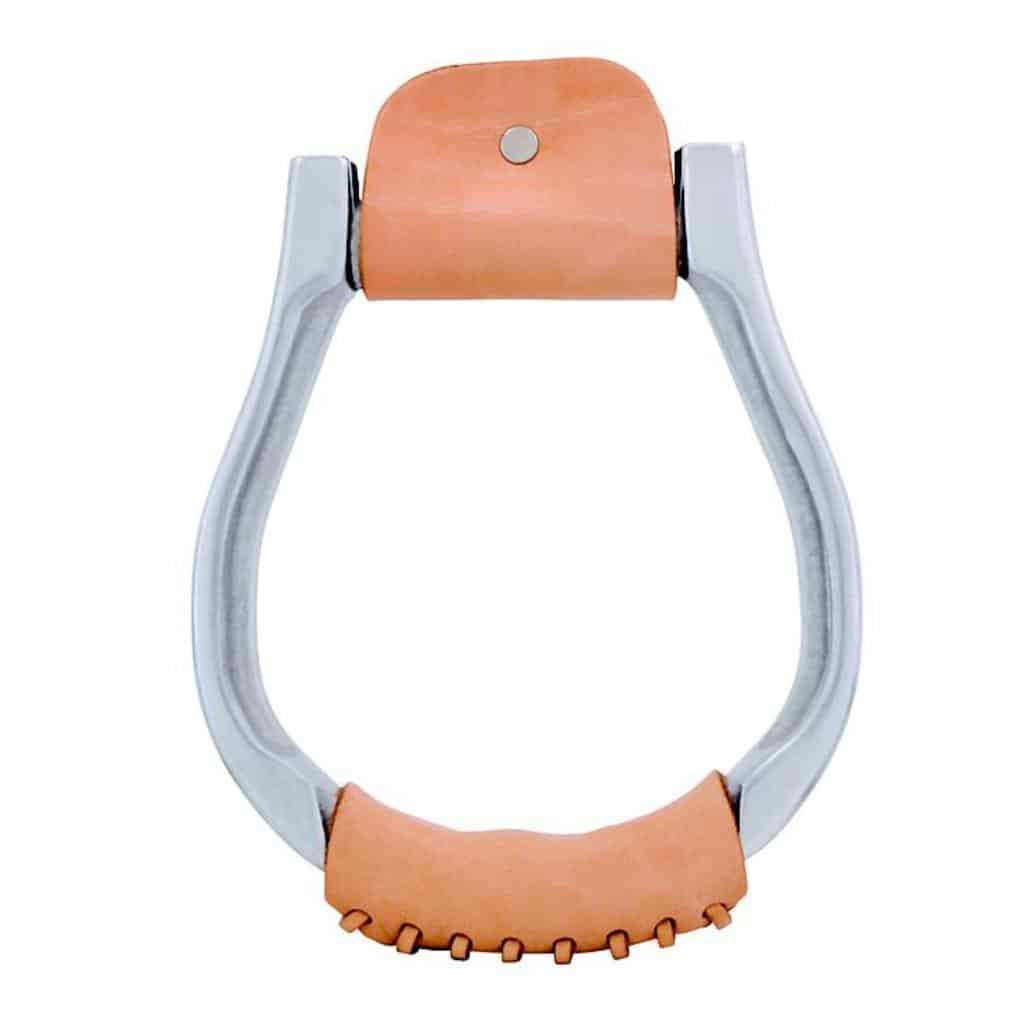 Description
Not a fan of the stylish stirrups with colorful hues and silver engravings? Or do you want a simple stirrup without any extravagance that is also convenient to use? Then go ahead and add the Equi-Sky Aluminum Oxbow stirrup to your cart right away and start counting the days till it arrives at your doorstep!
These stirrups offer excellent robustness and durability due to their build quality. A curved shape made from high-quality aluminum makes them a lightweight option for your feet. However, the narrow band might offer relatively less placement for your feet, but if you sit the arch of your foot at the base, it won't be an issue.
The thing that I like most about the stirrups is their sturdy build. The thick aluminum bar is lined with leather tread to provide relief to sore feet during longer rides and events. The inner width is 5 inches which is sufficient for most people, something I would definitely suggest to people with broad feet.
Pros
They have a great build quality.
The narrow band provides more foot movement, a perfect fit for professionals.
Cons
These stirrups are pretty heavy for such a narrow band.
Weaver Leather Rawhide Covered Oxbow Stirrups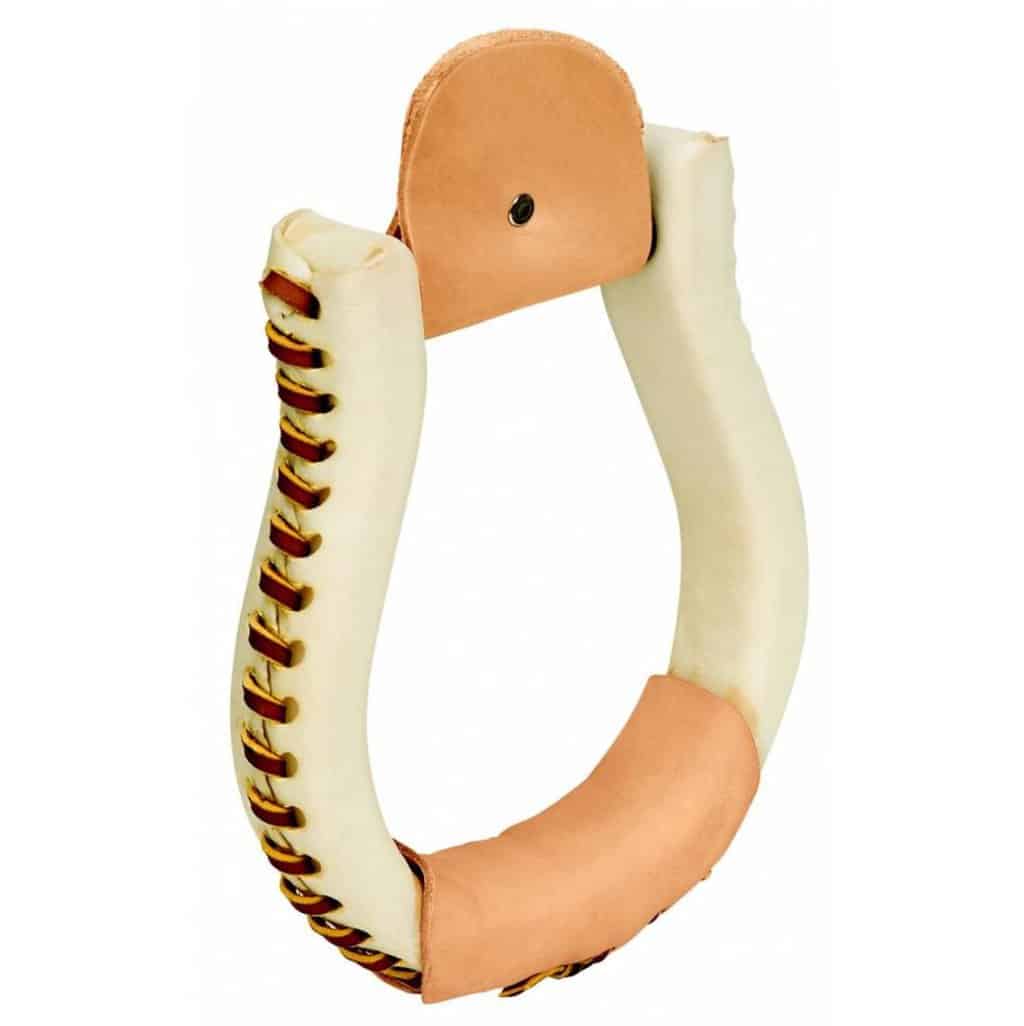 Description
With Weaver Leather's Rawhide Covered Oxbow stirrups, quality and satisfaction are the names of the game. Easy to put on your saddle and ready to go at a moment's notice!
Coming to their design, I can't help but notice the distinct look of these stirrups. The color of the frame, in contrast with the rawhide and the tread, looks much better. The synthetic frame of these stirrups is made from quality polymer material – fitted with care and precision – which allows for greater comfort and strength. The stirrups are covered with rawhide and Indian laces to give them a better outlook.
On the bottom of the footing is a 1.5-inch tread lined with leather for a smoother grip. The width of these stirrups is 4.5 inches which I found a little narrow, something I wouldn't recommend if you have broader feet. However, you should also know that the inclusion of rawhide and Indian tan laces makes these stirrups a slightly costly option for about 100 bucks.
Pros
Gives a distinctive Western appearance to your saddle.
The synthetic frame is highly flexible.
Cons
These stirrups are slightly costly.
The footbed is narrow, something I wouldn't recommend for beginners. And it is also not suitable if you have larger feet.
Cactus Saddlery Oxbow Stirrups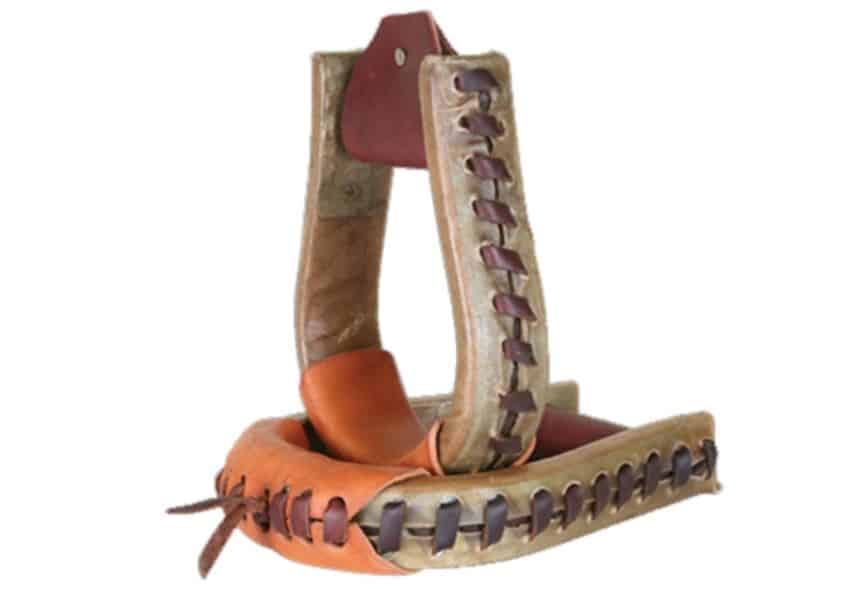 Description
If you are still wondering where is the option for the cowboys carrying a Big Iron at their back, then wait no more. Sturdy and tough, the Cactus Saddlery Oxbow Stirrups offer a unique woven pattern. The stirrup itself is lightweight to allow you to sit back and enjoy the trail rides.
Their design reminds me of the Western bell stirrups. Much like the bell stirrups, the Oxbow stirrup by Cactus Saddlery provides riders with balance in the saddle and firm positioning in the footbed.
Although the presence of different colored hues with a weird contrast to each other is a little disorienting, it adds greatly to its badass appeal. I love the braided designs of rawhide on the flanks. The leather used to wrap the stirrups is also high quality, and the tread is non-slip to prevent any mishap while on horseback.
Pros
The braided design and the leather's color appeal to riders who prefer bold looks.
Cons
Their price is a little steep considering they are made of rawhide.
The braids on the stirrups loosen up easily.
Coronet Aluminum Modified Oxbow Stirrup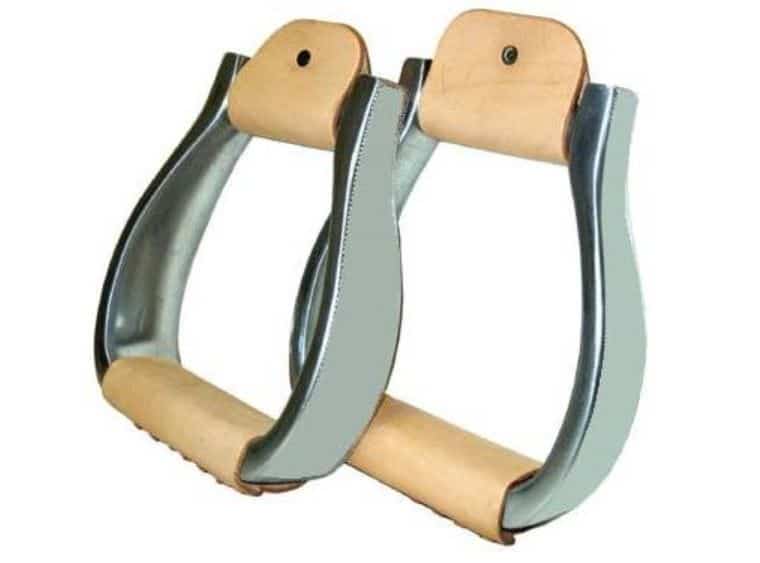 Description
Unlike the Cactus Oxbow stirrups, the Coronet Aluminum Modified Oxbow Stirrup is a great product for equestrians who don't want to show off. Because of its broad build, it is convenient to use, making it an ideal selection for those starting their equestrian journey.
I believe the beginners would also appreciate the weight of these Coronet Oxbow stirrups, as they would not get out of the feet easily without being too heavy on the feet.
Like most other options in this guide, these stirrups are constructed from solid aluminum to enhance strength, boost durability, and remain rust-free. The design, unlike the Challenger Aluminum Oxbow, is quite minimalistic. However, there is an option to order a pair with engravings on the website, which I would definitely recommend as it really augments the beauty and appeals more to the eye.
These Oxbow stirrups by Coronet have a height of 5 inches, which is much more manageable than the Equi-Sky stirrups listed before. The tread is laced with leather and is 2 inches wide. However, in my opinion, the color of the tread and hobble seem out of place with the aluminum. And I would have preferred a darker color instead.
Pros
Highly recommended for beginners due to their weight and ease of use.
An affordable option for the equestrians low on budget.
Cons
The stirrups feel very cheap.
The pale-colored hobble and tread look out of place
FAQs
Question: Why do I need an Oxbow stirrup?
Answer: The narrow base of the Oxbow stirrups makes sliding your feet in and out extremely convenient. An Oxbow stirrup will work great for you if you wear boots with underslung and high heels. They are also quite famous with cowboys and colt-starters. Similarly, you can use them for breaking young horses or dealing with horses that have gone berserk.
Question: What should be the material of my Oxbow stirrups?
Answer: There is no hard and fast rule in this regard. Stirrups are made from various materials such as aluminum, copper, brass, wood, plastic, and rawhide. And it all depends upon your budget and use. Aluminum stirrups are known for their lightweight and sturdiness, while wooden stirrups are great for shock absorption.
Question: Where do I place my foot in an Oxbow stirrup?
Answer: For Oxbow stirrups, the center of the footbed should be just behind the ball of your foot. This enables you to keep a softer and more comfortable angle for the leg, ankle, knee, and hip. This further allows for better movement in the saddle and maintains a better leg position. This also leads to better aids and communication with your horse.
Final Thoughts:
If you are looking for stirrups that go well with the Western style of riding, Oxbow stirrups can be a safe bet. In this guide, I have shared a summary of my experiences and suggestions to ensure you can get the finest Oxbow stirrups for your saddle.
But before you purchase your favorite Oxbow stirrups, make sure you stay within your budget, and don't forget to thoroughly research the product and seller before buying. Length and width are important features of an Oxbow stirrup, so try to determine your size and order accordingly.
Remember to read the reviews on the websites to better understand what the Oxbow stirrups you've set your eyes on actually feel like. And if you have any questions, don't hesitate to post them on the website or message the vendor for more information.
If I were to pick one stirrup from the options provided in this guide, I would undoubtedly go with the Don Orrell Custom Oxbow Stirrup. They may be a significant investment, but you won't need to worry about buying another pair for some time. The Don Orrells are attractive and provide a lot of customization. Whether you're in the mood for a Red Cedar on your stirrups or maybe the Mahogany Stain is more up your alley, the Don Orrell has you covered. Not to mention, the customization option for neck and tread width makes it an obvious favorite for me.
I believe you have now become an expert when it comes to Oxbow stirrups. So, this is where I bid adieu. Good luck with your purchase. Take care!
Read More: