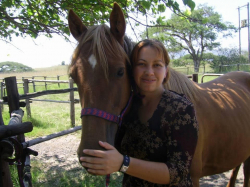 Latest posts by Talitha vanNiekerk
(see all)
If you've ever had a stirrup leather snap mid-canter, you know what a valuable piece of tack a good set of leathers are. Stirrup leathers help keep you in the saddle and assist you with maintaining a balanced seat over rough terrain. You can also expect a much more comfortable ride with a good set of stirrup leathers. 
I teach riders of all ages and abilities, and one of the first things I see when riders have their first ride is how big a difference a great set of stirrup leathers can make. Suppose the rider has thick and inflexible leathers that push up against the saddle wings, the rider's ride results in painful legs and stiffness. Bulky stirrups lead to — you guessed it! Bruising. 
Yeah, those blue lines on the insides of the knees and pinch marks along the calves are telltale signs that the stirrup leathers were poor quality. The stirrup leathers probably did more damage to the rider than helped. 
Eventually, my riders are ready to buy their own tack (especially if they're prepared to get their first horse), and they often ask for advice on what to get. Riding tack can be expensive. Saddles, stirrup irons, and bridles aren't cheap. So people usually try to cut corners. If they've never done much riding, they think of buying the cheapest set of leathers they can find. 
Yet, stirrup leathers do so much more than just connect the metal stirrup to the saddle. Ask any experienced rider, and they will tell you what a difference it makes to have good quality stirrup leathers. 
You can easily get overwhelmed when you stand in the tack shop or browse online suppliers. After all, most stirrups look like oversized leather belts, nothing more, right? To the knowledgeable rider, no two stirrups are the same. 
Luckily, I've got you covered with this in-depth guide on what to look for in stirrup leathers and what brands to consider buying.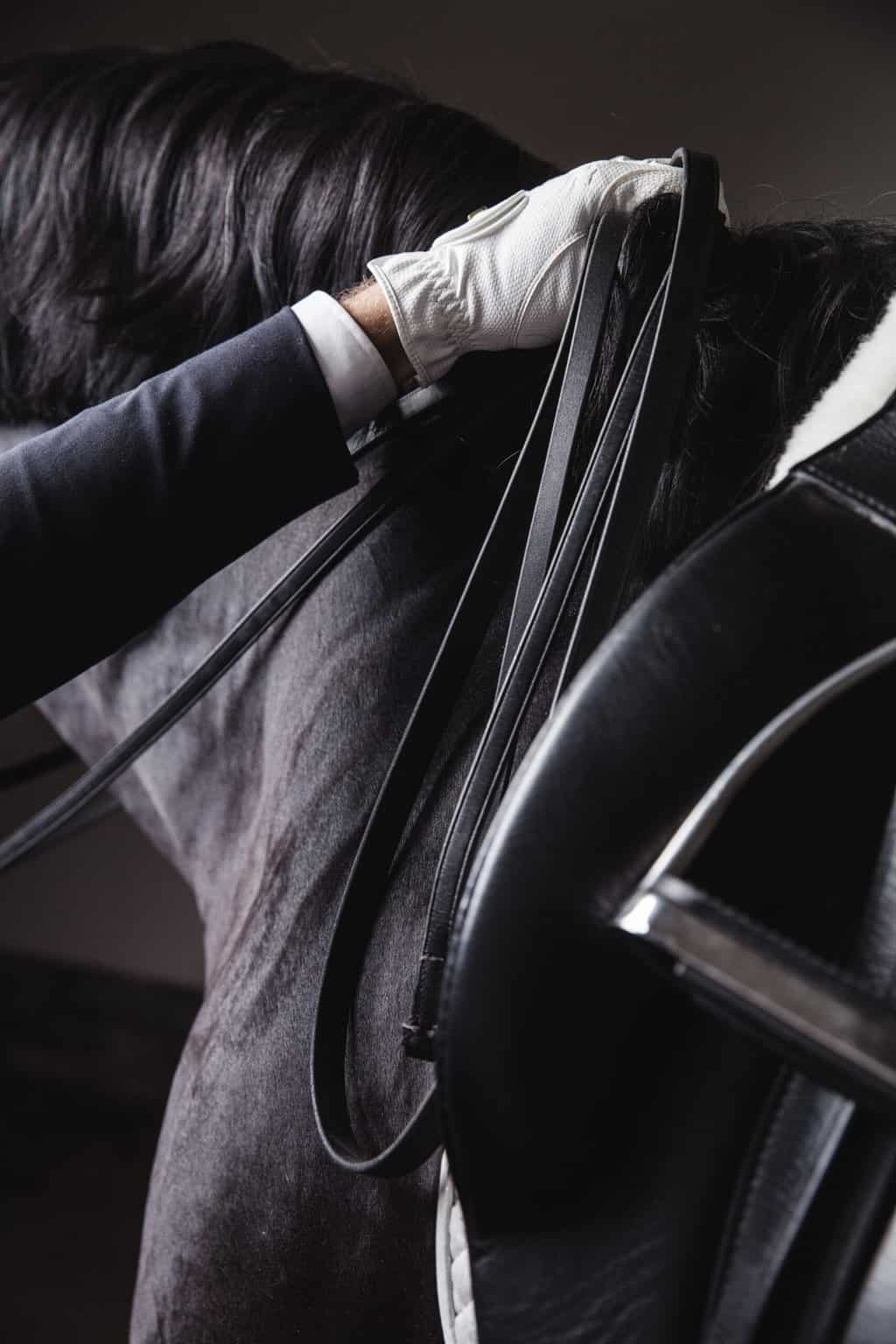 Stirrup Leather Types: Bottom Line Up Front
My favorite general-purpose stirrup leathers are Bates Leathers, as they are thin enough to fit comfortably under the wings of my English GP saddle. 
These stirrup leathers are soft and luxurious. They run up comfortably when my saddle is stored, retain shape well, and can be used again without oiling (even when the saddle has been in storage for a while, such as when I recently moved home and couldn't ride for a few weeks). 
These stirrups are also great because they are easy to clean and maintain and fit most stirrup irons. While expensive, these stirrups have the quality to become a long-term investment. 
What Are Stirrup Leathers?
Most people know that a saddle comes with stirrups, where the rider's feet rest. However, "stirrups" is a vague explanation as the mechanism has two parts: 
The metal U-shaped "foot cage" or stirrup iron 

The leather strap that connects the metal stirrup iron to the saddle 
By using stirrups, riders can better balance in the saddle, ride over obstacles, and perform advanced maneuvers. The invention of stirrup leathers (and the irons) resulted in horses being used as cavalry and mounted soldiers in war. 
Stirrups have been a part of the modern world for centuries, perhaps contributing as much to development and civilization as any other invention. 
Stirrup Leathers Buying Considerations
When choosing a set of stirrup leathers, there are a few considerations to keep in mind, including that there are three kinds of stirrup "leathers:" 
The leather type

A synthetic core or wrapped stirrup leather

A fully synthetic stirrup "leather"
Quality of the Leather
While you may not be impressed with the cost of quality leather stirrups, it is important to purchase stirrup leathers made from top quality, soft, and unblemished leather. Any weakness in the leather or uneven rolling of the leather can result in a catastrophic failure with stirrups snapping. 
Purchase high-quality leather that feels soft and durable to the touch. Double-stitched leather is a winner as these stirrups are made from two layers of leather with stitching to reinforce the stirrup leather. However, this type of stirrup is primarily available for Western saddles. English saddles tend to have a single, evenly rolled section of leather that is the correct thickness. 
Quality of the Stitching
If the leather stirrup is stitched along the sides, ensure the stitching is even. Also, check the quality of the stitching where the hardware is attached. The folded leather section should be even, and the stitching should be generous. 
Usually, the end section is cut at an angle to reduce bulk around the buckle. The buckle should move freely in each stirrup. If metal reinforcing fastens the buckle, check this for quality and any signs of tarnish.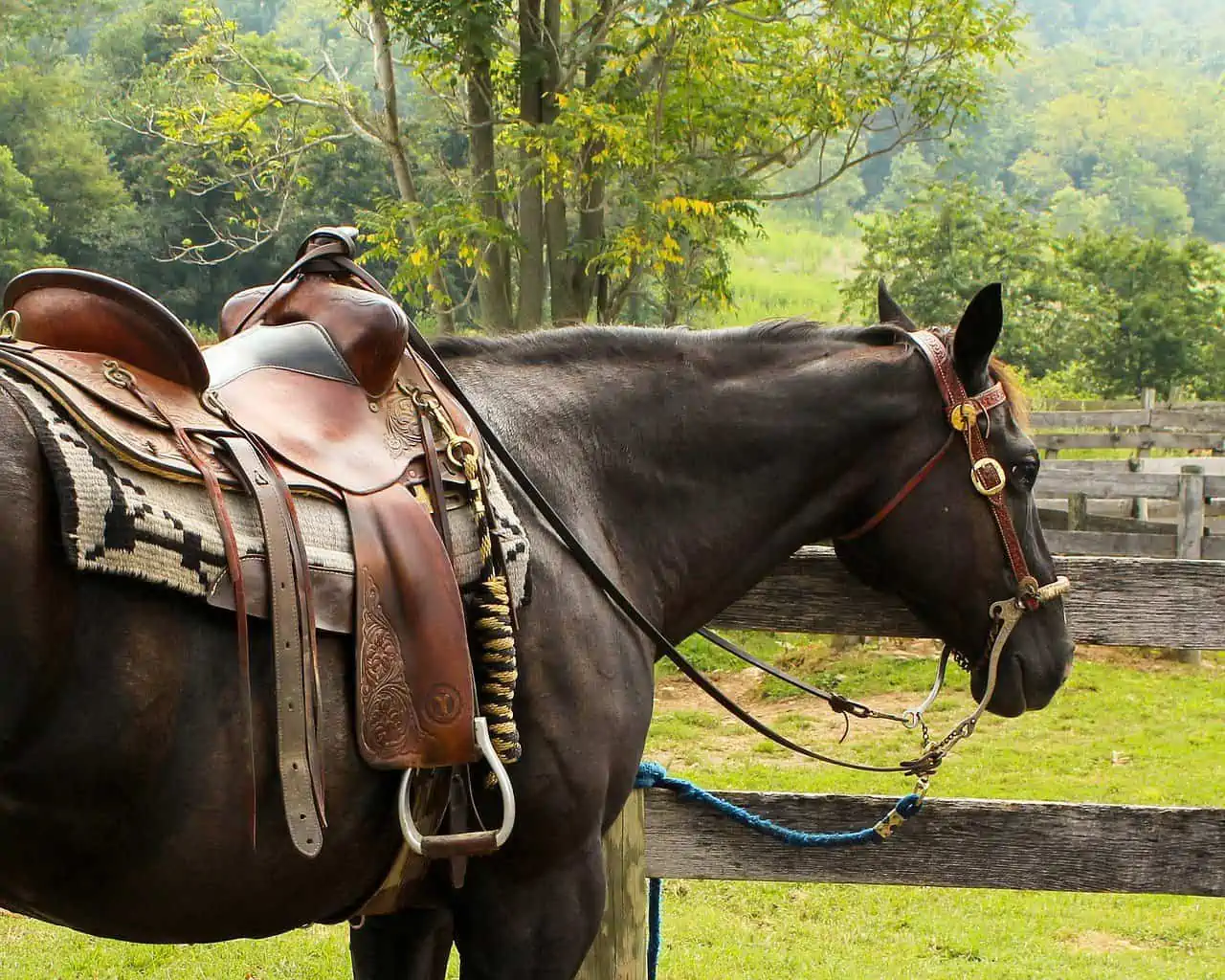 Quality of the Hardware
A stainless steel buckle is best for a leather stirrup, though brass buckles are sometimes also used. Poor quality buckles will tarnish, weakening the metal and leading to later safety issues. 
While a roller buckle can be helpful, it can also add to the bulk under the saddle wings, so opt for a plain buckle that is as flat as possible. Curved buckles are also gaining popularity as the curved shape tucks under the saddle flap better.
Correct Length
Stirrups are only as effective as their length and adjustability. If you're a tall rider, ensure your stirrup leathers can adjust to the right length to provide a comfortable seat (and not have your knees around your ears because the leathers are too short). 
Even short riders would do well to choose an appropriate length stirrup leather as excess length can end up whipping the horse while riding, which can lead to behavior issues with your steed. 
So what are the ideal lengths? 
Tall Adults – 56 inches (or more)

Shorter Adults – 48-54 inches 

Children – 42-48 inches (with shorter lengths for tiny riders such as toddler riders)
Stirrup Leather Width
Next, consider the width options that are available in stirrup leathers. English saddles can accommodate three widths of stirrup leather. The standard width is an inch, though ⅞ of an inch and ¾ inch stirrup leathers are available. While the wider stirrup leather can help increase stability, it can also create more friction between the leg and the saddle, making the rider uncomfortable. 
It is helpful to try out different widths of stirrup leathers, and some traditional tack shops may have a horse mannequin that you can "saddle up" and have a mock ride on to get a feel for the stirrup leathers. 
Leather Thickness
In Western riding, a thicker stirrup leather is preferred as the width of the stirrup leather (which often extends into a larger fender section) protects the rider's legs. 
However, in English riding, a thinner leather is best for stirrup leathers as this helps reduce the bulk that fits under the saddle flaps beneath the rider's inner thigh. A thickness of about 4-5 millimeters or ⅛ to less than a ¼ of an inch is ideal. 
Flexibility
Stirrup leathers can't be stiff. Any stiffness in the leathers will lead to a lack of movement in the rider's leg, creating balance issues and preventing the full range of motion that is needed when moving in the different gaits.  A good quality stirrup leather set will be flexible as soon as you unpack them. Having to "oil 'em in" is an excuse for poor craftsmanship and a poorly cured hide used as leather. 
While you should oil your leathers to ensure their longevity, you shouldn't have to do so for the first ride. 
Synthetic Materials Quality
Considering the synthetic materials used is essential if you opt for a PVC stirrup or a synthetic nylon core with leather outer cover. A synthetic stirrup may perish in the high heat if you do long-distance riding (especially in hot climates). 
Using fully synthetic stirrup "leathers" with a leather saddle can damage your saddle. So weigh up the pros and cons of either type of stirrup leathers. 
While a synthetic stirrup "leather" and even one with a nylon core and leather outers may offer never to stretch, these stirrup leathers can quickly become damaged if you ride rough terrain. One disadvantage of synthetic core stirrup leather is that you can't see the condition of the core, whereas you can see damage on a leather stirrup immediately. 
Cost
We all have a budget we follow. While a more affordable set of stirrup leathers may seem like a great idea, it could cost you in the long run if the quality of the stirrup leathers is compromised. 
The quality of stirrup leathers isn't determined by a brand name, though many fine brands of tack produce consistently superior stirrup leathers and saddles. By buying a cheaper stirrup leather set and perhaps choosing something that isn't correctly stitched, you will have to buy a new set soon, as this set will tarnish much quicker. 
How to Fit, Clean, and Maintain Stirrup Leathers for Long-Term Use
Hopefully, you've purchased a quality set of stirrup leathers. You've eagerly popped them into the quick releases of your saddle, had a quick look at length, and you're ready to go on an adventure, right? 
Oops!
Fitment of New Stirrup Leathers
It's better to start by giving your stirrup leathers a quick rub with an oiled cloth. Use a high-quality saddle oil, and if you're in a wet area or expect rain, add some wax-based treatment. Finally, slide the stirrup irons on; then fit them to the stirrup bar on the saddle. 
Choose the length with the tried (but tested) method of holding the stirrup iron by the top with one hand to the fold of your armpit and rest the other hand on the stirrup quick-release bar. If the leather is straight, you've got a pretty close fit and can jump on.
While in the saddle, place your feet in the correct position on the stirrup irons' bars. The ball of your foot should rest on the stirrup bar, with your heels gently lowered. 
Now rise in the saddle by standing in the stirrups, and place a fist beneath your seat. If you can't fit a fist in, your stirrup leathers are too long (and you'll end up reaching for your stirrups on the ride). If you can fit more than a fist, your stirrup leathers are too short, and you'll end up popping off the saddle (or with knee pain as you try to flex more). 
If you find that there's a pain in your knees, you need to lengthen the stirrups slightly. Sometimes, that will require adding a half-hole, which is between the hole that's too long and the one that's too short. Ensure you mark both stirrup leathers together and make the hole using the appropriate method with a leather punch or a soldering iron. Oil the new holes to ensure no moisture seeps into the stirrup leathers. 
Cleaning and Maintaining Stirrup Leathers
As a rule, clean stirrup leathers (and the rest of your riding tack) whenever you have a buildup of grime, mud, or moisture from riding. After cleaning, you should also oil and treat your stirrup leathers to ensure they remain flexible, and the leather stays well-nourished. 
Good stirrup leathers are an investment, and if you take good care of them, you will never need to purchase another set. I still ride in my first set of quality stirrup leathers (more than a decade later) simply due to carefully cleaning and nourishing the leather. 
Stirrup Leather Types: Best of the Best
Best Stirrup Leathers for General Riding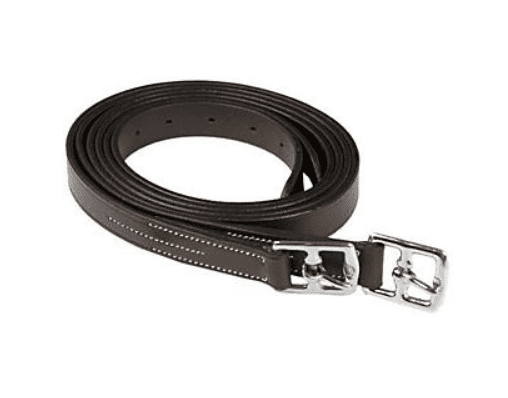 When doing general riding, you want a stirrup leather set that won't break the piggy bank, and the Gatsby Stirrup Leathers are surprisingly good quality at a bargain price. Stirrup leathers are available in two lengths and two widths, from one inch wide to ⅞ of an inch wide. This selection allows you to choose the combination of length and width you desire. 
Pros
Available in two colors to match black or brown saddles

Leather is preconditioned (though you should oil it regularly to preserve the leather quality)

Thin rolled leather for less bulk under the rider's legs
Cons
The steel buckle will eventually begin to rust
I love these affordable stirrup leathers. And starting at less than $20 per set, they are a steal. If I accidentally hook a stirrup leather on a door post while carrying my saddles to the tack room, I'm not going to cry about replacing them, and since they oil well, I can also make extra holes for the shorter riders as I need to. 
Best Stirrup Leathers for Dressage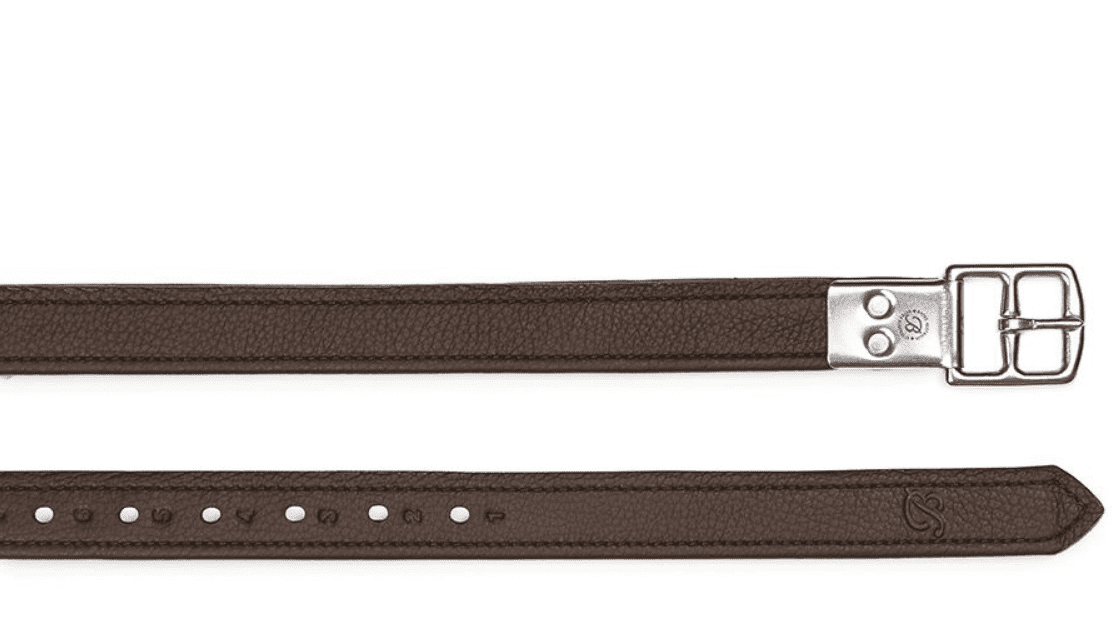 Okay, so my selection for dressage stirrup leathers will break the bank a bit, but they are totally worth it (even if you don't have enough dough saved up for a Bates saddle yet)! The Bates Leathers are imported from Australia, and once you've run your hands over these leathers, you will understand what quality feels like and why you should get it. 
Pros
Soft and luxurious leather outer

High tensile webbed core

Guaranteed not to stretch

One-inch wide leathers for better leg stability 

Riveted buckle stops leather bunching under the rider's thighs 
Cons
Price! ($125 a set at the time of writing)

Available in five lengths, and making an extra hole will be a challenge due to the webbed core
These Bates stirrup leathers are durable, and while costly, they are an investment worth making as you can get several years of riding from them. 
The feel of them is also way more soft and smooth between your leg and the saddle, which helps you perform maneuvers that require finesse much more quickly. I could finally begin to signal my horse smoothly for the flying change when we moved up the competition levels. 
Best Stirrup Leathers for Jumping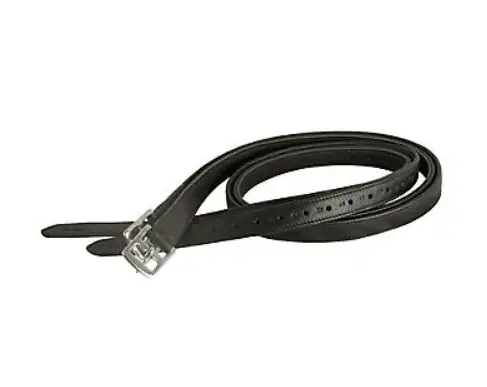 Ever gone over a jump and felt like you needed just a little more or less stirrup? It happens, right? Well, it doesn't have to, and half a stirrup hole can sometimes help keep you in the saddle when your balance isn't ideal. 
I've discovered that my one leg is slightly shorter than the other when I do short stirrup work, such as jumping. It's a problem, but while my chiropractor sorts it out, I have to shorten one stirrup half a hole so the other leg can be in balance. These DaVinci Wrapped Calfskin Leathers are a blessing. 
No more struggling to match up half holes or make more holes; plus, the nylon core adds strength and prevents stretching. 
Pros
It comes with 18 half holes measured out at half-inch lengths

Wider width for extra comfort and strength over jumps

Available in three lengths and three colors, so you can match your other tack easily

The nylon, no-stretch inner core comes wrapped in soft calf leather
Cons
Not enough lengths to meet all riders' preferences and height
Luckily, I matched precisely to the 54-inch leathers, so I didn't have the challenge of finding the correct length. However, if you need 52-inch leathers, you will find that cutting the leathers isn't an ideal option with the lined core. 
If these leathers aren't correctly oiled, the leather will begin to perish around the punched holes, so take care in treating these well as they aren't as cheap as the all-purpose leathers I use for general riding. 
Best Traditional Leather Stirrup Leathers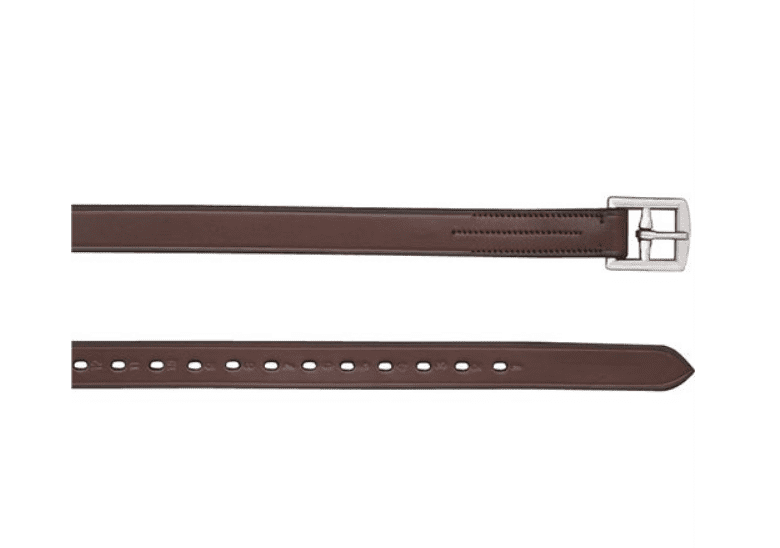 If you're a purist and prefer to do the traditional thing with all-leather tack, then you will resist the idea of a set of covered leathers or synthetic "leathers" (can you even still call them leathers?). Luckily, I have the best traditional leather stirrups for you. 
The Collegiate® Half Hole Leathers are fully leather in construction, and with half holes pre-punched, you can ensure that your ride is smooth and balanced. 
Pros
Made from quality top-grain leather

The brown color matches most brown leather tack

Half holes punched in half-inch increments help you find the sweet spot for balance

Extremely durable
Cons
Discoloration occurs around the area where the buckle fastens

Quite pricey at just under $95 per set
I thoroughly enjoy these full leather stirrups. The quality is fantastic, and if you oil them well, you can also stop the discoloration that happens around the buckle points from regular riding. 
Top Tip
Remember to rotate your stirrups every couple of rides. With leather stirrups, some stretching happens when mounting from the ground. Therefore, rotate your leathers every few weeks or every fifth ride, so the stretch is equalized between the two leathers. 
Best Synthetic Core Stirrup Leathers (Non-Stretch)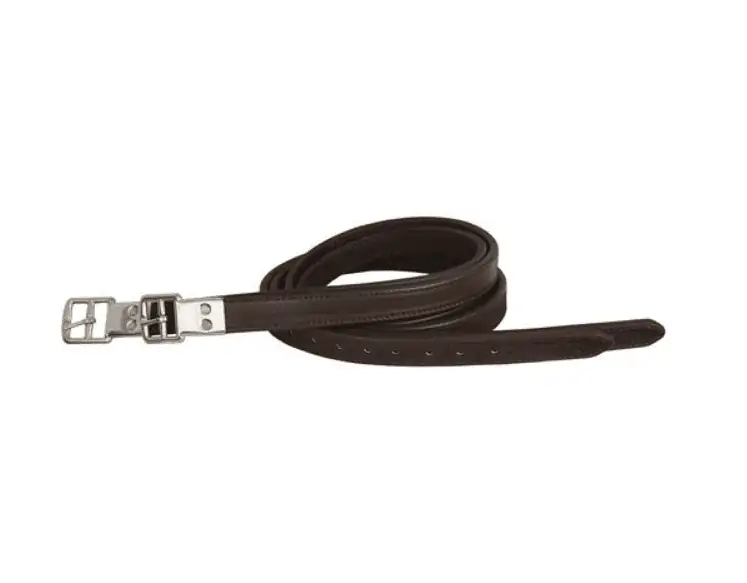 One of the reasons I usually have to throw out stirrup leathers is when they have stretched, and the holes no longer line up. It's tragic, but it happens (even when you rotate the stirrup leathers). An excellent investment is to buy a good quality set of synthetic core stirrup leathers. 
While you can opt for the Bates dressage leathers, you may not be able to find them at a tack store near you. In this case, the Marcel Toulouse Lined Stirrup Leathers are your next best thing. These stirrup leathers are made from a high-quality nylon core and wrapped in soft leather. 
Pros
Available in three sizes, from 48 to 60-inch lengths

Available in three sizes to match red-brown, brown, and black tack

Nylon core with calf leather covering

Many satisfied customer reviews, which is why I took the plunge and got a pair
Cons
Costly at over $130 per set

Nylon core can make adding holes to the stirrup leathers difficult 
Best Fully Synthetic Stirrup Leathers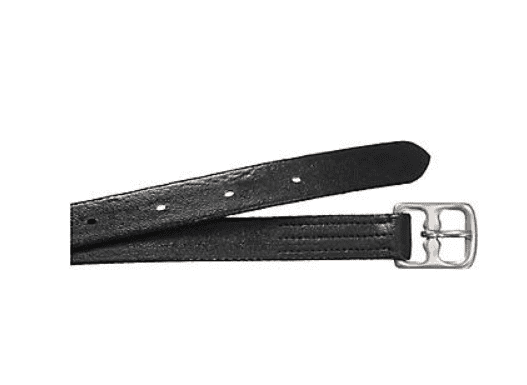 If you're doing a lot of riding in damp or muddy conditions, your stirrup leathers will constantly be exposed to moisture and dirt. A good set of fully synthetic stirrup "leathers" is the best way to save yourself from grief. 
After a grueling ride through the local rivers and streams, I am happy that my endurance saddle has synthetic stirrups, as I can simply remove them and spray them when I rinse my horse at the wash bay. 
I like the EquiRoyal Biothane English Stirrup Leathers as they are durable, made from biothane, and easy to clean. 
Pros
Made from synthetic biothane 

Thick material for durability 

No stretching or cracking

On special at less than $15 per set
Cons
Only available in one width (one inch) and one length (54 inches)

The buckle is somewhat bulky under the rider's legs.
I was hesitant to see if these stirrups would damage my saddles (which are leather). Fortunately, I haven't seen any damage to my leather saddles yet, and these biothane straps are hardworking enough for me to trust—but not near my Bates saddle. 
Best Western Stirrup Leathers
When replacing the stirrup leathers on your Western saddle, be prepared for a huge shock. Out with simple English stirrup leathers and in with shaped fender leathers. These CHALLENGER Horse Western Leather Replacement Saddle Fenders Pair 52FenderV are a work of art. 
The hand-tooled surface design is unique for each saddle, and a highly detailed finish is possible due to the use of top-grain leather. The broader part of the stirrups, known as the fender, protects the rider's legs. I found this kind of stirrup ideal when herding a couple of stray cattle. Where have you used fenders before? 
Pros
Made with full-grain leather 

Basket weave tooling and decorative detail (coz why not, right?)

It comes with authentic Belvins buckles

Fender is 16″ x 8″ with stirrup strap 14"-28″ width of 2-3"

The back of fender is nylon reinforced for extra strength
Cons
Some riders prefer an all-leather fender and stirrup set, and some oiling is required to soften these fenders/stirrups before use
Whichever stirrup leather you choose, ensure you fit it correctly, check it regularly for wear, and replace it as soon as you see damage, such as nicks and cuts that could tear through the leather. 
FAQs
Question: What is the difference between wide and regular stirrup leathers?
Answer: Wide stirrup leathers provide greater stability and support to the rider's legs. With wider stirrup leathers, the rider may find relief for joint pain and improve their balance. Ensure wide stirrup leathers are thin and not bulky to avoid painful pinching. 
Question: How do I choose stirrup leathers?
Answer: The main choice is the length of the stirrup leathers. Taller adults should opt for stirrups that are 56 inches or more, while a shorter adult rider would use 48 to 52-inch stirrup leathers. Children usually require even shorter stirrup leathers of 42 to 48 inches. 
Question: Should you oil your stirrup leathers?
Answer: You should clean and oil your stirrup leathers each time you clean your saddle. Stirrup leathers are still made of leather (even those with a synthetic core), and leather needs to be fed with oil to ensure it stays soft and supple. Dry leathers can weaken, snap, and even damage your saddle panels. 
Question: How do you punch holes in stirrup leathers?
Answer: While it's best to use the manufacturer's stirrup holes, it may be necessary to punch extra holes in your stirrup leathers. There are two ways to do this. First, lay the stirrup leathers over each other, moving them so you use the distance between two holes to indicate where the new hole should be. Use a leather punch to force a hole through the stirrup leather manually. 

If you wish to have an elongated hole (like some leathers come with), use the punch twice, overlapping the two holes slightly, then punch in the middle again to remove the extra bit between the two main holes. 
The second method requires the use of a soldering iron.

Measure out the difference between the two holes as above, then heat the iron and press it forcefully into the leather. The iron will burn through the leather. With some downward pressure, you can also elongate the hole. Use a stiff-bristled brush to remove the burnt oil that gathers at the hole's edge. Ensure you oil any new holes to keep these in good condition and prevent leather weakness. 
Question: What is the difference between a wrapped stirrup leather and a plain stirrup leather?
Answer: A plain stirrup leather is a single piece of leather that has been rolled and treated with the required stirrup holes punched and a buckle fitted on one end. The sides of the stirrup leather may be stitched for reinforcing. 
A wrapped stirrup leather has a high tensile strength polyester core wrapped with two sections of leather sewn over it. The polyester prevents stretching and gives additional strength to stirrup leathers. This wrapped stirrup is a popular choice with jumpers where high impact can cause stirrup leathers to snap. 
The Final Leather
Only when "No-Stirrup November" rolls around, do we really appreciate our stirrup leathers. Stirrup leathers are vital to equestrian tack, and investing in a good set is essential. While I regularly train without stirrups, I am always grateful for my comfy dressage stirrups and those half-hole incremental holes pre-punched through a quality leather strap. 
My horses respond better when I can ride better, and having soft, pliable, and durable stirrups is an essential part of that journey. So, in closing, a little sound stirrup leather advice:
Go inspect your stirrups today for a damage
Match the two stirrup leathers to ensure the holes are even and correctly punched
Give them some love with a good cleaning and oiling of those real leather ones (or a good soap and scrub for the fully synthetic ones)
Fit them carefully, inspecting the quick-release safety clasp on your saddle
Reassess your stirrup height
Have one helluva ride!
Recommended Reads: