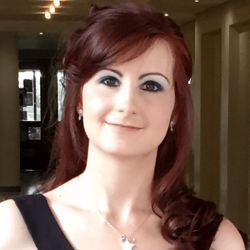 Latest posts by Denine Walters
(see all)
After lots of hacking (pleasure or light riding), I really wanted to join my sister and her friends for a day-long endurance ride. Off we went – unfortunately, I didn't know how challenging the trail would be, and to say my butt was sore was an understatement.
But my poor mixed-breed pony really took the brunt, and my hunt for the best endurance saddles brand guide began. My horse had pressure sores and was thoroughly uncomfortable after the endurance ride. I wasn't impressed – I could see the appeal of endurance riding but only with the right tack.
And that started with getting the right endurance saddle for my horse so they'd be comfortable on the trail. Of course, I also need to be comfortable (as did my butt). The saddle needs to fit my horse 100% first, and then the saddle should work for me. Though, the reality is I need to find a middle ground between what fits my horse and what fits me. 
I couldn't find a good endurance saddles guide, so I talked to my trainer, my sister, and the guy at the local tack shop who's quite knowledgeable. 
After much consideration and fitting various endurance saddles, I finally found the best one for my horse. Stay tuned if you are looking for the best guide to help you find the right endurance saddle for your trusty steed. I've got everything you need to know.
Psst… Now, I looovvveee trail and endurance riding. I adore the challenge, the stunning scenery, and the adventure I share with my horse … now that I have the right saddle for us both to go endurance riding. 
My Bottom Line Up Front: The Best Endurance Saddle 
The best endurance saddle for you depends on your and your horse's needs. But overall, the best saddle for endurance trail riding is the Wintec Pro HART Endurance Saddle. It's ideal for comfort, comes in black and brown, and is lightweight. 
I like that the CAIR cushion system helps ensure my weight is evenly distributed and that it's a close-contact saddle, which I'm used to. 
My Top Endurance Saddle Picks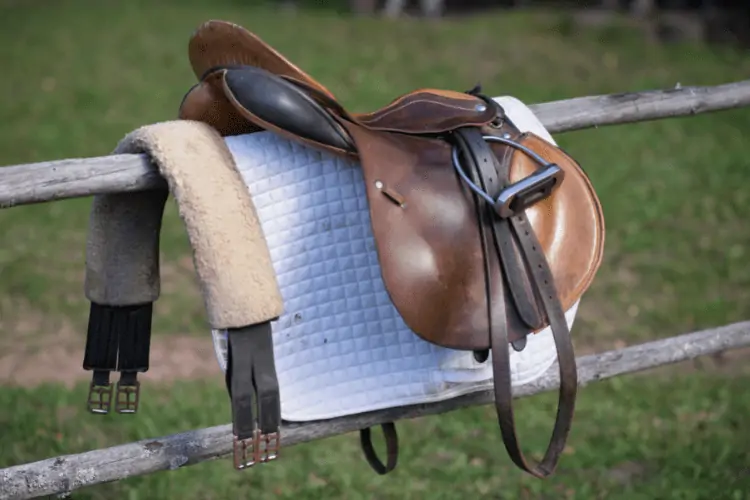 Here are my top picks for endurance saddles: 
All About Endurance Saddles 
Are you excited to start with endurance riding and looking for an endurance saddle? Or maybe you are an experienced horse rider looking for a new challenge and adventure. Endurance riding certainly fits the bill. In either case, you need the best endurance saddle for you and your horse, and luckily, you're in the right place. I've got everything you need and would want to know about endurance saddles. 
What's an Endurance Saddle? 
An endurance saddle is a saddle that's comfortable for the horse and the rider when they ride long distances over long hours or on competitive trail rides. These saddles need to be durable and lightweight too. 
This kind of saddle also comes with certain accessories that make trail riding easier – by keeping the saddle from slipping. D-rings secure a breast collar and other tack, and saddle bags let you keep snacks and treats for you and your steed. 
Features of an Endurance Saddle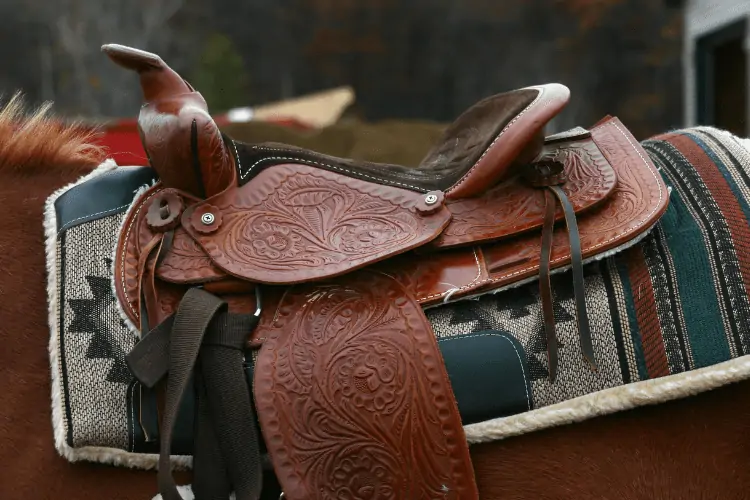 Various other saddles can be used for endurance riding. I know a guy at my stable yard who uses his comfy general-purpose saddle with a full saddle sheepskin cover (bumnah). He "tailored" his saddle to fit endurance stirrups, which are wider to make long trail rides more comfy. 
However, certain features make an endurance saddle, well, fit better for longer, grueling hours in the saddle. When you go on a trail or endurance ride, you put yourself and your horse to the test as you immerse yourselves in nature.
With intense training and a focus on your horse's health, you and your steed will develop the endurance needed for long hours in the saddle. 
Lightweight 
A lightweight endurance saddle is sometimes better for your horse's back as their "load" is smaller, ensuring that their back is more comfortable. 
For competitive trail riders, a lightweight saddle is a must. Less weight on the horse's back gives them a competitive edge. And an endurance saddle that's lightweight and smaller means you can communicate better with your horse and reduce their sweating. 
Padded Seat 
A padded seat for an endurance saddle is another must-have on my list. (No thank you to a sore butt!) Some trail riding saddles even have memory foam seats, and your butt will surely be grateful. 
Horn 
Some endurance saddles have a low horn, while others don't have one. The pros of having a horn on your saddle are that you can: 
Grab the horn for stability and to prevent you from sliding backward and off the saddle when there are steep uphill sections on the trail 

Hold onto the horn if your horse side steps, bucks, or rears 

Attach lead ropes or saddle bags for easy access to your map, phone, or snacks 
The horn on an endurance saddle is typically low, so it doesn't get caught on low-hanging branches or dig into your tummy when you need to duck. 
Lightweight Stirrups 
Endurance saddles have wide stirrup bars to help you more evenly distribute your weight and ride comfortably on the trail. 
The stirrups are also lightweight aluminum and have a thick closed cell foam pad on the bars to improve shock absorbency and rider comfort. 
Leather Strings and D-Rings 
Saddles for trail riding have extra leather strings and D-rings, so you can secure extra gear to your saddle. 
Rounded Skirt 
Most endurance saddles have a rounded or cut-away skirt, keeping the saddle lightweight. Less "saddle" also means your horse sweats less and doesn't overheat so quickly. 
Why Do You Need an Endurance Saddle? 
You need an endurance saddle when you go trail riding or endurance riding for fun. I typically use my endurance saddle for pleasure rides. 
But you also need an endurance saddle when partaking in: 
Competitive endurance rides,

which is a timed equestrian sport and one of the competitions the International Federation for Equestrian Sports (FEI) recognizes. Riders typically race over 50-150 miles for 1-3 days, and the difficulty of the terrain varies. 

Competitive trail rides

(CTR), which are timed and judged trail rides. Safety, communication, teamwork between horse and rider, and proper horse management are emphasized. These rides can be multi or single-day events. A weekend CTR typically covers 30-60 miles. 
Since you and your horse ride long distances, an endurance saddle is needed to ensure you are both comfortable. 
Types of Endurance Saddles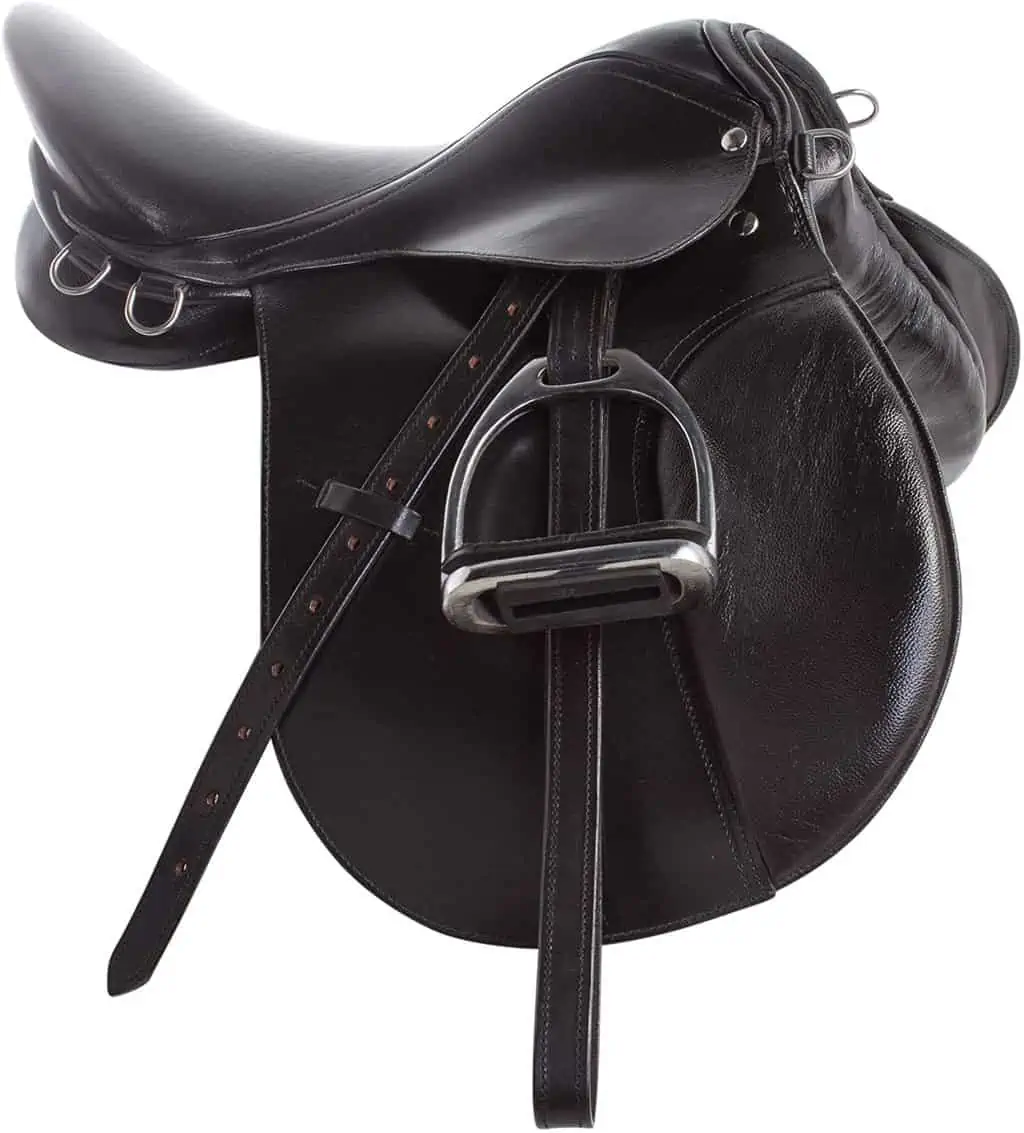 Various endurance saddles can be used for trail and endurance rides. Some saddles are marketed specifically as endurance or trail saddles, but in essence, it depends on what's comfortable for you and your horse. And the saddle fit is of utmost importance. 
Let's briefly look at the types of saddles you can use for trail or endurance riding, but remember, the more challenging the trail, the sturdier the saddle you'll need.
The Endurance Saddle 
An endurance saddle combines the best features of all saddles to ensure your comfort on the trail. The main features of endurance saddles are durability, lightweight construction, and comfortability. These saddles may have various D rings so you can hang a water bottle and strap on saddle bags when you go out on long-distance rides. 
Endurance saddles may also not have a horn, which is typically a feature of a Western saddle. The stirrups have a large surface to improve security and prevent your feet from cramping (#ouchy). Some stirrups are also covered to allow the rider to relax and not worry that their foot will slip through a stirrup.
The English Saddle 
When asked about the purpose of an English saddle, trail riding may not come to mind. (I don't blame you!) But these saddles are comfortable if you are riding an easy trail – aka country roads, not mountain trails. Plus, an English saddle is lightweight. You can tailor your English saddle to fit stirrups for endurance horse riding if you are handy, like the guy at my stable yard. 
You can also consider a hybrid English saddle with D rings for saddle bags and a higher cantle to ensure you don't slip backward. 
The Western Saddle 
Western saddles are popular for trail riding, and the reasons are clear. These saddles are durable, so the sturdy construction will hold up in adverse weather and rough terrain. A Western saddle also has a high cantle and saddle horn. Both features work together to keep you safe in the saddle when you go up and down steep mountain passes. 
Another benefit is that you can easily attach breast collars, back cinches, and cruppers to ensure the saddle stays secured to your steed. One of my riding friends tailored their Western saddle into a pack saddle since they like extended trail rides. Now, they can fit more gear. 
The Australian Stock Saddle 
An Australian Stockman saddle has a deep seat and is well known for its comfort. You can buy an Aussie saddle with or without a horn. An Australian saddle has poleys (knee pads) on either side of the pommel to keep the rider secure when riding downhill. An overgirth and wide stirrup leathers are common with these saddles.
The Plantation Saddle 
A plantation saddle is best used when riding gaited horses since the rider sits behind the center of gravity of the horse for more stability. These saddles have a flatter seat and low, broad cantles. You get plantation saddles with or without horns. 
Plantation saddles were commonly used by plantation overseers, circuit riding preachers, and country doctors who rode for long hours on horseback. 
A Guide to Buying the Best Endurance Saddles (+ Tips!)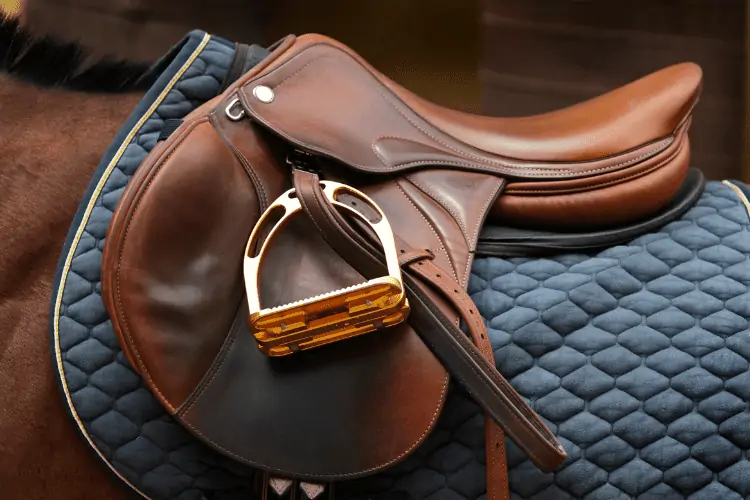 All us horsey people know that tack is pricey, and you want to buy quality without breaking the bank (and selling your kidneys and arms) the first time around. That is just as true when choosing and buying an endurance saddle as it is for any other tack you need. 
Here are the considerations you need to keep in mind when buying your first (or next) endurance saddle. 
Endurance Saddle Brands 
A Google search reveals how many endurance saddle brands there are, without that search even including custom-made endurance saddles. 
Pro Tips
Stick to trusted brands since you know what you are buying. 

However, there's nothing wrong if you want to try a new brand. 

Ask your fellow horse riders for their recommendations; I know my trainer and sister always have the best advice. 
Trusted endurance saddle brands are: 
Savvy Sports Saddle (Bob Marshall) 

Action Rider Tack 

Wintec 

Tough 1 

King Trekker 

ECP Equine 

Silver Royal 

Tucker 

AOC Stockman 

EquiRoyal 

Circle Y 

Bates 
For custom-made endurance saddles, consider these brands: 
Kanavy Endurance Saddles 

Hillcrest Saddlery 

ReactorPanel Saddle Company

Sharon Saare Saddles

Specialized Saddles

SR Saddle Company

Steele Saddle 

Synergist Saddles
The `Fit of the Endurance Saddle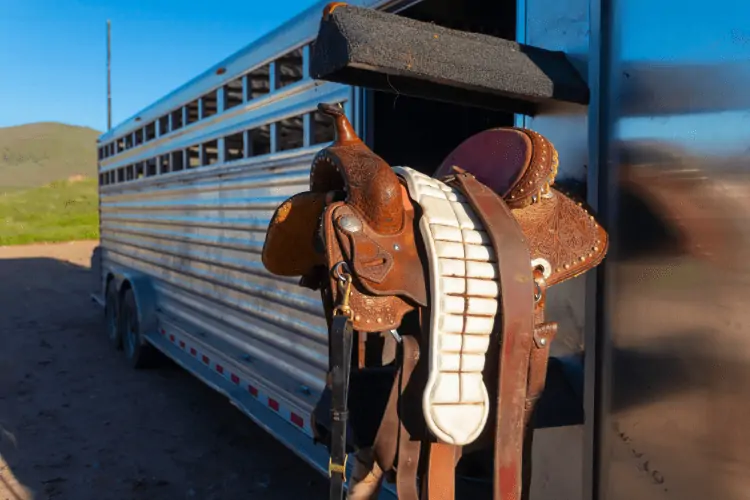 One essential factor of any saddle is the fit – for your horse AND you as the rider. You'll spend long hours on the endurance saddle, so the saddle should fit properly. 
An ill-fitting endurance saddle causes many health problems for your horse. A saddle that doesn't fit your horse well: 
Rubs against their skin, creating sore spots and open wounds that can get infected 

Results in behavioral problems 
For the rider, a well-fitted endurance saddle ensures they are well balanced and their weight is evenly distributed. 
Where possible, make the saddle fit better for you. If you are riding over steep and rough terrain, use a tail crupper and breast collar to prevent the saddle from sliding forward and backward on the horse's back. A saddle that slips and slides can negatively affect your balance.
Choose a seat size that works for you and the best tree size for your horse. If you have the budget, opt for a custom-made endurance saddle.
The Weight of the Endurance Saddle 
Lightweight endurance saddles are better, so you'll definitely want to consider how much the endurance saddle weighs. Ideally, choose an endurance saddle that weighs fewer than 30 pounds. 
An endurance saddle that is small and lightweight doesn't add extra weight to your horse's spine. Choosing a saddle with a rounded skirt helps improve the lightweightness; plus, you'll prevent your horse from overheating, especially when trail riding during the hot summer months. You'll also have better contact with your horse so you can communicate more efficiently. 
You also benefit if you have a lightweight endurance saddle. Just think of how tired you'll be after long hours in the saddle and concentrating on the trail. I definitely want a light saddle to untack and carry to the barn. Wouldn't you?
The Material of the Endurance Saddle 
Saddle material is another essential consideration. An endurance saddle is either all leather or all synthetic, or the saddle is partially synthetic. If the saddle is made from a synthetic material, chances are it's Cordura, which is a highly durable fabric. 
A leather endurance saddle is classy, and these are either plain or designed with patterns. A leather saddle is heavier, more durable, and pricey. I like a dark leather saddle since it doesn't show stains or water marks as easily. 
Fully or partial synthetic endurance saddles are lighter in weight, and I love a colorful Cordura saddle. I feel like it makes my trail ride even more fun, and I try to match my riding pants with the saddle. Leather saddles have specific cleaning requirements. You can use a damp cloth to easily remove the dust and dirt of a synthetic saddle.
The Comfort of the Endurance Saddle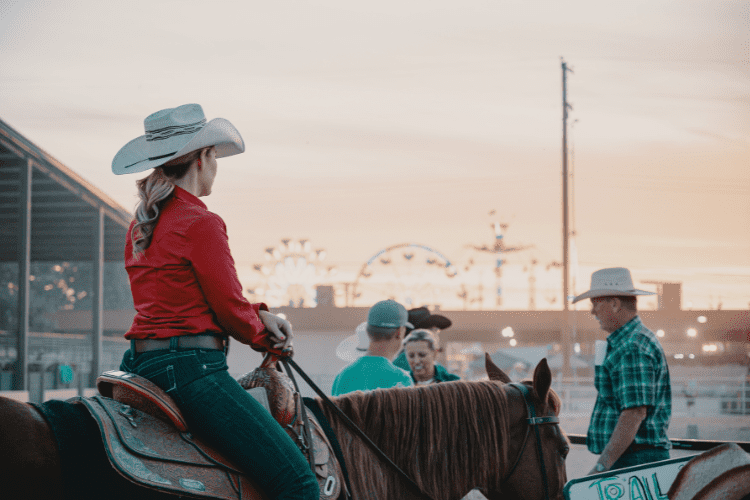 Comfort, comfort, comfort. It certainly bears repeating. 
To help ensure the endurance saddle is as comfortable as it can be:
Choose a padded seat.

Look at whether the saddle has air chambers, microfoam fiber, and gel padding.

Stay away from a polyester-filled seat as it will bunch and make for a very unpleasant trail ride. 
Ensure your back is supported by opting for a low-profile seat. 
Another comfort consideration is the stirrups. They should be adjustable and have thick closed-cell foam pads to help improve shock absorbency. The stirrup bars should also be wide to help ensure your weight is evenly distributed through your feet and to prevent knee pain. 
The Durability of the Endurance Saddle 
Yes, an endurance saddle can be pretty pricey, so choose a durable saddle. You want the endurance saddle to last long, but it should also be sturdy for those long, challenging trails.
Endurance Saddle Accessories 
Some endurance saddles come with accessories, or sometimes, you have the option to add these. 
Some endurance saddle accessories to consider are: 
D rings to attach saddle bags 

Strings to secure your gear and extra tack 

A horn so you don't slip forward onto your horse's neck on steep downhills and to attach lead ropes or pommel bags 

A cantle (or high seat rim) to support you more in the saddle and prevent you from slipping backward out of the saddle on steep uphills
How I Chose the Best Endurance Saddles
In the next section, I've chosen the best endurance saddles so you can easily find one that will work best for your needs. All you need to worry about is choosing the right seat and tree sizes. 
Choosing the best endurance saddles requires: 
Testing each and every saddle for fit, durability on the trail, weight, and comfort 

Checking out other reviews 

Asking fellow horse riders what endurance saddles they prefer and why 

Considering brand, material, care and cleaning, and budget 
The Best Endurance Saddles 
Here are the best endurance saddles for your endurance and trail riding needs: 
Best Overall Endurance Saddle: Wintec Pro HART Endurance Saddle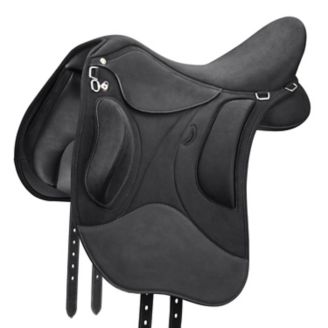 Price: $1,225
This is the endurance saddle I decided on after that horrible first trail riding experience, and I haven't looked back since. 
The Wintec Pro HART Endurance Saddle is the best endurance saddle because you'll be comfortable for miles. It's like it's made for the rider AND horse. 
The saddle is available in black and brown, and the saddle weighs 14.1 pounds – not too heavy even after a long trail ride. 
Pros
Super soft seat with the CAIR cushion system to ensure even weight distribution 

Reduced fatigue as your leg easily finds a comfortable position between the movable front support and fixed rear support 

Super soft panels to mold in and around your horse's muscles, providing comfort and protection 

Elastiflex tree is lightweight and durable 

Close-contact saddle so you can easily feel your horse's reactions 
Cons
Only available in 4 seat sizes: 16.5, 17, 17.5, and 18 – so shorter and taller riders may find getting a good fit to be challenging

Pricey, but it's a Wintec, which equals quality 
Best Synthetic Endurance Saddle – Tough1 Eclipse Treeless Endurance Saddle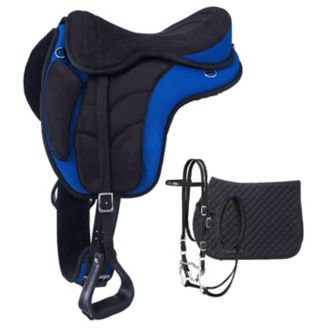 Price: $239
The Tough1 Eclipse Treeless Endurance Saddle is a great introductory saddle for those stepping into endurance riding. Since the saddle is treeless, it also fits more horse shapes. 
Pros
Budget-friendly 

Fully fitted with stirrup irons and leathers

A full starter kit with a synthetic bridle, saddle pad, and girth

Cleans with soap and water

Dries quickly 

Funky royal blue color available
Cons
Treeless saddles do require more balance than other saddles

Mounting from a mounting block is needed to prevent the saddle from slipping
Best Endurance Saddle with a Horn – King Trekker Synthetic Endurance Saddle with Horn 
Price: $319
The King Trekker Synthetic Endurance Saddle with a Horn is the quintessential cowboy saddle, except it's synthetic, making it easy to rinse. 
Pros
Nylon and neoprene fenders for comfort and durability 

Soft seat 

Reinforced fiberglass tree for lightness 

Full quarterhorse bars make it ideal for hardy quarter horses

Comes with shock-absorbing stirrups and quick change buckles

Full dimensions are listed on the site, making it easy to measure up your horse before purchase
Cons
Full quarterhorse bars may be too big for some horses, slipping forward

Heavier than some other Western endurance saddles 
Best Lightweight Endurance Saddle – EquiRoyal Pro Am Trail Saddle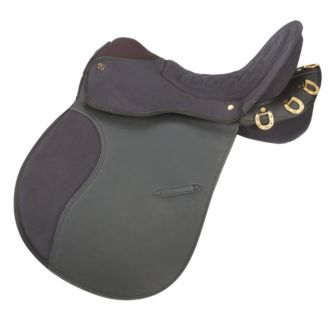 Price: $249
The EquiRoyal Pro Am Trail Saddle is ideal for those used to riding English style. The design is a comfortable general-purpose English saddle with additional padding behind the cantel and several D-rings to attach your endurance gear to. 
Pros
A wide padded seat keeps rider and horse comfortable with even weight distribution

Flexible tree points for a greater range of motion 

Fully synthetic, making care a breeze

Billet straps are nylon reinforced for extra strength
Cons
Overall quality isn't poshy, but serviceable 

Medium gullet won't fit all horses
Best Treeless English Style Endurance Saddle – DP Saddlery Startrekk Comfort English Treeless Saddle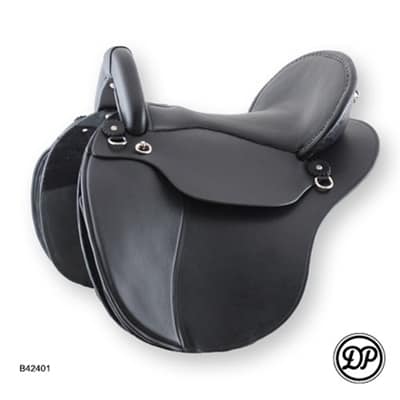 Price: $2,264 (#ouchy at the price)
The DP Saddlery Startrekk Comfort English Treeless Saddle is a luxurious endurance saddle that may be out of range of most riders' budgets. Still, it offers a great set of features. 
Pros
Made from quality soft leather 

V-style billets match an English-style girth

The pommel can be adjusted with an Allen key, making it great for fitting a range of horses

While it's a treeless saddle, the adjustable pommel gives the saddle stability 

Bonus: a saddle trial period of one week, after which you can return the saddle for a refund (subject to some T&Cs)
Cons
At this price, scratching the saddle on a trail will be heartbreaking 

Leather requires proper care
Best Western Endurance Saddle – Wintec Full Quarter Western Saddle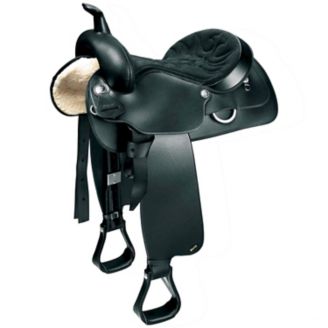 Price: $437.49
The Wintec Full Quarter Western Saddle is a hugely popular endurance choice with many riders who prefer a Western-style saddle. 
Pros
A unique fender system ensures your legs won't pinch or rub

Synthetic, so easy to care for

A soft equi-suede seat increases the level of grip for those sudden "oh dear" shies when a deer jumps out

Five-year warranty on the tree

Authentic with decorative silver conchas 
Cons
Limited seat sizes as there's no 18-inch size seat

Piping on the fenders may jam up against boots for shorter riders
Best Aussie Endurance Saddle – AOC Stockman Bush Rider Saddle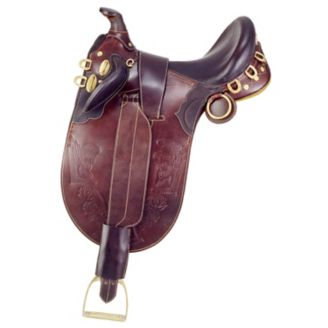 Price: $459
The AOC Stockman Bush Rider Saddle is ideal for those endurance trails where the heat and terrain simply beat up a synthetic saddle. 
Pros
Fully leather-covered saddle for extra durability and comfort 

An air-flow tree allows the horse to remain cool, despite a long ride

Aussie rigging is ideal for carrying over-night packs and additional water bottles
Cons
It's heavy at almost 30 pounds

Requires a different type of seat to be comfortable, which makes it quite an adjustment to those used to English or Western riding 

Fenders and stirrups are too long for shorter riders
Best Endurance Saddle for Kids – Wintec Pro Stock Junior CAIR Saddle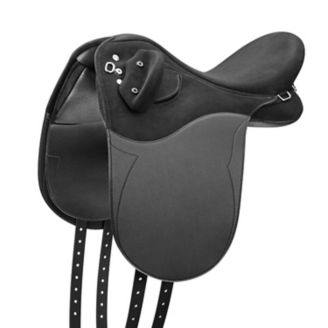 Price: $545
The Wintec Pro Stock Junior CAIR Saddle is ideal for your youngster rider. With a smaller size seat, it simply works for shorter legs and the body dimensions of a child. 
Pros
Fully synthetic, so easy to clean

Equileather panel for extra grip 

Interchangeable gullet system to fit all size horses 

Flexible polypads can be moved to suit the growing rider's legs

Available in two colors (black and brown) 
Cons
FAQs
Question: Do You Need Saddle Bags for Endurance or Trail Riding? 
Answer: Saddle bags are a must for long endurance or trail rides or then you do an overnight trail ride. Pack water, snacks, a first aid kit, and other valuables you need on the trail. If you are on the trail for only a couple of hours, you don't need to worry about saddle bags.
Question: Do You Need a Breast Collar for Trail or Endurance Riding? 
Answer: If the trail is pretty even and your saddle fits your horse well, you don't need a breast collar (or breastplate). But a breast collar is handy to keep your saddle in place and from sliding backward if you are riding in rough terrain. Adding a breast collar is also a good idea if you don't know what the trail has in store for you and your horse.
Question: What is the Best Saddle Pad for Trail or Endurance Riding? 
Answer: The best saddle pad for endurance rides is high-quality and adds comfort. The saddle pad should help wick sweat and extra moisture away and prevent the saddle from chafing the horse by providing extra cushioning.
A saddle pad can also help fit your endurance saddle better. The best pad distributes pressure and improves the saddle's balance to prevent equine back disorders. 
My Final Thoughts on the Best Endurance Saddle Brands 
Of all the endurance saddle types, I think the Wintec Pro HART Endurance Saddle is the best. It's comfortable for you and your horse, and the saddle features some pretty nifty technology. I'm super happy with mine, and while it's more on the pricey side, I have regretted the investment. 
However, the best saddle for you is what works best for you as the rider and your horse. You also need to consider what type of endurance or trail riding you are doing, the weather, the trail, and your budget. Want to know more about saddle types to find the best one for you? Then check out our comprehensive guide on the types of horse saddles. 
Or, for your endurance riding needs, check out our guide on horse saddle bags. 
Read More: