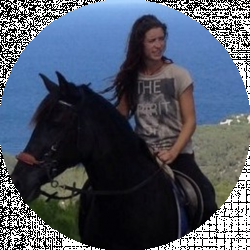 Latest posts by Tanya Taylor
(see all)
I work with horses in a hot climate, and in the summer, flying insects bother them. I find it pretty upsetting watching my equine friends suffer from the flies, and the last thing I want when I'm riding is a twitchy horse. I've learned a lot about horse fly sprays over the years and know which ones are the most effective. So, if you want to know how to find the best horse fly spray on the market, I'll tell you exactly how below.
Bottom Line Up Front
If you want a highly effective, long-lasting fly spray, I highly recommend Farnam Endure. This spray is sweat-resistant, so it's fantastic for the show ring and provides days of protection for horses out in the field. Farnam is a brand you can trust, and that's why horse owners all over the world choose their products for fly protection.  
My Top Choices At A Glance
Before we start, I'll give you a quick sneak peek at some of my favorite products from the article: 
Farnam Endure

– This is one of the most effective sprays on the market from a trusted equine brand. It's perfect for performance horses in the show ring – or to protect horses who live out during the summer.

Espree Aloe Herbal Horse Spray

– This is the best natural horse repellent on the market – it's gentle on your horse's skin but tough on biting insects. It's one of the most effective natural sprays – backed by many customer reviews.

Farnam Equicare Flysect

– This is the best spray for stabled horses or ones that don't suffer so much from biting insects. It has a gentle formula with natural ingredients to help combat the flies in summer.
How Does a Horse Fly Spray Work?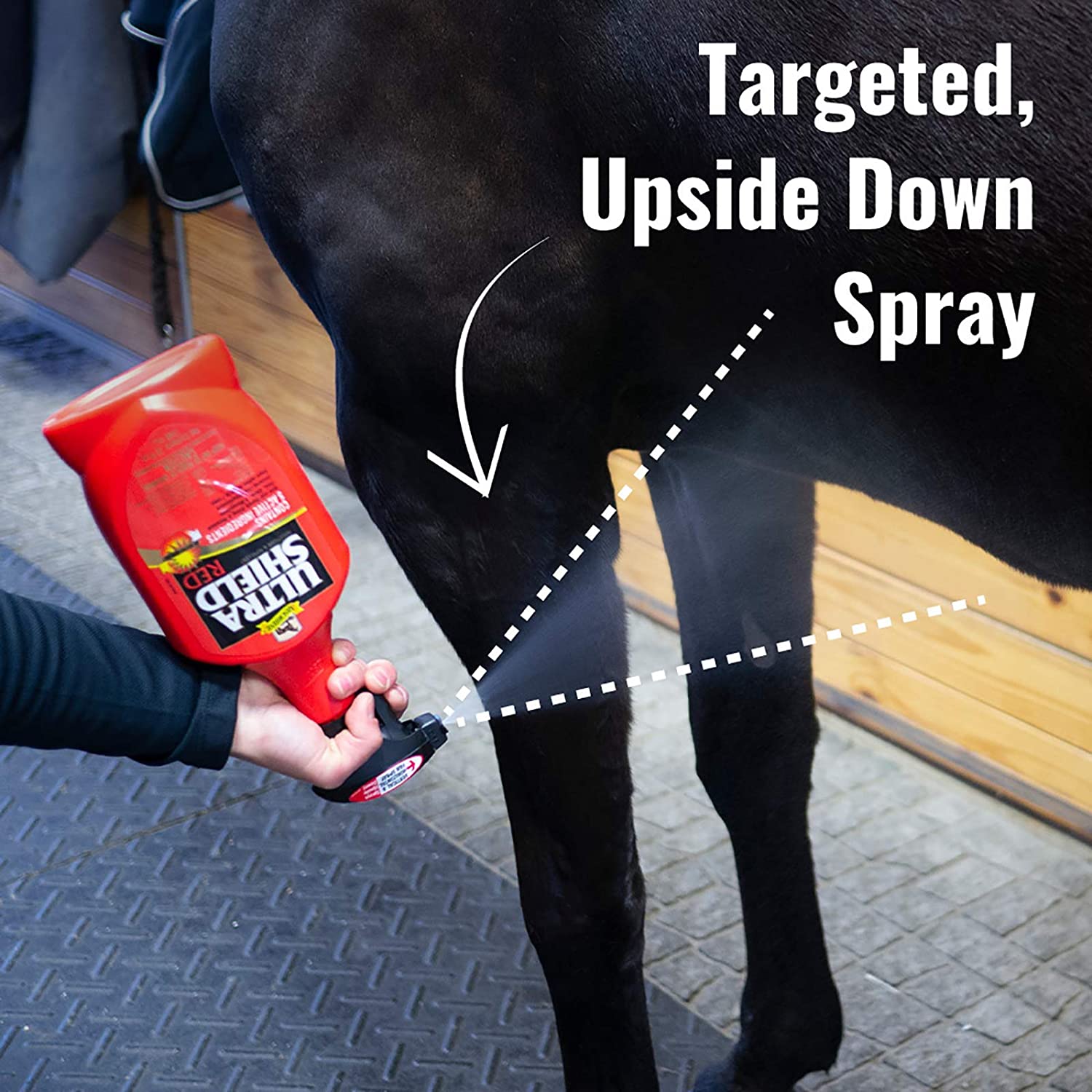 Horse fly spray creates a protective barrier against flies and other biting insects such as stable flies, ticks, and mosquitoes. It does this with synthetic chemicals or organic substances that kill or repel biting insects. Repellents stop pests from landing on my horses, while insecticides kill the offending insects. 
Insecticide Sprays:

 Are usually made from fully-synthetic chemicals – they kill insects upon contact and are generally more effective at keeping insects at bay. 

Repellent Sprays:

 Contain organic repellents, which are less toxic for horses, but they don't kill insects – they only deter them. 
Common Ingredients to Look Out For In Horse Fly Spray
If I want to make an informed decision about choosing a fly spray, I look at the ingredients. I look for the base ingredients such as water or oil and the active ingredients such as DEET. If you're not a scientist, it's hard to decipher some of the chemicals in a fly spray – so I'll break them down for you below. 
#1 – Water or Oil
The first thing to look out for on fly spray is the base ingredient which will be either water or oil:
Oil-based fly sprays

Are fast-acting and evaporate slower, which means they last longer. However, oil-based spray can leave a sticky residue on your horse's coat, which can attract dust – and even burn your horse's skin if in strong sunlight. 

Water-based fly sprays:

These are generally less irritating and more soothing to your horse's skin. However, you usually have to apply water-based horse fly spray more frequently than oil-based ones. 
#2 – Permethrin/Cypermethrin
Fly sprays which contain permethrins, such as cypermethrin, are generally more expensive because they're highly effective. Permethrin is an insecticide – synthesized from chrysanthemum. It's the strongest chemical repellent, which can defend against insects for several days.
#3 – DEET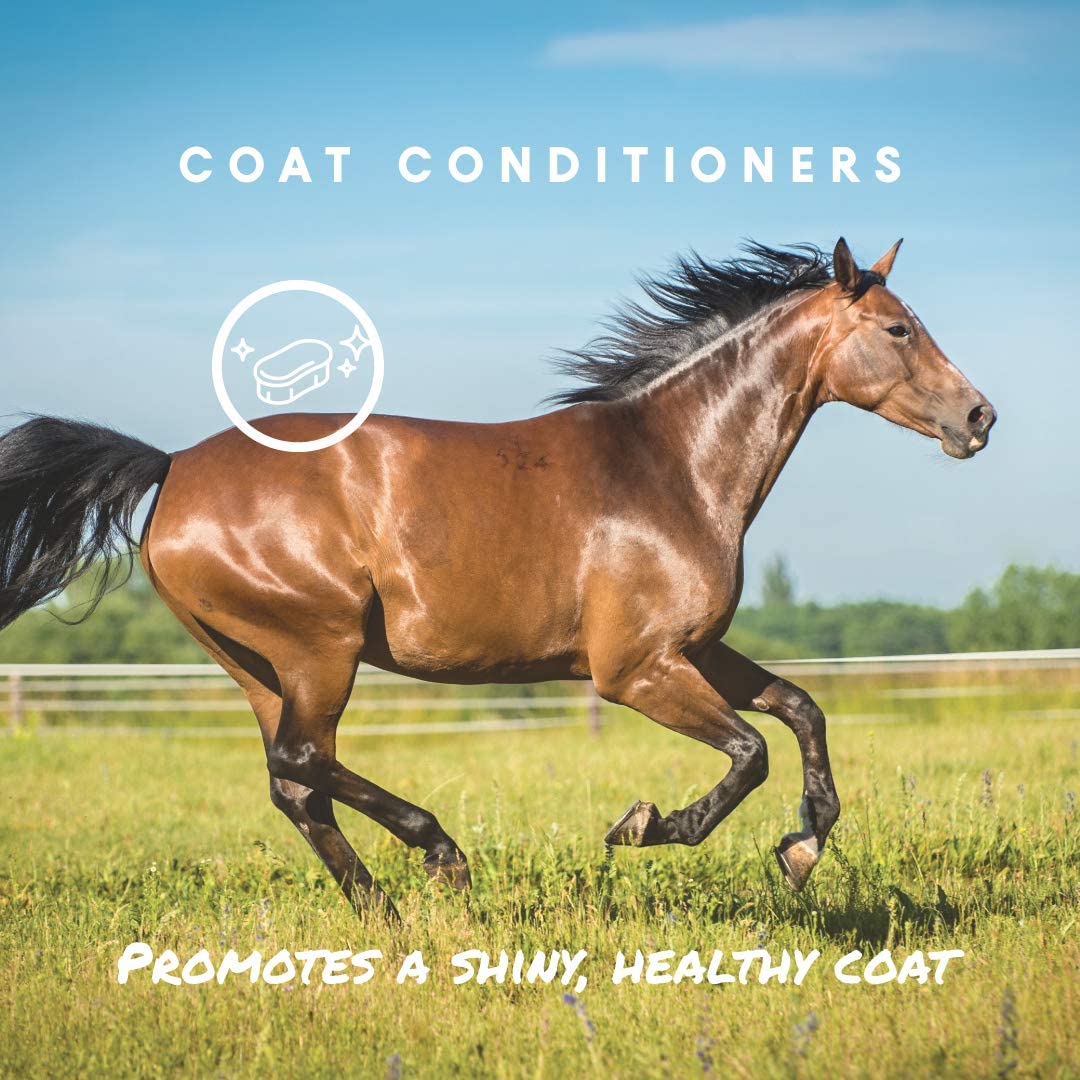 You find DEET in many horses and human insect repellents because it repels most insects, especially mosquitoes. I like to use DEET products in places where mosquitoes are a problem.
#4 – PMD or Citriodiol
PMD is a plant-based compound derived from the eucalyptus tree. It's naturally repellent which can be just as effective as DEET if you use it in the right concentrations.
#5 – Benzyl Benzoate
Benzyl Benzoate is a powerful insecticide and is the ingredient I look out for if I want to help a horse with sweet itch. However, I try to apply it before the itching starts in March because it can irritate the exposed or broken skin that comes from itching. 
#7 – Neem
Neem is a natural ingredient in horse fly spray- it's a powerful and non-toxic insect repellent that you can use on all animals. Neem does a fantastic job of keeping insects away and is also very soothing on the skin. 
#8 – Citronella
Citronella is a common natural ingredient in horse fly repellents and has a pleasant and distinctive smell. Citronella is usually the main active ingredient in natural or organic horse fly sprays.
How Good is Natural Horse Fly Spray?
I don't like to put chemicals on my horses, and there's a range of eco-friendly, chemical-free sprays on the market. I like natural products because they're much safer for horses and the environment, but unfortunately, they're usually less effective than chemical ones. 
If my horses are in an area with few biting insects – I use natural products to protect them. However, if my horses are in a place where biting insects are a real problem and causing them distress, the benefits of using chemicals outweigh the risk of toxicity. 
Holistic Ways To Keep Flies Away From Horses
If you don't want to use strong chemicals on your horse, you can use chemical-free fly repellents with holistic approaches to keep the flies away. Try feeding your horse a garlic supplement that will make your horse less appealing to flies, or use a fly sheet to help keep the flies off.
What I Look Out For To Choose The Best Horse Fly Repellent
Each horse is different with fly spray, so you must choose one depending on their circumstances and environment. I always look at the active ingredients, and I look for added extras such as sunscreen or coat conditioner. 
Let's take a closer look at the main things to consider when you choose a fly spray: 
#1 – The Ingredients
The ingredients are the first thing I look at when choosing a fly spray. First, I check to see if it's water or oil-based, and then I look for the active ingredients. If I want to protect outdoor horses for days at a time, I choose oil-based, permethrin cypermethrin products. These offer the most coverage and are sweat and weatherproof. 
#2 – The Application Method
If I work with a freaky horse who doesn't like spray bottles, I look for repellent, which I can apply with a cloth. Some sprays come as wipes or as a roll-on – these are great for nervous horses and to apply for protection around a horse's eyes.
#3 – Your Horses Environment
If my horses live outside in a heavily infested area – I always choose the strongest products. If my horse is in a stable overnight, I find I can get away with a milder product because there are fewer insects indoors. Mild products are also better for indoor horses because there's less ventilation. 
#4 – Your Horses Skin
If I have a horse with sensitive skin or skin conditions, I don't use sprays heavy in synthetic chemicals – you should never apply strong chemicals to damaged skin. Instead, it's better to use a natural product – aloe vera is particularly good for horses with dry or sensitive skin. 
Always perform a patch test on your horse before you use a new horse spray. Just because a product is natural, it doesn't mean your horse won't be allergic to it – some horses can react to the essential oils found in natural products. I'll tell you how to do a patch test later in the article.
#5 – Added Extras
I often choose fly sprays with added extras such as sunscreen. Again, choose added extras depending on your horse's circumstances. 
If I want the spray to protect my horse in the show ring, I choose sweat-resistant ones with coat conditioner or coat shine. If my horses are outside a lot, I choose fly sprays with UV protection. 
How Much Fly Spray Does a Horse Need?
The amount of fly spray I use on a horse depends on the brand and my horse's needs. Some brands offer 14 days of protection, but, in reality, they usually last between 3 and 5 days. Other brands recommend a daily application. You can tell your horse needs more spray if flies start to bother them. 
Groom your horse before applying the spray, and apply it liberally following the manufacturer's instructions. It takes approximately 2oz of spray to cover a medium-sized horse, roughly 45 sprays. You can also reapply the spray when your horse needs extra protection, such as during the peak insect biting hours at dusk and dawn. Before applying a new spray, always do a patch test on your horse.  
What is a Patch Test?
A skin test is when you apply a new spray to a small area of your horse's skin, usually under their armpit, and leave it for 24 hours. This is to ensure your horse isn't sensitive to the new product before you cover their body in it.  
If the skin patch is normal after 24 hours, you can safely use the product on the rest of your horse's body. If your horse has a bad reaction – you should choose a different product instead. 
The Best Horse Fly Sprays On The Market
Now you know all about horse fly spray – instead of trawling through the internet to find the best ones, here is a selection of my top fly sprays for horses. I've broken them into different categories to help you find the best ones for your needs. 
#1 – Best Horse Fly Spray For Shows

Farnam are experts in horse fly repellents, and Endure is one of the most popular sprays on the market. The special formula protects my horses for several days after application, and it's highly effective against most biting insects in many different environments. I love this product because it's super reliable and sweat-proof, so it's fantastic for competitions and horses who live outdoors.
Pros:
Long-lasting

Sweat-resistant
Cons:
It doesn't last 14 days as advertised – It will last for around 2-5 days

The bottle can leak, so always keep it upright

It's oil-based, and it can leave a residue on the coat

Manna ProForce is a powerful Permethrin Cypermethrin based-spray that kills flies on contact, so it's fantastic for shows to prevent twitchy tails in the show ring. I like this spray because it's sweat-resistant, long-lasting, and effective on over 70 species of biting insects. This is a powerful insecticide, which is perfect for outdoor horses who need strong fly protection. 
Pros:
Fast-acting

Long-lasting

Sweat-resistant
Cons:
Many customers don't like the odor – I don't mind it.

It doesn't last 14 days as advertised but will last for two or three days.


I like to use this spray for shows because it's a powerful insecticide that contains coat conditioner. Many horse owners swear by this Permethrin Cypermethrin-based spray which kills gnats, mosquitoes, lice, and ticks, to name a few. It's sweat-resistant, long-lasting, and provides coverage even in places with heavy insect populations. 
Pros:
Contains coat conditioner

Sweat-resistant

Long-lasting
Cons:
The bottle can be leaky if you don't store it upright.
Best Fly Spray For The Paddock

UltraShield EX is one of the most powerful water-based sprays on the market. Even though it's water-based, it's completely weatherproof, and it deters up to 70 types of biting insects. I like this spray because it's highly effective and lasts several days, so I don't have to reapply it all the time. I use it on horses who live out in the paddock because it protects against the sun and conditions the coat.
Pros:
Long-lasting

Deters against 70 types of bugs
Cons:
Doesn't last for 17 days as advertised, but it will protect horses for 2-5 days.

Wipe N Spray is a powerful oil-based spray which contains permethrin cypermethrin as the active ingredient. I like this spray because it provides long-lasting coverage for horses who live out in the paddock. It has a pleasant citronella fragrance and contains coat conditioner to keep my horses looking healthy.   
Pros:
Contains coat conditioner

Highly effective
Cons:
You must be gentle with the bottle because the spry top is pretty delicate and breaks easily.

Absorbine UltraShield Red is one of the nation's favorite fly sprays because it's highly effective and good in all weather conditions. It's a fully synthetic water-based spray with permethrin as the main active ingredient. I like this spray because It's long-lasting – offering protection for up to 7 days, and it also contains coat conditioner.  
Pros:
Non-greasy

Contains coat conditioner
Cons:
It generally doesn't last for 7-days as advertised but will protect for at least 3 or 4 days.
Best Natural Horse Fly Sprays
Espree Aloe is one of the most effective natural horse fly sprays on the market, which uses a mix of cedarwood, citronella, and eucalyptus to deter insects. It contains organic Aloe Vera- which makes my horse's coat look great and helps protect it against the sun. I love this spray because it smells beautiful and always leaves my horse pest free and shiny.
Pros:
Offers sun protection

Contains all-natural ingredients
Cons:
Some horses are sensitive to this product, so always do a skin test before using it. 

UltraShield has over 125 years of experience, so they're a brand you can trust. I love the UltraShield Green spray because it provides the same high protection as standard UltraShield, but it's better for my horses and the environment. It contains seven essential oils and is water-based, so it's gentle on a horse's skin.
Pros:
Natural ingredients

Repels dust
Cons:
You have to reapply regularly
DAC Citronella Spray

DAC Citronella Spray is one of the purest and most natural fly sprays on the market, and it has plenty of good reviews. It is water-based, doesn't contain chemicals, and is non-toxic to horses. It contains rosemary, cedar, and citronella, so it smells beautiful and protects against flies, ticks, mosquitoes, and gnats. 
Pros:
100 percent natural

Gentle, even on damaged skin
Cons:
You have to reapply it regularly
Best Spray For Stabled Horses

Flysect is a permethrin-based spray that also contains citronella, and it protects horses against several biting insects usually found at the barn, such as horse flies, mosquitoes, stable flies, and gnats. I like to use it because it contains a coat conditioner which conditions my horse's coat and makes it shine. It has a lovely aroma, so I like spraying it around the stalls to freshen them up and provide extra protection.
Pros:
It contains synthetic and natural ingredients

It has a pleasant aroma
Cons:
It doesn't work on a huge range of insects.

Zero Bite Natural is a fantastic natural fly spray for stabled horses from Pyranha. It's a water-based spray that uses the power of plant extracts such as peppermint, geraniol, and clove to keep biting insects at bay. I like it because it's completely non-toxic and doesn't leave a greasy residue. 
Pros:
Natural ingredients

Non-greasy 
Cons:
You have to reapply it regularly. 
My Top Choice in Horse Fly Spray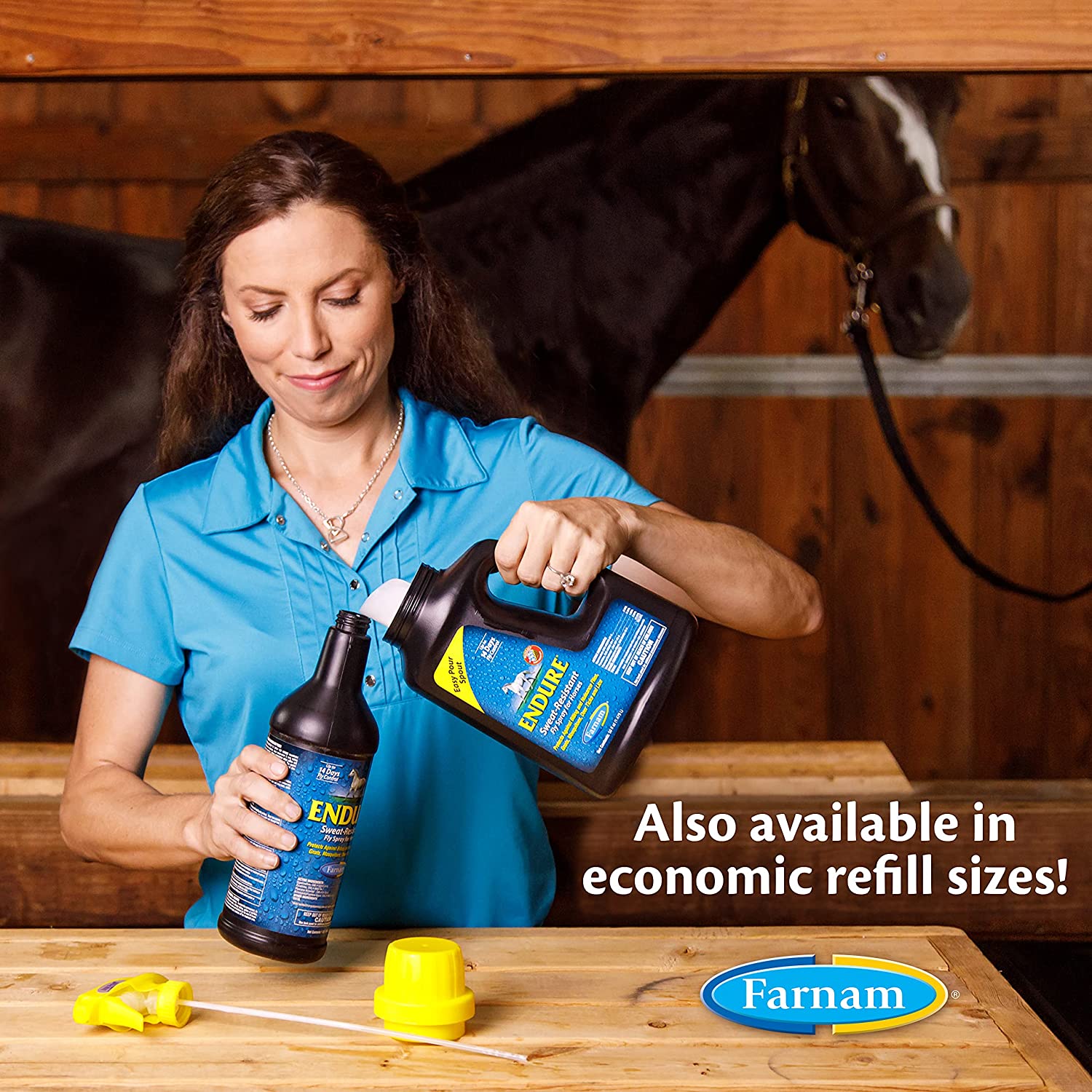 My overall top choice for fly protection is the Farnam Endure fly spray. This is my favorite product because it is reliable and effective and can protect horses from insects for days. It's sweat-resistant too, so it's fantastic for the show ring.  
The best natural horse spray on the market is the Espree Aloe Herbal Horse Spray. This is an amazing natural product that smells lovely, and it's gentle on my horse's skin. For stabled horses, I always use Farnam Equicare Flysect. This is a mild product that does a fantastic job of protecting horses from the few bugs found indoors. 
FAQs
Question: What is the most effective equine spray?
Answer: The most effective equine sprays are ones that contain insect repellent or insecticides such as DEET or Permethrin Cypermethrin. Chemical pesticides are effective and long-lasting; they're usually sweat and weather-resistant. Natural repellents are less toxic to horses, but they're not as effective – usually, you have to reapply them every few hours. 
Question: Do horse fly sprays work?
Answer: Horse fly sprays can protect horses against a range of biting insects, including mosquitoes, gnats, flies, and ticks. Some sprays protect against up to 90 different types of insects. Not all sprays are the same – some are more effective than others, so for guaranteed coverage, always buy the fly spray from trusted equine brands. 
Question: What can I spray to get rid of horse flies?
Answer: You can use horse fly spray to get rid of horse flies outside, in the paddock, or inside the barn or stall. Some sprays are repellents, meaning they deter flies from landing, while others are insecticides, which kill the flies upon contact. 
My Conclusion and Top Choice
When I choose a fly spray, I try to strike a balance between effectiveness and toxicity. I prefer to use natural products, but in some cases, the only way to keep flies away is with chemicals. That's why Farnam Endure is my top choice in horse sprays. Farnam sprays are highly effective and provide long-lasting coverage. Farnam is an industry leader with over 75 years of experience, so I know, for sure, that their products are safe for my horses.