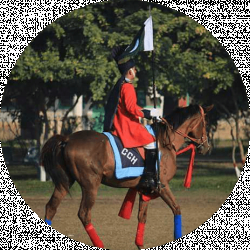 Latest posts by Boo Ali Khan
(see all)
If you are a horse owner who frequently transports your cherished equine companions using a horse trailer, I would highly suggest investing in a trailer cover. After all, the next beloved thing for an equestrian after his horse is his horse trailer.
These trailer covers protect and shield your horse trailers against external factors such as the sun, rain, and dust. Moreover, they will not only keep your trailers looking pristine for a prolonged time but also minimize the risk of costly repairs. And remember, you don't necessarily have to own a trailer to use a horse trailer cover.
Even if you frequently rent a horse trailer for different equestrian events, with this investment, you can save yourself from a number of maintenance charges.
Therefore, in this guide, I will explore the different horse trailer covers available in the market and dive deep into their features and benefits, which make them a reliable choice. Furthermore, I will also share some of the typical trailer cover problems you need to look out for and a few buying tips to ensure your purchase goes as smoothly as possible.
So, let us begin our journey through the best horse trailer covers guide!
Bottom Line Up Front
Out of the various horse trailer covers featured in this guide, if I have to vote for one best trailer cover, it would be The GOLDLINE Horse Trailer Cover.
I am a massive admirer of the extensive range of options this cover provides. Also, the marine-grade fabric and Sof-Tec coating provide an impenetrable defense against even the harshest weather conditions.
Apart from this, this Goldline cover offers reinforced corners and reflective panels to enhance visibility at night. Not to mention, some complementary, such as storage bags and repair kits, also add to the allure of this great set.
Common Problems Associated With Horse Trailer Covers
Difficult To Install
A common issue faced by horse trailer cover users is the arduous installation process. Some covers are pretty heavy and may weigh up to 50 lbs.
For such covers, installing them properly takes at least 2-3 individuals and about 20-30 minutes. Although there isn't exactly any way around this problem, if you don't have enough manpower, try to look for the horse trailer covers made of lightweight fabric, such as Polypropylene, and with elastic hems.
Poor Fit Or Inadequate Coverage
This can be an issue if you don't take precise measurements of your trailer. Poor fit of the cover can lead to certain areas of the trailer being exposed to weather elements. Moreover, a tight fit can also lead to constant stretch, which results in tearing up the cover.
Deterioration Over Time
As horse trailer covers are constantly exposed to various conditions such as rain, UV rays, wind, or snow, they can deteriorate over time. This can result in weathering off of the color or even reduce the cover's overall strength. Moisture buildup and the growth of mold and mildew due to poor ventilation can also further damage your cover's health.
How To Care For Your Trailer Cover
Regular Cleaning And Inspection
If you wish to maintain the performance of your trailer cover, it is highly advisable to regularly clean and inspect them. Remove any dirt or debris using a mild soap and water solution, and clean and dry the cover thoroughly before storage.
Addressing Repairs Promptly
Be on the lookout for any signs of damage, wear, or tear, and address them without delay. Ignoring any loose stitching or fading can sometimes further compromise your trailer cover. To fix any damage, utilize the repair kits provided by the manufacturer or seek assistance from a professional.
Proper Storage
When your trailer cover is not in use, keep it in a clean and dry area, away from direct sunlight. Try to avoid folding the seams or packing the cover too tightly. Not to mention, if you have a storage bag or container, it can prove useful to protect against abrasion or dust.
Ventilation And Moisture Control
The vents in covers are designed to facilitate breathability and can help reduce humidity. So, in order to prevent the growth of mold, ensure that the airflow is not obstructed in any way.
My Selection Criteria For Horse Trailer Covers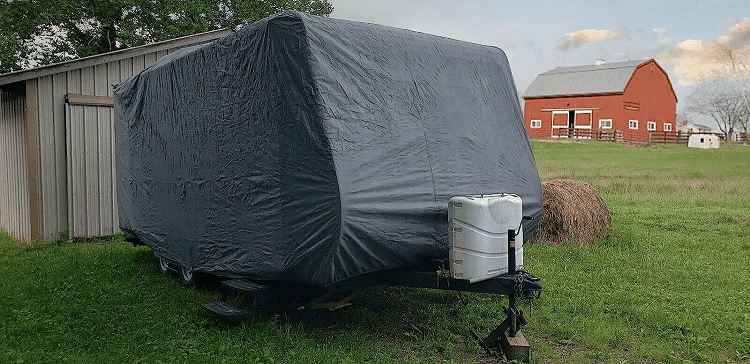 In order to make sure that my recommendations offer a great buying experience, I have considered the following criteria while making the selection:
All the trailer covers offer long-lasting performance.
These picks include a recommendation for every sort of horse trailer.
Many of the horse trailer covers are customizable.
All the recommended trailer covers come from reputable brands and websites.
My Top Horse Trailer Covers Recommendations
Just like horse trailers, horse trailer covers come in several types and sizes. Whether you have a bumper pull, a gooseneck or a living quarters trailer, there is a wide range of covers available, each tailored to meet the specific needs in terms of quality, type, and size.
Bumper-Pull Trailer Covers
These covers are designed specifically for your bumper-towed trailers. As a result, these covers are usually smaller in size. Also, Bumper-pull trailers covers are a budget-friendly option compared to gooseneck trailers covers and can range anywhere from $200 to  $500.
Premier Bumper Pull Horse Trailer Cover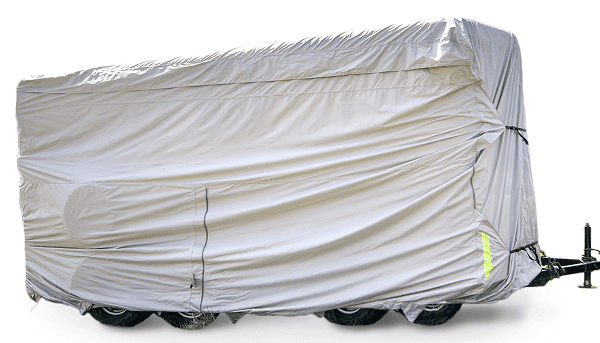 Durable and reliable, The Premier Bumper Pull Horse Trailer Cover is a robust solution for safeguarding your valuable horse trailers. Made from 300 Denier Polyester, thanks to its DWR coating,  this cover is not only lightweight but also offers flexibility and water repellent finish.
For maximum convenience, the Premier Trailer Cover offers a range of features. Its zippered panels allow you to easily access your trailer without removing the whole cover. Also, the built-in vents allow for airflow and help reduce moisture buildup.
The Premier cover is available in various sizes labelled from A to J, allowing you to find the right size for your bumper-pull trailer easily. And with its 3 years warranty, you can be confident you won't need another cover for quite a while.
Though the adjustable tying system at its front offers a pretty secure fit, to be honest, I don't particularly like the look of it. And let's not forget, this cover costs more than double the ADCO bumper pull trailer cover.
Pros
It provides brilliant protection against moist and rainy climates.
Includes a convenient storage bag for easy stowing.
The vents allow for better airflow.
Cons
This cover costs an arm and a leg.
Beverly Bay Standard Horse Trailer Cover-Ups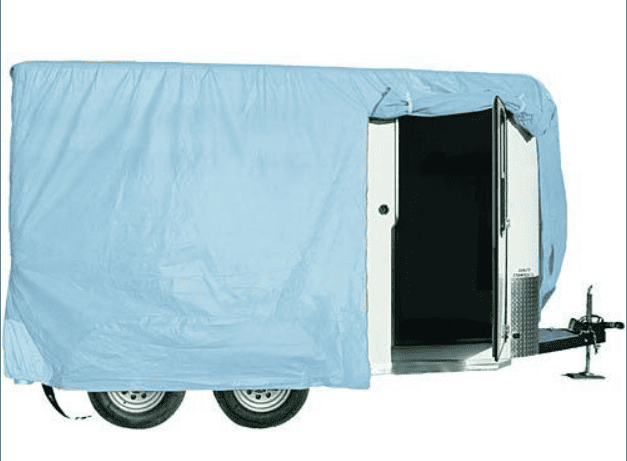 If you live in the Southeast or often go to this region for equestrian events, this Beverly Bay Standard Horse Trailer Cover-Ups is for you; after all, in hot and humid climates, you definitely need to save yourself from mildew and unwanted rust.
With its polypropylene build, this cover is mildew, moisture, and UV resistant and offers 100% breathability. Furthermore, the top panel is constructed specially to provide defense against scorching sunlight.
This Beverly Bay trailer fits most standard and thoroughbred bumper pull trailers and is available in different sizes between 8 feet and 18 feet. So, if you are tired of grey color and want something light to cover your precious horse trailer, you know what to order!
Pros
This cover offers100% breathable design for optimal airflow.
It is perfect for hot and humid environments.
Cons
Delivery of this trailer cover can take up to 4 weeks.
Gooseneck Trailer Covers
The trailer covers designed for gooseneck trailers commonly range from 20 to 46 feet in length and mostly come with secure fastenings and straps to properly fasten your trailer. You can find gooseneck trailer covers in various price ranges, starting from $300 and going up to $600 or more.
SFS Aqua Shed Gooseneck Horse Trailer Cover

In my experience, when it comes to trailer protection, ADCO is widely recognized as a top choice among equestrian communities. Their commitment to quality is exemplified in products like the ADCO SFS Aqua Shed Gooseneck Horse Trailer Cover. This trailer cover offers unparalleled durability and moist weather resistance and can be tailored specifically to the size of your trailer.
This gooseneck trailer cover is easy to install and comes with multiple zipper entry doors. Also, its reinforced corners allow it to withstand pulls and tugs while installation; not to mention, its both rear and front corners are also flexible. Moreover, to prevent any unwanted flapping during travel, the cover is equipped with straps and buckles.
Still, although they are available in various sizes, which go up to 35 feet, remember, if you are looking for a cover that could really bear hot weather, this might not be a good choice.
Pros
The trailer cover includes a 2-year warranty.
It contains a storage bag.
It allows for proper air circulation and prevents buildup of moisture.
Cons
It is available in only one color option.
It is not suitable for hot weather.
Premier Gooseneck Horse Trailer Cover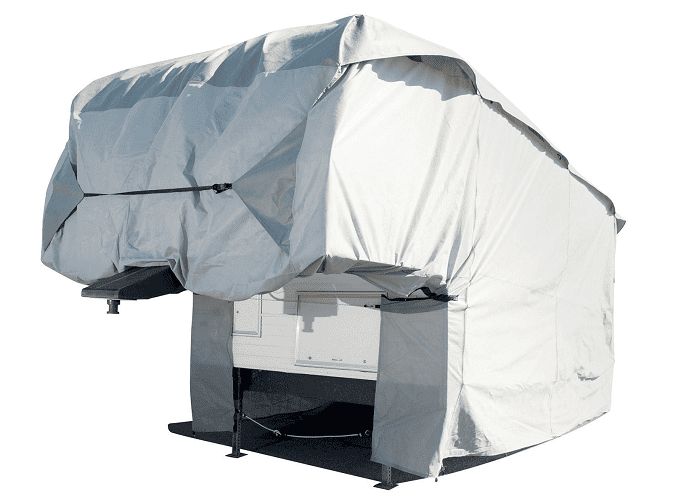 If I had a Gooseneck trailer and a spare $600 in my pocket, I know what I would do. From Premier's craftsmanship comes another exceptional product – The Premier Gooseneck Horse Trailer Cover. With its secure fitting and superior construction, it is the ultimate choice for your Gooseneck trailer, no matter the environment.
The Premier Gooseneck is available in multiple sizes, from as low as 23.5 feet to an impressive 46 feet. Its build comprises a robust fabric engineered to combat challenging external elements and extensive use.
Out of all its features, the thing that I particularly like about this trailer cover is its compatibility with almost every type of weather condition, something you might not find in most of the covers on the market. However, this compatibility comes at a hefty price tag.
Pros
The cover has an adjustable design for easy fitting.
The seller offers a return policy, allowing you to replace defective items within 30 days.
You can include covers for wheels and hitch along with the purchase.
Cons
The cover does not fully shield the neck of the trailer.
Living Quarter Trailer Covers
Living quarter or RV trailer covers come in precise sizing options, reinforced corners, and access doors to allow easy entry inside the trailer. They are typically available in multiple sizes, anywhere from 15 to 40 feet, and their cost can vary depending on their size and quality.
SavvyCraft RV Trailer Cover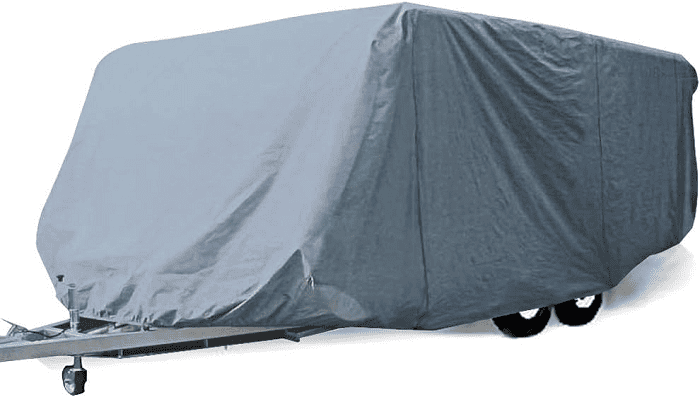 If you ask me, the first thing that comes to mind after hearing a horse living quarter is loads of money. But what if I say there is a budget-friendly trailer cover for your living quarter that won't break the bank?
Introducing the SavvyCraft RV trailer cover, a cost-effective option for your precious living quarter. This affordable option provides essential protection to your trailer and is available up to 24 feet in length.
The polypropylene material used for the construction is UV treated to provide better sunlight protection for your trailer. Also, this lightweight fabric is exceptionally breathable and will minimize the formation of mold and mildew under the cover. Not to mention, the seams are double-stitched to save the edges of the cover from unpicking.
However, I must admit that the material feels thin and cheap and would not be good for harsh weather conditions. In addition to that, despite having elastic hems, the cover does not offer a very snug fit. Be that as it may, for its price tag, it's not a bad option for those equestrians who don't want to invest much for a rental living quarter.
Pros
It is exceptionally lightweight and easy to put on.
Made from breathable polypropylene material.
It is pretty affordable.
Cons
It has no door access openings.
This trailer cover is not suitable for strong winds or heavy rain.
NarElect Travel Trailer Cover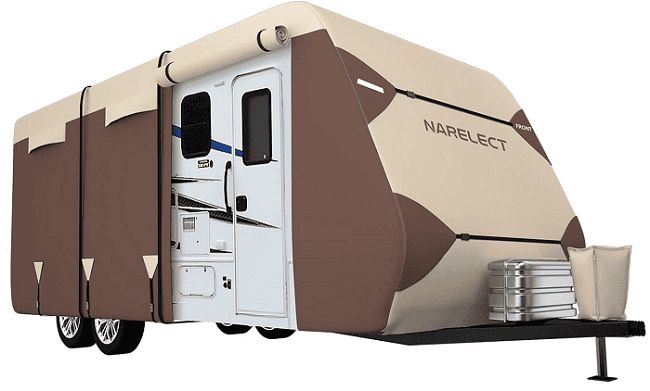 With its unique dual-color look, The NarElect Travel Trailer Cover is a stylish and highly functional product that does not fail to deliver protection against external factors. And unlike Polypropylene or Denier Polyester, which make most of the trailer covers, its Oxford fabric extends a very refreshing and visually appealing look.
This beautiful cover manages to strike a perfect balance between lightness and endurance. It weighs only 21 pounds, and incorporates a breathable multilayer armor. Furthermore, its innovative design isn't just for looks; on the contrary, it blocks moisture from the top down and allows dampness to escape through the six strategically placed air vents.
Although this might seem trivial, the installation process of trailer covers becomes frustrating when you cannot locate its front end. But the NarElect cover even remedies this problem and offers marks on its front and rear end.
That is not it; this trailer cover contains gutter covers and sponges to facilitate water drainage and protect against sharp edges. Plus, repairing patches are also included in the package to handle any minor tearing mishaps.
Pros
It comes with a 3-year warranty.
The cover has a waterproof top.
Includes foldable flaps to access the inside.
Cons
The color of this trailer cover fades with time.
The sides aren't very thick.
Customizable Trailer Covers
The best thing about customizable trailer covers is that you can customize each and every aspect of your trailer cover, including size, color, modifications, access points, etc. However, these covers are usually expensive and may cost as much as a thousand bucks.
GOLDLINE Horse Trailer Covers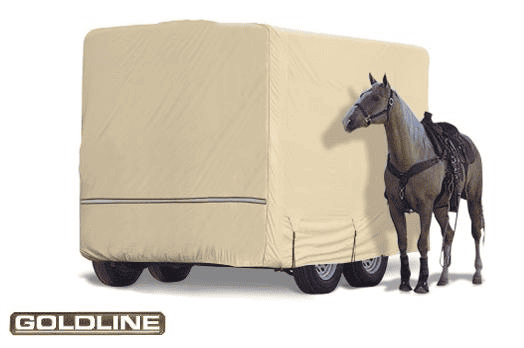 Among the exceptional horse trailer covers featured in this guide, The GOLDLINE Horse Trailer Cover stands out as my absolute favorite. With its unrivaled quality and a multitude of advanced features, GOLDLINE sets a new standard for ultimate trailer protection.
Whether you own a small 1-horse trailer or a spacious 46-foot RV, GOLDLINE offers a semi-custom fit. Not only does it allow you to choose between a gooseneck and bumper pull, but you can also customize the front shape of the cover according to your trailer, such as square, round or V-front.
Now, talking about its features, the heavy-duty Marinex grade fabric is a testament to its durability, and the Sof-Tec coating provides an impenetrable shield against water. The overall strength of the cover is enhanced further by the reinforced corners, and it also incorporates anti-hit reflective panels for better visibility during the night.
In addition to its many features, The GOLDLINE horse trailer comes with valuable extras as well. You can enjoy the convenience of a free duffle bag, a strap kit, and a patch kit to further enhance the value of your purchase. In fact, considering the price of this cover, I would embrace these complementary items with open arms.
Pros
It provides ultimate breathability through micro-porous film.
Zippered panels with anti-scratch leaves allow for easy access to the trailer.
Includes a number of additional accessories.
Cons
The cover weighs about 30 lbs. and can be challenging to handle alone.
It is a very significant investment.
Specialized Horse Box Covers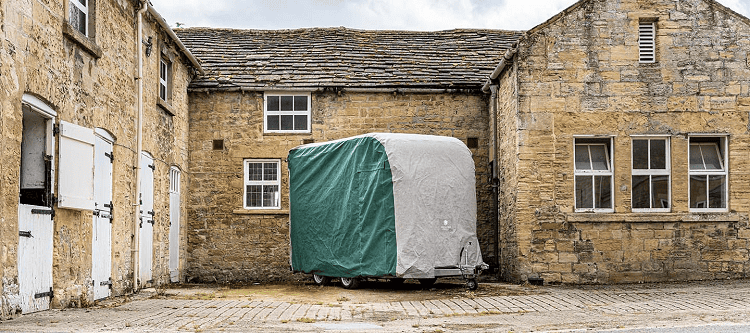 Based in the UK, Specialized Covers are known for their outstanding quality and custom-made fits, that even at an affordable rate compared to other customizable options.
The Specialized Horse Box Cover can be customized for all famous horse trailer makers, such as Exiss, Equi Trek, and Cheval. However, each cover is incorporated with multiple access points for easy access and comes with a convenient industrial Velcro strip. And if you require additional points for entry/exit or electricity, you just have to let customer service know.
This trailer cover also allows you to choose between 3 unique colors – blue, grey, and green – or even use them in contrast according to your preferences.
The material used is non-abrasive and will not leave marks on your trailer. And let's not forget, to make the installation process smoother, two extendable poles are also included with your purchase. Still, what attracts me most to this custom option is the option for proper pockets to secure any camera or light protruding out of the trailer's main body.
Pros
This cover is easy to install with the extendable poles.
Even the excess points and the color contrast are customizable.
The covers are hand-made in the UK.
Cons
Delivery can take up to 2 weeks.
FAQs
Frequently Asked Questions:
Question: Why do I Need a Cover for My Horse Trailer?
Answer: Unlike other means of transport, horse trailers are not used very often and are usually kept parked, which makes them prone to many unwanted external elements.
Therefore, a horse trailer cover can prolong the life of your trailer by protecting it against UV light, snow, rain, and dust. This not only protects your trailer from damage but also extends its life.
Question: How do I Choose the Right Size for My Trailer Cover?
Answer: It is crucial to ensure that the trailer cover you buy is the right fit for your trailer. You can easily measure the dimensions using a tape measure. Pay careful attention in measuring the height, length, and width accurately.
However, before providing these calculations to the company, don't forget to ask about the margin they put in their cutting, which will allow you to re-adjust your measurements if you want a loose or a tight fit.
Question: Can I use a Horse Trailer Cover While Transporting My Horse?
Answer: Using a trailer cover while transporting horses is not recommended. Proper airflow and ventilation are crucial for the well-being of your horses during travel. Also, when covered, the trailer can become a hazard for the traffic, as the trailer cover hides the parking lights or might also get stuck between the tires.
Final Thoughts
If I am being honest, despite their simplicity, choosing a horse trailer cover that best suits you is an overwhelming decision. And with several options available in the market, it is imperative that you consider factors such as size, material, trailer type, and cost to ensure optimal protection.
In my opinion, all the picks in this guide have their pros and cons. However, if I were to choose one from this list that I personally like, it would be the GOLDLINE Horse Trailer Cover. While it is definitely on the expensive side, its design, and features make up for its price tag.
But before you proceed with your purchase, I would strongly advise you to consider your budget. Conducting proper research about the trailer's specifications and the seller can also prove beneficial. You can also reach out directly to the vendors if you require additional information or a direct quote on a particular trailer cover. And if you are still not sure, customer reviews can also provide good insights into the quality of the trailer cover.
I hope you have a good experience buying these horse trailer covers. Still, if you want to know more about different trailers, don't forget to take a look at our other horse trailer guides. Take care, and happy travels!
Read More: Types of Horse Gear & Equipment