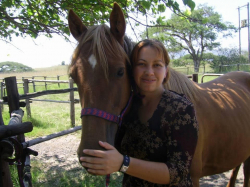 Latest posts by Talitha vanNiekerk
(see all)
One of the first tack items a horse is introduced to as a foal is their halter. Later, as an adult and fully grown horse, the halter remains a valuable piece of equipment. Further, a halter can help improve in-hand training, leading ability, and gaining the horse's trust and respect. 
When I wanted to buy a new halter for my youngster, who had outgrown her foal slip-halter, I was amazed by all the new halter designs on the market. Some halters, such as a pressure halter, are geared toward training the horse or managing unruly behavior, while others are more ornamental. 
Halters range from padded halters to rope halters (also called horseman's halters) and double-stitched or combination halters. There are also technical halters, such as breakaway halters with an inbuilt safety feature. Also, multifunctional halters (or all-in-one halters) are also popular. 
No matter your horse's size, age, or temperament, there's a halter that's perfect for them. Join my search for the ideal halter to fit my still-growing two-year-old filly, and we can find the best halter for your horse. 
Best Halter Bottom Line Up Front
Most horse people have little time to dally, so giddy up and race through the verdict right here. Based on different categories, I rate these as the best halters to consider:
How to Find the Best Horse Halter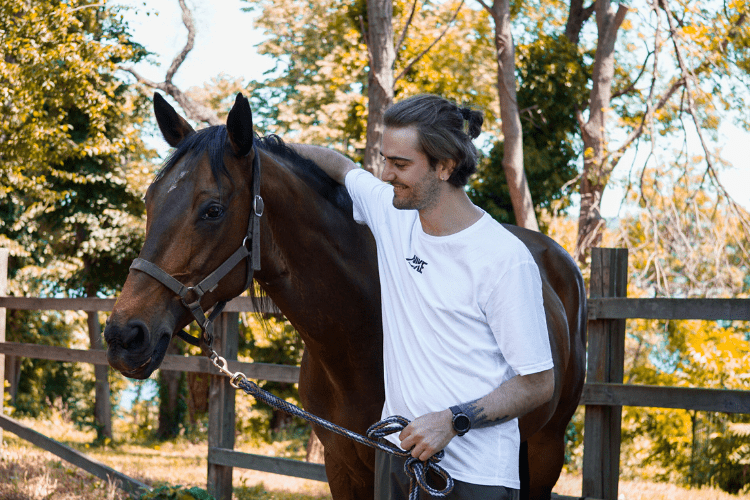 In your search for the perfect horse halter, it is good to know what types of horse halters are out there. Each type has a primary benefit and a downside too, and these will help you toward the best choice. 
Before You Shop, Time to Know Your Horse
A halter is not just about getting the right size halter. It's also about what that halter can do for your horse. Consider these scenarios and how the right halter can make a huge difference:
A highly-strung horse or a horse still in training would require a halter with more accurate pressure points, like a control halter, a rope halter, or a flat nylon halter with reinforcing. 

Horses that may by nature be "a handful," such as stallions, would do well in a stallion halter, which can handle a strong horse that may forcefully pull away. a

A foal needs a halter that is not going to get caught on things, or if it does, will break away and protect their face instead of causing damage. A foal slip halter is an excellent example of such a halter. 

Fully schooled and obedient horses can be trusted much more, and in their case, you can fit a padded halter designed for comfort. 
Different Horse Halters: An Overview
What is a halter? A halter is a harness that fits over the horse's face, allowing the person leading the horse to control the horse's forward and backward movement. 
There are many different types of halters. They are made from different materials that range from synthetic nylon webbed straps and natural fiber rope to leather halters and softly padded microfiber halters. The type of halter you choose depends on your budget, your horse's facial shape, and the level of training the horse has had. 
A Nylon Webbed Halter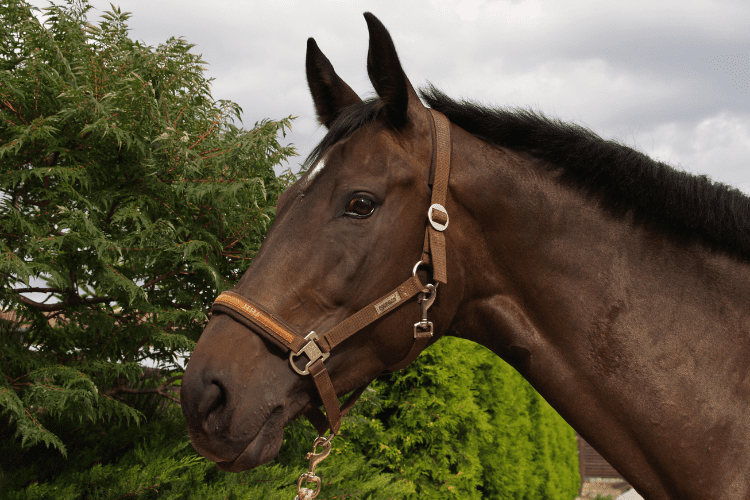 A nylon halter is made from soft but sturdy nylon material. Nylon halters are durable halters that take substantial pressure and won't cut the horse's face. The buckles and hardware are usually stainless steel to prevent rust. However, some have cast-iron or aluminum buckles that are more ornamental. 
A Rope Halter or Horseman's Halter
Rope halters are available in different thicknesses. The thinner the rope, the more pressure it exerts on the horse's face. Thicker ropes are sturdy, but they won't necessarily control a stronger horse better. The layout of the knots across the bridge of the horse's nose also influences the accuracy of the facial pressure used during training. 
A Breakaway Halter
A breakaway halter is a nylon halter with a unique buckle under the horse's chin that breaks when the horse gets stuck on a fence or struggles.
The idea is to protect a horse that may have to wear a halter all day as a halter can tighten dangerously and even strangle a horse if they get stuck or hook the halter on something. 
A Control Halter or Stallion Halter
Control halters come in many different designs. Usually, the design is a nylon webbed halter with an additional rope loop that applies poll pressure to reinforce obedience in the horse. Stallion halters have a similar structure to a control halter, except a chain may replace the rope. 
A Foal Halter
Foal halters are usually designed with either a Velcro release strap or a unique sliding buckle to let the halter slip off if the foal hooks the halter on something. 
An All-In-One Halter
All-in-one halters are basic halters (usually designed like a rope halter) with special fittings that allow fitting a bit to the halter and attaching a set of rope reins. This setup also allows the owner to ride their horse in a halter. 
Fitting a Halter Correctly for the Best Horse Halter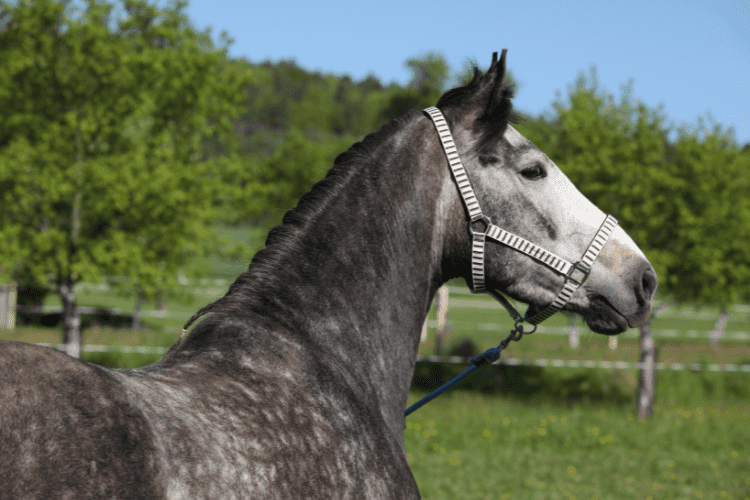 Regardless of the type of halter you buy, a halter can only be the best when it fits correctly. An ill-fitting halter can hurt your horse or prove ineffective in handling that horse. 
Fitting a halter correctly to your horse requires the following checks:
The noseband section should fit two finger widths below your horse's cheekbone. The halter can damage the horse's nose if it fits too low. Too high, and the halter may slip into your horse's eyes.

A well-fitting halter should allow you to slide no more than a hand-width between the bottom of the halter and your horse's jaw. The minimum space difference is two finger widths. 

The poll strap should fit comfortably behind the horse's ears, avoiding the horse's delicate ear bulbs at the back. 

Ensure all buckles are neat, clean, and rust-free to avoid unexpected breakage. 

For a rope halter, tie the knot like this—slip the rope end through the cheek loop, then tighten to the required position. Loop the rope around the cheek loop (not around the rope itself). Finally, draw the end of the rope through that loop, so the rope's end is on top of the loop and pointing backward or downward from the horse's face.
Warning: A Halter Should NEVER be Left on a Horse When Unattended
A horse can sustain serious injury when getting their halter caught on a fixed object. Such a situation can cause death or severe damage to the horse's head and face.  
What to Consider When Buying a Halter
Standing in the tack shop, you may feel overwhelmed by all the halters on display. There are beautiful halters available, and if you don't yet know what to buy, you can quickly buy "pretty," forgetting that a halter is a functional piece of equipment. 
Luckily, this checklist will help you weigh up all the considerations for buying a horse halter:
Functionality:

 Is the halter suited to your type of horse? 

Material:

 Is this halter made from a quality material that will last?

Craftsmanship:

 Is the halter made with good stitching and neatly designed hardware?

Quality:

 Will this halter last, or will the nylon unravel or the rope fray? 

Budget:

 Is this halter within your budget, or is it a "nice" purchase instead of a good one?
The Best Horse Halters for Your Horse
Depending on your horse, budget, and purpose, you would want to choose the best halter for your horse. These are the top candidates per category: 
Best Breakaway Halter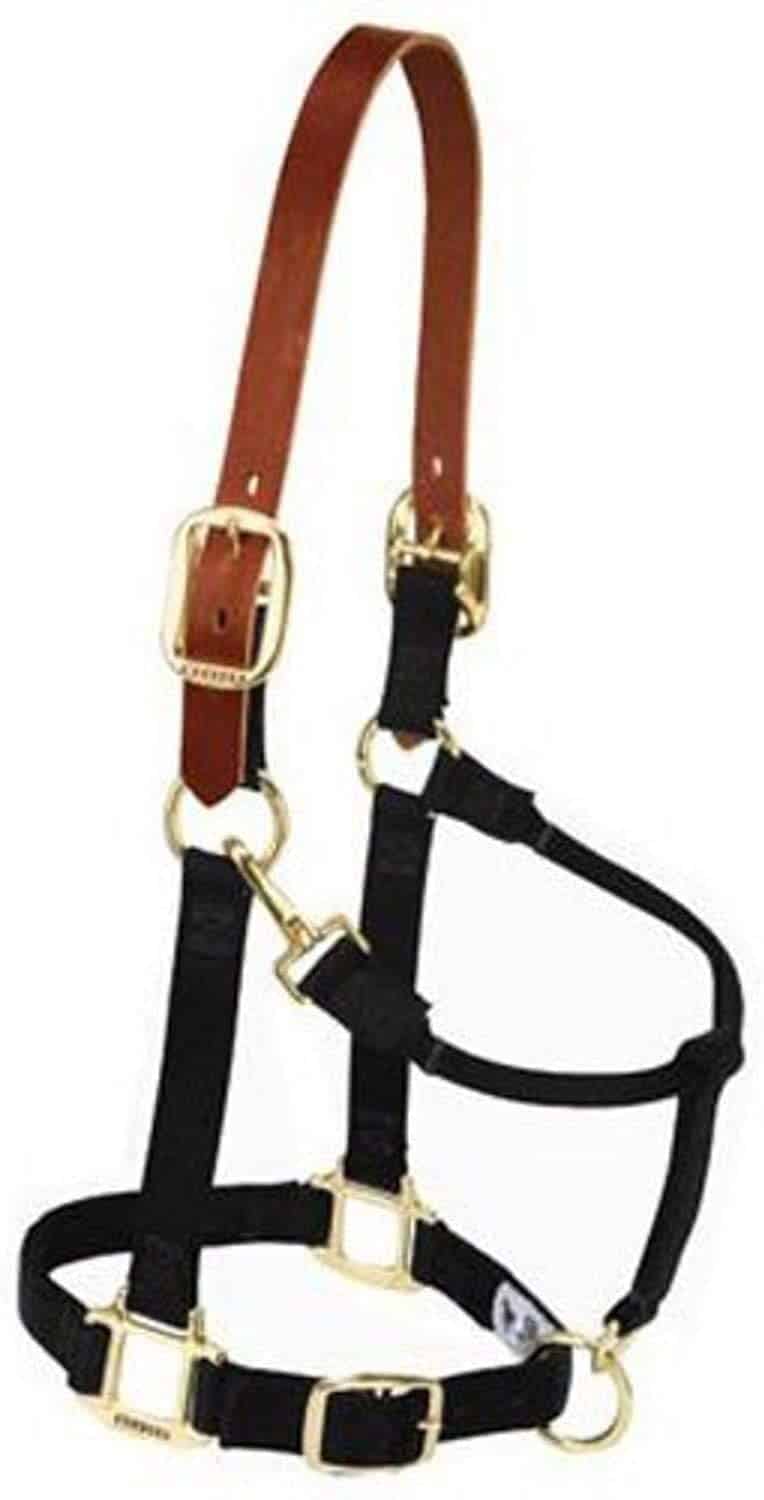 The Weaver Leather Breakaway Original Adjustable Chin and Throat Snap Halter is fantastic for the best horse halter that's fully breakaway-styled. 
This halter features not only a "breakaway" clasp under the chin but also a double leather crown strap that will snap under pressure at the two side buckles. These features all make for a safe halter that you can leave on your horse if you have to leave them unattended. 
Pros
Quality nylon body for halter ensures great quality. 

Weaver latigo leather for the crown strap – replacement straps available.

 Available in six sizes and nine colors.

Hardware is heavy-duty for extra strength. 

Buckle holes are oblong for easy use and heat-sealed for longevity. 

It's a great price at less than $40 for a full-size halter.
Cons
Sizes are bigger than stated, so measure correctly

Some color fastness issues
The Weaver breakaway halter is ideal for horses in training or those that tend to rub on fences and get hooked. The replacement crown strap is a bonus as it doesn't mean the purchase of a new halter when the leather strap snaps during an incident. 
Best Rope Halter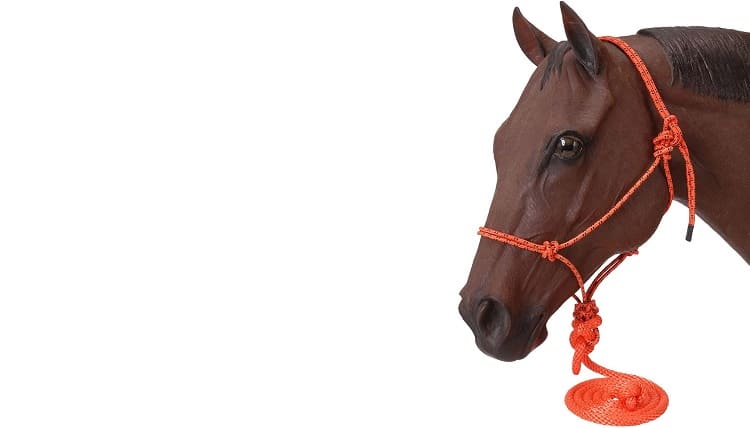 You won't go wrong with a Tough 1 Poly Rope Tied Halter with Lead for a standard rope halter. The quality of the rope, accuracy, skills used in tying the different knots, and overall finish contribute to creating a great product. 
Pros
Fully adjustable by loosening and repositioning the different knots

Low price at less than $17

Available in six colors

Eight-foot lead rope is ideal if you wish to ride in your halter

Poly nylon rope
Cons
The lead rope is a different material than the rope halter

The lead rope is a poorer quality due to being softer
While the lead rope is made from a much softer rope than the headpiece, this is not a problem if your horse is well trained. However, if you have a horse that backs up violently and pulls back on the lead, the lack of a solid core in the lead rope can be a problem. 
Best Flat Nylon Halter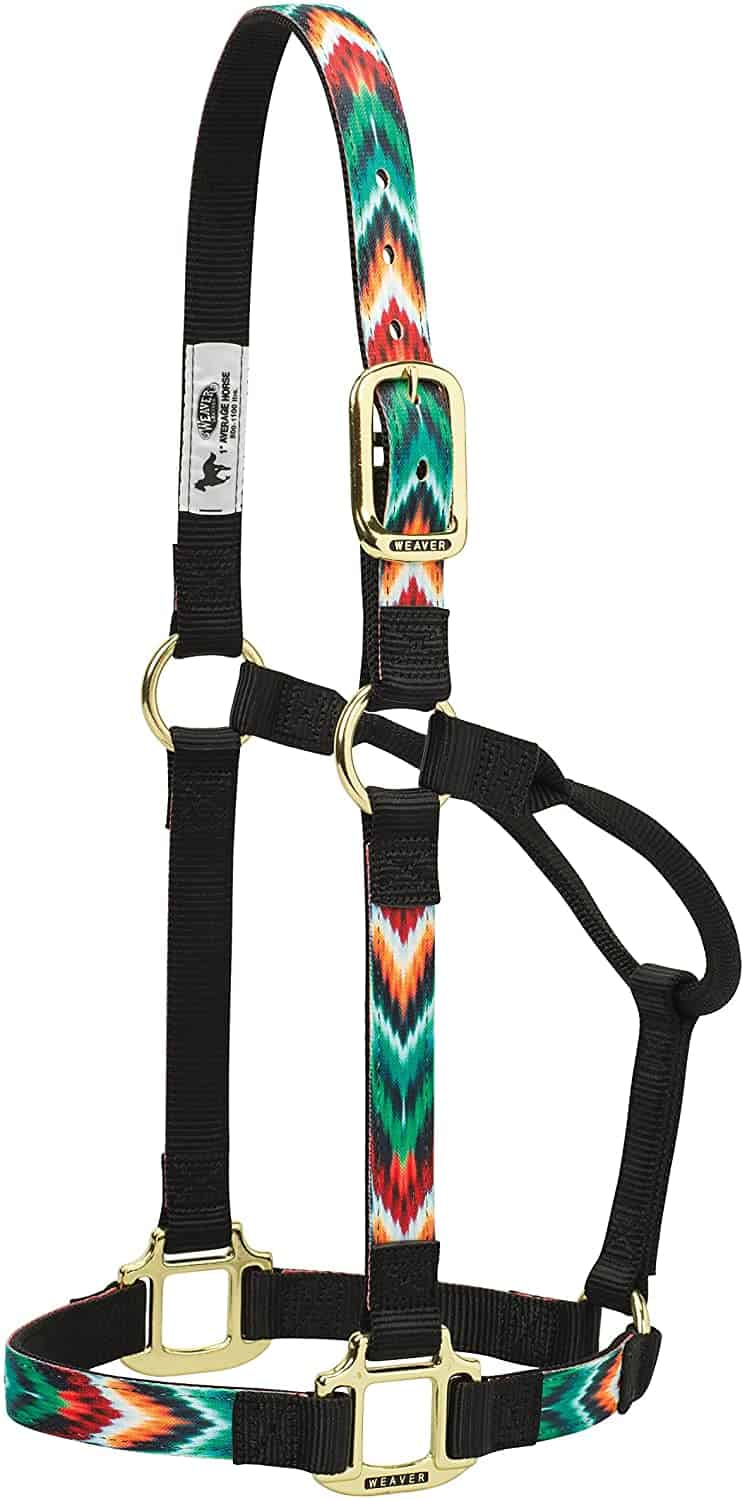 When you want a simple halter that's easy to put on for those five-minute walks to the wash bay with your horse, the Weaver Leather Patterned Non-Adjustable Halters are a treat. With funky colors and quality manufacturing, the non-adjustable halter is a valuable purchase to make. 
Pros
The crown strap is adjustable and can raise or lower the halter

Eight beautiful colors to choose from 

Eight sizes to choose from 

Box stitched for comfort and strength 

Rolled section under jaw for additional comfort 

Heat-sealed edges to prevent tape unraveling

Fair price at less than $50
Cons
The sizing is slightly larger than standard halters

No breakaway section; can be a dangerous aspect
These are great heavy-duty halters to go to shows and ride to the local lake to swim or groom your horse. These Weaver leather patterned halters are non-adjustable, making them less inclined to snap if the halter should catch on something. 
Best Padded Halter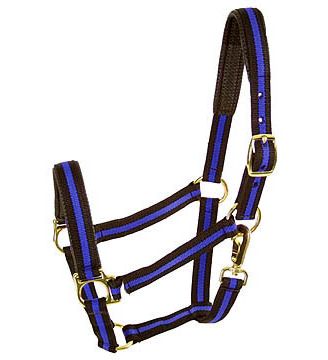 A fully trained horse that walks softly on the lead next to you uses a padded halter. The Comfort Padded Halter with Snap halter is ideal for soft horses that prefer a bit of support and comfort behind the poll, over their nose, and under their jawbone. 
Pros
Made from nylon webbing with neoprene padding behind the crown strap and noseband

Strap width 1 inch and 1¼ inch at the padded areas

Available in four colors

Available in four sizes: Large, average, pony, and small

Low price at less than $15

Brass plated hardware
Cons
The size is a little large-sized, so consider sizing down

Noseband not adjustable
The colors are really funky, and in the combinations of black and green, red, purple, or blue, the halter is striking on any coat color. The only issue with the halter is that while I can adjust the head, the noseband is not adjustable, so my fine-mouthed filly would need her halter altered by hand until she grows into it. 
Best Control Halter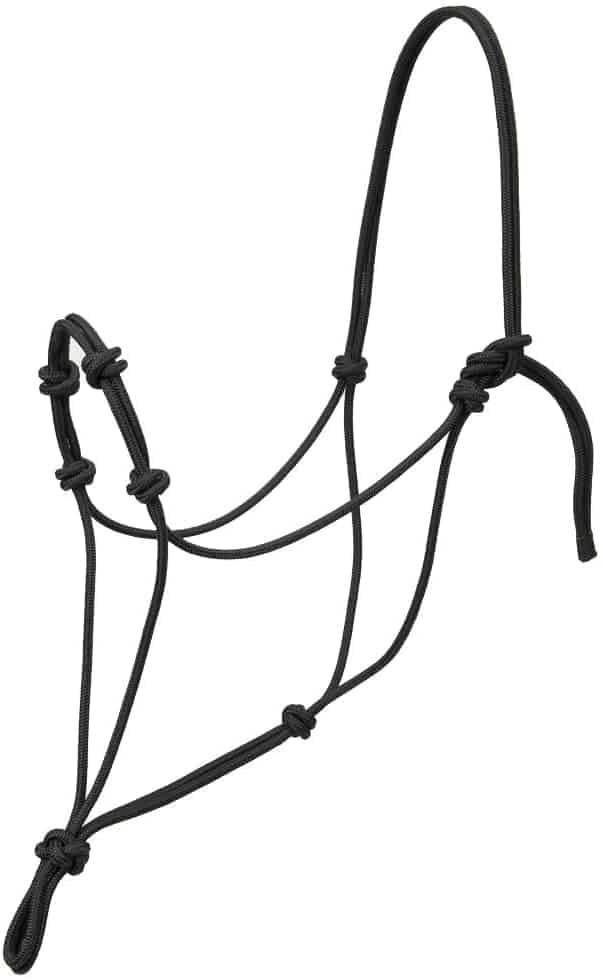 While many different control halters are available on the market, the Weaver Leather Silvertip Four Knot Rope Halter is a definite winner. Unlike other two knot halters where there is only the pressure of two knots over the bridge of the horse's nose, this halter has four knots. 
The difference is remarkable as the horse is gently guided toward doing the right thing without any cruelty needed. One happy user reported, "It's like putting power steering into my halter."
Pros
Available in three sizes and six colors

Hand-tied from ¼ inch cord for extra strength 

Abrasion-resistant for comfort 

Top product used by clinicians and horse trainers when working with young or difficult horses 

Fairly priced at less than $30
Cons
While the headstall is adjustable by loosening the knots, this is a bother

Sizes are somewhat smaller than what is the norm
I really like this four-knot halter. The design is elegant, and the delivery of precision correction is effective in schooling up a horse that tends to ignore instructions. While it may seem quite harsh, the halter is highly effective as minimal pressure is required, while the release (once the horse learns) is instant. 
Best Stallion Halter 

If your horse is still a stud, or you are showing a very excitable horse in public, it becomes essential to control the horse and keep them obediently by your side.
While this is possible with advanced training, it is not always in every horse person's skill set to handle a large and unruly horse without aid. The stallion halter like this Weaver Leather Heavy-Duty Restraint Halter is vital during dangerous situations. 
Pros
Available in three sizes and two colors

Double-stitched nylon halter for extra strength

1-inch straps

Nickel-plated hardware (buckles and control chain)

Fair price at less than $30
Cons
The chain section can cause rubbing under the horse's jaw if used repeatedly

Not for daily use

It does not come with a lead rope
While a stallion halter is not for a novice to handle, it does help smaller-stature owners manage large and boisterous horses. 
Best Foal Halter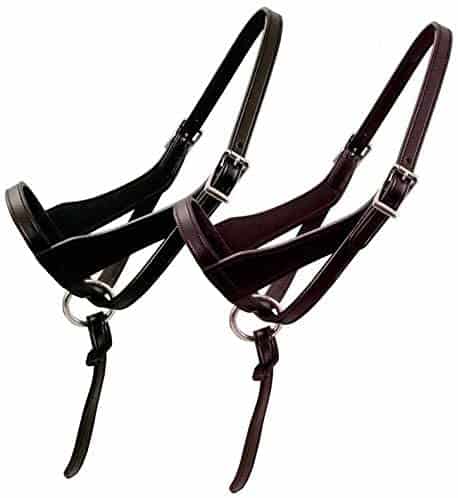 When training your foals, you want to be sure you have a balance of control and surety that the halter will snap off if the foal should hook the halter on something. The Paris Tack Double Layered Leather Grow with Me Adjustable Horse Foal Halter with Extra Crown Piece is a popular choice for rearing foals. 
Pros
Made from soft leather that won't rub

Double breakaway on the crown piece

It comes with extra crown strap 

The extra crown piece comes in different sizes

Leather halters in black and Havana colors

Value price at less than $25
Cons
Size is limited to crownpiece adjustment only

Not for use on newborn foals
As a rule, I don't like leaving a halter on a foal when I can't be there to supervise. At least, with this special leather breakaway design, the halter can be safely left on your foal. 
Best All-In-One Halter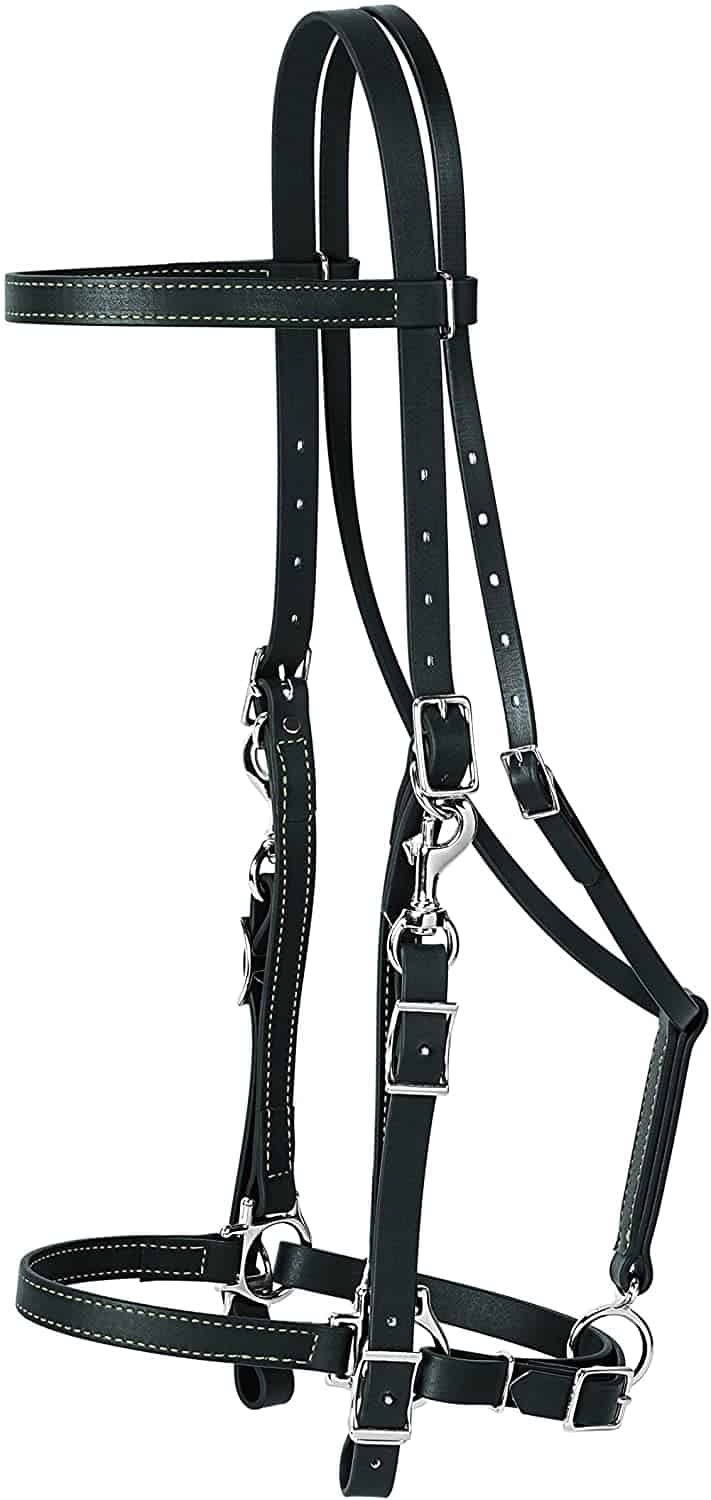 If you want to ride, then slip the bit into your horse's mouth with the halter. The all-in-one halter/bridle is for you if you like comfort and convenience. I love the look and functionality of the Weaver Leather Brahma Webb Halter Bridle. The classy leather-look synthetic webbing bridle is really quite affordable. 
Pros
Made with quality Brahma web construction 

Better weather resistance, better suited for endurance riding 

Stainless steel clasps and fittings 

Removable cheek pieces to allow the easy fitment of a bit or remove it again

Available in black and brown
Cons
Slightly bulky fit

Essentially a bridle with detachable cheek pieces to hold the bit in place

Rings holding the cheekpieces may eventually begin to increase pressure on the horse's face due to close placement to the eyes

Slightly more expensive, but fairly priced as it's a halter and bridle in one, at less than $70
The all-in-one is a great workman's tool. Since you can take out the bit instantly, the horse will feel much more comfortable. It's ideal for camping out or riding cross-country. 
FAQs
Question: How Do I Choose a Horse Halter?
Answer: A horse halter should be well-made, fit correctly, and be suitable for the horse's level of training. Never try to work a horse in a halter that's too large or too small for them.
Question: How Do I Measure for a Horse Halter?
Answer: As with a horse bridle, measure the distance from the horse's corner of their mouth on the left side, across the poll, and down to the corner of the horse's lips on the other side.
Also, measure the distance around the horse's nose at the height of about two finger widths below the horse's nose. This position is where the halter's noseband will fit. 
Question: What Kind of Halter is Best for Horses?
Answer: The best halter for your horse is comfortable and does what you asks from it. Decorations, colors, and unique materials are secondary to these two considerations.
Once you are sure the halter is comfortable and well-fitted, you can go to town with bling, leather halters, engraved silver plates, bells, and any other whistles you can imagine. 
Question: What is the Strongest Horse Halter?
Answer: The strongest horse halter is a rope halter that's made with premium, solid core ⅜ inch rope. The rope should be tightly woven with the inner core fixed instead of loose. A fixed core rope helps to prevent the rope from snapping. 
Question: How Much Does a Rope Halter Cost?
Answer: A rope halter can be homemade, in which case, the halter will cost the price of a few yards of rope. A halter can also cost several hundred dollars if made from quality rope, has a brand name attached, and features special fittings.
Question: Are Leather Halters Safer than Nylon Halters? 
Answer: Leather halters have a limited strength quality. A leather halter can break at 500-650 pounds of pressure per square inch. Horses can easily snap a leather halter if they should snag on something. However, if the horse tangles badly with a barrier, even a leather halter may not snap. 
Nylon halters won't snap unless the straps contact a sharp edge like a knife or serrated wire. The result is that a horse can be seriously injured while trying to snap the nylon halter. 
Final Thoughts on the Best Horse Halters
While it's virtually impossible for me to recommend just one halter, having never seen your horse, I would recommend the rope halter as an excellent place to start training your horse or schooling up your older. The rope halter will provide accurate pressure, which allows you to effectively signal your horse while releasing the tension as soon as the horse has done what you asked.
Whichever halter you choose for your horse, be sure it is comfortable, fits your horse securely, and allows you to signal your horse effectively or control your horse to keep them (and you) safe.