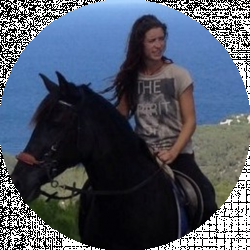 Latest posts by Tanya Taylor
(see all)
I'm a professional horsewoman with over 25 years of equestrian work experience – and one thing I've learned in my career is that paddock maintenance is essential to any horse care routine. Maintaining a paddock will keep horses safe and ensure they always have plenty of grass to eat. If you want to know how to keep your pasture lush, take a look at my guide to paddock maintenance below.
Bottom Line Up Front
In this guide, I'll explain the many benefits of maintaining a paddock. We'll also explore basic daily maintenance tasks and long-term paddock care techniques to keep your paddock in tip-top shape.
The Benefits of Paddock Maintenance
There are two main benefits of paddock maintenance, safety and nutrition. A well-kept paddock is safer for horses than an unmaintained one and will provide better quality pasture. If you invest time in paddock maintenance, you will save the cost on horse food and vet bills. 
Let's take a closer look at the benefits of paddock maintenance:
Benefit #1 – Horse Safety
A paddock can be dangerous for horses – and if you don't maintain it correctly, the results can be catastrophic. I've seen many severe injuries caused by broken fences, and there's nothing scarier than an escaped horse galloping towards a busy road.
Another danger of a poorly kept paddock is poisoning or colic. If the paddock is full of poisonous plants and weeds, horses will potentially eat them. Horses are also at risk of leg injuries from rabbit holes, molehills, or rouge rocks on the ground. 
Poor paddock maintenance can result in severe injury and even death, so you must check paddocks regularly to keep horses safe.
Read More: Horse Leg Anatomy Guide and How to Treat Injuries
Benefit #2 – Optimum Nutrition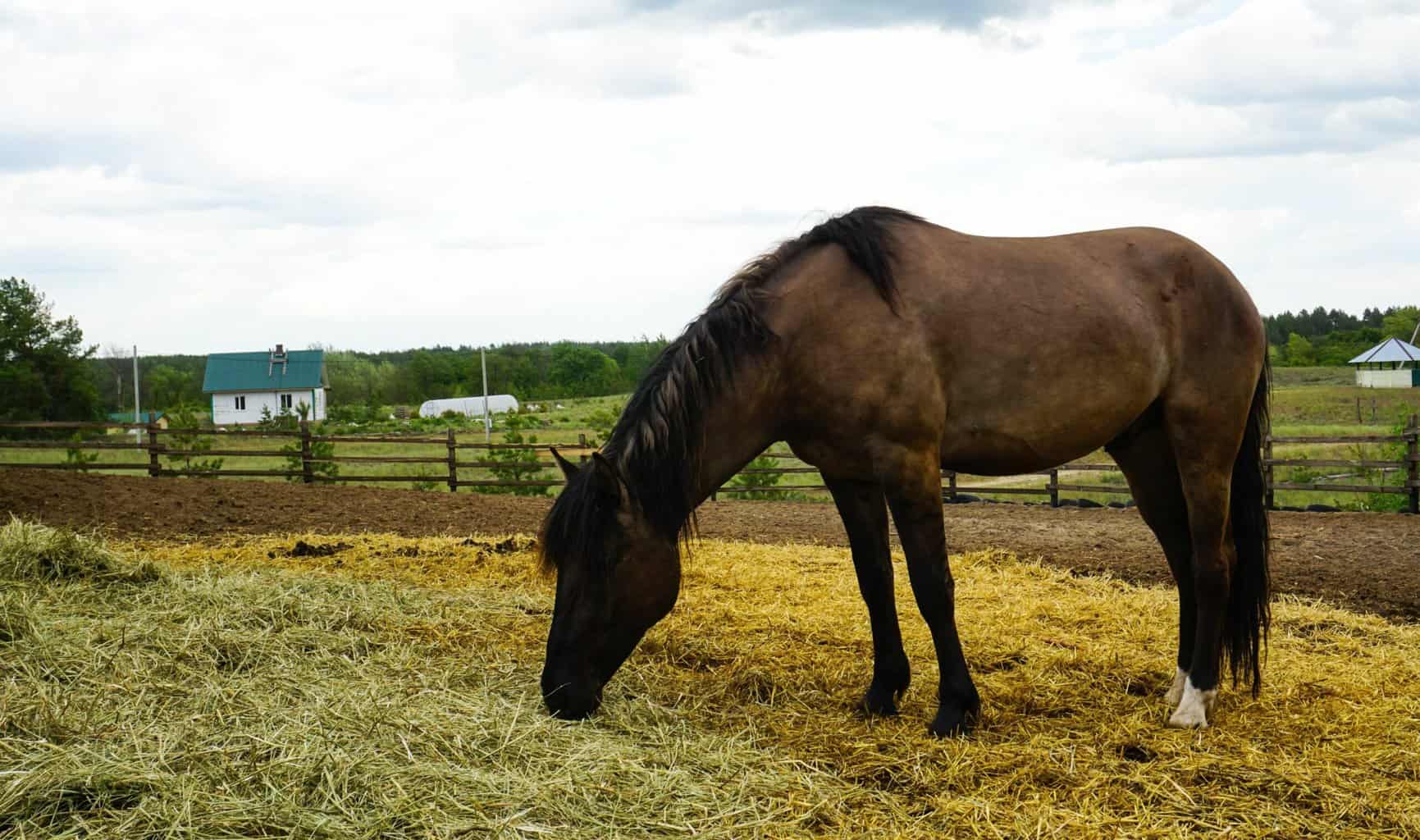 A well-maintained paddock provides the optimum nutrition for horses – in the form of lush, healthy grass. If you don't maintain the pasture, it will become bare, overgrown with weeds and won't be very nutritious.   
If you keep weeds in check, rest the paddock regularly, and fertilize and reseed it as necessary, you will have a lush, nutritious pasture for many years.
A Guide to Paddock Maintenance – The Basics
Basic paddock maintenance involves tasks you should do daily or at least 3-4 times a week. It includes checking the fence, looking for poisonous plants or holes in the ground, and muck collecting. 
To find out more, take a look at the list of basic paddock maintenance tasks below:
Task #1 – Check and Repair Fencing
I like to check paddock fencing daily or at least three times a week. I always glance over the fence when I turn horses out or bring them in. If the fence is broken horses can escape or get tangled in it, and both can result in serious injury, so I always repair broken fencing immediately.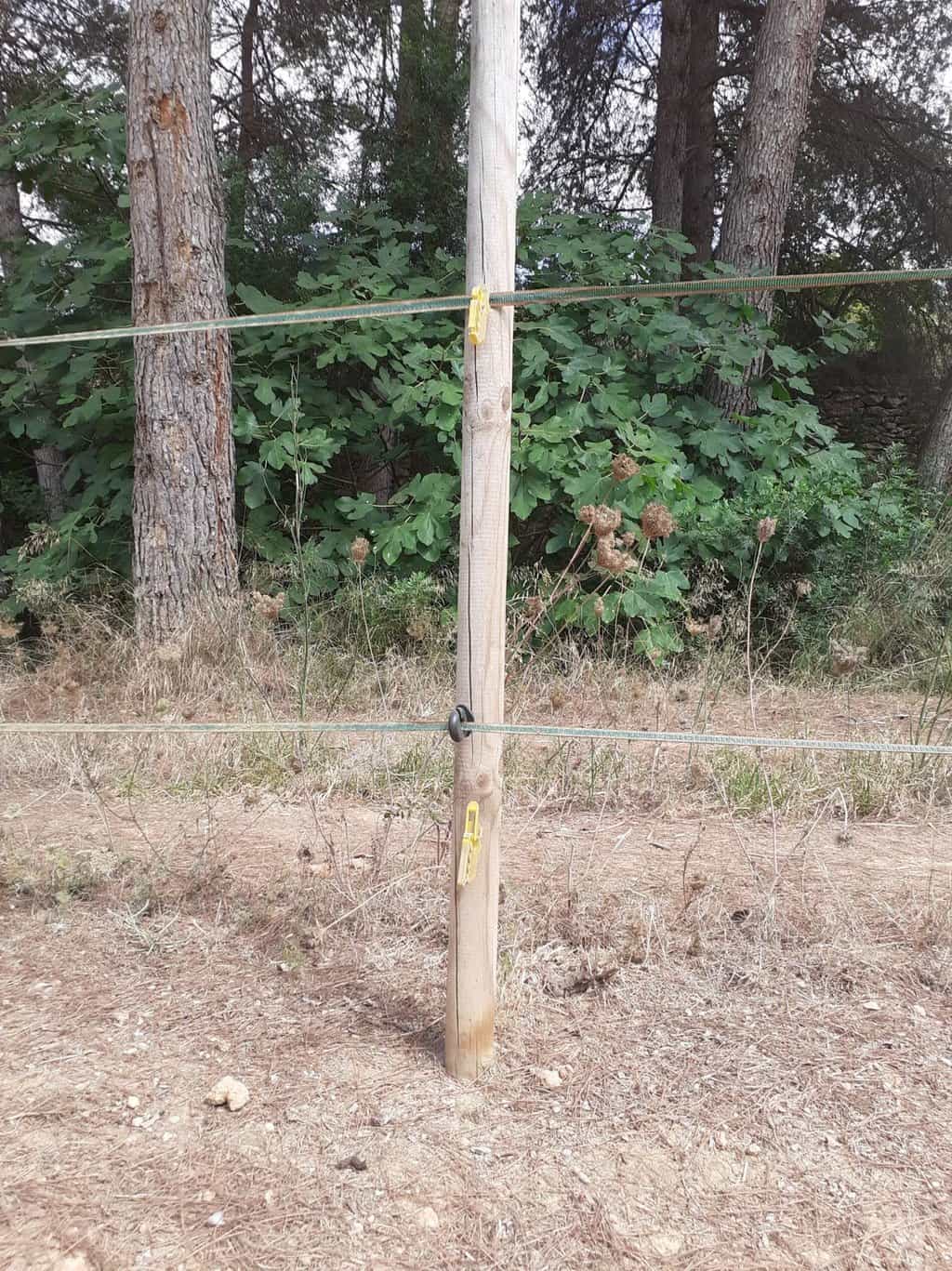 In addition to glancing at the fence daily, I like to walk the perimeter every other day. I check for gaps or weak spots and that posts are firmly in the ground and all rails are intact.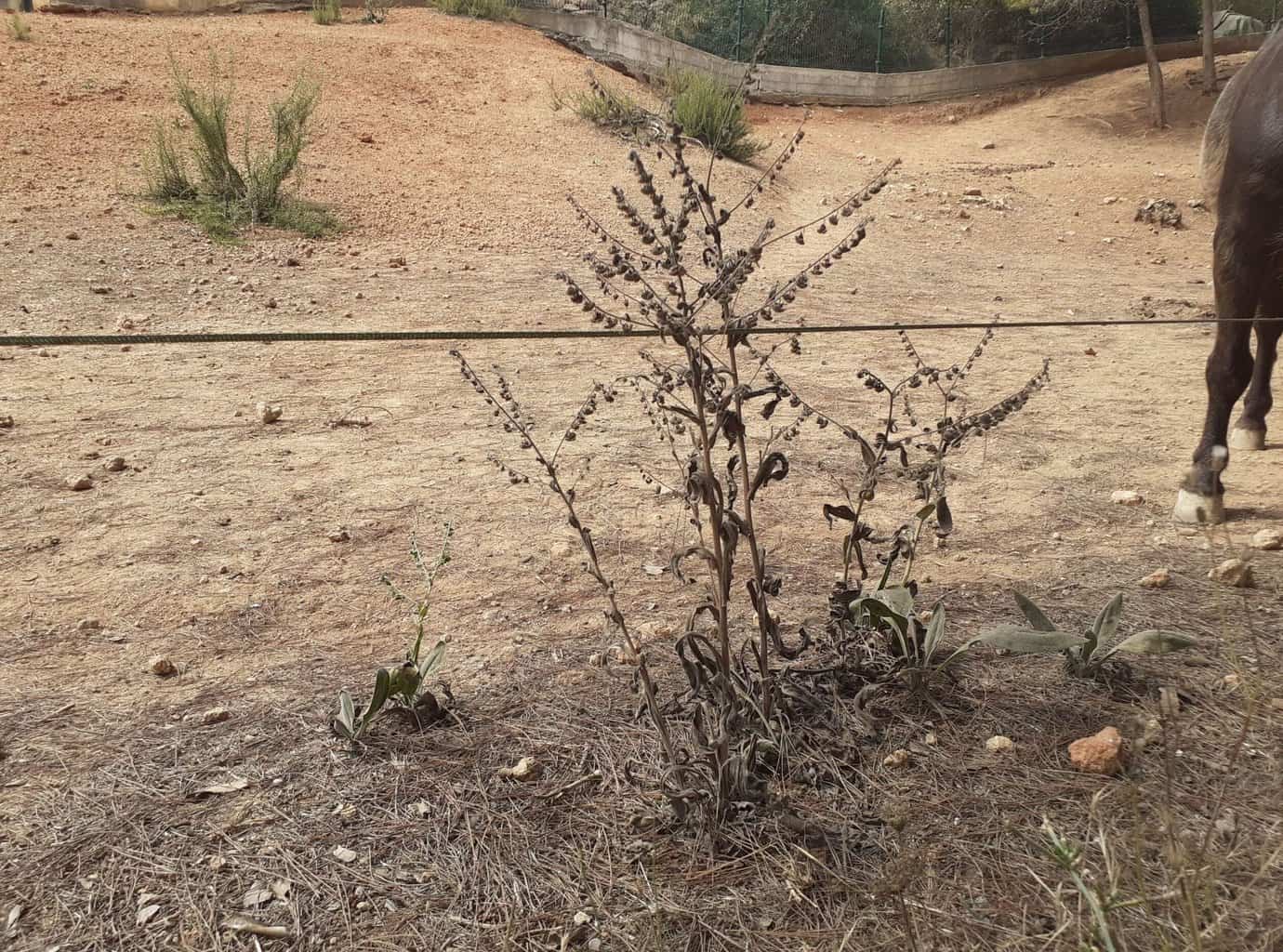 With electric fences, I check that the current is running and ensure there are no broken lines. If foliage touches the circuit, it will disrupt the current, so keep the area around the wires trimmed and free of grass or weeds. 
Task #2 – Look for Poisonous Plants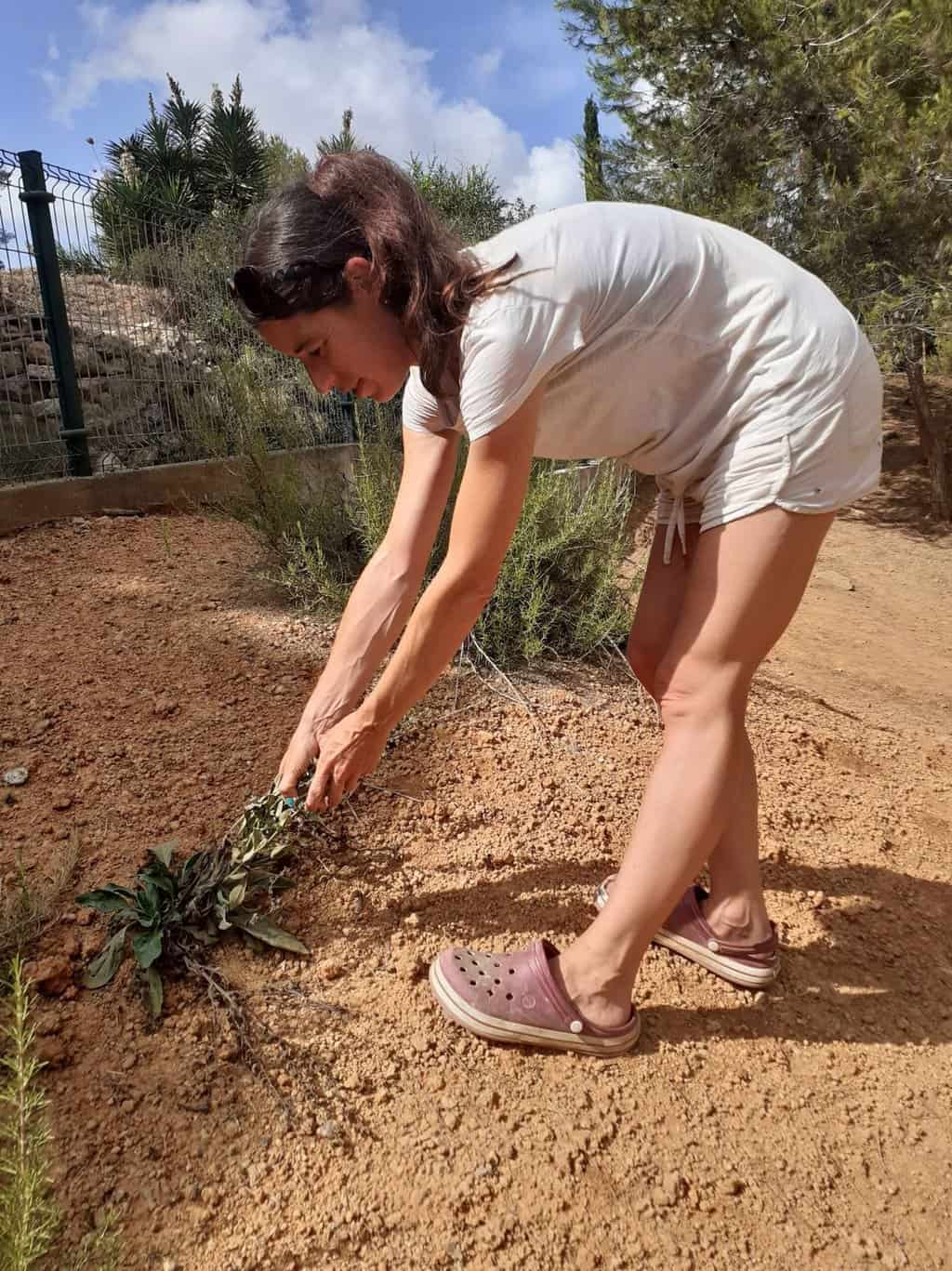 You must keep a vigilant eye out for poisonous plants in the paddock because if horses eat them, they may become incredibly ill with colic or poisoning, which can be fatal. 
Horses usually avoid eating toxic plants but are more likely to consume them if there is nothing else in the paddock to eat. You must learn to identify poisonous plants and walk the paddock at least once a week to check for them. If I see a harmful plant, I pull it up by the roots and dispose of it outside the paddock area.
Poisonous plants and weeds thrive in a poorly kept pasture, and If you have a large outbreak of weeds or toxic plants in the paddock, you must treat it with weed killer – which you can find out more about later in the article. 
Here are the most common poisonous plants you will find in a horses paddock:
Ragwort 

Jimsonweed

Nightshade

Butter Cups

Foxglove

Bracken

Horsetail

Hemlock
Task #3 – Collect the Muck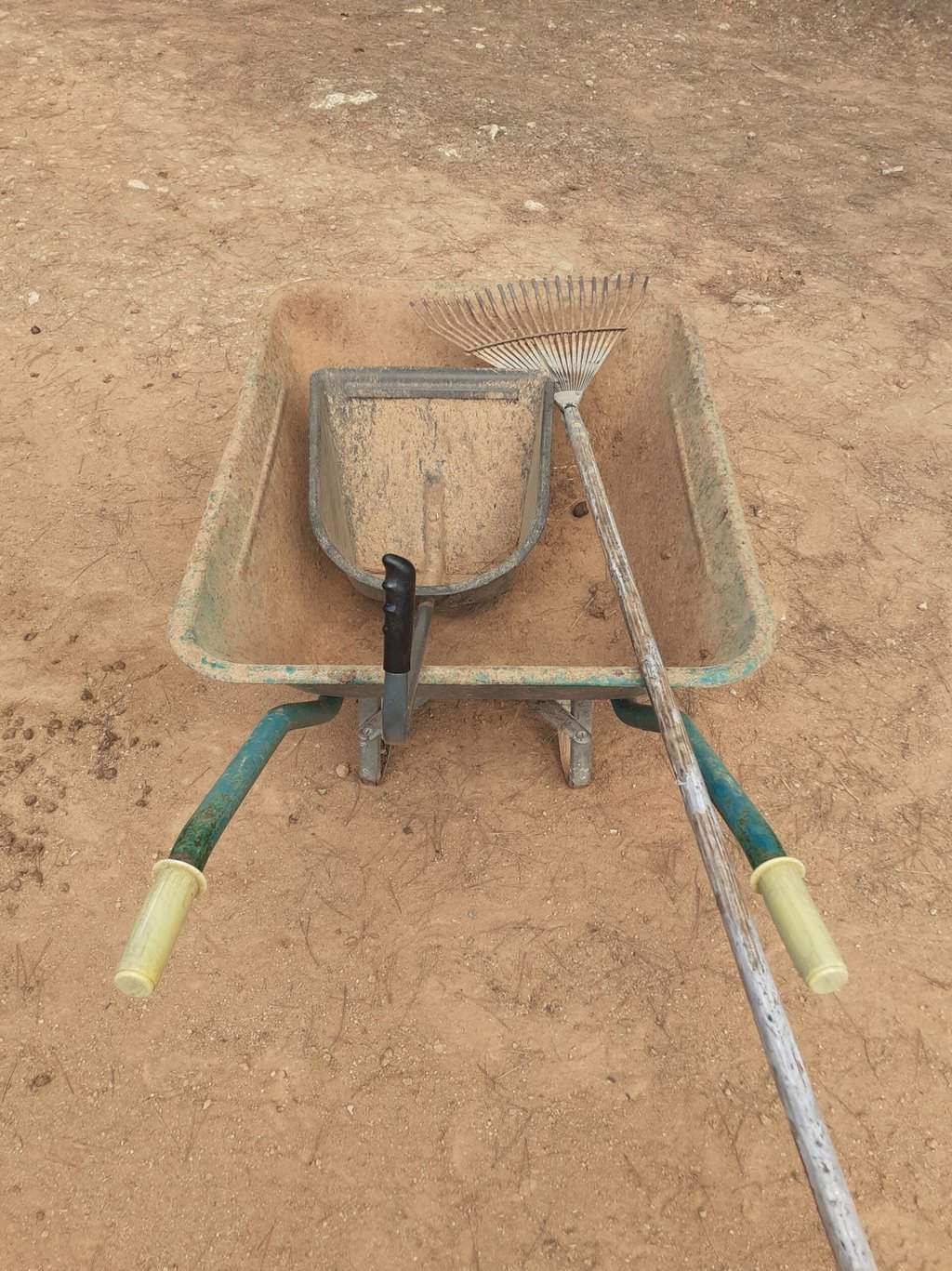 Collecting droppings from the paddock is as essential as cleaning them from the stable. Excessive muck in the paddock is unhygienic, unsightly, and is a risk to horse health. It also acts as a fertilizer for weeds, encouraging them to grow. 
One of the main benefits of muck collecting is that it helps to prevent worms. Horses infected with worms pass the eggs in their droppings, which hatch in the ground and contaminate the pasture – meaning the horse will ingest them again when they eat the grass. When you regularly remove muck, it helps to break the life cycle of parasites. 
Ideally, you should remove muck daily or at least once a week, depending on the paddock size and how much time horses spend in it. You must remove dropping more regularly from small paddocks.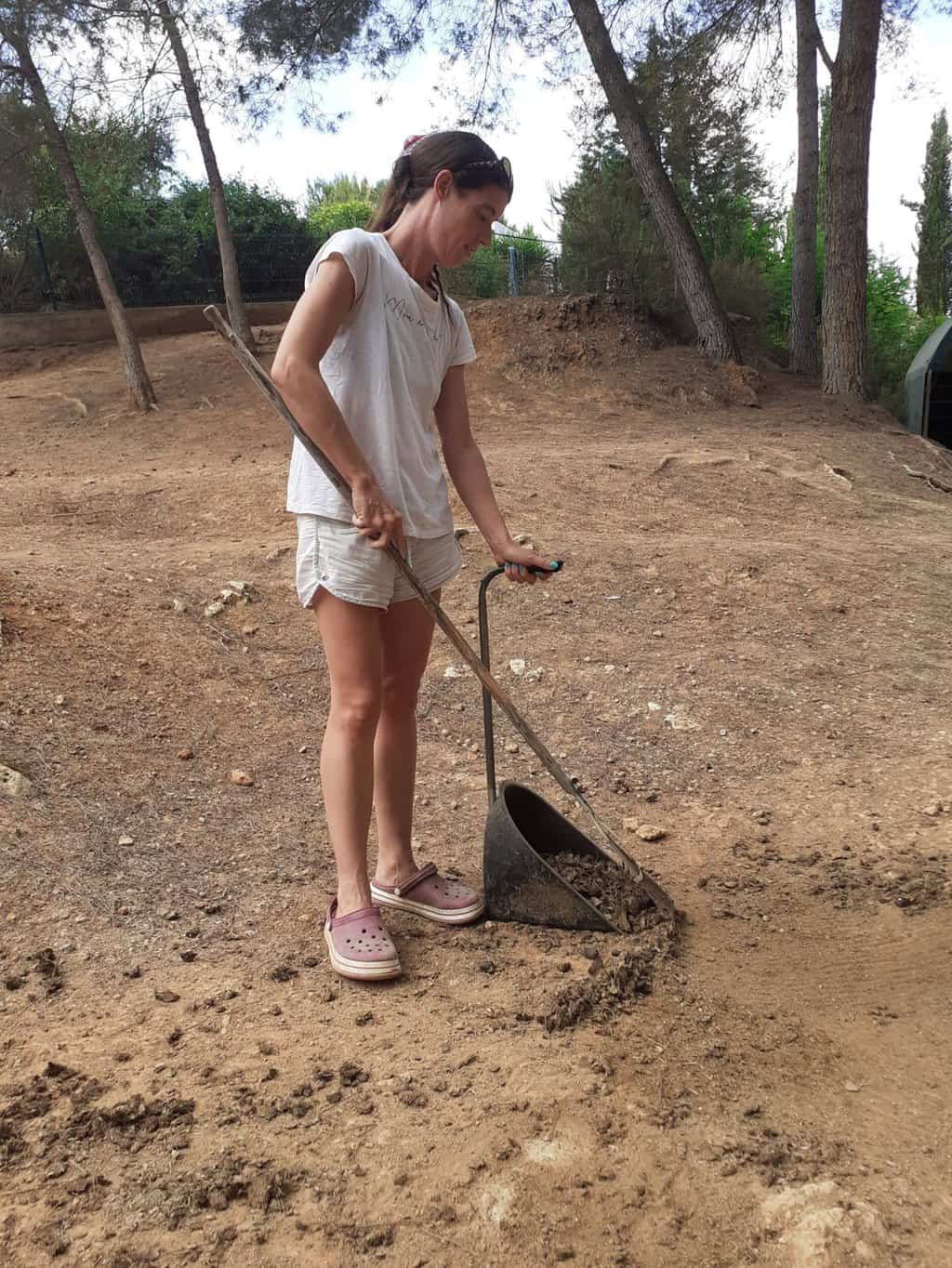 Most people collect muck by hand with a shovel, rake and wheelbarrow. Many large barns have industrial muck collectors, which attach to a quad or tractor and suck or scoop up the muck. 
Task #4 – Remove Stones and Fill Holes
Stones and holes in the paddock pose a massive risk to horses, so you must remove them to prevent injury.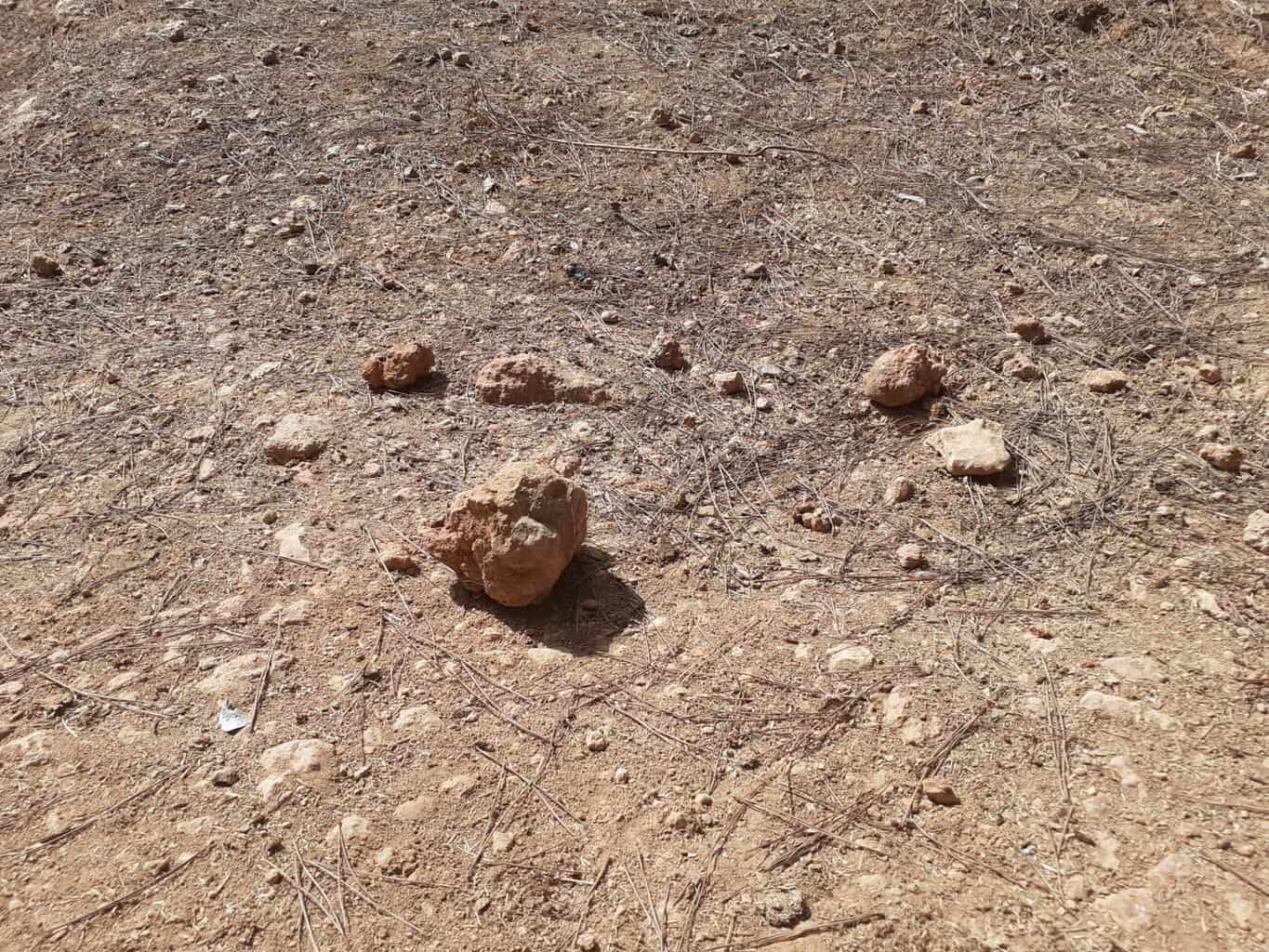 Horses can trip and stumble on rocks – small stones can get wedged in hooves, and sharp rocks can cause puncture wounds. Rabbit and mole holes are equally as dangerous. If a horse's foot gets stuck in a hole, it could result in a severe injury, including a broken leg.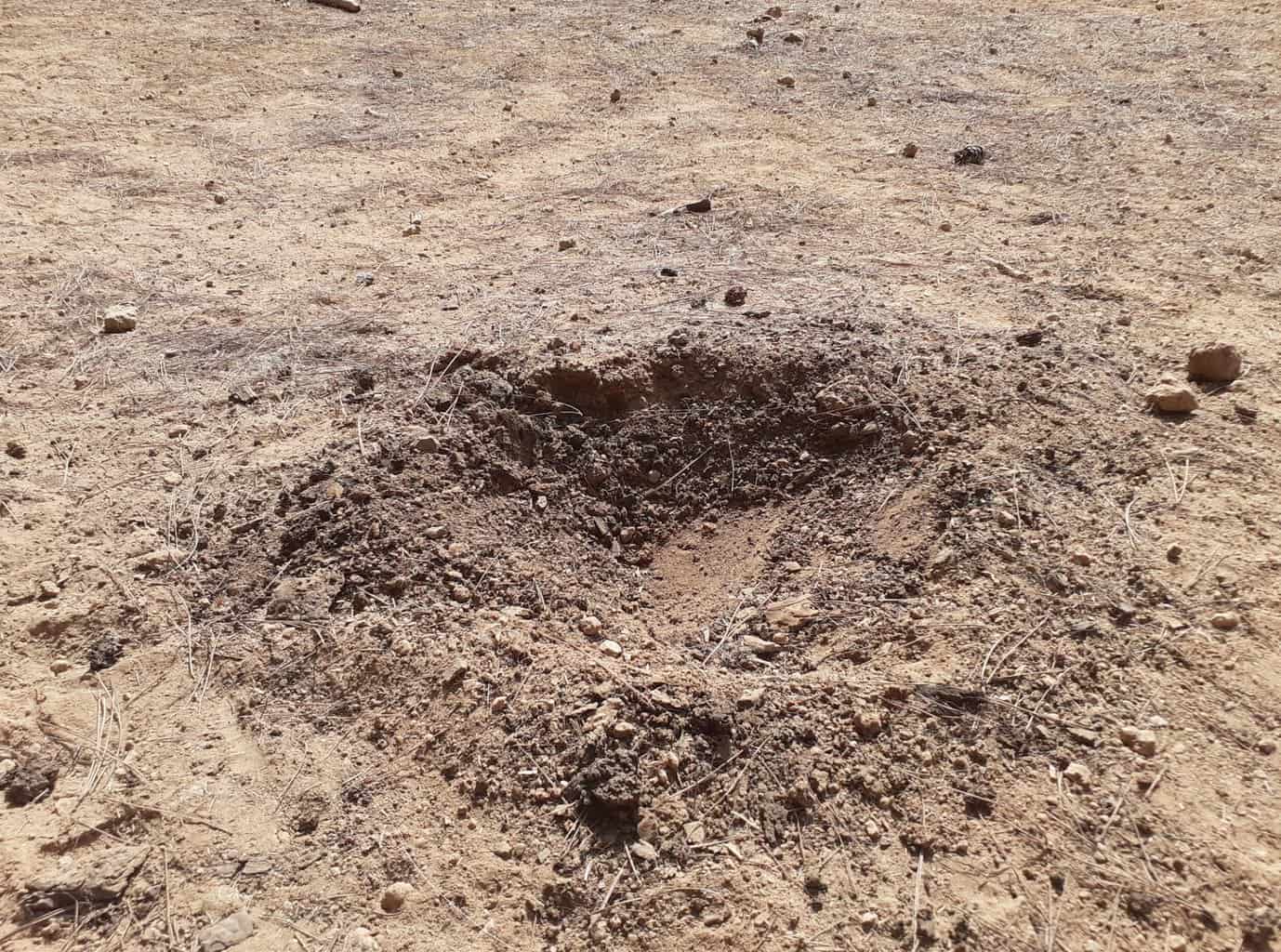 I live in a hot climate with bare paddocks, so I'm always cleaning rocks from the turn-out area. I remove large rocks by hand or use a shavings fork and wheel barrow to collect small ones. If I find a rabbit hole or molehill, I fill it in immediately with stones and earth.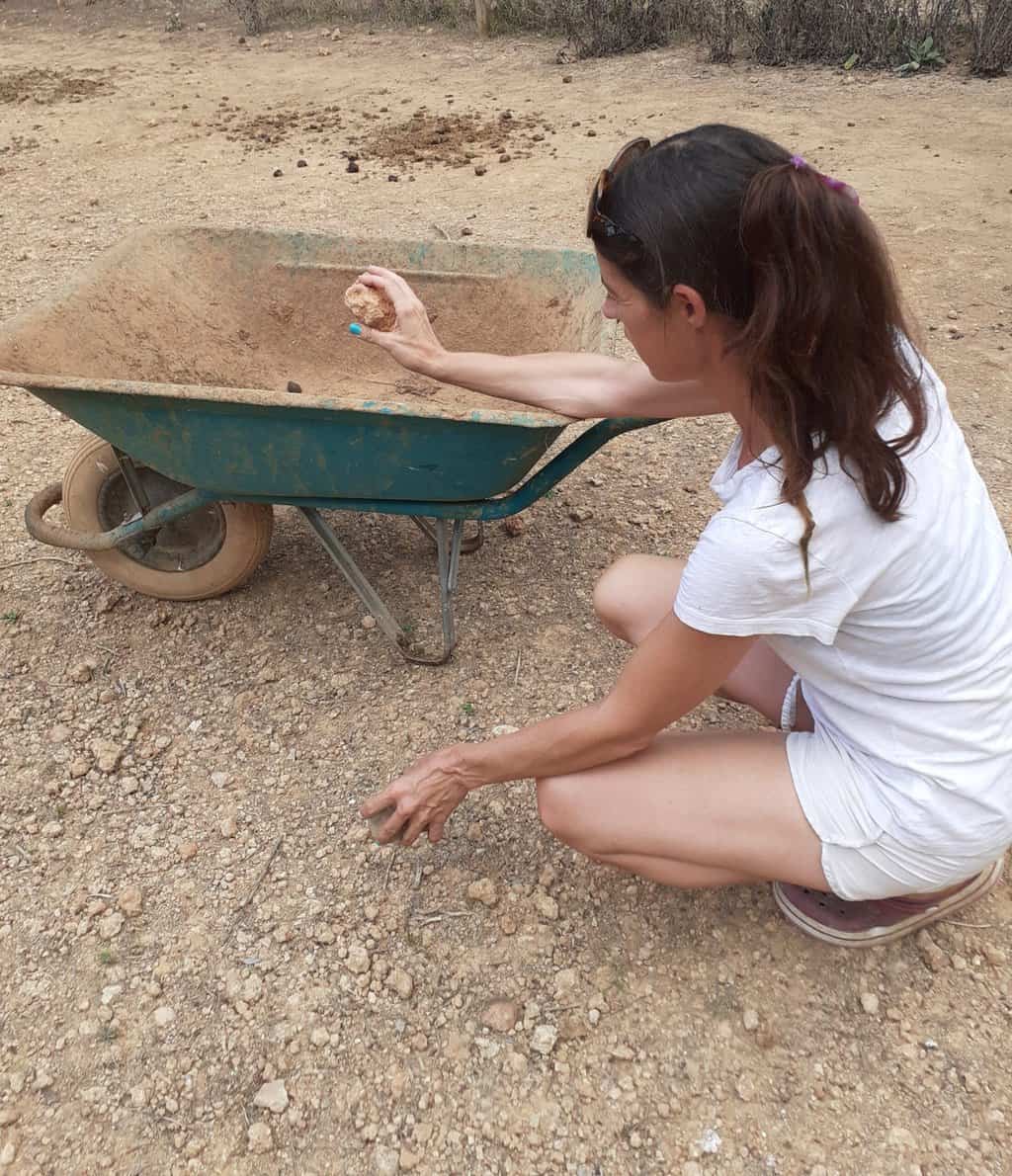 Task # 5 – Check and Clean the Water Trough
I like to check the water trough daily because if the water has stopped flowing, horses will become dehydrated quickly, especially in the summer.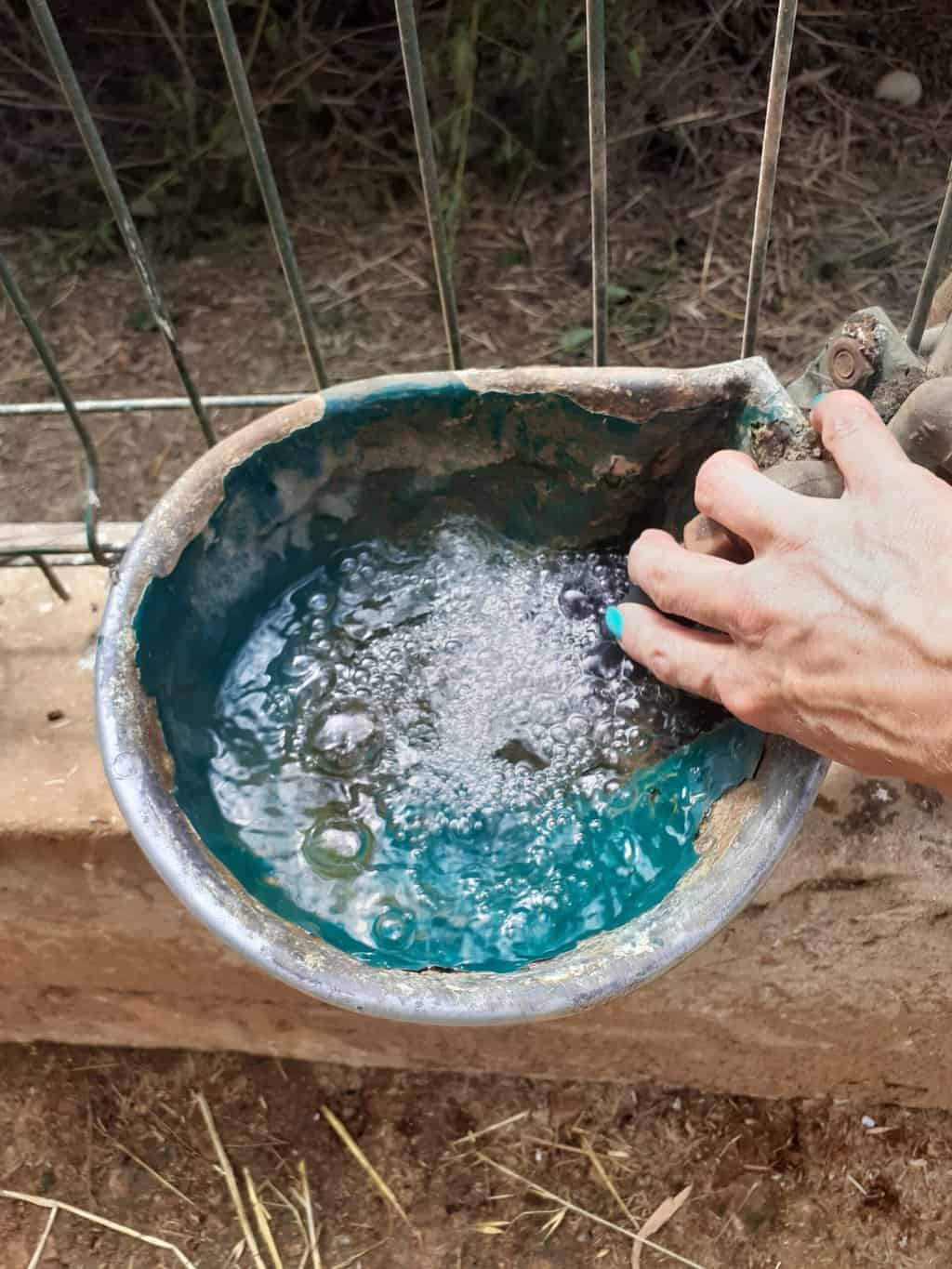 Sometimes water pipes burst or become clogged, the trough can crack, or occasionally a bird may drown in the water and contaminate it so horses won't drink it. In the winter, if you live in a cold climate, you must check the trough daily for ice and break it if necessary.  
In the summer – I deep-clean water troughs weekly as part of my barn routine. Deep cleaning involves removing the water and scrubbing the container with a brush. To prevent water wastage, I turn the tap off to automatic waterers the day before cleaning to let the horses drink it down. 
Weekly cleaning in the summer prevents algae from forming. Algae is less problematic in the winter, so I clean them every two weeks in the cold months or more if they become soiled. 
A Guide to Paddock Maintenance – Advance Techniques
Advanced paddock maintenance includes paddock rotation, harrowing, topping, fertilizing and reseeding as necessary. You usually need the help of an agricultural professional for these tasks who have appropriate licenses and equipment.
You must plan advanced maintenance tasks and perform them according to the seasons. I like to put a yearly view calendar up in the barn and create a clear maintenance schedule at the start of the year. 
Let's take a closer look at the more advanced aspects of paddock maintenance below:
Task #1 – Paddock Rest and Rotation
If horses graze in an area all year round, eventually, it will become over-grazed and less nutritionally valuable. To prevent overgrazing, you should rest paddocks for 3-4 weeks to give the grass time to recover.  
Ideally, each horse should have 1.5 acres, depending on their size and pasture quality – ponies need less space, for example. If a paddock is overcrowded and not allowed time to recover, it will quickly become bare and nutrient deficient.
Paddock rotation isn't always easy, especially if you don't have much land, but is vital for pasture health. If you have many paddocks, it's simply a case of resting each one on a rota schedule. If you have a large paddock, you can split it into sections with an electric fence and rest parts of it. 
While the paddock is resting, you also have the perfect opportunity to perform maintenance tasks such as fertilizing, weed killing, harrowing or rolling, which we'll explore further in the section.  
Task #2 – Overseeding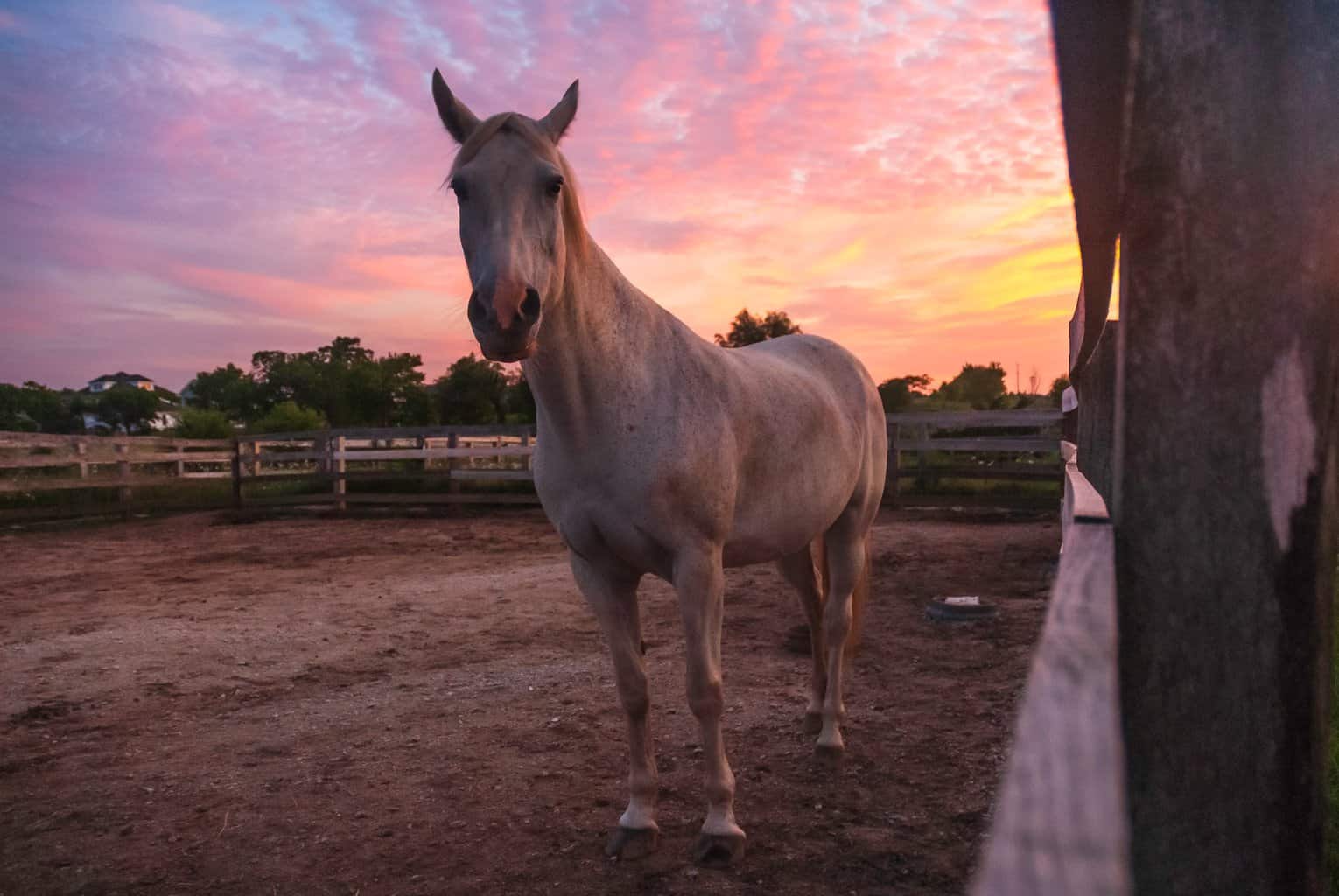 If a paddock is overgrazed or has large bare patches, you can restore it with overseeding. Overseeding is when you add seeds to a paddock, which is different to reseeding – when you completely restore a badly damaged paddock from scratch. 
Spring and autumn are the best times to seed a paddock because the ground is soft, and there is a higher chance of rain. The easiest way to overseed a paddock is with a tractor and a spreader, so you may need to employ a local farmer. You can potentially reseed small bare patches by hand. 
For the best results, top the grass first if it's long and harrow the area to level the earth out. I also like to send in the roller after spreading seeds to help push them into the ground. Always choose equine-friendly, warm and cold-season grass seeds such as Timothy, Orchard or Bermuda for your paddock. 
After reseeding, you must leave horses off the paddock for around 8 – 12 weeks. I do a pull test after 8-weeks to see if the grass is ready. A pull test is when you pull a few blades up by the roots. If they come out of the earth, the grass isn't ready. Roots must remain firmly in the ground before you let horses graze the area.  
Task #3 – Fertilizing
If a pasture isn't lush and thriving, you may need to treat it with fertilizer. Before fertilizing a paddock, it's a good idea to do a soil analysis to discover the pH and what minerals the earth lacks and treat it accordingly. 
The best time to fertilize is in the spring or autumn, and ideally, you should time it just before the rain to help it sink into the earth. I like to fertilize at the same time as overseeding to give the seeds an extra boost.  The most common fertilizer for horse paddocks is granular fertilizer. Usually, you need a farmer with a tractor, a spreading machine, and a chemical license to fertilize your fields. 
You must leave the paddock empty for 2-3 weeks after fertilizing until it fully absorbs into the ground. It will absorb faster if there's been lots of rain. Make sure none is sitting on the paddock surface before you put horses out. 
Horse Manure Fertilizer
It's common for horse owners to use horse manure to fertilize paddocks. Decomposed dropping from a muck heap does not contain parasite eggs due to the acidity and is safe to use on paddocks. 
Instead of muck collecting, some owners spread the droppings around the paddock with a harrow, leaving the droppings to dry out and disintegrate. Parasite eggs will die if the muck is spread and aired out. Either way, you must keep horses off a paddock for 2-3 weeks if you use manure as a fertilizer. 
Task #4 – Harrowing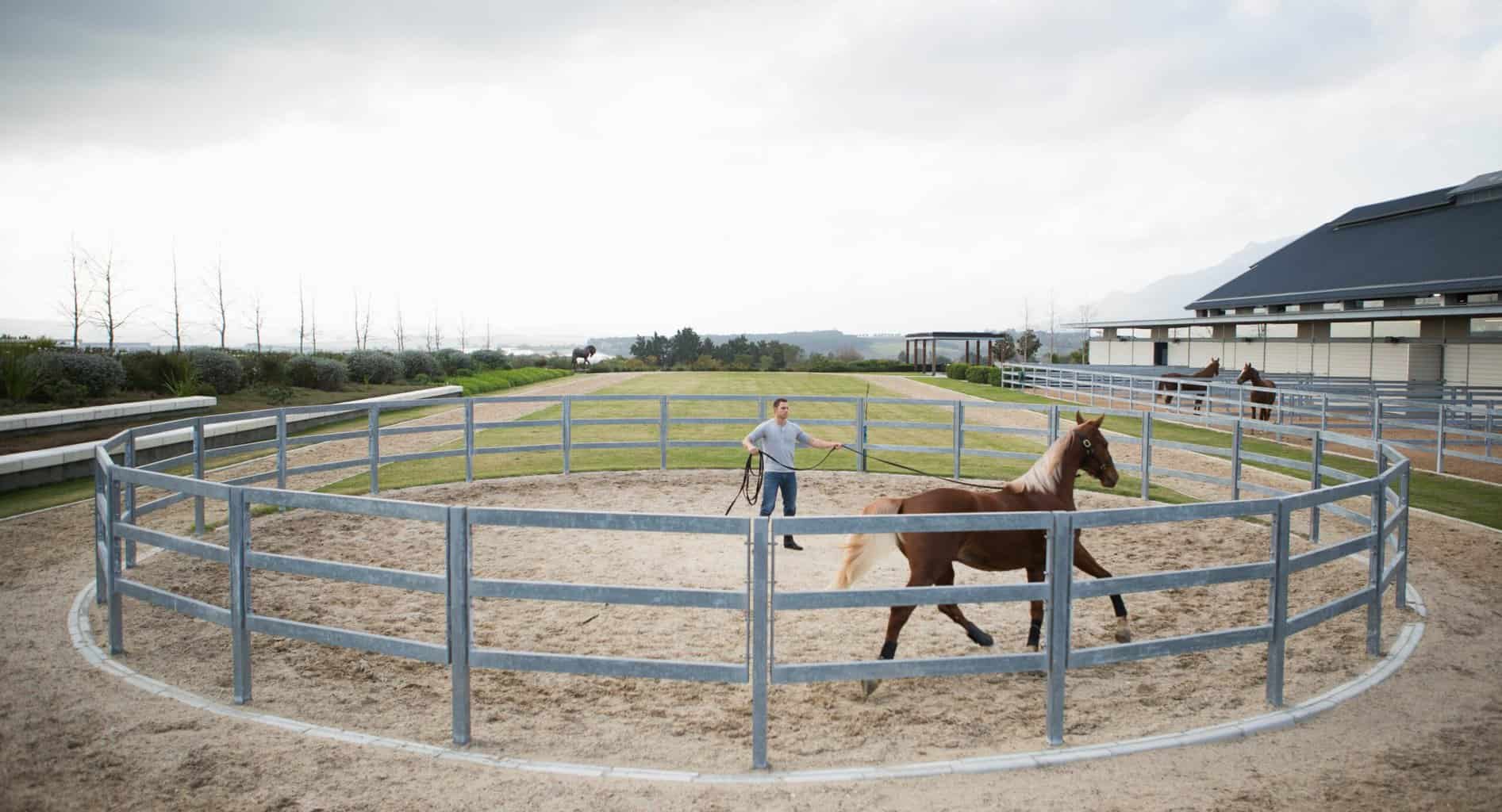 A harrow is a large, flat chain structure which attaches to the back of a quad or tractor and drags along the floor. It aerates the earth by removing dead grass, moss and weeds, levels the ground, and stimulates grass growth.
The best time to harrow paddocks is in the spring, and you must collect the muck first unless you intend to spread it as fertilizer. 
Task #5 – Topping
Topping with a tractor and topping machine is the equivalent of mowing. Horses are selective feeders and often leave long grass patches, and topping is the ideal way to level grass out. It also encourages new growth, makes grass denser and cuts the heads off long weeds, which kills them.
As part of a good paddock maintenance routine, you should top paddocks annually in the spring or summer and trim them to 2 – 5 inches high. Never top the grass when weeds are flowering because it will spread their seeds and encourage more weed growth.  
Remove horses from the paddock before topping, and don't let them eat the trimmings. Ideally, use a collector on the topper or wait until the cuttings are dry and disintegrated before you put the horses back out. 
Task #6 – Weed Control
If you don't keep on top of weeds, they will eventually take over the paddock, leaving little grass for horses to eat. The best way to prevent weeds from spreading is by pulling them out by the roots as soon as they appear. 
If there are many weeds in a paddock, you must treat it with weed killer. To do this, you will need the help of a registered contractor with a spraying machine and chemical license. The best time to treat a paddock for weeds is in the spring when the plants are young, and rest it for 3 – 14 days after spraying, as per the manufacturer's instructions.
FAQs
Question: How often should I harrow my paddock?
Answer: Harrow a paddock at least once a year in the spring when the ground isn't too hard or soft. Harrowing a paddock before fertilizing and overseeding will help the seeds and fertilizer sink in. 
Question: What is paddock maintenance?
Answer: Paddock maintenance is an essential part of horse care, and you must incorporate it into your regular barn routine. It includes basic tasks such as checking and repairing fences, removing muck and poisonous plants, and advanced jobs such as weed control, harrowing, fertilizing and overseeding.
Question: How often should you clean a horse paddock?
Answer: Ideally, you should remove droppings from small paddocks daily or at least once a week for large paddocks. If you don't clean a paddock regularly, horses are more susceptible to parasites, and manure will encourage weeds to grow. 
A Guide To Paddock Maintenance: Summary
Answer: Paddock maintenance is an essential part of horse care. If you don't maintain a paddock, horses are more at risk of illness or injury, and the pasture will become poor and devoid of nutrients.
You must walk around the paddock a minimum of 2-3 times a week to ensure fences are secure and that there are no molehills, rabbit holes or poisonous plants. Remove muck from the paddock at least once a week to prevent parasites and weeds.
Ensure you rest a paddock several times annually to allow the grass to recuperate. To keep pasture lush, treat it for weeds, overseed it as necessary, and schedule annual harrowing, topping and fertilizing sessions.
Resources
Admin. (2020, December 21). Paddock Management Calendar. KnowledgeBase | Farm & Stable. https://www.farmstable.com/knowledgebase/post/paddock-management-calendar
Admin_Mike. (2018, July 17). How to Maintain your Paddock Throughout the Year – MC Country Services. MC Country Services. https://mccountryservices.co.uk/maintain-paddock-throughout-year/
Dixon, R. (2020). Summer paddock maintenance. NZ Horse & Pony. https://horseandponymag.com/2020/01/22/summer-paddock-maintenance/
Eccles, K. (2021). Puzzled by Paddock Care? Our Agriculture team share their tips on horse paddock and field maintenance. Millbry Hill. https://millbryhill.co.uk/blogs/knowledgebase/puzzled-by-paddock-care-our-agriculture-team-share-their-tips-on-horse-paddock-and-field-maintenance
Five Steps to a Great Summer Horse Pasture | Equimed – Horse Health Matters. (n.d.). EquiMed. https://equimed.com/health-centers/nutrition/articles/five-steps-to-a-great-summer-horse-pasture
FS938: Poisonous Weeds in Horse Pastures (Rutgers NJAES). (n.d.). https://njaes.rutgers.edu/fs938/#:~:text=Nightshade%20Family%20(including%20Horse%20Nettle,and%20even%20tomatoes%20and%20potatoes.
Grazing management: 10 ways to improve it | Horse and Rider. (2020, July 24). Horse and Rider. https://www.horseandrideruk.com/expert-advice/articles/grazing-management-tips-for-equines/
Henry, M. (2023, June 29). Grass For Horses: Why It's Essential And The Different Types. horseracingsense.com. https://horseracingsense.com/grass-horses-why-essential-different-types/
Kenny, L. (n.d.). How to Make Rotational Grazing Work on Your Horse Farm. https://extension.psu.edu/how-to-make-rotational-grazing-work-on-your-horse-farm#:~:text=In%20a%20nutshell%2C%20rotational%20grazing,horses%20are%20on%20other%20paddocks.
Lasko, P. (2018). The ABCs of Horse Pasture Maintenance. Dressage Today. https://dressagetoday.com/lifestyle/the-abcs-of-horse-pasture-maintenance/
Paddock maintenance – Horse & Hound. (n.d.). Horse & Hound. https://www.horseandhound.co.uk/tag/paddock-maintenance
Pasture management for horse paddocks – World Horse Welfare. (2022, April 28). World Horse Welfare. https://www.worldhorsewelfare.org/advice/general-advice/pasture-management-for-horse-paddocks
Pasture Management: Grazing & Exercise | The British Horse Society. (n.d.). The British Horse Society. https://www.bhs.org.uk/horse-care-and-welfare/health-care-management/pasture-management/
People, G. P.-. G., & People, G. (2023, February 1). How to manage your horse paddock. The Grass People. https://thegrasspeople.com/paddock-management/
Thomas, H. S. (2022). Tips on Fertilizing Horse Pastures. Stable Management. https://stablemanagement.com/articles/tips-on-fertilizing-horse-pastures/
Yourhorse. (2023, March 22). What fertiliser should you use on your horse's paddocks? – Your Horse. Your Horse. https://www.yourhorse.co.uk/features/fertiliser-for-paddocks/