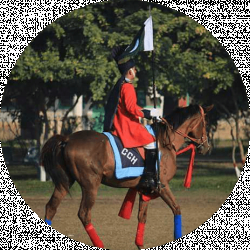 Latest posts by Boo Ali Khan
(see all)
Like many equestrians, I have gone through a challenging journey with horses. The whole quest was intriguing; from taming the beast to performing maneuvers, everything was an unforgettable experience. Still, you can never know what your horse will do in the next moment; even a well-trained horse is pretty unpredictable.
I still remember it was a summer evening, and we were practicing for our annual Horse Riding event. Being one of the most senior members of the riding team, my coach told me to perform some hurdles with a horse I never rode before – a black Thoroughbred mix, having, if I remember correctly, the branding number 169.
As 169 would suddenly stop right in front of the obstacle, I was having a hard time making it jump, even the Crossrail. Although I barely managed to save myself from falling, I tried to give it a last go, went to the end of the arena, and started cantering straight toward the Crossrail. But little did I know, 169 was more obdurate than me. And shortly after having a wonderful experience of flying through the air, I heard some cracking as my face hit the ground.
Long story short, with my poor sniffer totally crushed, as I was being carried to the hospital, I was thinking about buying a really good helmet next time, after I saw the peak of my helmet shattered on the ground.
Now that you have a rough idea about the significance of a good helmet, let me take you through this How to Find the Best Horse Riding Helmet guide; wherein, in addition to discussing my recommended picks for different equestrian events, I will be talking about everything you need to know about horse riding helmet.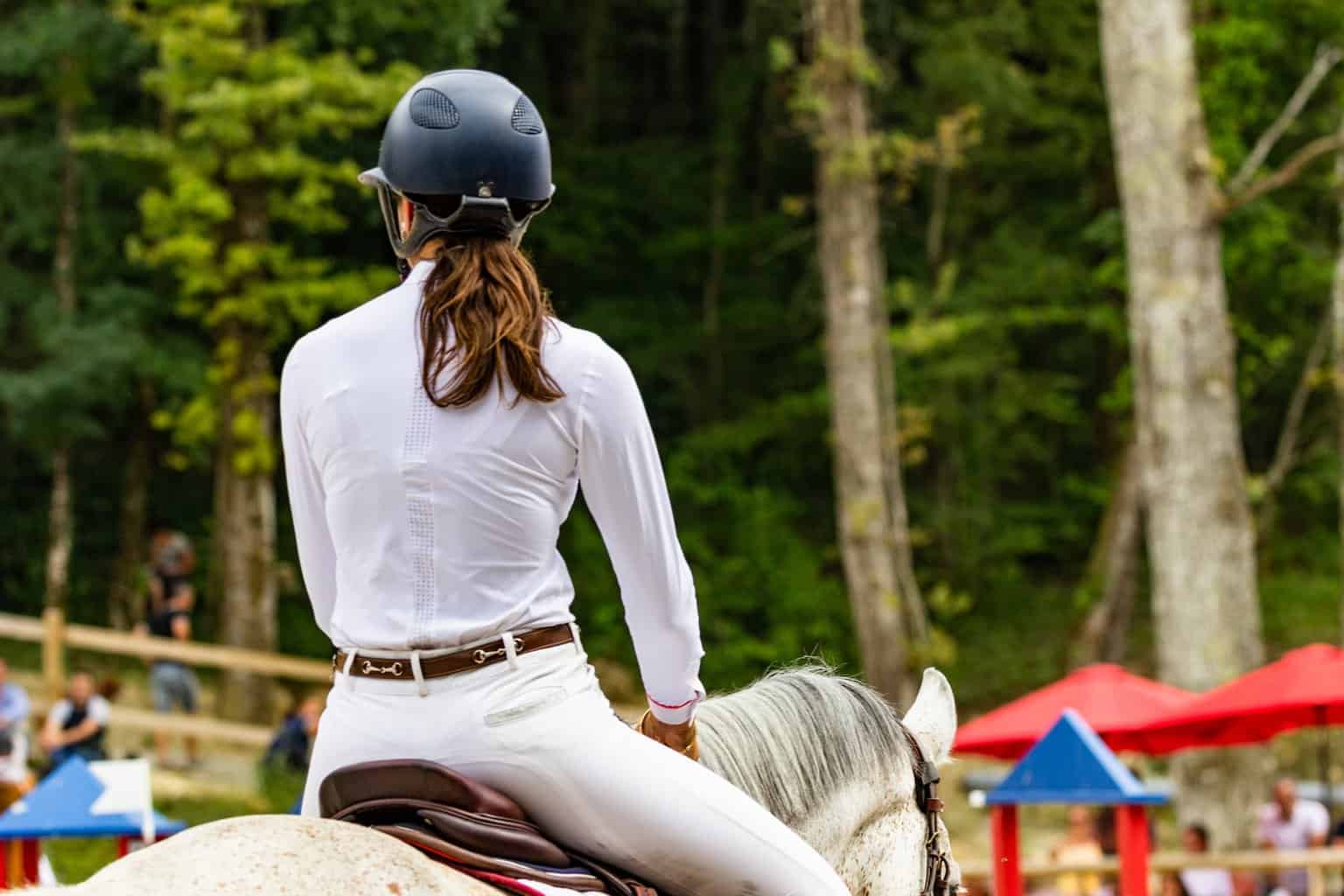 Bottom Line Up Front
Though every helmet has its pros and cons, if you ask me, one helmet that I have found quite intriguing is the Tipperary Windsor MIPS Wide Brim Helmet.
The helmet is a jackpot, as it has all the finest attributes a superb helmet should have. Its EPS foam liner protection offers its riders a true sense of safety. Not to mention, its state-of-the-art cooling and rigid 360-degree protection system add greatly to its experience.
Common Problems with Helmets
Paint Weathering Off
The most common problem with riding helmets is wearing off their outer paint layer. This not only takes off the shine but also brings down the quality of a helmet. And although this problem cannot be totally prevented, keeping helmets in the shade most of the time can really delay this issue.
Straps Getting Stiff
If you are wondering if it's only your adjustable straps that get stiff after a few months of use, you are not alone; all of us equestrians face the same issue. The constant exposure of these helmet straps to sweat, dust, and sunlight leads to their stiffness, eventually breaking them off. However, this problem can be prevented by cleaning your helmet's adjustable straps with a damp cloth after every use and applying some petroleum jelly.
Stench after Frequent Use
Although when you are in a stable, you might not consider it an issue, once you bring your helmet to your room, it feels just like some smelly socks. With constant sweating, the inner padding of a riding helmet becomes wet, which gives off a terrible odor. However, putting your helmet upside-down in direct sunlight for about 20-30 minutes after every use can solve this problem.
How to Care for Your Helmet
It is not just buying a helmet and starting your riding lessons; you must care for it and check for wear and tear after every few uses. To ensure the longevity of your helmet, don't forget to follow the following tips:
Try to clean your helmet inside out with a cloth after every use,
Don't put the helmet in a humid place or under sunlight for long durations.
Always keep your helmet in a helmet cover when not in use.
Although this might feel very selfish, avoid sharing is caring when it comes to your helmet.

Best Places to Find the Horse Riding Helmets
You can start your search at local sports or horse tack shops, most of which have some excellent options for at least pleasure riding. But if you don't find anything that clicks, I have recommended some legit websites below that offer good helmets.
My Selection Criteria
With a plethora of horse riding helmets available in the market, I have selected the following criteria while choosing my picks:
All helmets are well in stock.
Most equestrian helmets are approved by ASTM (American Society for Testing and Materials) or have SEI (Safety Equipment Institute) certification.
The helmets are best for any professional equestrian events.
All the helmets offer excellent build quality.
My Top Picks
Showjumping Helmets
According to North American and European standards, these helmets are compulsory for showjumping tournaments and are even used in events like the Olympics. Their streamed shape is quite helpful in reducing air resistance, and polycarbonate or fiberglass build significantly absorbs violent impacts in case of a fall.
Champion Evolution Diamond Helmet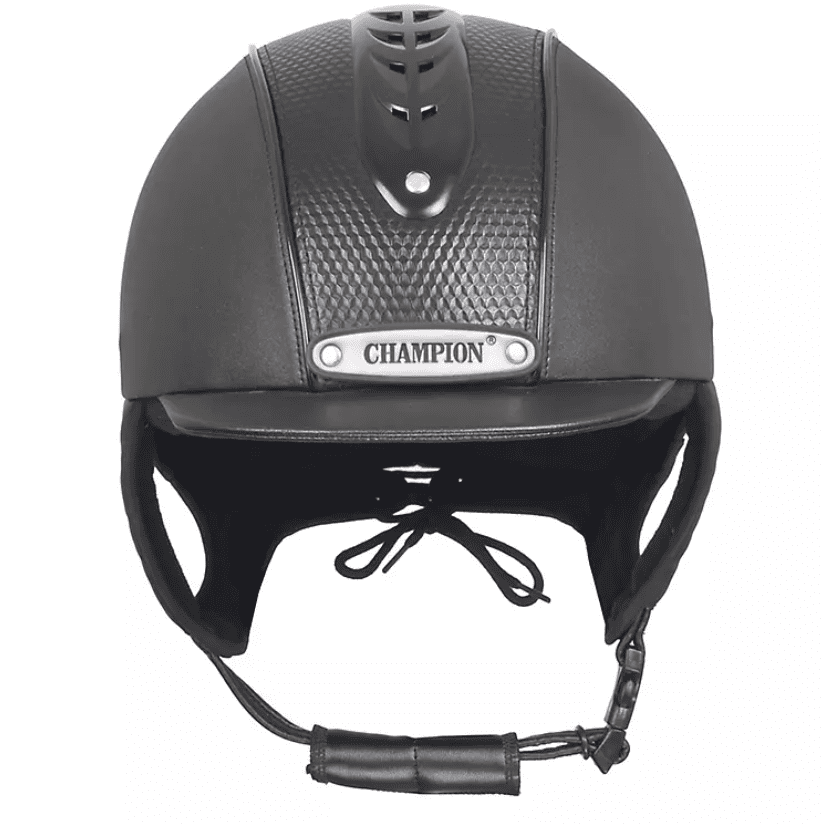 Description
The Champion Evolution Diamond Helmet must be on your bucket list if you crave showjumping. Though this helmet provides excellent protection with its PAS 015: 2011 safety certification, its handmade British build is what attracts me the most to it. This riding helmet is made of lightweight composite material, which doesn't feel heavy at all. Still, its fiberglass shell protection offers excellent safety in the event of a horse fall.
Talking about its fitting, this helmet caters to a four-point harness system and a lacing adjustment at the back, which offers a pretty snug fit. Not to mention, the high-tech microfiber in its comfort padding makes it breathable in hot weather.
With an instant-release buckle mechanism, although this Champion helmet offers a charming design, with a price tag of above $500, I believe, most equestrians have to wait a long time before getting their hands on this showjumping helmet.
Pros
The quick-release buckle system provides easy wearing.
Its fiberglass shell not only provides excellent protection but is also very lightweight.
Cons
This helmet comes in only one size.
Tipperary Windsor MIPS Wide Brim Helmet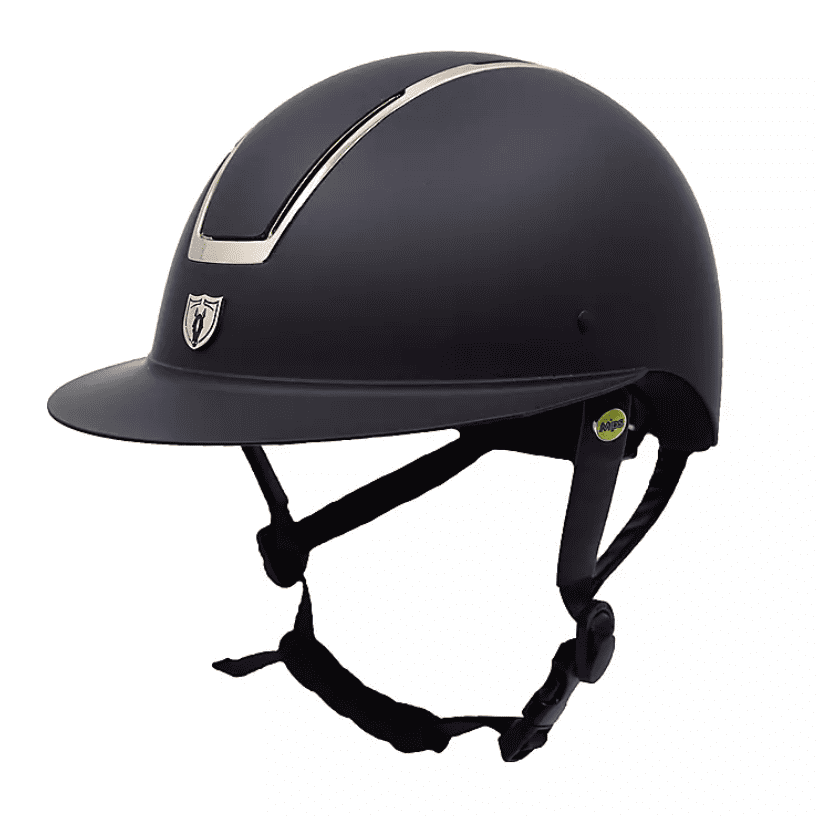 Description
I know this might be a bold statement, but the Tipperary Windsor MIPS Wide Brim Helmet is among the very few products available online that look even better in person. This beautiful helmet comes with an intense-impact resistance EPS liner. And if you have concerns about the certification, it is ASTM F1163-15 safety standards approved.
Another thing you will find unique about this riding helmet is its broader visor, which, although very crucial for the protection of the nose, is getting less common in modern helmets. Also, it has ABS shell protection, making it unformidable to break in case of intense impacts.
For a better ventilation system, this helmet offers six cooling openings. And let's not overlook its 360-degree anti-crush composite material protection, which can be lifesaving in case of sudden spills. All in all, this helmet caters to everything an equestrian can ask for and can even be used as a general-type helmet for many other events.
Pros
The helmet offers an EPS foam liner for absorbing intense impacts.
It has six cooling slots for better airflow.
Its fibreglass build, though lightweight, makes it pretty strong.
Cons
The chin straps can be uncomfortable for some riders.
Charles Owen JR8 LTD Helmet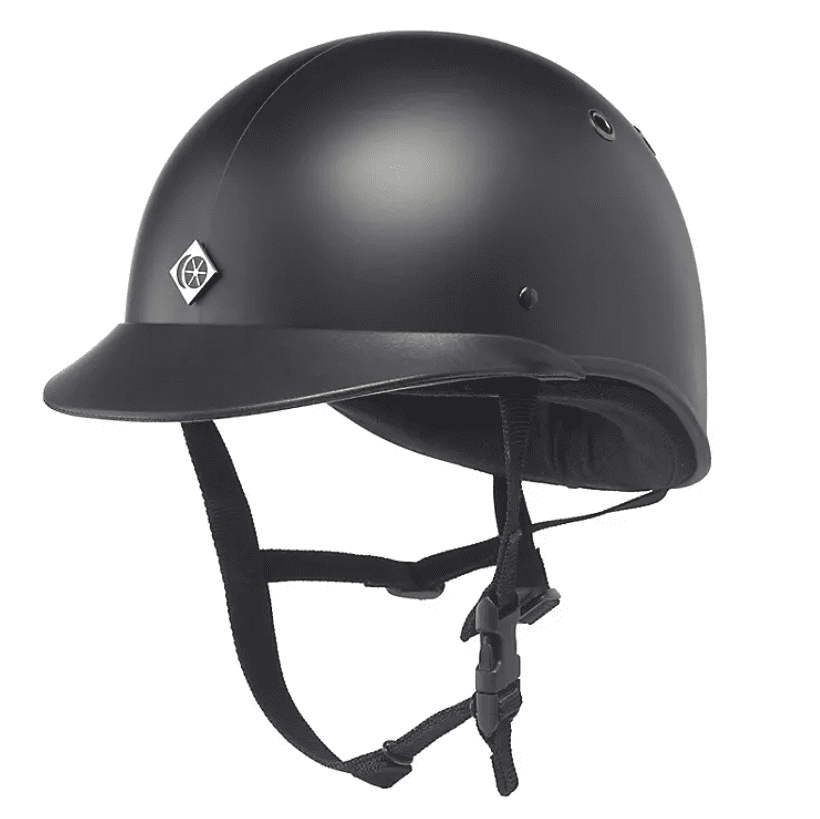 Description
If Tipperary Windsor is a little expensive for you, you must not miss this Charles Owen JR8 LTD Helmet. This budget-friendly helmet answers your safety concerns with its ASTM F1163-15 certification and offers a removable headband that can be washed easily.
When it comes to riding helmets, I can relate to how it feels to see scratches on your favorite helmet; that's why this Charles Owen helmet offers mark-resistant paint, making it look brand new forever. Moreover, for all those equestrians who are allergic to polymers, this helmet protects your skin by providing an antimicrobial liner.
This helmet offers various ventilation keyholes to make the riders feel more comfortable performing their indoor and outdoor equine activities. But before you start ordering this helmet, let me tell you that it offers no other option than black.
Pros
The helmet has a removable headband that can be easily washed.
It offers an antimicrobial liner to protect from skin infections.
Cons
The helmet is only offered in black.
Dressage Helmets
Although there is debate among equestrians to include helmets in dressage, the sport has a dedicated helmet market.  The dressage helmets are usually a little fancier and have a broader structure than the showjumping helmets, making them costlier than their counterpart.
Charles Owen AYR8 Plus Helmet
Description
If you have been to Dressage events, the Charles Owen AYR8 Plus Helmet might not be new for you. Because of its low profile and aerodynamically streamlined design, which reduces drag to a great extent, this helmet is very common among equestrians.
This UK-based helmet checks all the safety standard boxes of the ASTM F1163-15 certification. Moreover, with its microfiber suede side panels, it gives a very elegant look. But you have to be careful with it, as its suede build is prone to abrasion.
Talking about its safety, it features a GRpx harness system and self-adjusting cups. This not only provides safety to the rider but also keeps the helmet in place during the trot. This Charles Owen helmet is offered for heads measuring 54-61 cm; however, because of its tight fit, I would recommend ordering a centimetre above your actual size.
Pros
The suede texture offers a very classical finish.
The helmet's antimicrobial lining feature minimizes odor.
Cons
The outer texture can get dirty easily.
GPA Speed Air 2x Helmet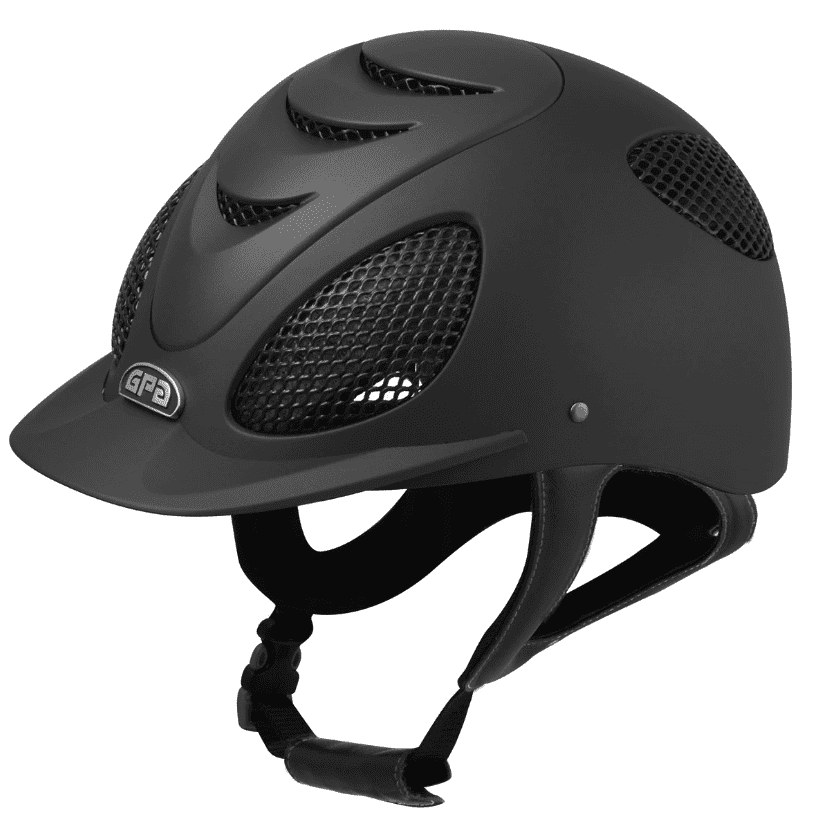 Description
Unlike most helmets, the GPA Speed Air 2x Helmet has a unique futuristic design with a perfect touch of a metal logo. And if you have safety concerns, worry not; this helmet fulfills the ASTM and SEI standards, and with its 2X PU leather back retention system, durability is always ensured.
Another unique element of this helmet is its thermo-composite build, which significantly helps keep the riders' heads cool during extensive and tiring Dressage training. Moreover, its removable lining is also pretty breathable than an ordinary helmet.
Offered in seven different sizes, although I really like this helmet for its chin straps, which feel comfortable against the skin, considering its modern build, most senior equestrians do not quite like it and prefer classic-style helmets over it.
Pros
Its thermo-composite build makes up for better ventilation.
The helmet offers a unique look.
This helmet's 2X PU back retention system provides safety against head injuries.
Cons
The outer surface is prone to scratches.
Kask Star Lady Swarovski Carpet Riding Helmet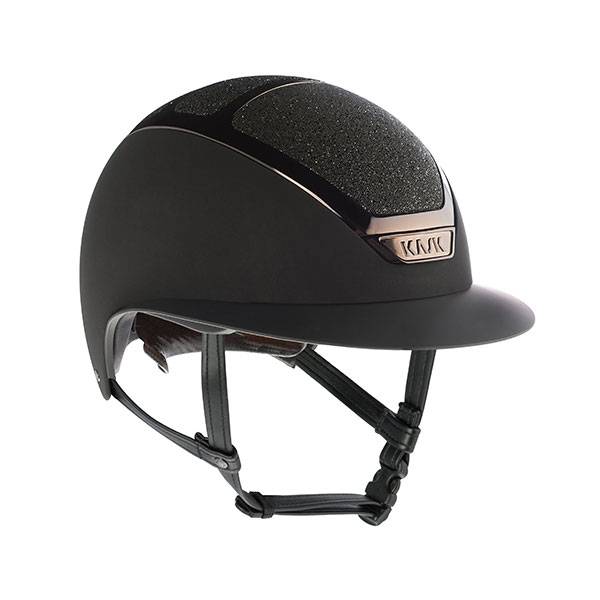 Description
When you are in for Dressage, it's all about scoring more points. And believe me or not, your outfit does leave an impact on judges' minds. So, if you are searching for something more stylish, you must consider Karsk Star Lady Swarovski Carpet Riding Helmet.
This product is loved by female equestrians not just for its elegant design and natural Swarovski crystals but its quality to encompass all the attributes a perfect helmet should have.
The next coolest feature after its glamorous design is its ABS outer shell, making it highly durable and lightweight.
Also, with state-of-the-art protection, its inner shell has three layers and an Expanded polystyrene build, which ensures perfect absorption against intense impacts. And let's not forget; the helmet offers skin protection against different allergies with its hypo-allergenic chin strap.
Although this beautiful riding helmet offers a variety of color combinations, I would definitely suggest taking a look at your bank account before placing an order for this Dressage helmet.
Pros
It is lightweight.
The helmet offers four different color combinations.
It has an eco-leather chin strap that reduces skin irritation.
Cons
The crystals come off easily with time.
This helmet costs almost double an ordinary Dressage helmet.
Polo Helmets
These headgears are worn explicitly by polo players and are specifically designed to keep them safe from off-course mallets and balls. They look like flat dressage helmets and have extended brims. These polo helmets are not focused on comfort and have more rigid outer shells with chin straps for better grip and safety.
Black Argentine Polo Helmet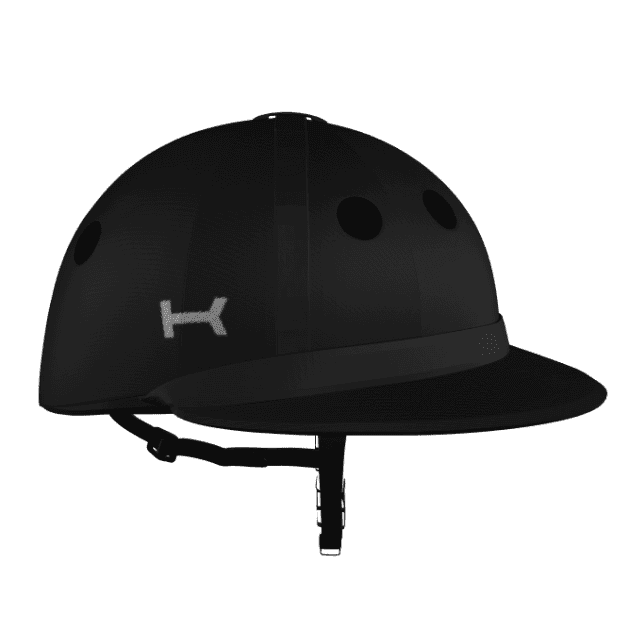 Description
This Black Argentine Polo Helmet is quite famous among the jockeys due to its availability in English and Argentine brims. The helmet provides a cutting-edge EPS system with a glass fiber shell to sustain high impacts. Not to mention, it is also approved by PAS 015: 2011 safety standard.
Being a Polo helmet, its 4-point buckle harness system firmly grips the rider's head and does not come off even with sudden jerks. This helmet also features washable inner padding with a zip that not only helps with washing the padding but also allows the rider to add or remove the foam strips according to their fitting.
In addition to its diverse size range – from 53cm to 62cm – it also offers customizable print and paints to your liking; however, it takes 3/4 weeks to deliver this item to your doorstep.
Pros
This helmet comes with high-impact absorption EPS system.
It caters to a range of sizes.
This helmet is customizable.
Cons
The delivery typically takes a month.
CHARLES OWEN SOVEREIGN POLO HELMET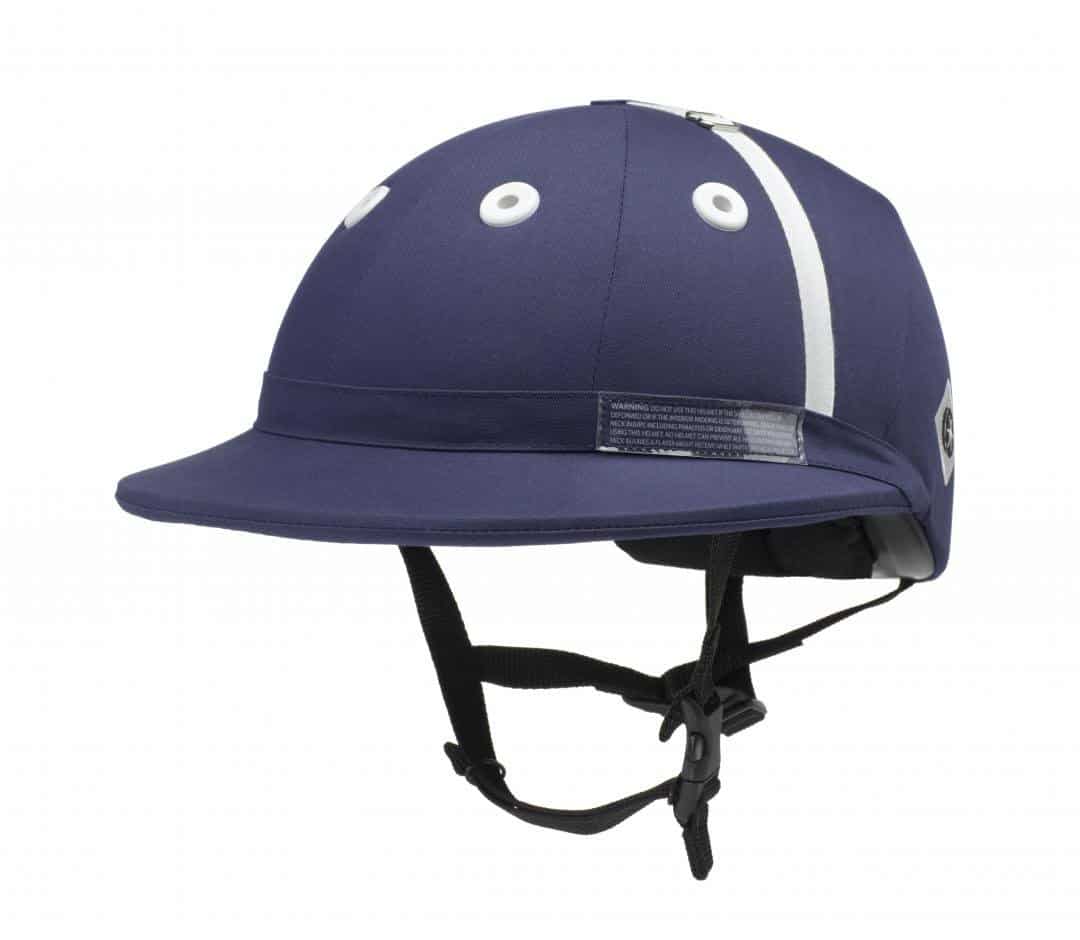 Description
Classic, heavy-duty, and sturdy, this is what the Charles Owen Sovereign Polo Helmet is. The first impression people might get about this helmet is its bulky and outdated look. However, if you really want to be prepared for any unanticipated event in a Polo match, it should be your least concern.
This helmet is handmade, meets the NOCSAE safety standard, and provides a range of color options. It features a Viconic Sporting impact liner, which is a good absorber for all sorts of shocks. In addition to that, the Spread Tow Carbon fabric outer shell further reinforces the strength of this heavy-duty polo helmet.
Unlike most other helmets, its ventilation holes are a little bigger, ensuring proper airflow. Moreover, its thick padding makes it one of the most comfortable helmets on the market. Still, I have to say, for its not-so-smart looks, a lot of Millennial and Gen-Z equestrians do not prefer it for Polo matches.
Pros
This helmet has a Viconic Sporting liner that reduces crash impact and saves from concussions.
Its bigger ventilation holes provide better airflow.
It is really comfortable.
Cons
This helmet is on the heavy side.
It offers an outdated look.
Jockey Helmets
These helmets are the slimmest of horse riding helmets and mostly have EPS foam in their construction to make them lightweight. Still, these racing helmets have a solid outer shell for safety against brain injuries. The Jockey helmets come in a short brim and close fitting to provide better maneuverability for jockeys.
UOF RACE CARBON| Riding Helmet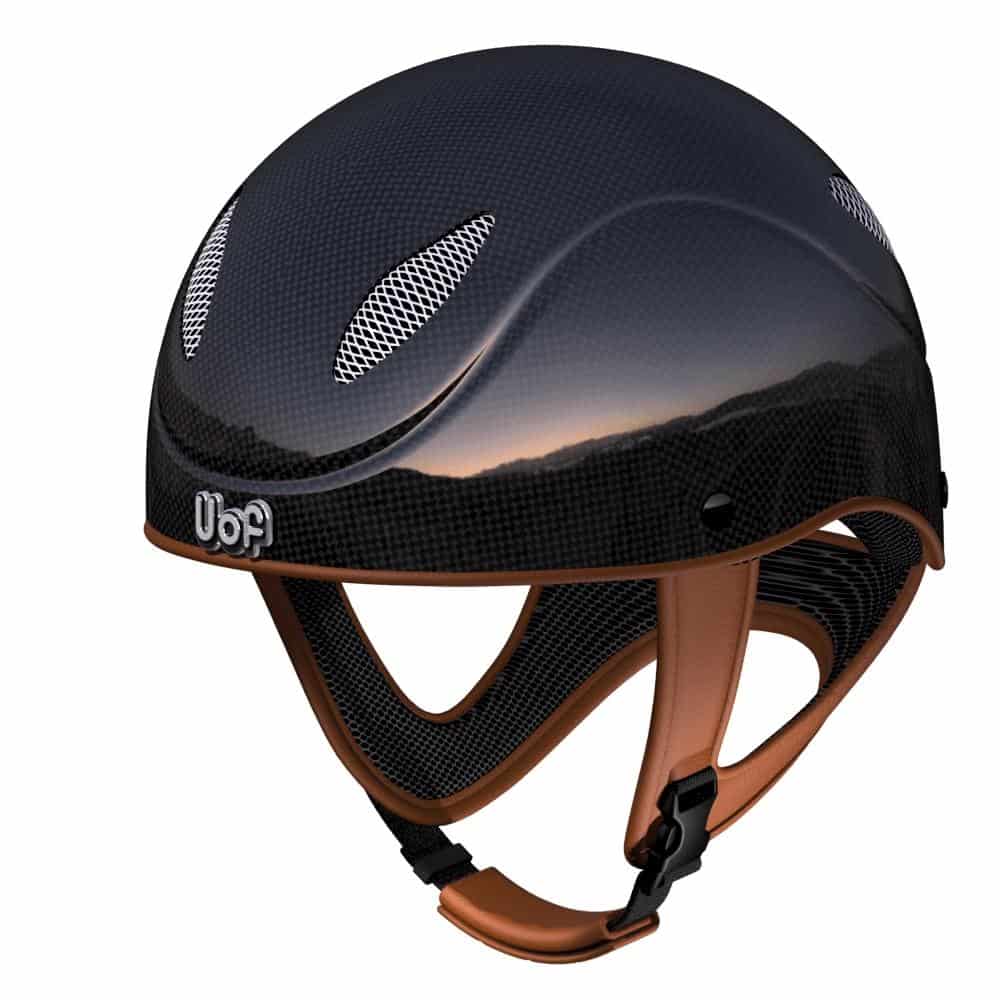 Description
For its anti-slippering shell and ergonomic design, the UOF RACE CARBON| Riding Helmet is a good option for jockeys with need for speed. Also, its nylon rapid-release buckle system might save you from the wrath of your instructor if you have a strict coach like mine.
Despite being a Jockey helmet, it offers a variety of sizes ranging from 52cm to 61cm; not to mention, you can preorder its nonstock colors as well. This UOF helmet protects from skin infections, thanks to its hypo-allergenic lining material, and provides two front and two back ventilation holes for keeping the rider's head cool all the time.
Another feature that I like about this helmet is its weight, which is not even more than one pound. Still, due to its lengthy production time, you have to wait for about 2 months to get your hands on this helmet.
Pros
It is pretty lightweight.
This helmet offers a rapid-release buckle system.
Cons
The helmet has a production time of 2 months.
KEP Cromo 2.0| Jockey Helmet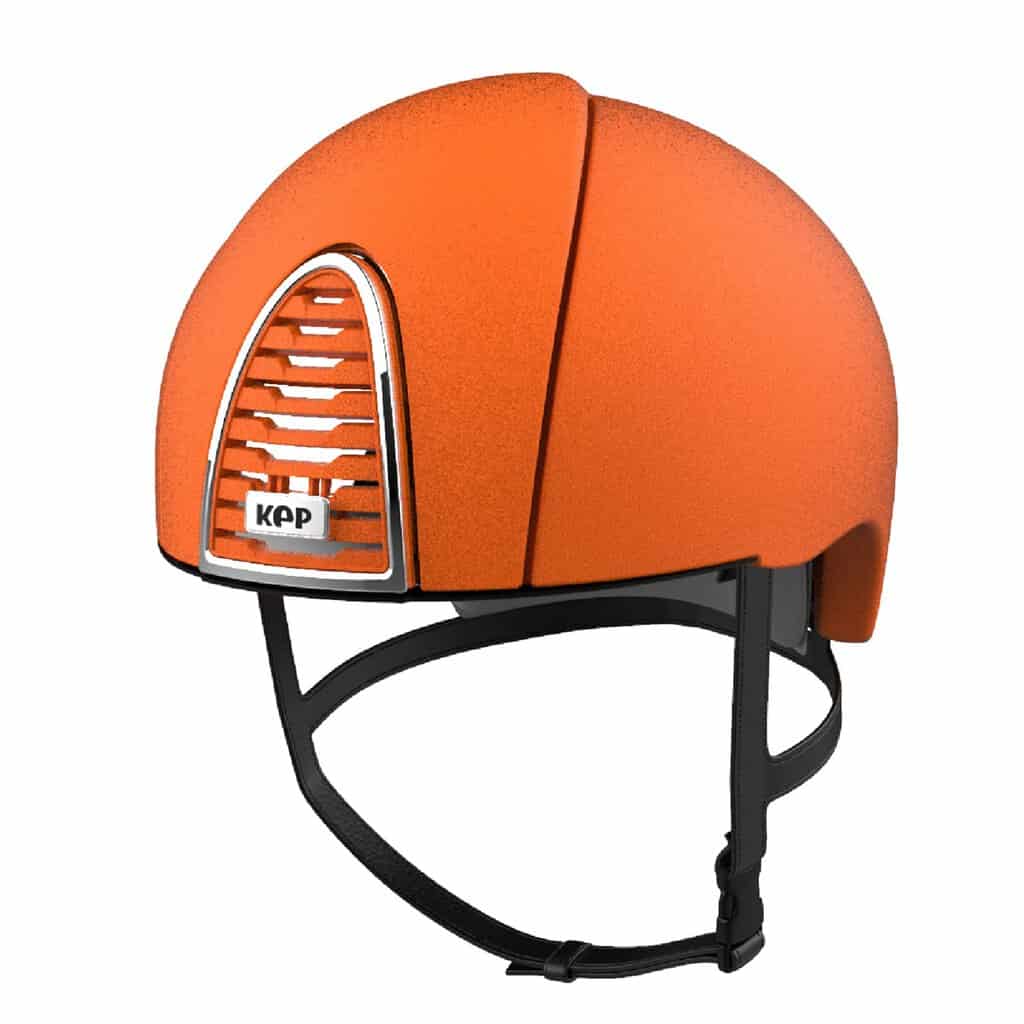 Description
I don't know if it's just me, but this KEP Cromo 2.0|Jockey Helmet always reminds me of Croissant; maybe it's been a long since I had a cheat day. This jockey helmet offers a polycarbonate in-molding build. But what makes this so convenient is its customizable feature, allowing the Jockey to add both the front and back visors anytime.
Another fascinating feature of this Italian-made helmet is its integrated microchip that gives real-time data about the Jockey's health via KEP App. And let's not forget its hand-stitched leather straps, providing a great fit.
Unlike most helmets, this Jockey helmet has a ventilation grill consisting of various slits, which allows for maximum airflow. And to ensure your precious helmet does not get damaged, it also comes with a helmet bag. All in all, this helmet is a complete package for jockeys looking for an advanced head wearable.
Pros
This helmet offers an inbuilt integrated microchip to track the rider's health.
The five-point genuine leather straps provide a better grip.
The helmet also comes with a helmet cover.
Cons
The helmet has a tight fit.
FAQs
Question: Can we use bike helmets for equestrian sports?
Answer: Although bike helmets are also designed to protect the head, they are not built for severe falls and slips that often occur in a stable. Also, their design is not attuned to the needs of an equestrian event, nor are they ASTM or SEI-approved. Therefore, it is never recommended to use a bike helmet in place of a horse riding helmet.
Question: How do I know if the helmet fits my head?
Answer: The first thing you should do is check whether the helmet size agrees with your head measurement. However, as every type of helmet has a different fitting, you can check the helmet by wearing it and see if it isn't too tight or loose.

A tight helmet would be hard to put on; similarly, a loose helmet, when not wearing chin straps, would come off if you tilt your head to a side. And remember, even if a riding helmet fits you, its visor should not be lower than ½ inches from the eyebrow level. Otherwise, you will not be able to see what's in Infront of you.
Question: How long does an equestrian riding helmet last?
Answer: Well, the helmet's life depends on how you use it. But generally speaking, a good quality helmet easily lasts for five years.

Still, due to constant exposure to the sun, not only does the paint or outer surface weather off, but the helmet's strength is also affected. Therefore, you have to keep an eye out for any change in the helmet and discuss it with an expert to know if it needs replacement.
How to Find the Best Horse Riding Helmet: Final Thoughts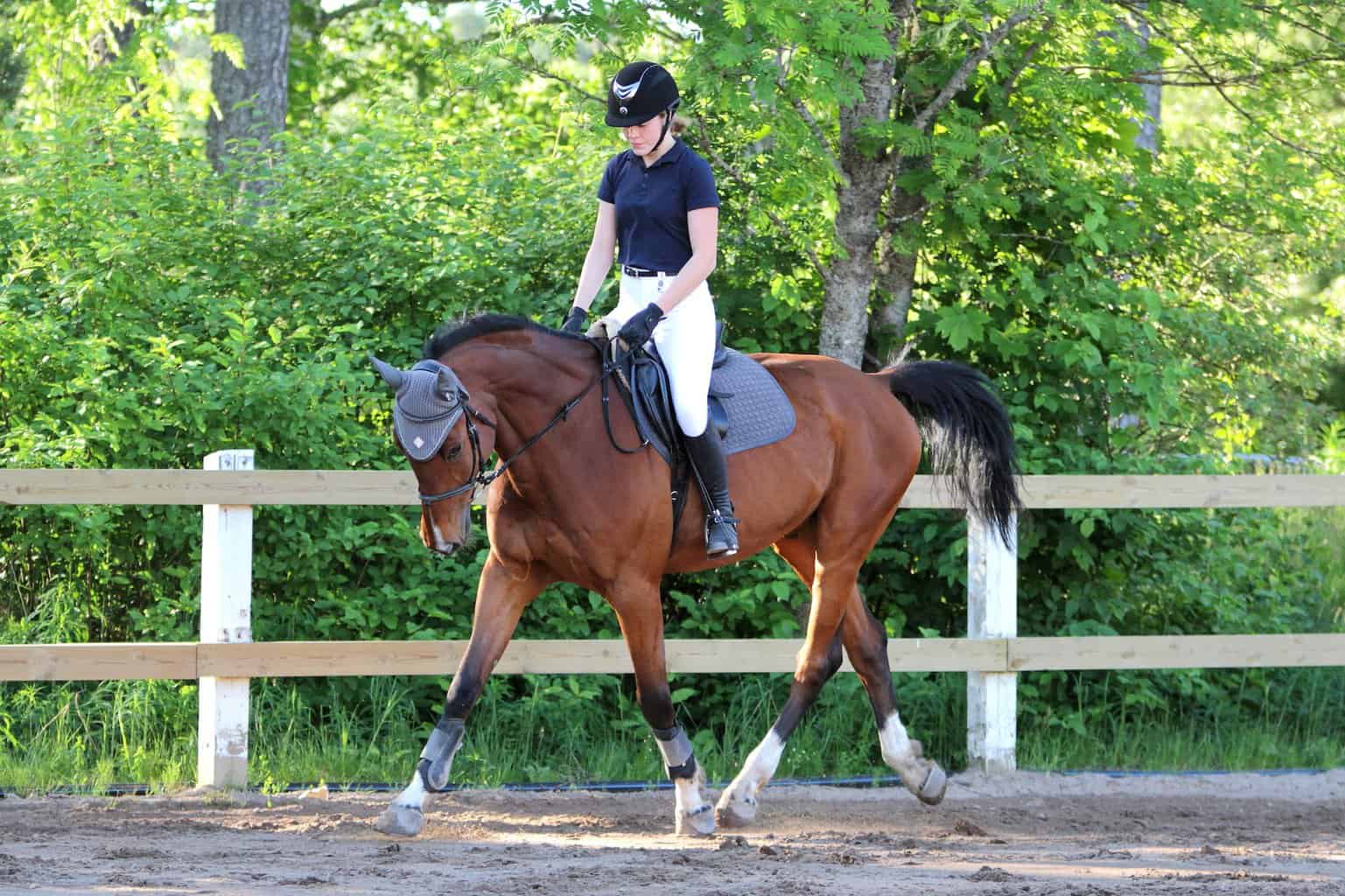 The most crucial gear for any equestrian sport is a helmet. However, with many available options, if you want to buy a perfect helmet, you should first narrow down your intended use.
Then after taking your head measurement, all you need to do is check the quality of the helmet. But remember, do not ever compromise on the quality of a helmet for a few bucks. Believe me; you never know what will happen next when you are riding a beast.
Being a fan of show jumping, the helmet that is really close to my heart is Tipperary Windsor MIPS Wide Brim Helmet. Its build quality is superb, and the protection it offers also checks all the boxes. Not to mention, it does not cost much compared to other helmets of the same quality.
Still, if this helmet does not pass your vibe check, don't forget to consider my other recommended picks. Though most of them might be a little expensive, they are worth every penny. Good Luck!