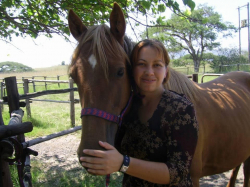 Latest posts by Talitha vanNiekerk
(see all)
When you're still learning how to ride, you probably think of the saddle, stirrups, and the horse's bit as essential elements that keep you on the horse. However, the reins are just as important for safety and riding prowess. A good set of reins can make a difference between a great ride and a terrible ride. 
When I started riding, I was happy as long as the reins were attached where they should be and the horse seemed obedient. Later, when I began riding more professionally, I discovered just how unique reins can be and how the feel of a set of reins can change the whole riding experience. 
Knowing what makes for a great set of reins can be a challenge. There are many types of English reins: rubber reins, webbed reins, reins with stoppers and without stoppers, plaited reins, and reins that are broader or narrower Western reins can be rope reins, leather reins, and woven reins with beads. 
So how do you find the best horse reins out there? It's simple—be very clear in what type of riding you do and what kind of feeling you want when riding. Once you understand these two aspects of your ridden work, you will know what kind of reins are ideal for YOU. 
My Best Reins as a Bottom Line Up Front
If you're rushing off to the next horse derby or jumping over to the next eventing show, you may not have the time to read exactly how we chose the best reins for each class we've selected. However, here's a sneak peek of the best reins per rein class:
Selection Criteria for the Best Reins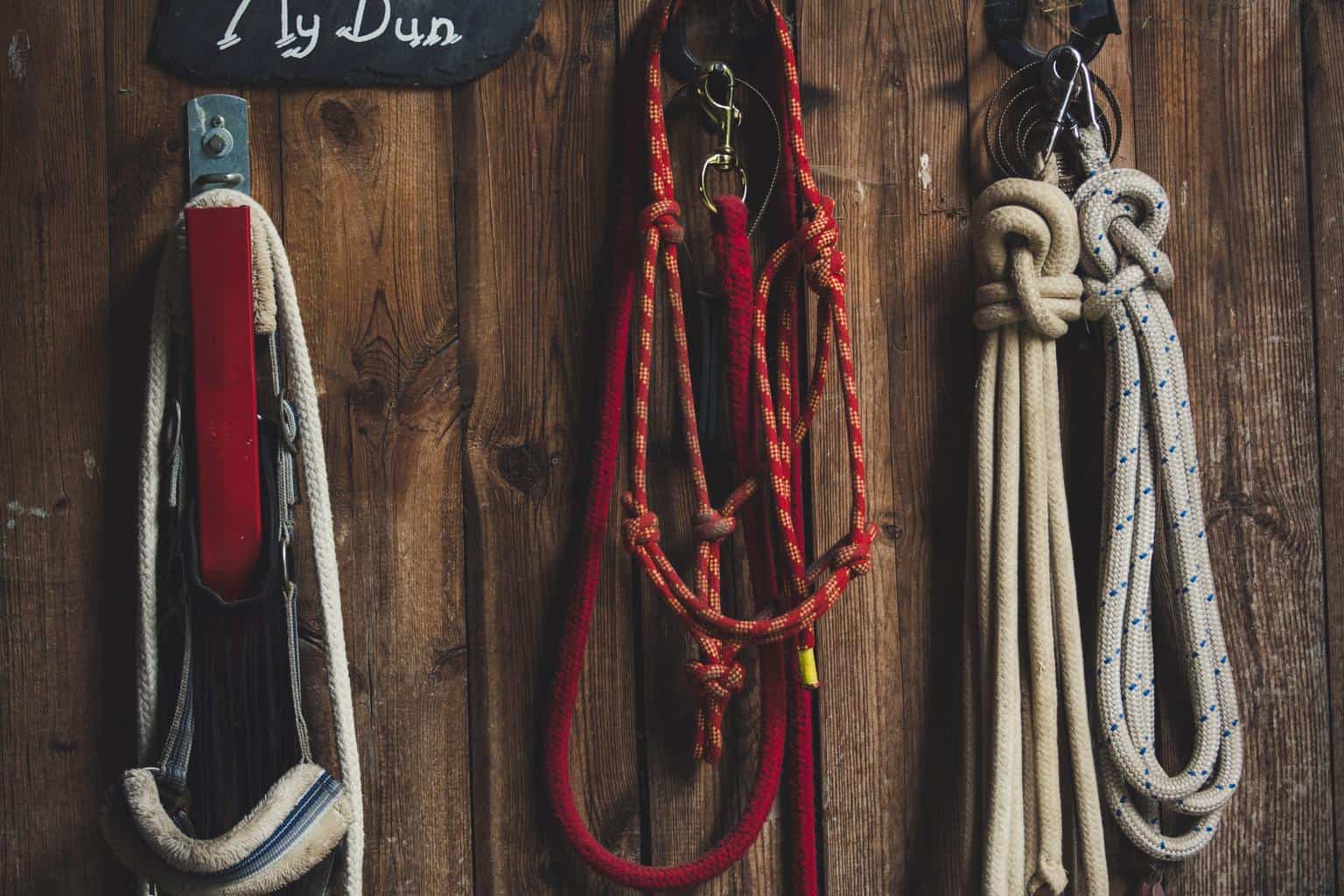 Once you know what feeling you want from the reins you use, you can choose reins to provide that. Choose your reins once you know what your selection criteria are. However, if you're stuck, you can use my selection criteria, which helped me choose the best reins for my riding purposes. 
Comfort
The reins you choose should be comfortable. Don't just stare at them online and then click buy. Instead, go to a tack shop where you can actually touch the reins, hold them, fold them over your fingers, and get an idea of how they will feel in your hands. 
Remember that as long as you are on your horse, you will be holding the reins in your hands. Therefore, if you are riding endurance, you may hold the reins for hours on end, and having heavy or slippery reins won't be ideal for comfort. If you ride English and spend hours schooling for a dressage test, you would want soft reins to limit finger strain while being effective in micro corrections as you ride the horse. 
The texture of the reins will also influence how comfortable they are. If you ride with gloves every day, you probably won't think it makes much difference, but the texture of the reins will react with the surface of your riding gloves and your hands. 
Precision 
When you ride in a specific riding discipline, you may require that your reins perform uniquely. Perhaps you need reins that will slide through your fingers to allow the horse to stretch during the walk for a test, or you may want reins that give you a better grip to hold the horse when they get strong over fences or obstacles. 
Different reins have different qualities that influence the precision of your ride. Webbed reins with rubber reinforcing strips allow the reins to slide forward incrementally, while smooth reins can give you a much quicker release or allow for precision finger movement. 
Rope reins can offer a smooth feeling as the reins relax in your hands. Rope reins can be lighter or heavier than leather reins, depending on the rope's core, influencing the amount of "give" the reins have. The rope style used will also affect how fast you release and how much you can hold onto the horse if needed. 
Length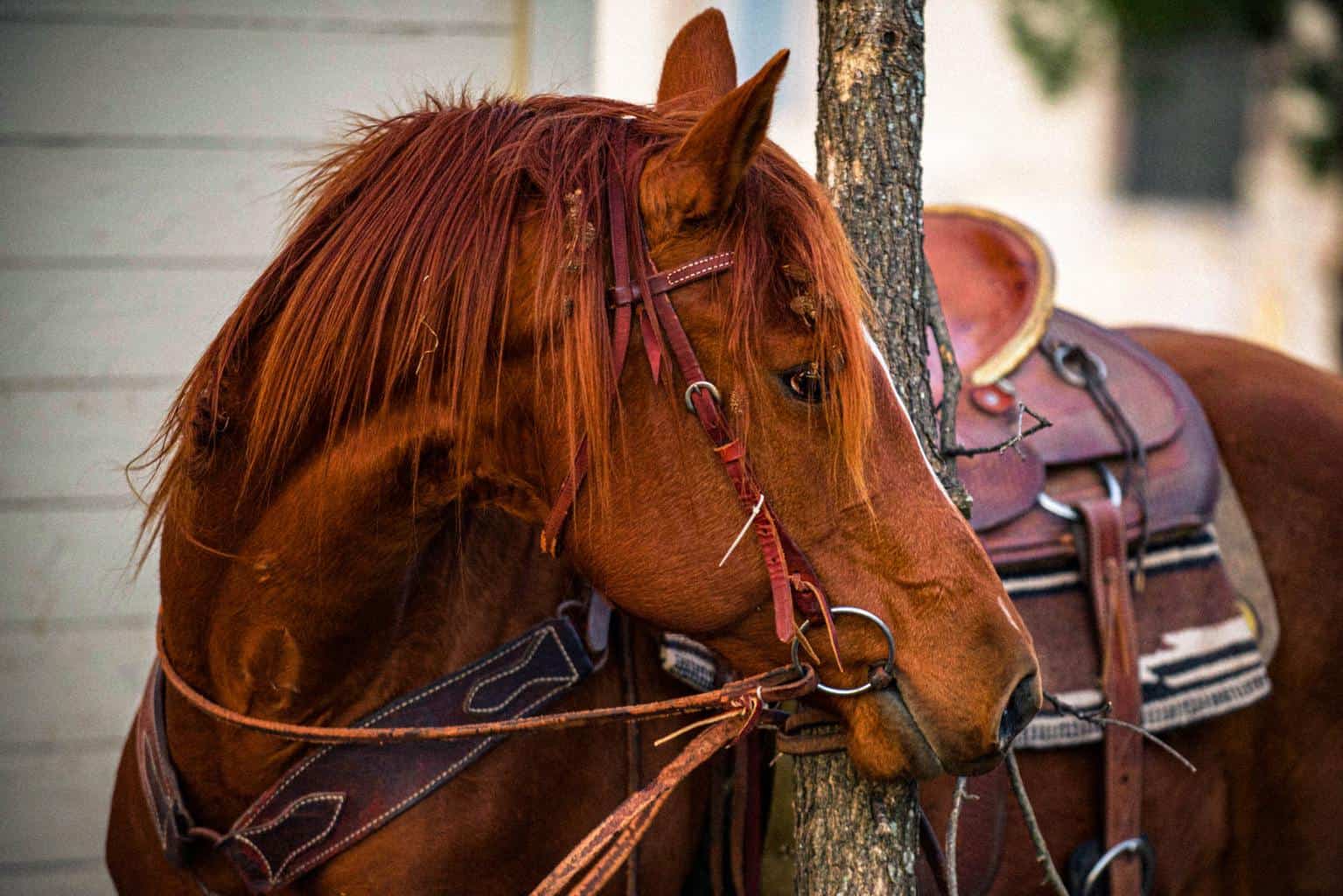 Depending on the dimensions and size of your horse, you may want to consider extra long reins, pony reins, or different lengths of Western reins for your horse. A horse's reins should allow them to reach the ground and graze without the reins pulling their bit through their mouth. If you have short arms, you may need extra-length reins. 
If your reins are too long for your horse, it can create a problem with Western reins dragging on the ground or English reins being too long to handle comfortably. 
Top Tip: If your reins are too short for your horse, you can easily add a few inches by fitting rein connectors to the bit and then to the reins. 
Material 
The material used for the reins' manufacture will significantly influence all aspects of the reins. Should you want soft and comfortable reins, your options are softcore rope reins, wide and pliable plaited leather reins, and soft-touch rubber reins. If you prefer a firmer rein that gives some resistance, then go for solid core rope reins, double-stitched leather reins, synthetic reins, or webbed reins with rubber strips.
Quality 
The overall quality of the reins will influence whether they are a good buy or not. Reins made from stiff leather will not always soften when oiled, and you may end up with leather cracks that could weaken the leather. You certainly don't want your reins snapping while riding a rodeo or jumping a course. 
Inspect the hardware the reins include. If there are buckles or pin and loop holders on the reins, be sure to examine the quality of these. Should the reins be joined with a buckle, check this for quality. 
As with all leather goods, carefully inspect the stitching and feel the softness and suppleness of the leather. Reins that are too thin will easily perish, while reins that are too thick may become spongy when oiled or if your hands sweat. Instead, go for a medium-thickness rein of soft leather made from quality top-grain hides. 
If you choose synthetic reins, inspect these for softness, UV rating, and hardware. 
The reins should both be the same thickness and leather quality. Carefully avoid reins made from leather that have alternating patches of thickness. These thinner parts of the leather could indicate weakness and cost you dearly if the leather should fail while riding. 
Price 
Of course, we all have a bottom line regarding price. You still need to buy a saddle and bridle, bit, helmet, numnah (saddle pad), and more for your horse, so you may be tempted to opt for the cheapest reins you can find. Take care to buy the best quality reins you can afford. Don't compromise on quality, material, length, and comfort just to save a few bucks. 
Different Types of Reins—Up Close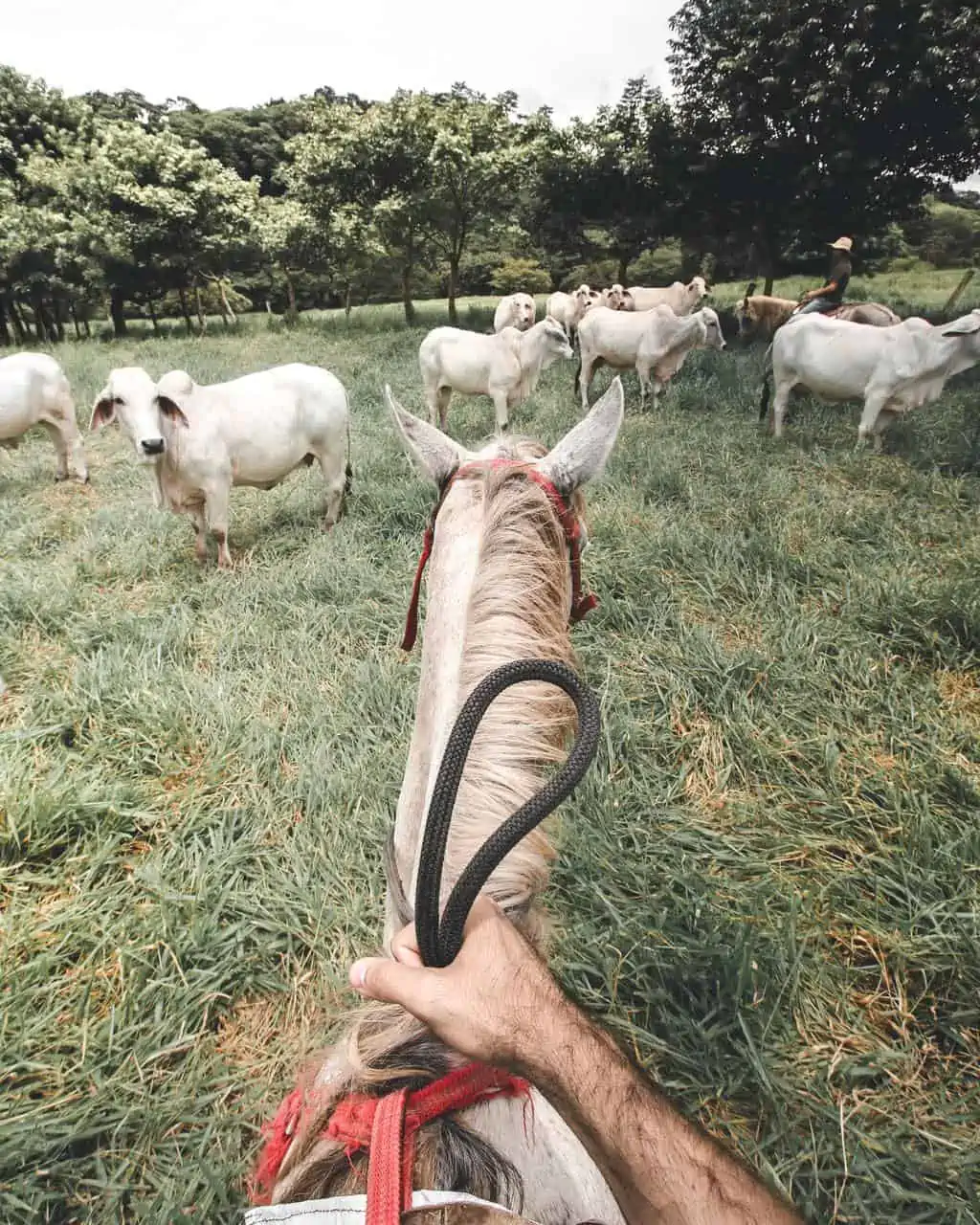 As mentioned, there are many different types of reins. Each has its own purpose and unique characteristics, so knowing what each type offers can help you choose the best reins for your horse and your riding style. 
Plaited Reins
When using plaited reins, the reins are cut lengthwise. The sections are then braided with an additional leather string, creating a braided rein that does not compromise the quality of the reins. 
Uses: When a stronger grip is needed, plaited reins are ideal. Plaited reins are also much more grippy than a flat rein would be. The braiding is perfect for better grip in wet conditions, such as when eventing or doing cross-country. 
Solid Leather Reins
Solid leather reins are made from top-grain leather that has been rolled to create a uniform leather layer where there are no thick or thin areas. The leather is then cut, oiled, and fitted with the required hardware. Solid leather reins can slip more quickly through your hands, making it less secure for eventing or other showing disciplines. 
Uses: Solid leather reins may be better for disciplines where the fingers need to "walk" up and down the reins. If you use more than one set of reins, you may prefer to use a solid rein as it will be less inclined to stick or tangle with the second set of reins. Dressage and showing riders prefer this kind of rein. 
Laced Reins
Unlike braided reins, laced reins are a hybrid kind of reins that merge solid reins with braided reins by drilling holes the length of the rein, then reinforcing the rein with a leather string that's carefully laced between the holes. The holes and laced patterns help provide better grip while still allowing the fingers to move up and down the reins better. 
Uses: Dressage riders sometimes enjoy mixing up their reins when they ride in a double bridle or bradoon bridle. By choosing smooth reins for the snaffle bit but selecting a laced rein for the curbed bit, the rider can feel the difference in the reins and instinctively know which rein is at the top and which they need to drop contact. 
Woven Reins 
Unlike leather reins, cloth-like woven reins have leather or rubber strips sewn across the reins at even distances. The notions are that these reins offer softness to the rider's hands, provide a secure way to tell the length your reins are held at, and resist slippage if the horse pulls their head down. 
Uses: Traditionally, high-energy riding such as rodeo, barrel racing, and racing required woven reins due to the extra grip. 
Double-Stitched Reins 
Reins stitched down the sides are considered sturdier than unstitched reins. Though, not all stitched reins are stronger. Stitching can weaken the leather, creating a problem for wear and tear when the rider's hands have to rub on the reins constantly. 
Uses: For the most part, stitched reins are ornamental, and the reins are there to add dramatic flair and design elements. 
Rubber Reins 
In the racing world, rubber reins have gained popularity. Jockeys often prefer to race with a thickened rubber-coated rein that offers stability and grip. Rubber reins also don't become slippery when wet, which makes rubber reins a good choice for eventing and even endurance. 
Uses: Rubber coatings on reins can make reins less slippery, and the stippled finish of the rubber coatings makes the leather more grippy. Rubber reins are ideal for extreme weather riding, racing, and jumping. 
Synthetic Reins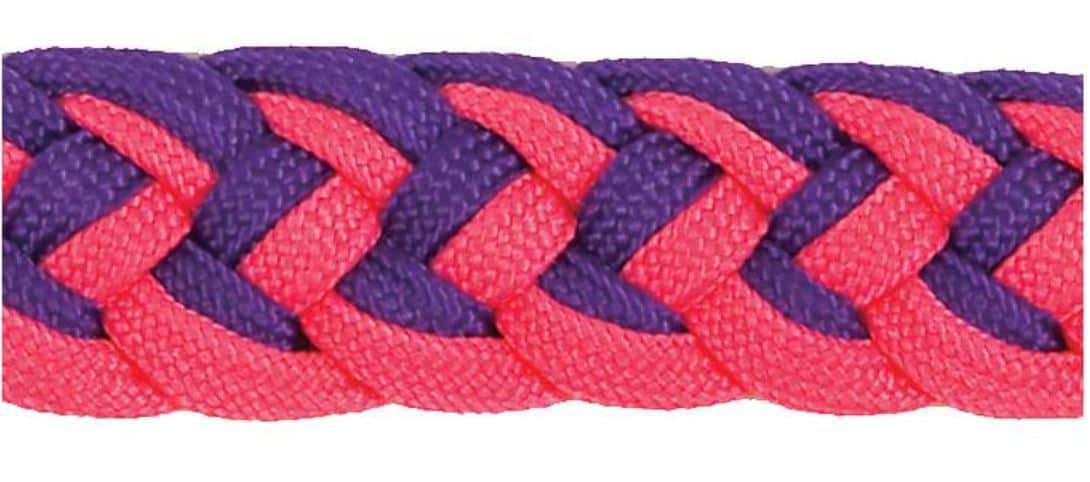 A plastic polymer is pressed onto a woven core to make synthetic reins. The core keeps the plastic from stretching, while the reins remain flexible and durable. The nylon can also be colored, creating many different design reins that appeal to children and teenagers who ride. 
Uses: Fun bridles are often synthetic. These colorful reins are used for fun riding, trail riding, and endurance riding (where there are often fewer regulations regarding tack color and material).
Mecate Reins
When you ride with mecate reins, chances are you are riding in a bosal or Western hackamore. The reins allow enough length to ride with extremely loose reins. The mecate rein is usually a single seven-foot rope with a tassel end. The rope is tied in a highly technical knot to the bottom of the bosal. 
The mecate then becomes a loop that provides the two sides of the reins, while there is also a third rein known as a step-down rein. When dismounted, the rider would use this rein to lead the horse so the bosal doesn't get twisted out of place on the horse's face.
Uses: Mecate reins are used for Western riding, ranch work, and Western games.
Split Reins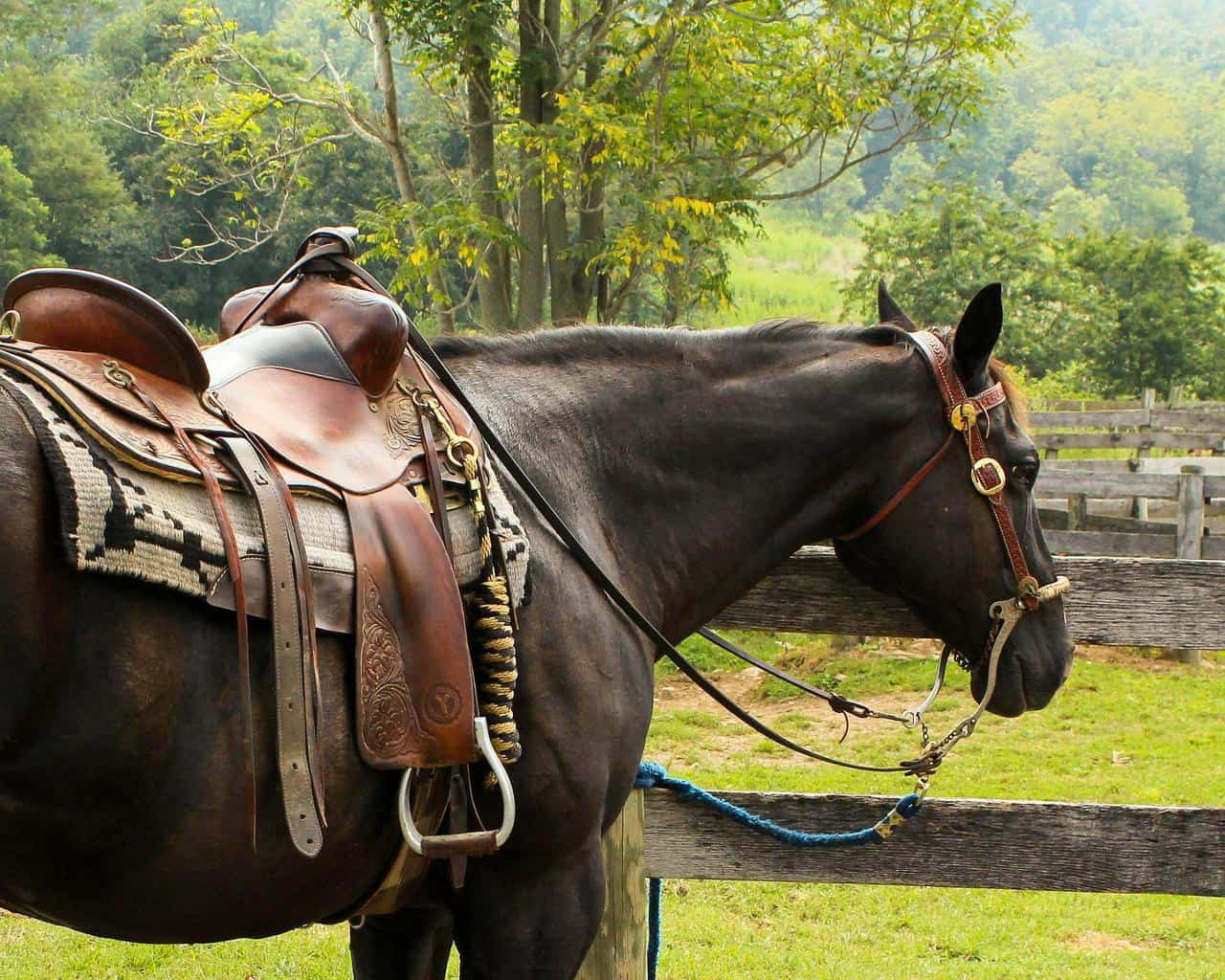 If you don't like the rope mecate reins, you can opt for the other popular Western reins—split reins. With split reins, the bridle has two reins that don't join with a middle buckle. Instead, the two reins are independent, and these reins are longer than traditional reins.
The idea is to have extra long leather that can tie a horse to a hitching post, urge the horse on, and herd cattle by slapping the extra-long reins against the rider's cowboy chaps. 
Uses: Split reins are ideal for farm work, tying the horse, or herding cattle. 
Rope or Romal Reins 
If you want to have the best of the mecate reins with the ease of riding in English style, you can try a set of simple rope reins. In this case, the rope reins are a single section of rope that is the same length as a regular English bridle's rein length. Both ends of the rope are fitted with hardware to attach to the bit. 
Uses: Use rope or Romal reins for endurance riding, pleasure riding, introduction to Western riding, and ranch work. 
Finding the Best Reins for Your Needs
Ready to choose the best reins for your type of riding? Let's look at your options:
Plaited Reins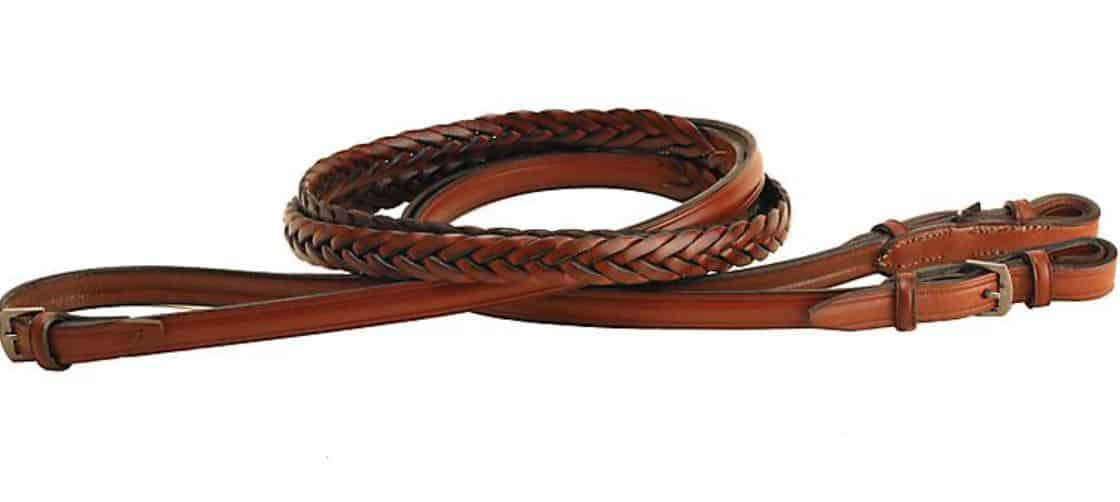 Simple, elegant, and durable are just some terms used to describe the Tory English Plaited Reins. With a unique serpentine plait, these reins are robust, easy on the hand, and ideal for those grippy rides. 
Pros
Made from quality Wickett and Craig bridle leather that's been vegetable tanned

Made in the USA 

Old world methods for traditional finish and quality assurance

Stainless steel buckles for strength 

Extra length at 60 feet

Great price at $70
Cons
Due to plaiting, the reins can be thinner in the plaited section – the widest part is ⅝ of an inch  

Some oiling at the start makes for truly soft reins
I liked the quality of the Tory English plaited reins, but the color didn't quite match my tack. Oiling brought about some color changes, but this is a quality set of reins, making it the best for plaited reins overall. 
Solid Leather Reins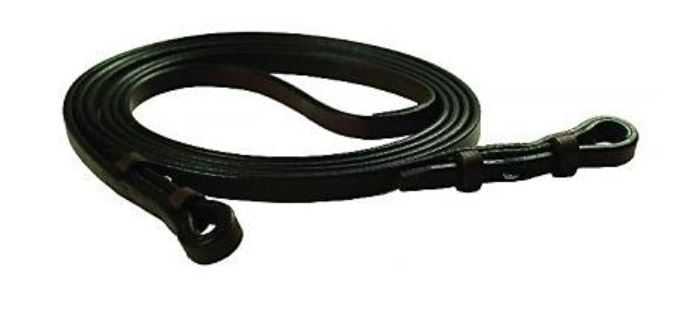 Simple is often best, as with the Gatsby Plain Reins. These reins are soft, supple, and made from pre-conditioned leather. They are available in four lengths. 
Pros
Four sizes: 48 inches, 54 inches, 60 inches, and 64 inches for extra length

Steel hardware (stamped)

Priced right at less than $20 per set
Cons
Hook and eyelet attachments for a bit can be challenging

Leather is an unpredictable brown color
Laced Reins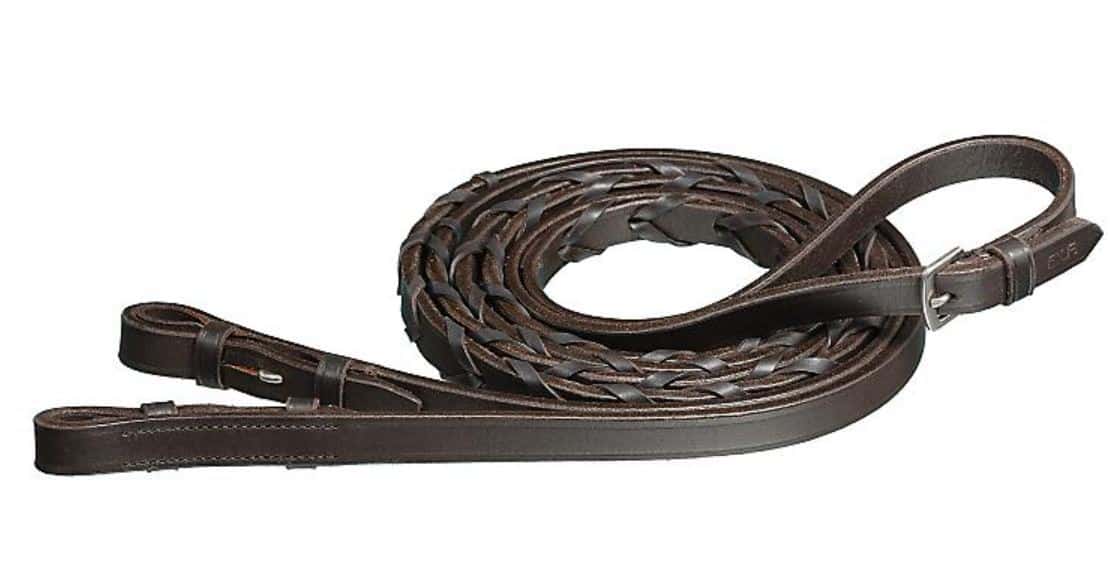 Laced reins are the best choice for a little extra grip while still ensuring you have a pliable set of reins. I love these budget-friendly laced reins—Silver Fox Extra Long Laced Reins. 
Pros
Made from premium quality leather 

Hand laced 

Hook and stud attachment for seamless bit fitment

Standard width at ⅝ inch, with extra length at 60 inches per rein

Supple and well-oiled leather for a soft feel

Great budget saver price at less than $24
Cons
Hook and eye attachments are notoriously difficult to replace if they become damaged
Woven Reins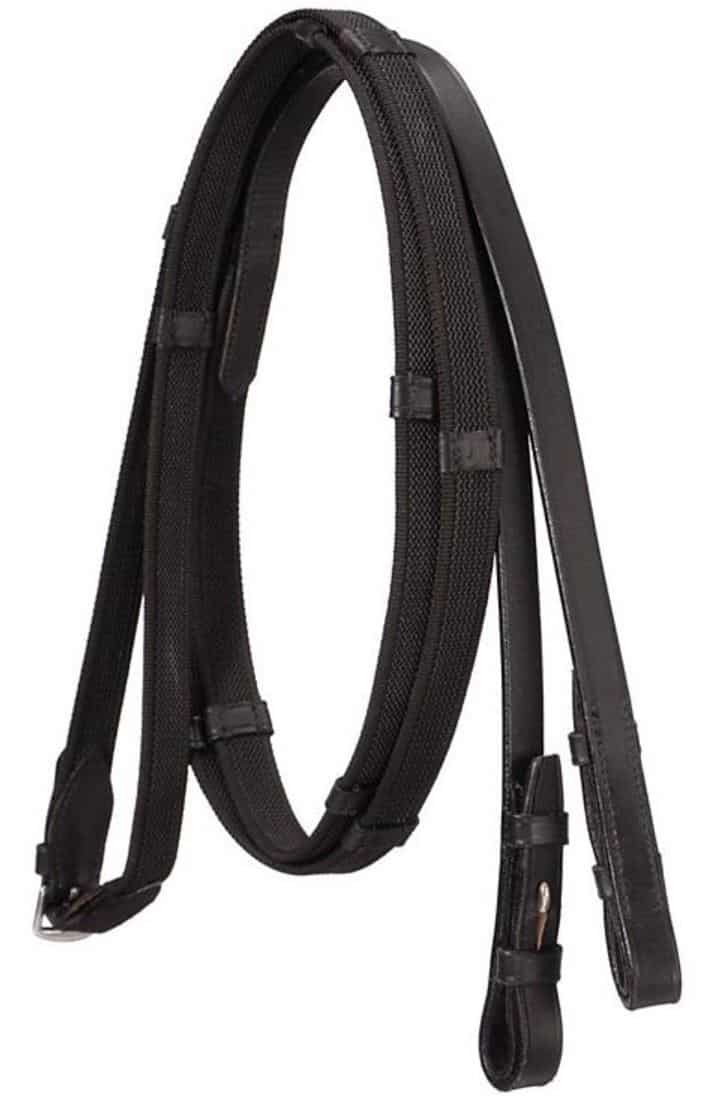 Leather reins aren't everyone's cup of tea, and sometimes, a corded or woven rein is more stable in hands that would otherwise slip on the reins. The Silver Fox Super Grip Reins have suitably impressed me. 
These reins are webbed, but they also contain a rubber cord for extra grip and non-slip. These reins will stick around for sure, whether you're racing around the circuit, jumping fences, or simply hacking out on a young or nervous horse. 
Pros
Slightly wider reins at ⅞-inch width

Secure grip in all weather, wet or dry conditions, and with or without gloves

Available in two colors

Leather sections near the bridle and web sections up to the buckle

Buckle made from quality stainless steel

Length: 4 feet and 6 inches

Fair priced and perfect for beginners at under $20 
Cons
It takes some getting used to when riding in these reins for the first time

The horizontal web supports can be somewhat harsh on bare hands, so wear gloves
Double-Stitched Reins 
When double stitching reins, it is possible to add a secondary layer that offers unique qualities to the reins. The Schockemöhle DuraSoft Grip Reins are a combination of rubber and leather, securely stitched with high-quality threading to make a durable and well-loved rein. 
Pros
The highest quality leather used for the leather layer

"Seat belt quality" nylon strapping makes up the rubber layer

When used with a martingale, attach the provided rein stops

Available in two colors and two sizes 

Ideal for smaller size hands
Cons
It can be difficult to manage with small hands

A heavier rein may not be legal for different horse riding competitions 

The substantial price point at just below $125 a set
Rubber Reins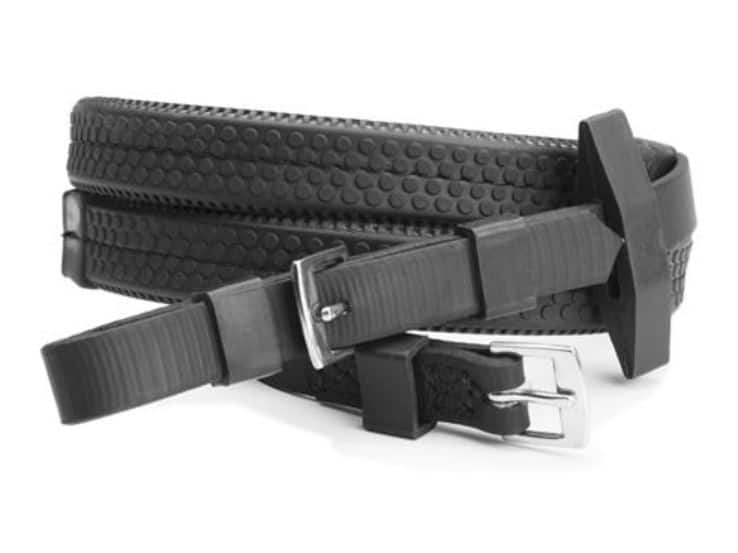 When your hands get nervous, you may clench your fists onto the reins. Having a larger and more chunky rein in your hand can help alleviate finger tension. Rubber reins such as Wintec Rubber Grip Reins are ideal for solving a nervous rider problem and reinforcing your grip. With these reins in hand, your horse won't be pulling the reins through your fingers any time soon. 
Pros
Made from quality materials: rubber on the grip section of the reins and equi-leather synthetic leather-look non-stretch straps near the horse's mouth 

Equi-leather is known for durability and a classic appearance

Buckle rein attachments and rein joint

Easy to care for due to being splash proof

Available in black and brown
Cons
The rubberized inner layer can lead to reins twisting

Slightly more expensive at roughly $60 a set
Synthetic Reins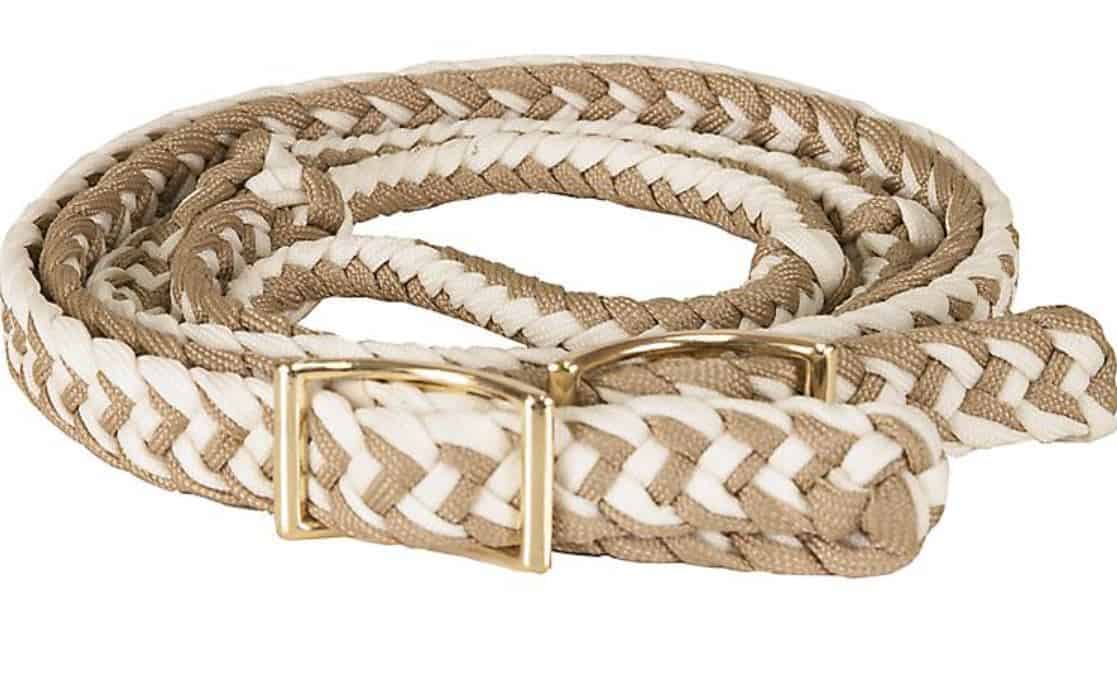 Synthetic reins can include rubber reins too, but generally, it is a rein made from a material other than leather. The Mustang Nylon Braided Contest Rein didn't disappoint during my trial ride. The unique knotted structure helps riders who suffer from wrist injuries or those who have nerve damage and tend to drop their reins to grip the reins better. 
Pros
Great price from just over $15 a set

Easy care as there's no oiling or advanced cleaning required; wash with soap and water

Brass plated hardware

Slightly wider reins at ¾-inch width and 8 feet length for more extended reach

Available in six colors 
Cons
White nylon cord will soil quickly and will discolor over time

Not suited to all long-necked horses due to the woven nature of the reins
Mecate Reins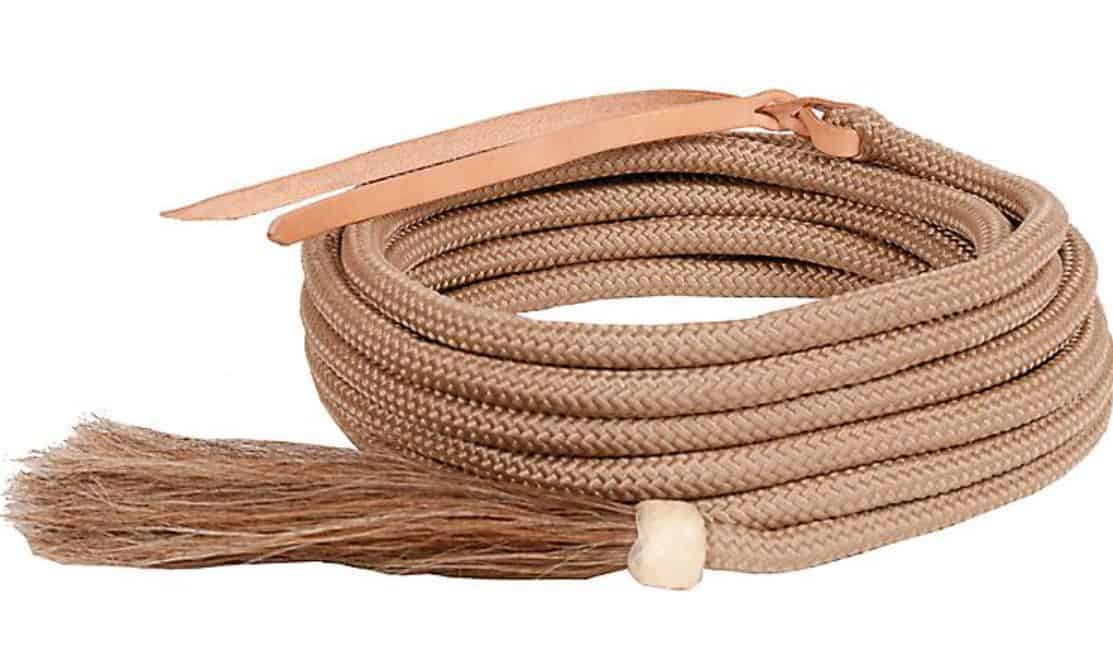 If Western riding is your idea of horse riding, you want to invest in a quality set of Mecate reins such as this Mustang Mecate Bosal Rein. Unlike other split reins, the mecate rein is a single rope with a leather popper on one end and a soft horsehair tassel on the other end. The mecate rein is tied to the bosal, completing the Western "bitless" bridle. 
Pros
Single mecate rein of durable mountain cord

Use it to supplement groundwork and lunging work 

½ inch wide, 23 feet long 

Available in tan, brown, and black colors

Affordably priced at just under $25
Cons
Some kink remains in the rope, but with time, it will smooth out

The rope can be somewhat stiff, but with use, it softens 
Split Reins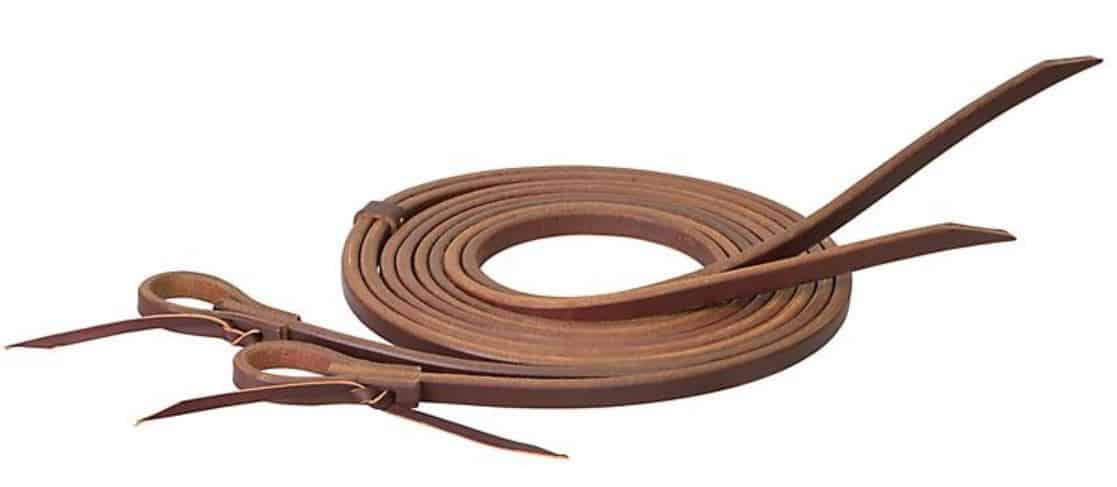 Unlike mecate reins, two split leather reins make up the reins, making two additional length reins. The extra section or length of the reins is used for rhythm and held in the rider's second hand for extra security. 
Weaver Working Cowboy Split Reins are the staple split rein for beginner and expert riders alike. 
Pros
Made from durable harness leather 

Hand rubbed

Weighted ends for better balance

Water tie ends for bit attachment 

Well priced at under $30

Soft and pliable leather, ready to work
Cons
Only available in chestnut brown

Long length reins can be hazardous for shorter horses that can step on reins that drag
Rope or Romal Reins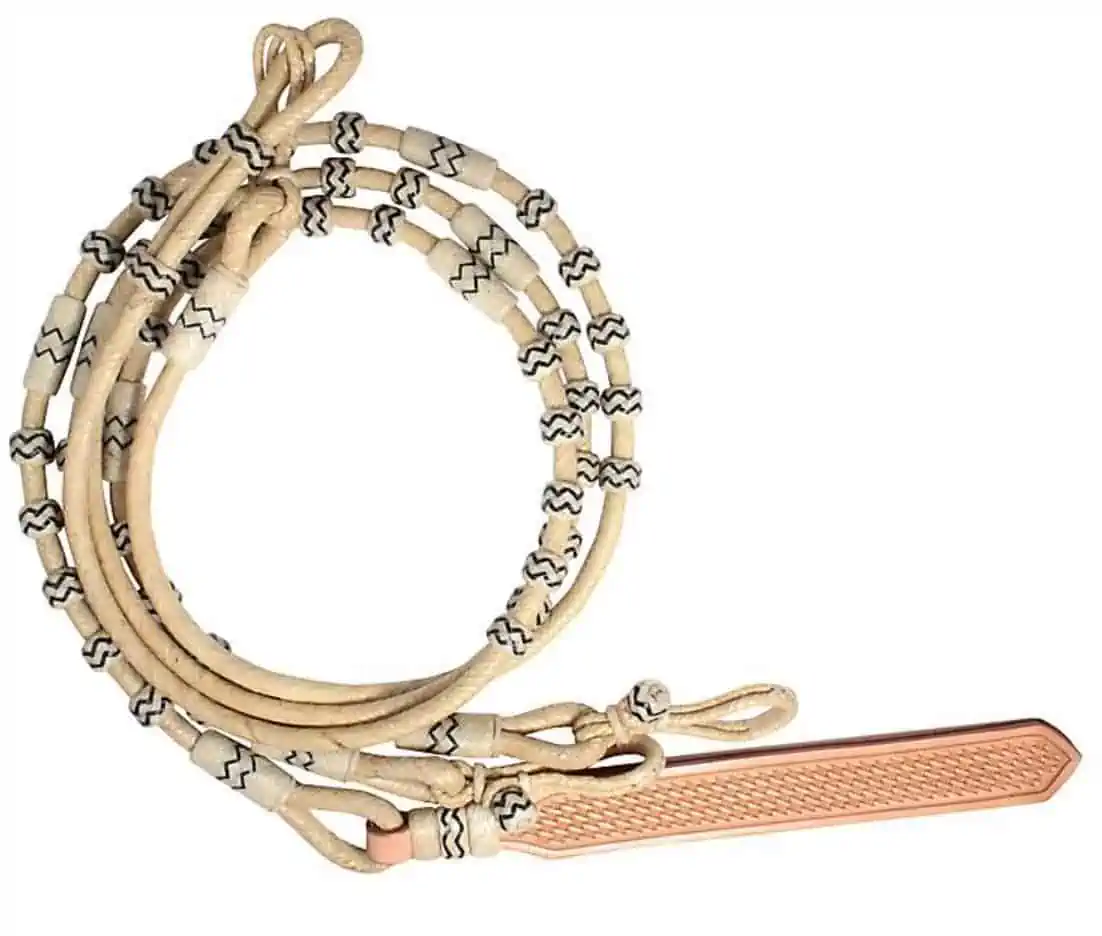 The Professionals Choice Rawhide Romal Reins are ideal if you want traditional-style Romal reins. 
Pros
Made from braided rawhide

Features traditional woven beaded design and leather popper

8¾ feet long
Cons
Somewhat pricey at well over $100 per set

Maintenance can be a challenge 

Rawhide doesn't hold up well to wet conditions
FAQs
Question: How do I Choose Reins for my Horse?
Answer: Keep in mind what kind of riding you want to do, what your horse's dimensions are, and what your budget allows. Be sure the reins are the correct length for your horse and will hold up to repeated use to ensure it's a budget-wise purchase. 
Question: How long should English Reins be?
Answer: The standard length for English reins is 54 inches. However, if your horse has a longer neck, such as with warmblood or some thoroughbred horses, you would do well to invest in extra-length reins of at least 60 inches. 
Question: What is the Point of Split Reins?
Answer: Split reins allow the rider to adjust the length of the reins, allowing them to manipulate the horse's position and achieve a complete lateral bend to bring the horse's head to them. You can drop all contact on one rein with split reins while shortening the other rein for direct rein pressure. 
Question: What does Riding on the Buckle Mean?
Answer: Riding on the buckle does not necessarily mean you are only allowed to ride by holding on to the buckle that joins the two parts of a set of reins. Instead, it is when you release pressure, letting the reins droop to form soft loops next to the horse's neck. You would offer the horse the length of their reins, inviting them to stretch down and seek contact with the bit to show acceptance of the rider's hands. 
Question: What are Side Reins?
Answer: Side reins are a training aid used when lunging the horse. Side reins imitate the contact that a rider would have on the bit by attaching one end of the reins to the girth and the other end to the bit on either side of the horse. 
The elasticated section of the side rein allows for elasticity and softness, encouraging the horse to release and soften onto the bit. Side reins aren't used for riding, though some riders do use this when schooling a horse. 
Final Thoughts on the Best Reins for Your Horse
Depending on the type of riding you do, your reins will affect your enjoyment and safety, so choose the right reins to do the job correctly. My riding discipline is dressage, so I prefer to ride with extra-length laced reins. These allow me to control my youngster while giving her the full length to stretch her neck frequently while schooling. 
What kind of reins do you prefer and why?