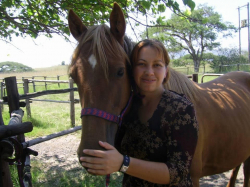 Latest posts by Talitha vanNiekerk
(see all)
"My horse pulls!" How many trainers have heard this from students? A horse that gets heavy in the hand or sticks their head up can be a nightmare (pun intended) for a beginner rider. You've lost once you get into a pulling match with your horse. Trust me; I've been there. That is, on a horse crashing at breakneck speed over rough terrain while I desperately try to stop her.
It's far better to let the horse pull against themselves, which is where a martingale comes in. The bonus of a martingale, if fitted correctly, is that the horse instantly rewards themselves when they stop pulling or raising their head dangerously.
While I firmly believe that not every horse needs to be restrained by a martingale, using one can help end a battle that the rider will lose—the battle of who can pull the hardest.
When I instruct new students who tend to be heavy on the hand and panic if their horse gets strong, I always fit a German martingale (aka Market Harborough) before I even consider fitting a stronger bit. Here's everything you ever wanted to know about the German martingale.
Bottom Line Up Front: What are the Best German Martingales?
Here's a round-up of the best German martingales on the market to choose from, with a reason for each choice.
What is a German Martingale?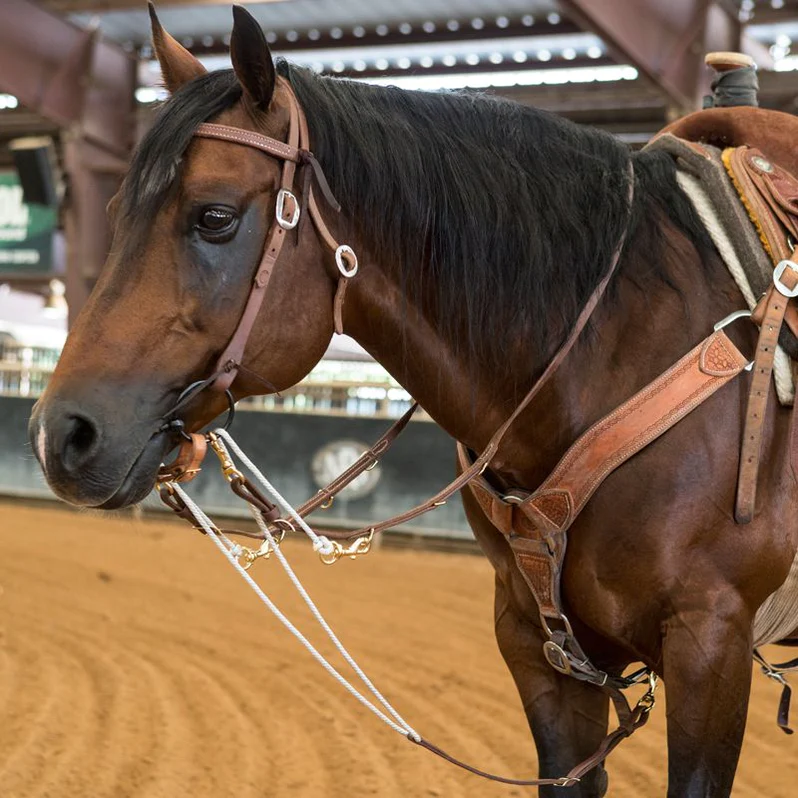 A German martingale is a corrective device that a horse is fitted with to help the rider manage the horse and train the horse to carry their head at a certain height.
The German martingale is made of a leather neck strap with a split chest piece that travels between the horse's front legs to attach to the girth. The other end of the chest strap splits as it exits the neck strap. Each split strap threads through the bit ring before attaching to smaller D-rings on the reins.
When the horse pulls their head higher than the rider desires, the two split straps pull the horse back down without pulling on the rider's hands.
3 Types of German Martingales
There are a few types of German martingales, and the choice of which to use depends on your type of riding and your horse's preferred bit.
Type of German Martingale
Description
All leather German martingale

The leather is the same quality as the bridle's leather, and the same thickness leather strap passes through the bit as the reins are.

Best for: A snaffle bit with large bit rings and a single bridle.

Leather and rope German martingale

The main part of the martingale is leather, but the two straps passing through the bit and attaching to the reins are cord, not leather.

Best for: Double bridles and bits with small bit rings.

Split reins German martingale

The martingale is all leather or can have rope rein attachments, with the only difference being the Western-style split reins that the D-rings are attached to.

Best for: Western riding in bits with small side rings.
Buyer's Guide for a German Martingale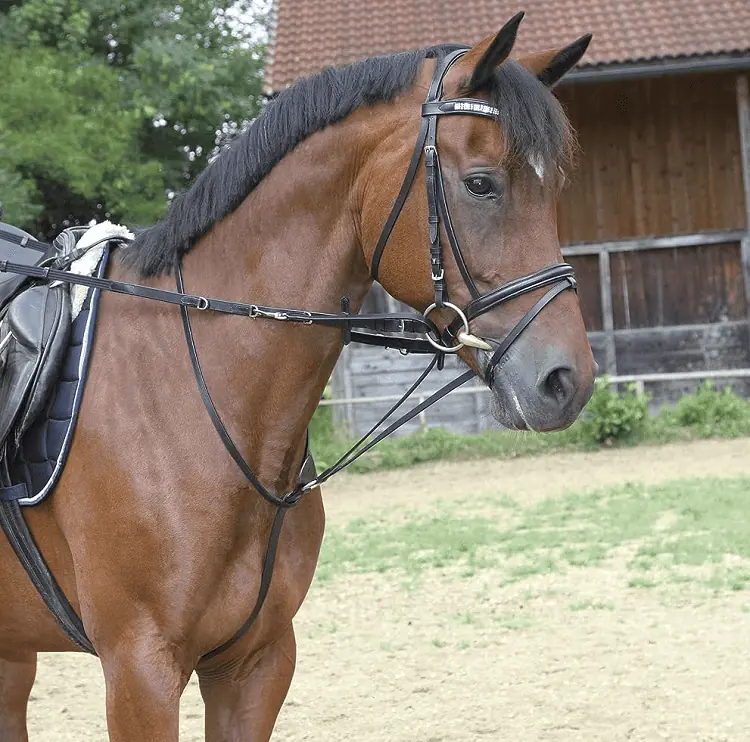 When you purchase a German martingale for the first time, it may seem overwhelming to make a choice. In the shop, the martingales are often hanging all bunched up or wrapped in plastic, making it difficult to picture how it will look on your horse.
Here are a few guides to help you make the best choice in German martingales:
1. Quality
As with any leather tack, choosing the best quality leather is important. A thin, cardboard-like leather won't last and will likely split if the martingale experiences force (such as a pulling horse) or extreme heat (sunlight).
Opt for quality, reinforced leather that has been well-treated and oiled and is already soft and pliable but strong when you purchase it.
2. Color
Martingales of any type should fit in with your tack. Therefore, your German martingale should be the same color as your bridle.
For example, my bridle is black leather, so I'd choose a black German martingale or a black and cord-type German martingale.
3. Fitment
Most German martingales are a standard size. While you can adjust the section that attaches to the girth, the top section is a standard length. Unfortunately, this isn't always long enough for a long-necked horse or a huge horse like a shire.
Measuring the distance the split part of the martingale needs to cover is a good idea. Measure the distance from your horse's chest point to the bit if the horse's head is in the correct position for riding and then straight across to the reins where the D-rings should attach. Use this distance when measuring your horse's future German martingales.
If your horse has a very long neck, as some big warmbloods do, you will do well in choosing a string-type German martingale as you can extend the strings somewhat, though this will require professional work by a saddle maker or someone who specializes in rope work.
4. Price
Ultimately, you can only buy what you can afford, so price is always a serious consideration. Buy the best quality that is in your budget range.
5. Your Current Bit
Your horse may be happy on their current bit, and while not all bits are suitable for a German martingale (such as large shanked and curbed bits, which will become extra harsh in a martingale), your martingale should fit through the bit rings.
If your horse is in a bit with large side rings, you can choose any German martingale, but if their bit has smaller side rings, you would have to choose a rope and leather German martingale.
Best 5 German Martingales to Purchase
Here are a few of the best German martingales I have tried and used on my own horses. These range in price, and each has its pros and cons.
1.
Schneider's Premier German Martingale
The design of this premier German martingale focuses on leather straps with cord functionality. The cords are thin but strong, and the thinner cords make the martingale almost invisible, making for an overall pleasing appearance.
Each rein features four D-rings, giving a range of reach positions to gently school up your horse without having to go to the max setting immediately. The leather is dark oiled and high quality so that it will last.
Pros
Encourage correct flexion without force

Fully adjustable neck strap and girth strap

The cords attach to a central ring on the point of the chest

Four D-rings give extra adaptability

Excellently priced at less than $70 (on special)
Cons
Thin cords can exert more pressure than thicker ones, so perhaps not ideal for a beginner rider
What I Like
I like the strength of the cords, and with a nylon-blend rope, I found it doesn't snag as easily on brush when riding. The nickel-plated buckles and snaps are another win, as I don't have to battle rust.
2.
Camelot German Martingale Rein Set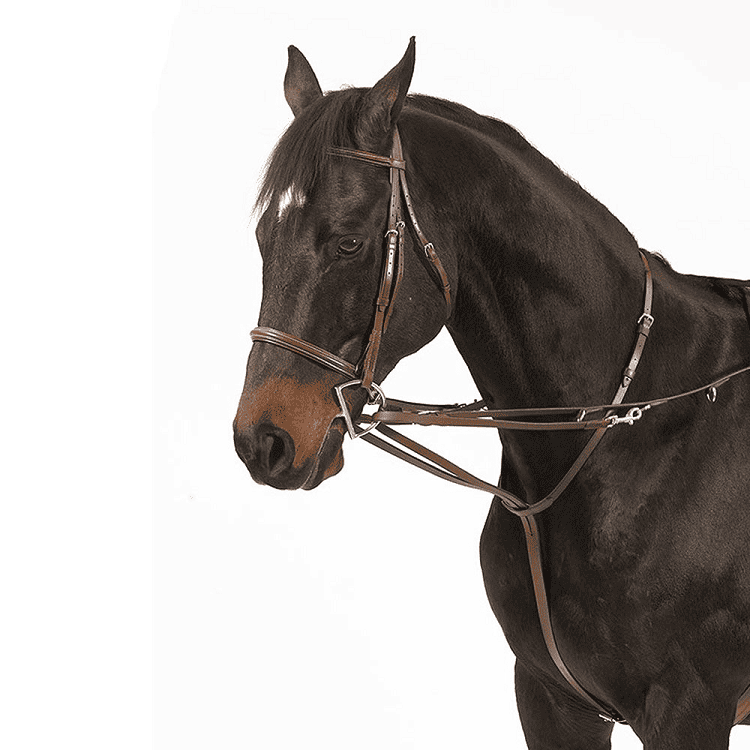 The traditional all-leather German martingale rein set is a real winner. I love it because it's so easy to clean and oil. But the set is also an absolute classic, and it looks terrific when showing in novice shows that allow martingales.
Since the set is available in black or brown, you can match your current tack without any hassles. Sadly, only a full or horse size is available, so if you need this for your pony, you need to make serious adjustments.
The brown set comes with bronzed fittings, while the black set has silver fittings. With the thicker leather straps passing through the bit rings, ensure your horse goes in a large-ringed bit before opting for this set.
Pros
Features three individually sewn D-rings on each rein

High-quality leather

Reasonably priced at less than $90
Cons
The heavier reins have a more solid draw, especially when directly connected to the girth strap like these
What I Like
These are hardworking German martingales; if you care for them, they will last long. I like that you can always cut the split section further by slicing it into the girth section if your horse has a shallow chest but a tall neck.
3.
Shires Avignon German Martingale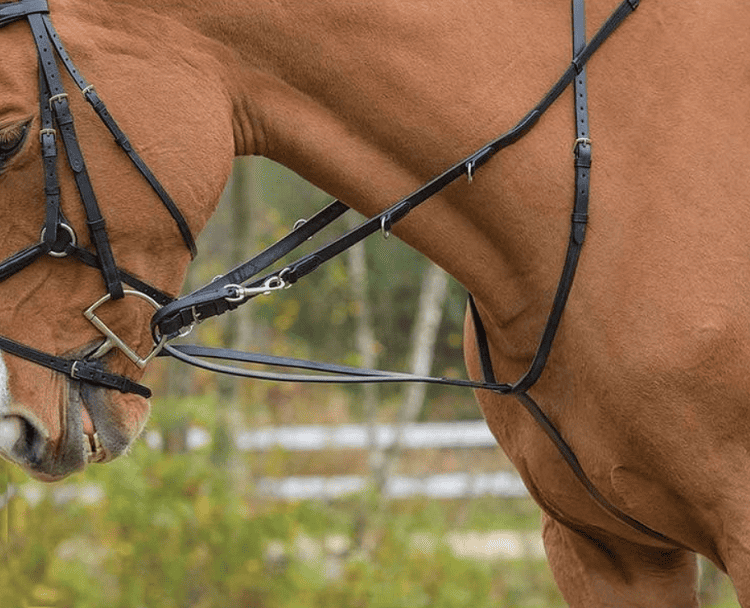 For a horse with a thicker neck that needs more "give" on the D-rings, this is the set to get. Because the D-rings are positioned closer to the bit, the set works on larger horses with more neck. Note that the set comes with cleated reins, helping with grip on a "pulley" horse.
The stainless steel fittings are a nice touch, and combined with the high-quality vegetable-tanned leather, this is an eco-friendly product too.
A bonus is that this German martingale is available in different sizes, which gives you more room to choose a size that fits your horse. And priced just under $80, it's a steal.
Pros
Four sizes available: pony, cob, full, and X-full

Choose between black and Havana (brown)

Stitching enhances the appearance

Reins have three D-rings each

Use the handy online measuring chart to help you choose the size that works for your horse
Cons
Not all riders like cleated reins
What I Like
Cleated reins are ideal for beginner riders, so they work well with my students and feel much more secure. Plus, I can visually mark just how much rein they're supposed to hold.
The leather is high quality, and my students have a great day cleaning tack when it rains, so this is a nice item to polish up.
4.
Kincade German Martingale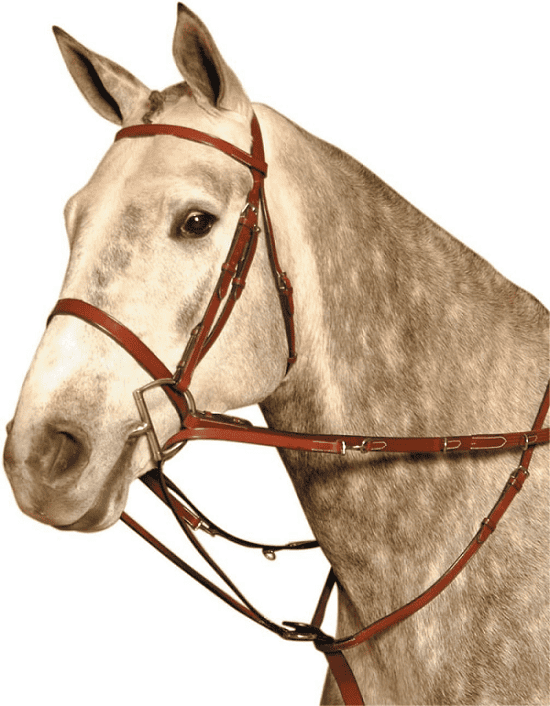 Sadly, when a German martingale gets stuck on a fence or stepped on by a naughty pony, it often suffers fatal damage and has to be replaced.
If the set has separate pieces, it increases the chances that you can replace only the damaged part without having to get drastic with the remaining parts, which is excellent for those with "green" students that tend to drop reins under the horse's hooves.
The Kincade German martingale is an excellent choice as it has a central ring over the chest where the girth strap joins to the separate rein connector pieces. So if one part gets damaged, you can replace it and save.
The Kindcade is also a very well-made martingale with a good quality finish. At less than $65 on promotion, it's an excellent investment.
Pros
It comes with three D-rings

Features cleated reins

The neck strap and girth section is adjustable

Good quality leather, well oiled

Leather is thicker quality for added strength
Cons
The thicker leather is harder to pass through the bit rings and to attach to the rein D-rings
What I Like
I like the quality and overall durability of the Kincade German martingale. It's also a well-known brand, so that means it will withstand rough conditions.
5.
Weaver Leather Harness German Martingale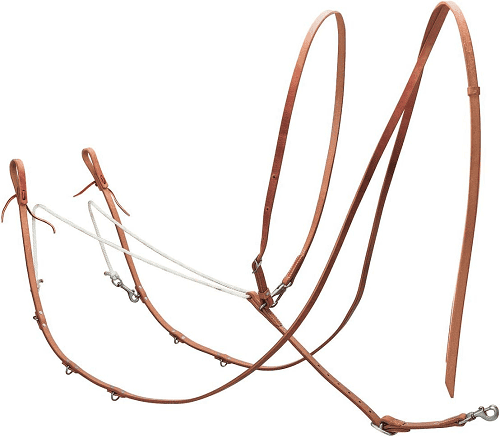 Riding Western, a typical set of reins just won't do. The Weaver Leather German martingale is an ideal solution as it is a typical German martingale with a set of split reins in a distinctive style to suit Western tack. The girth attachment features a clip to fit Western girths, and the longer, split reins are tie-on reins. There are three D-rings on each rein, and the cord section that passes through the bit is a ¼-inch nylon rope.
The neck strap has a snap fastener on one side, making for easier tacking up. And a final win on the design front is the section where the rope passes through the leather cuff of the neck strap. Since the rope slides freely, it can be replaced with a longer rope, making it a versatile and customizable piece. At $80, it's a great training aid.
Pros
Fully adjustable

The corded rope is replaceable with a longer piece

High-quality hardware

Riveted D-rings for added strength

High-quality snap fasteners on the neck strap and girth section
Cons
The leather is a little raw on the bottom of the reins

The rope section isn't tied equally, which means the rider can carry their reins unevenly
What I Like
I love the look of this Western German martingale set. It's lovely, works really well as a training aid, and is super snazzy. What is even better is the adjustability of this martingale.
How to Correctly Fit and Use a German Martingale
Any piece of tack is only as efficient and comfortable for your horse as the fitment. If the German martingale is too big, your horse will be uncomfortable, and you will likely have zero benefit from it.
Should it be too small, your horse will be uncomfortable and feel tied down, which can make even the nicest horse buck or go crazy.
Fitment of a German Martingale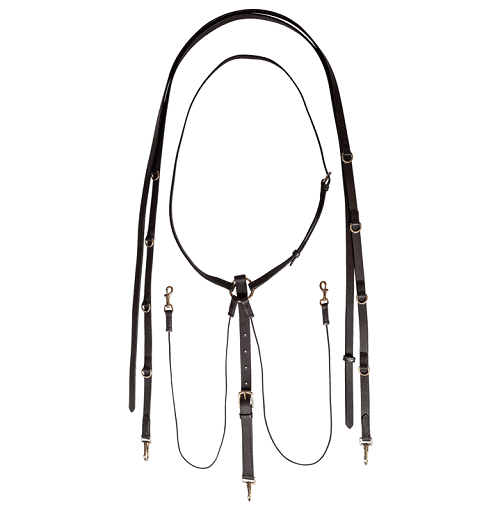 To fit the German martingale correctly, check the following:
Neck Strap
The neck strap should fit comfortably, sitting just a little ahead of the saddle when the horse stands normally. Slide a hand between the strap and the horse's shoulder for the best tightness.
If the strap is much bigger, it can slide forward if the horse is grazing, which can position it on the horse's neck and cause serious injury.
The Girth Attachment
The section that attaches to the girth is an adjustable leather loop. Since it passes between the horse's front legs, it shouldn't be so wide that it rubs the horse, nor should it hang so low that it will swing when the horse moves.
The Split Straps
The strap or rope sections should pass easily through the bit ring without catching. These should reach the middle D-ring on the reins when the horse's head is at the desired position for collection (on the vertical).
If the split rein only reaches the first D-ring, it could mean the martingale is too short, and the horse will strain, while if it reaches the last D-ring, it is likely too long, and the horse could end up with too much rein.
Top Tip: If your horse has a short neck, you will benefit from purchasing a rope and leather German martingale, as you can shorten the rope sections by adding a knot or two on each.
The Martingale Reins
German martingales have special reins that replace the existing bridle reins. These have three or more D-rings attached to each rein, which gives the martingale split-ends adjustability.
Ensure that the split ends attach to the same number D-ring on either side, so if it fits on number two D, then both reins should connect to the second D-ring. The rein end attaches to the bit ring as usual.
Using a German Martingale while Riding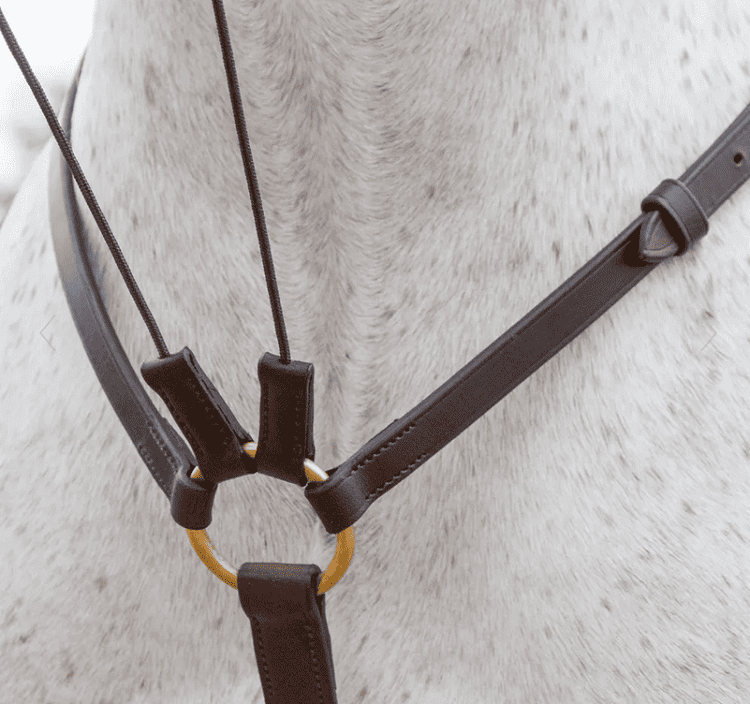 With a German martingale, the ideal is to ride as you normally would. The horse will apply pressure to the martingale reins when they go behind the vertical or raise their head above the vertical. The idea is not to pull the horse's head in more than what is safe or comfortable for them. Instead, it guides the horse to what is a safe and neutral or collected head carriage.
When I ride a horse in a German martingale, I ride as usual, aiming to keep a soft touch on the reins, and if the horse gets "pulley," I know the martingale will help sort them before I have to intervene. As soon as the horse softens, I relax my hands, giving just a little as a reward on the reins.
FAQs
Question: What is the Best Bit to Use with a German Martingale?
Answer: Use a loose ring snaffle, straight bar, or wire twist bit with a German martingale. A German martingale makes shanked and curbed bits harder, so don't choose such a bit.
Question: What is the Difference between Draw Reins and German Martingale?
Answer: A German martingale combines draw reins and a regular running martingale. It works from the girth attachment to the rein D-rings and back to the rider's hands. If you pull the reins in shorter, it will draw the horse's head in further. 
Question: Does my Horse Need a Martingale?
Answer: Not all horses need a martingale. However, if a horse becomes dangerous and tosses their head or raises it too much, a martingale can help guide the horse and keep the rider calm so there is less pulling.  
Conclusion
A German martingale can produce a horse that's soft on the bit, obedient, and easy to ride by experienced and less experienced riders.
My students all love riding in a German martingale as it just gives them such a confidence boost. I prefer it as it can help soften a student's "hard" hands and save my horses' mouths.
I hope these German martingales have given you some training options for your own horses, and with the right fit, you're sure to communicate more effectively with your horse in no time.
For more on choosing the best reins for your horse, read my guide on different types of horse reins.
Read More: Types of Horse Gear & Equipment
Shire Horse vs Clydesdale Comparison
How to Find the Best Saddle Pommels: The Most Accessible Way to Carry Your Gear