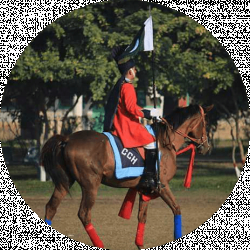 Latest posts by Boo Ali Khan
(see all)
As a person who lives and breathes horses, my way of life has been significantly impacted by them. A prime example of one such experience was dealing with a normal stool, which, for as long as I can remember, didn't feel comfortable to me. I believe sitting on a saddle for most of the day can be credited to it. But lucky for me, someone did come up with a solution for it, thanks to the best saddle stool options.
These remarkable saddle chairs are inspired by the classic curved design of a saddle. When I got a chance to sit on one, I was astonished at how much these simple design changes made an everyday item into an ergonomic chair.
These stools aren't only made for an equestrian lover. I would strongly suggest office workers try them, as they put less stress on the back. These stools are also very popular in saloons and dental practices, as studies have proved they are good for reducing back pain and improving overall posture.
However, as there is a wide variety of saddle stools available in the market, choosing the ones that suit you can be a bit of a job. So, in this best saddle stool options buying guide, I will share some valuable tips while also giving you some recommendations available in the market that would make your journey easier.
Bottom Line Up Front:
Even though a saddle chair might not look pretty to some people, the comfort it provides is what should matter. In this regard, my favorite option will be the Master Massage Ergonomic Swivel Saddle Stool.
Its thick metal cylinder and aluminum frame that can withstand a weight of over 550 IBs make it really sturdy while also preventing it from wobbling too much when someone sits on it. If these perks do not satisfy your needs, this guide has many other options to choose from.
My Top Picks:
My Selection Criteria:
As there are a bunch of options in the market to choose from, I use the following selection criteria. This also helps me ensure that all the saddle stools I have picked for my top picks are top-of-the-line.
Material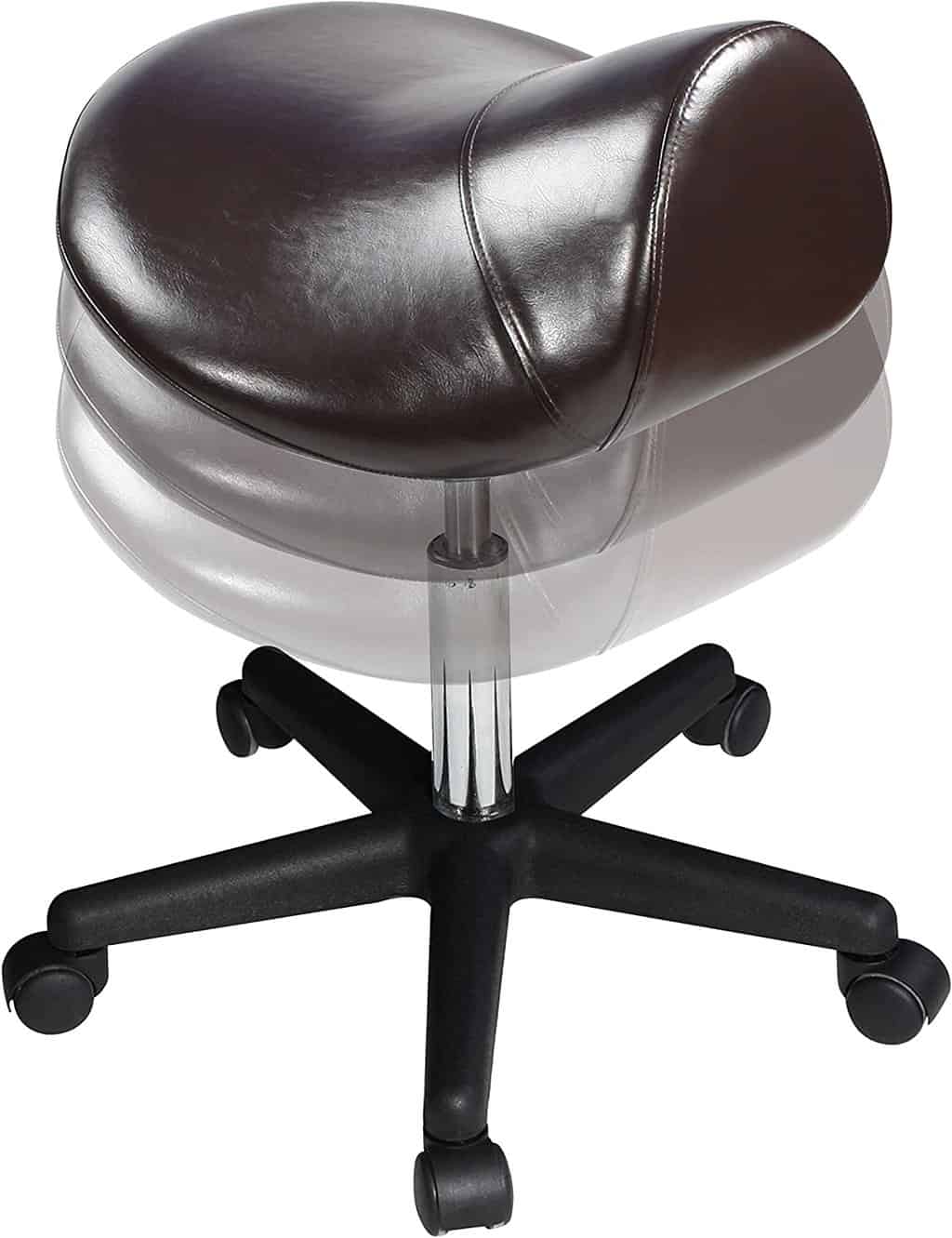 Most stools I have picked have seats that are made with vinyl material or PU leather and can be easily cleaned. Not to mention, their frame quality. These stools have one of the strongest frames in the category.
Comfort
Since I have to work for hours, I always consider seating options that provide excellent comfort. Therefore, all the saddle stools I have mentioned have a soft seat cushion, and their seats are sufficiently padded.
Availability
Before adding any selection to my top picks, I always search the internet to see if the products are easily available or not. All the stools I have mentioned are readily available and not low in stock.
Some Buying Tips To Get You Started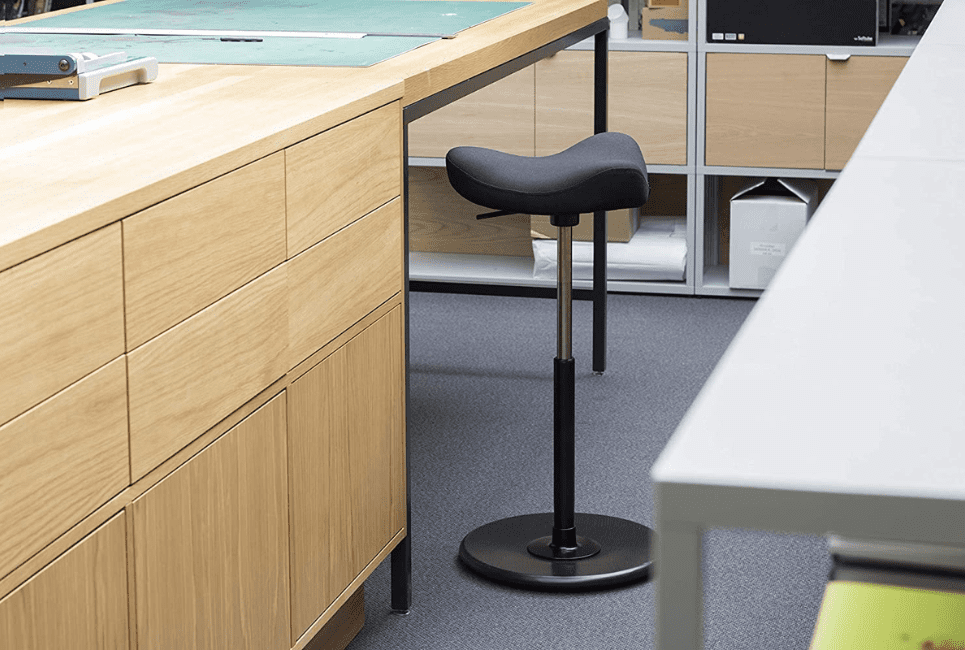 Having a hectic day and then bearing back pain can be too much for one person. Providing yourself with quality saddle stools should be your priority; after all, health is wealth. To find the saddle chair that best suits you, here are some tips that you should keep in mind.
Going To The Retail Shops
Scrolling through the internet is not always the way to go. The pictures online are sometimes fake and only displayed to attract customers.
That's where the retail stores come in. They always tell you what you should be expecting. Moreover, going to physical stores provides a much more in-depth analysis as you can check whether the chair is comfortable to sit on; checking them in person also allows you to see what it lacks. In the end, you will have a clear picture that will help you make your final decision confidently.
Customer Reviews
Before purchasing the saddle stool you like, go through the reviews to see what the other customers have to say about it. Opinions from other buyers will give you an in-depth view of the chair and help you reach a better decision about your purchase.
Moreover, looking at reviews is a well-worth investment as some reviews also give you an idea about how well a stool maintains its condition after long-term use.
Look At The Types Of Wheels
In most cases, one of the appealing benefits of saddle stools is that, similar to an office chair, you can move around with their wheels making it an active chair.
Therefore, check what specific features the wheels offer; for an office environment, you need wheels that don't make a lot of noise while rolling, and for your clinic, you might need a saddle stool with wheels that can move smoothly. Don't forget, picking saddle stools with Nylon wheels is also a good option, as they can easily slide on smooth surfaces.
My Top Recommendations: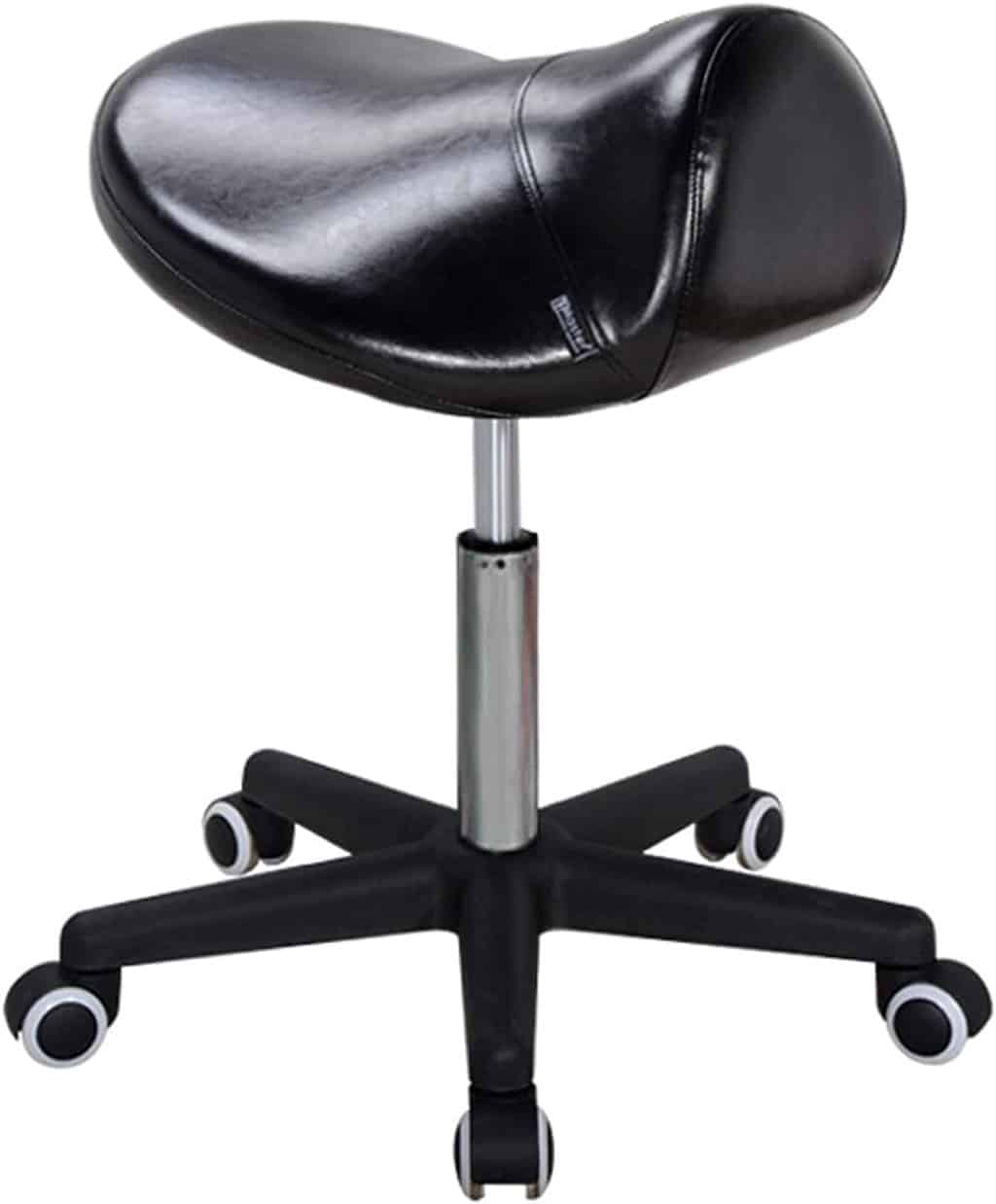 Are you looking for some unique saddle stools that have a well-polished finish? Well, this fantastic saddle stool by Master Massage can be the treasure you might be looking for. The seamless wooden seat with a black color finish and metal frame make this stool quite heavy, making it feel well-built and tempting to have.
The padded seat cushion also offers comfort in a different league, allowing for minimum stress on your back and spine. Moreover, the stool's adjustability level is not something I can overlook as it provides a fantastic lift mechanism going from a height of 20.5-27. It gives you the freedom of sitting without worrying about your table size.
The wheels, with their soft polyurethane wheels, will help you slide over even on a hardwood floor without worrying about scratching the precious surface. Yeah, after an almost three-fold increase in lumber and plywood prices, this should not be a factor your can overlook.
Moreover, the 5-point base allows for more maneuverability and extra safety. With all these features, this saddle stool is still not too heavy on the pocket for customers on a budget.
Pros:
Its permanently molded foam keeps the base in good condition for a long time.
The larger steel mounting plate gives this some weight, keeping it from rocking.
Cons:
The smooth finish on its is relatively slippery.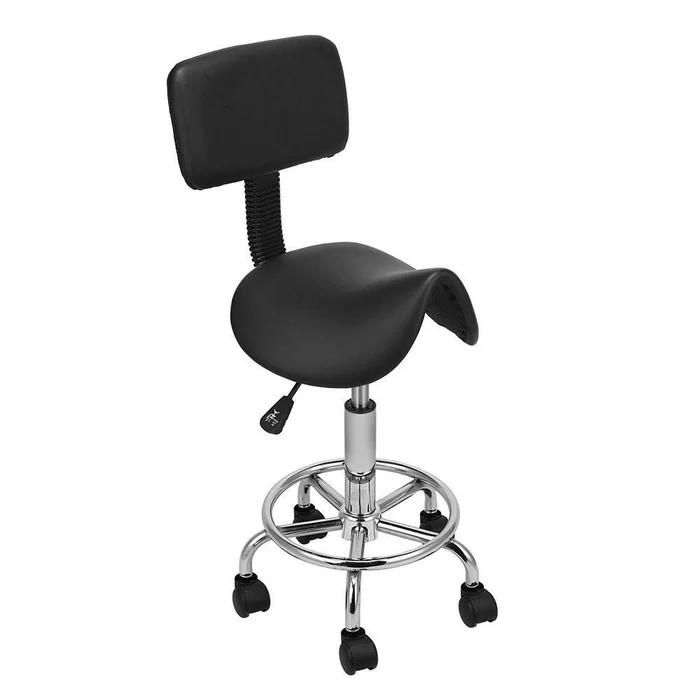 You need to definitely check this saddle stool out if you are wondering how to improve customer satisfaction at your beauty salon.
This saddle chair is truly astonishing with the PU leather seat and backrest. As most saddle stools don't offer a backrest, I am sure this will be amazing to sit on and will provide your back the comfort it needs. Not to mention the simple black finish on this saddle stool will go well with lighter wall colors.
Another good thing about this saddle stool is its shiny chrome metal frame. The metal frame has some weight and grip, which speaks about its quality and keeps the stool stable while rolling around. The frame also has a footrest above the wheelbase for your aching feet after a long work day. Not to mention the stool is anti-rust, so there is no need to put any extra care into saving it from water or dust.
The wheelbase also offers something unique; it has a 5-point base with removable casters. Casters are made with anti-skidding material; a sudden slip while sitting on the stool wouldn't be a scenario you'll have to worry about. However, do keep in mind to check the height of the stool before buying. Because this stool is on the taller side of 31.5-37″, unlike most stools which come around at 27-inches.
Pros:
The polyurethane finish of the makes it easy to clean.
The good quality metal frame and material make it pretty durable.
Cons:
The feel of the PU leather resembles plastic and is not as breathable as genuine leather.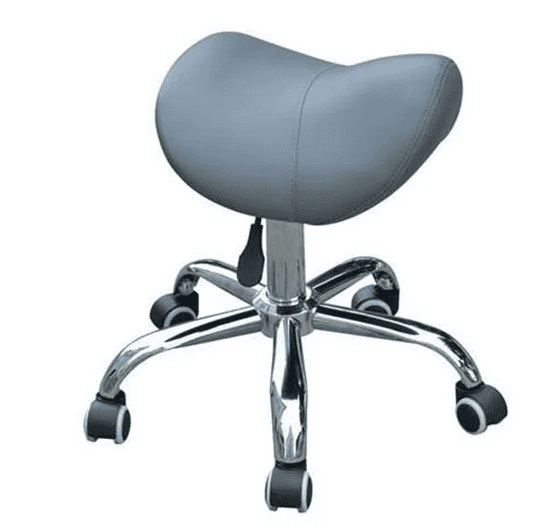 This saddle stool is really an excellent option for furniture. It goes well with clinics, salons, or even households. The saddle seat also has a stylish design with a grey color finish and PU leather material. For those who might not know about PU, it is a cost-efficient alternative to leather. Now you can be unconcerned about your purse while reading this stool's description.
Despite being less dense, the metal structure still has the structural integrity I look for when buying a good saddle chair. I also found that the hollow metal base keeps the overall stool on the lighter side.
Having a broad base with dual wheel casters also allow for whole 360-degree movement and a smooth glide on the surface. The stool also comes with a steel hydraulic lift, so you can easily adjust the stool's height according to your liking, from 19.5 to 24. You should not worry about breaking your bank when buying it, as it's not that pricey.
Pros:
The dual wheel casters provide better stability by evenly distributing the weight.

The has two sponge cushions which provide extra comfort.
Cons:
The metal frame can get rusted over time.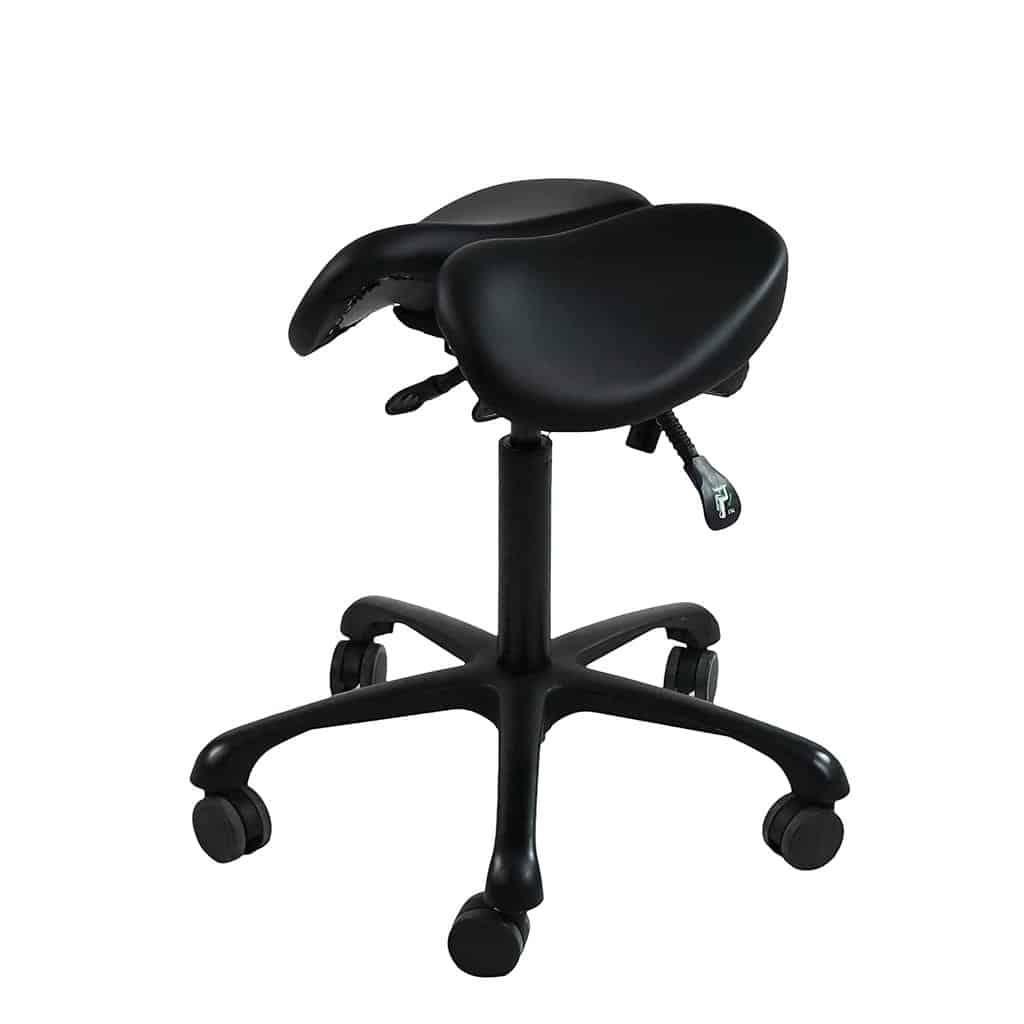 Are you looking for a saddle stool that, even with a novel design, provides comfort that no other saddle chair can? Some people may argue this saddle stool, with its unique split style design, makes it challenging to get used to. However, out of all the forms of seats, I have tried, the split style one trumps them all in comfort for sitting long periods of time. It keeps the spine at the perfect 135-degree angle that is best suited for your body.
Moreover, the faux leather material used to design the saddle seat is very durable, which will help keep the seat in good condition for a long time.
Some may say that the aluminum build isn't that premium and can also corrode over time. But in my experience, this can be easily avoided by keeping the metallic parts clean. I would have preferred a steel frame at this price point if you ask me.
Furthermore, I also like the broader base of this stool, which provides a wider center of gravity. It will definitely save you from falling over whenever you are leaning a little too much. The wheels are also made of soft nylon, which doesn't leave marks on your expensive marble tiles, making it a perfect stool for a clinic.
Pros:
It is available in three colors, so you can pick the scheme that fits your room.

The faux leather doesn't crack or scratch easily, so it will definitely last you a long time.
Cons:
This ergonomic will be heavy on the pocket.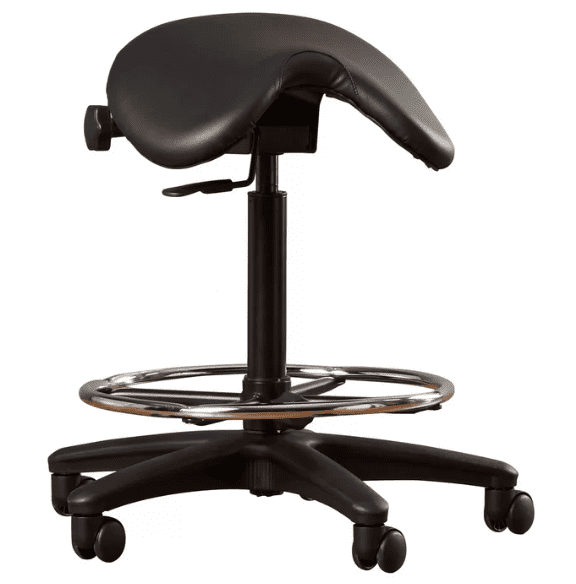 This saddle stool's distinct features certainly stand out from the rest. It has a carefully crafted plastic frame that makes the stool lightweight yet keeps the stool stable and robust. Moreover, the aesthetic of this saddle stool is an overall black finish except for the footrest, which makes this stool look really elegant. The stool seat is made with breathable fabric that won't itch you while sitting longer than usual.
The saddle chair also has a shiny metal-made footrest that will provide extra comfort and help you work through tiring times, especially if you are performing a procedure wherein you have to keep your nerves calm to the maximum. Not to mention, the footrest will also assist you in keeping your posture straight.
With the seat's modern lift mechanism, you can effortlessly adjust the height of the stool, which ranges from 25 to 35 inches maximum. Remember, this stool will be expensive, so decide your budget accordingly.
Pros:
Its lightweight build makes it easy to reposition.

A central pivot lock controls the rotation of the , making it perfect for formal work where you have to restrict your movements.
Cons:
The plastic frame can't bear a weight of more than 250 LBS.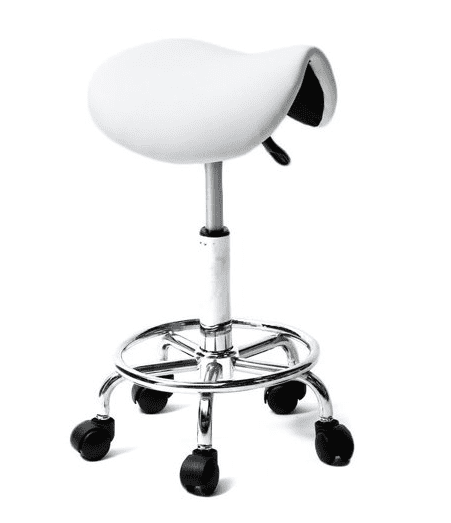 This is one of the cheap options in the market's wide variety of saddle stools. And even at this low price, it features an excellent metal build and a soft, comfortable seat to sit on. The seat is made of faux leather, which not only provides extra grip but also gives the seat a premium feel. Moreover, it is water resistant, so there is no danger of the seat wearing out due to moisture of your sweat or accidental liquid spills.
It is incredible how tough the shiny steel frame's feeling and quality is for such a low price. The reinforced steel also packs a lot of weight of about 6kg. The wheelbase of this stool also doesn't lack anything. It is a 5-point base with grippy wheels that keep the stool stable while moving around. The stool also allows a full 360-degree swivel to give you freedom of movement, making it perfect for hair and nail salons.
Pros:
Nearly the whole metal frame of this is lined with a galvanizing coat, which keeps it from rusting.

The chassis are thick and robust, which greatly improves the stability of this
Cons:
Any stains or dust will be easily visible on the bright white color of its .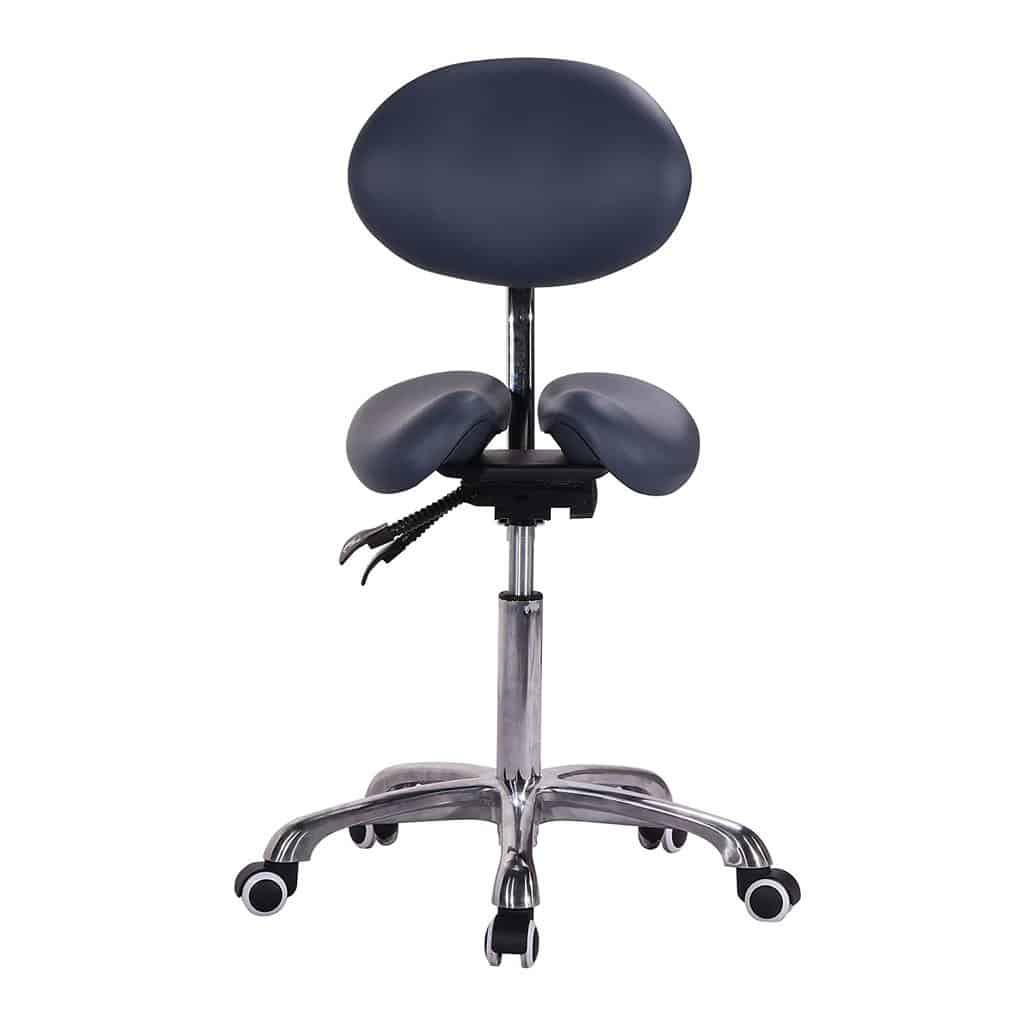 This master massage split style saddle stool offers much more than what the eye captures. Its extraordinary backrest and the modern split-style seat are what caught my eye. If I am honest, If you look at it up front, this saddle chair looks like some alien ship ready to shoot. Maybe it is just me who is a Star Wars fanatic.
The use of faux leather material along with an upholstered seat makes this stool a delight to sit on. I was also a huge fan of its backrest, which makes it relatively easier to get used to its split seat style.
Furthermore, the aluminum frame is a terrific choice for this stool as it not only makes the stool lightweight but also makes its frame anti-rust. I wish I could say the same for the stitching on the seat, or should I say lack of stitching.
The leather material is kept on the padded bottom using only staples, which may seem fine at first, but with time they start to fall out, resulting in the upper fabric pealing away from the seat. Still, I am amazed by its adjustable height feature, which goes from as low as 31″ to as high as 44″, which is bar stool height. The whole base is also removable, which makes it easy to move around.
Pros:
The has a considerable lift mechanism that lets you effortlessly adjust the of the according to your liking.

High-quality small cell foam is also added for extra comfort.
Cons:
The lighter shade of blue on the is pretty easy to get dirty.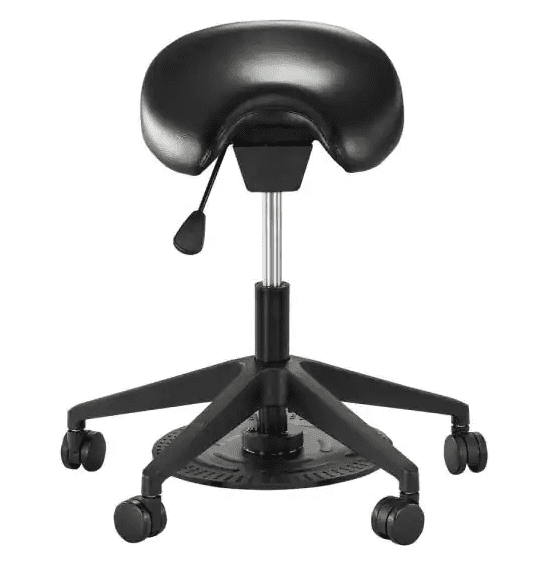 This black vinyl saddle stool is one of the more expensive options on my bucket list. However, in my opinion, it is well worth it, especially considering the versatility it offers.
With its polished black vinyl finish, the stool's seat looks minimalistic. I found it would work really well in rooms with white walls, providing a particular contrast with them. Moreover, the material is water resistant, so you don't have to worry about the seat getting all soggy after hours of work.
Another unique thing I found about this stool is its peculiar flexible base connected with the height adjustment mechanism. This base works like a height pedal, so you can just adjust the height with a push of your foot. Although, this does not mean it lacks the pneumatic hand lever. Furthermore, ANSI/BIFMA testing is also done to give the users a sense of safety. However, I have to say that its plastic base is a little less sturdy than stools with metal bases.
Pros:
The grainy texture on the vinyl gives the a premium leather feel.
This comes with free shipping.
Cons:
The price tag might be too high for customers with a low budget.
Freedom /Pony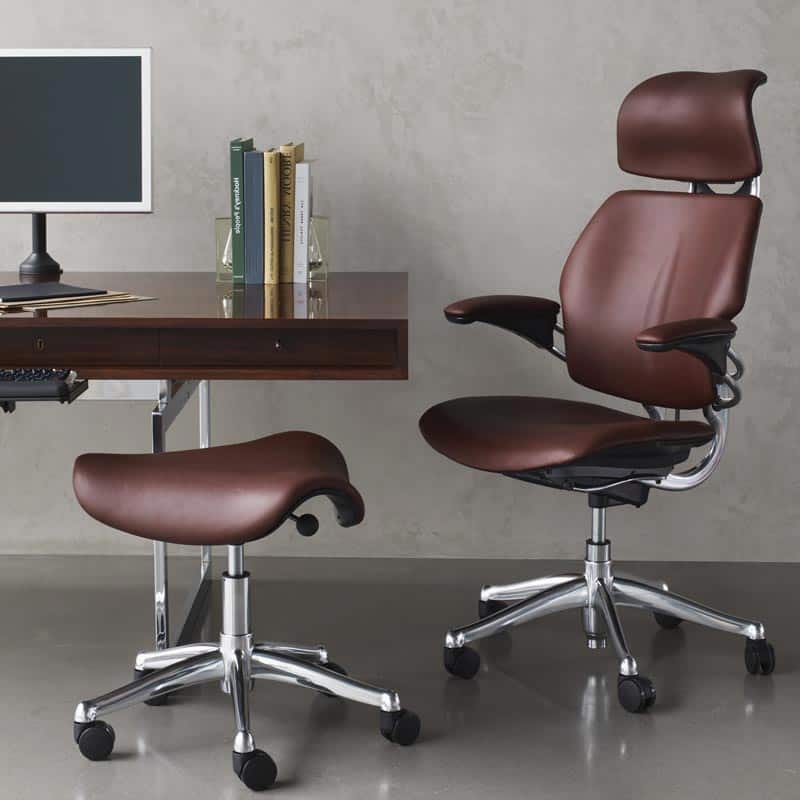 A 5-year warranty on cushion and textile, and a 15-year warranty on pneumatic lever and caster! Isn't that more than enough?!
This saddle stool is undoubtedly the perfect option if you have recently started getting back pains due to bad posture. With its futuristic yet elegant design, this custom saddle stool indeed provides something extraordinary, and I would love to visit my much-needed therapy session if my therapist had one.
The stool's seat comes with premium quality fabric, and why wouldn't it. It comes from the famous designer Niel Diffrient. But I have to say all of this adds significantly to its price.
The stool does become heavy because of its metal frame, which weighs around 8 pounds. However, the extra weight provides extra sturdiness to the stool. Not to mention, the 5-casters base adds additional stability to the stool. Furthermore, it also features specially designed casters that allow this stool to slide smoothly on carpets.
The freedom Saddle/Pony stool also provides a viable height adjustment option making it perfect to work with different table sizes and orthodontic chairs. Remember that you can also customize this stool according to your taste, with its removable base and a lot of color options to choose from.
Pros:
The warranty for its parts speaks for their durability.

The can be customized with a variety of colors.
Cons:
The price of even one is too high.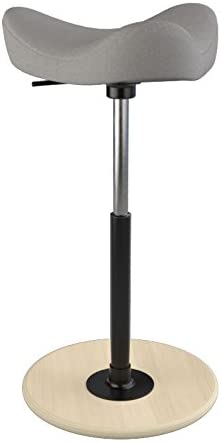 This saddle stool is a nod to the fantastic design that Per Die made in 1985. It is a tilting saddle stool that can be reclined forward or backward according to how you see comfortable. Furthermore, the seat is designed elegantly with quality fabric for the comfort you cannot get on an office chair.
The material is also nice, with a simplistic yet vibrant dark grey finish. I was also a sucker for its three small bumps, which are not only unique looking but also provide your hips much-needed support.
This saddle stool is not equipped with wheels on the base; instead, its base is made out of wood. The frame of this saddle chair is also very dense, with quite a bit of heft, making it a perfect option for a kitchen counter. Remember to choose a color that fits the space's overall aesthetic. But I must mention that all of this comes at a price mark of over 300 USD. Not a feasible option for people on a budget.
Pros:
The is exceptionally breathable and is pretty much padded.
The supplier offers free shipping with this .
Cons:
The has no wheels, so it is not possible to move around while sitting on it.
This stable comes at a pretty hefty price tag.
FAQs
Question: Are Saddle Stools Worth Their Higher Price Compared To A Normal Stool?
Answer: Yes, saddle stools with comfortable seats and well-designed frames are worth the high price tag. They will keep your legs and body engaged. Moreover, saddle stools are a fantastic option if you are cautious about your posture and want to save yourself from back pains. Always remember, health is wealth.
Question: How long does it take to get used to a saddle stool?
Answer: It might take some time to adjust if you haven't used a saddle stool before. A saddle chairforces you to sit upright so that you don't put any stress on your back. So, if you have been sitting with a poor posture for many years, it might take you a few weeks to adjust to the saddle stool. If you are an equestrian, I believe you would not have any problem adjusting to a saddle stool.
Question: What should I look for in a saddle stool?
Answer: If you ask me, there are three things that you should consider while buying a saddle stool. Comfort, durability, and portability. Make sure that the seat of the stool is sufficiently padded. Since you have to adjust the height of your stool often, do not go for saddle stools that don't have a smooth and durable adjustment mechanism. Lastly, if you have to move a lot in your workspace, you have to ensure that the wheels do not jam, so you don't have to drag your favorite stool.
Question: What is the proper way to sit on a saddle stool?
Answer: To correctly sit on a saddle chair, you should have your hips on the back edge of the seat. If you sit too far on the front of the seat, you will put pressure on your inner thighs. Moreover, sitting at the back edge, your bones will be placed at the softest place of the seat, where the padding is the thickest.
Stools, Wrapping Up
The market for saddle stools is growing at a fast pace. This is only logical, seeing that the ergonomic saddle shape design is better, according to many studies, as it reduces back pain and keeps the posture in its natural position. Moreover, it also provides more comfort, unlike regular stools.
Be sure to check the seat of the stool is well padded and the wheels are made with quality material which keeps them stable. Also, check the customer reviews to know how well the stool maintains its shape over time. If you can, visit the nearest physical shop; it will be much easier to check for any defects in the stool. Make sure that the stool does not make any noise while it is being moved around.
Now, when it comes to my favorite, it has to be this Master Massage Ergonomic Swivel Saddle Stool. The stylish black finish, soft cushion seat, and the comfort it gives make it an unavoidable option. Moreover, it is not that expensive compared to the other saddle stools of such quality.
Remember, if you are a true equestrian who could not find time to get back to their equestrian life, these stools will bring back all the good memories associated with your glorious past.