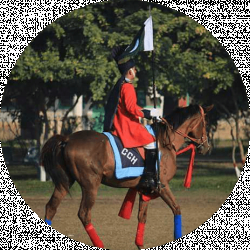 Latest posts by Boo Ali Khan
(see all)
As a dedicated horse enthusiast, I can really relate to the importance of securing the perfect Horse Quarter Sheets that prioritize both the comfort and well-being of your beloved equine buddy. After all, these meticulously crafted sheets provide unhindered movement to your horse while ensuring warmth and protection.
In this Best Horse Quarter Sheet Guide, I will try to encompass every facet, while examining materials, designs, functionalities, and features these sheets have to offer. In addition to unveiling a thoughtful selection of horse quarter sheets embodying comfort and style, I will also be examining common challenges you might face while dealing with your favorite sheet.
So, if you think your horse has been missing comfort and warmth, especially during the cold season, don't stop reading this article to the end.
Bottom Lines Up Front
Regarding Horse Quarter Sheets, there are numerous considerations to ensure you find the perfect match. But the one that really clicked for me was the Harrison Howard Acclimate Fleece Horse Quarter Sheet.
This exceptional quarter sheet offers unparalleled comfort and functionality, making it an ideal choice for your equine companion. Also, with its high-quality fleece material, it provides superior warmth and protection. Not to mention, it boasts a well-thought-out design, allowing unrestricted movement and minimizing discomfort.
Selection Criteria
While choosing my picks, I have ensured the following criteria to meet any horse's needs:
Quality and Durability: The quarter sheet's longevity and resilience were paramount while picking my top picks. Thus most of the picks feature reinforced stitching, sturdy closures, and well-constructed designs to ensure these sheets last for a long time.
Proper Fit and Comfort: I am a strong advocate of ensuring comfort for the horse. So, I have carefully selected the sheets which offer different size options. Also, I have ensured that most of my picks have features like fleece linings around the rims and an overall ergonomic design to provide maximum comfort.
Easy Maintenance: All of these quarter sheets are easy to clean, which also offer quick drying.
Common Problems with Horse Quarter Sheets And Their Solution
Restriction of Leg Movement and Limited Tail Freedom
As quarter sheets are designed to wrap around the hindquarters of your horse, they tend to restrict its leg movement and hinder the natural movement of the tail, causing discomfort and limiting performance. However, this issue can be addressed by looking for quarter sheets with cutouts or gussets around the hindquarters and tail.
Compatibility with Saddle Fit
Another issue I have seen with quarter sheets is that their design can obstruct the proper fitting of your saddle, which can affect its stability and lead to discomfort for the rider. Therefore, I always suggest considering the design of the sheet that falls in line with the size of your saddle and also provides sufficient clearance around the withers of your horse.
Accumulation of Dirt
Quarter sheets often tend to accumulate dirt underneath, especially if your horse spends most of the time in the field. And over time, this can affect the sheet's functionality, making it less breathable and insulated.
Hence, it is always suggested to remove the quarter sheet after every riding session to look for any dirt and debris, and if needed, wash the sheet following the manufacturer's instructions before using it again.
Steps to Maintaining Your Horse Quarter Sheets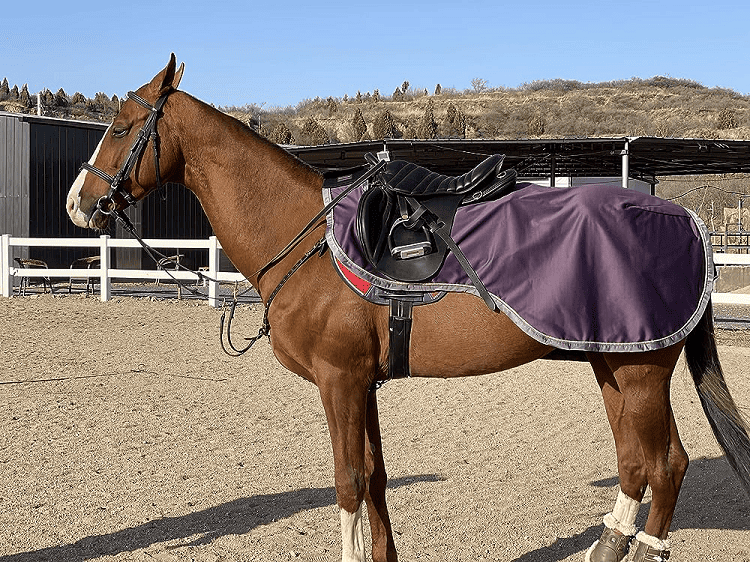 To ensure your Horse Quarter Sheets remain in optimal condition, follow these essential steps for their proper care and maintenance:
Regular Inspection and Prompt Repairs
After each use, inspect the quarter sheets carefully for any damage. Don't leave it for the next time, and address even minor issues, especially tears, promptly using appropriate repair methods or seeking professional assistance if necessary.
Proper Cleaning and Drying
Personally, I recommend washing the quarter sheets with mild detergent on a gentle cycle and avoiding harsh chemicals or bleach that can potentially damage the fabric and compromise its strength. Furthermore, ensure proper drying to prevent mold or mildew growth.
Right Storage and Organization
Another critical aspect of maintaining your quarter sheets is to store them properly. And to prevent creasing, fold them neatly or roll them up. Remember to choose a clean, dry storage area away from direct sunlight or extreme temperatures. Also, consider using storage bags or containers to shield them from dust and pests, ensuring their longevity.
My Top Picks
Waterproof Quarter Sheets
These quarter sheets are designed with a waterproof outer layer to keep the horse's hindquarters dry during wet weather. Most quarter sheets in this category are made of nylon or polyester with waterproof coatings, offering excellent protection against rain, snow, and moisture, while some include features like sealed seams and adjustable closures for enhanced weatherproofing.
Dura-Tech Waterproof Quarter Sheet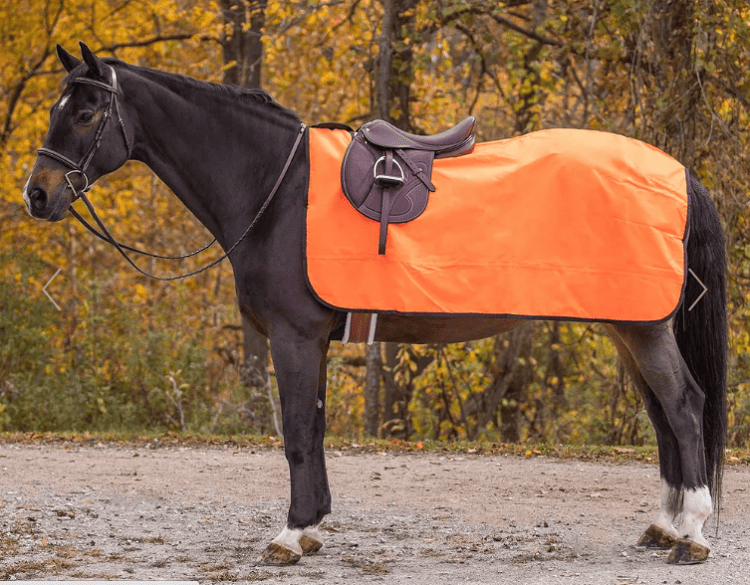 When it comes to Horse Quarter Sheets, one option that always comes to my mind is the Dura-Tech Waterproof Quarter Sheet – a sheet specifically designed for durability and added protection. Its 600-denier polyester outer shell ensures resistance against wear and tear, while its polar fleece lining adds warmth on chilly days without adding any extra weight.
What I really like about this quarter sheet is that its polyester build gives the added benefit of being waterproof while also keeping the whole thing breathable.
Though this horse quarter sheet apparently looks a little loose, let me tell you that it comes with a secure hook, loop closure, and even a tail cord, through which you can ensure that your sheet will stay in place even during vigorous activities.
Pros
Made of highly durable 600-denier polyester outer shell.
Features a polar fleece lining for added comfort.
Cons
The sheet is relatively expensive, despite its minimum feature set.
Rambo Waterproof Quarter Sheet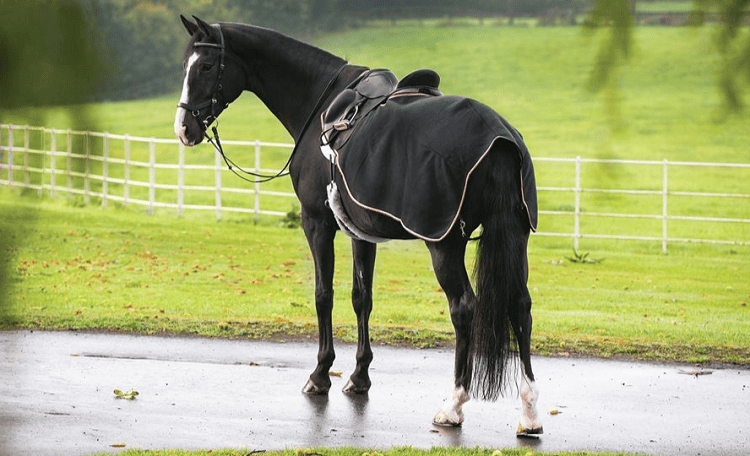 While the Dura-Tech option is a good option to consider, if you want a sheet that also adds functionality and comfort, then the Rambo Waterproof Quarter Sheet is the right pick for you.
Thanks to its double-bonded and anti-pill fleece material, its main feature is its extremely waterproof capabilities, making it perfect for moist weather conditions. And if you're worried about its maintenance, don't be, because it is machine washable.
This quarter is offered in two magnificent colors, i.e. Burgundy and Navy Blue. And I also love that it features a fully customizable build, allowing you to choose from monograms and logos to writing on the sheet.
But I must mention, for every customization you opt for, you have to pay around $30, making it one of the most expensive sheets on the list.
Pros
The double-bonded and anti-pill fleece material makes it completely waterproof.
The sheet is made of machine-washable fabric.
Cons
The customizable options are pretty expensive.
Fleece- Made Sheets
Quarter sheets in this category are mainly attuned to providing warmth and insulation to the horse's hindquarters.
They are typically constructed from soft, breathable, and moisture-wicking fleece material, which helps regulate the horse's body temperature. They also come in various weights, allowing you to choose the level of insulation suitable for different weather conditions.
Harrison Howard Acclimate Fleece Horse Quarter Sheet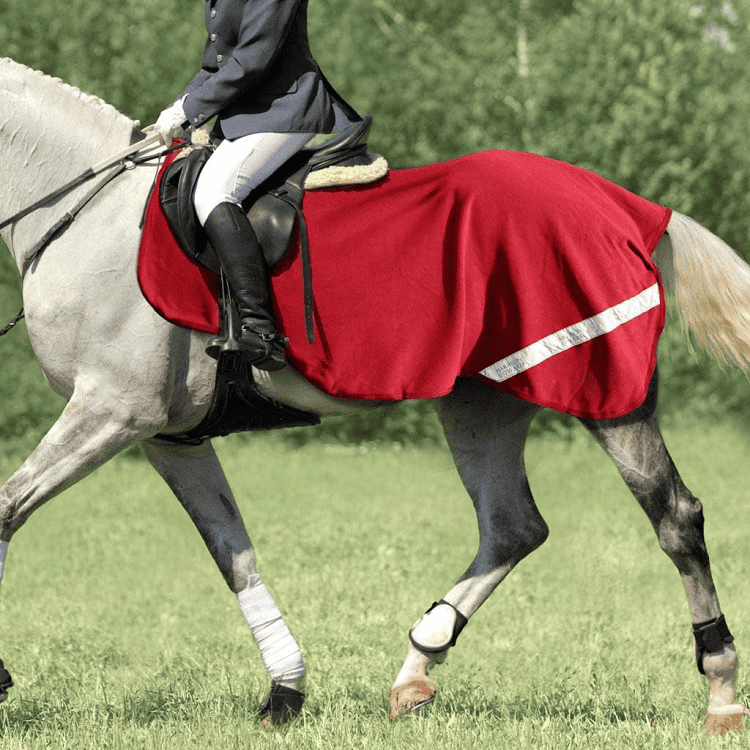 Being an equestrian, I know that sometimes finding a quarter sheet that provides the perfect blend of warmth and breathability can be pretty daunting, especially when you are on a budget. Introducing the Harrison Howard Acclimate Fleece Horse Quarter Sheet, an affordable option best for your everyday use.
Its outer layer offers a quality micro-fleece material with additional soft fleece lining around its edges, providing a smooth interaction between the sheet and your horse's skin. But I must mention, if you are looking for a quarter sheet which offers a good fit for your horse's hindquarters, this option might be too generously cut for that.
Still, despite its $20 price tag, it comes with a touch-and-closure strap making it easy to attach in front of your horse's withers. Another thing I like about this quarter sheet is that it also features small reflective strips along the hindquarters, which is just another nice thing to have for improved visibility.
Pros
Its soft micro-fleece lining prevents rash or cuts.
It is relatively inexpensive, making it a good choice for equestrians on a budget.
Cons
Its design doesn't offer a cozy fit.
Rambo Fleece Competition Sheet

If you are a fan of vibrant colors, this quarter sheet might be a good option for you. Thanks to its double-layer fleece, this durable cover is a great choice for even the chilliest nights; not to mention, for its loop and hook Velcro, it is super easy to put on or off your equine buddy, and its tail cord helps it stay in place during your ride.
Unlike most sheets, this quarter sheet offers cuts at its front. This not only adds to the design of the sheet but also serves a very practical purpose by not interfering between the rider's legs and the horse's body, which allow really efficient cues while riding. And as a personal touch, you can even get your horse's name stitched on it.
Pros
It offers double-layer fleece, which provides extra warmth.
Comes with Velcro-brand closures for a secure fit during rides.
Cons
Its lighter shades tend to get dirty easily.
Reflective Quarter Sheets
This is a unique category that features reflective strips or panels to enhance the visibility of the horse. Though these quarter sheets are mostly used by mounted police, they are also handy for riders who frequently ride during dawn or dusk.
Harrison Howard FocalMax Quarter Horse Sheet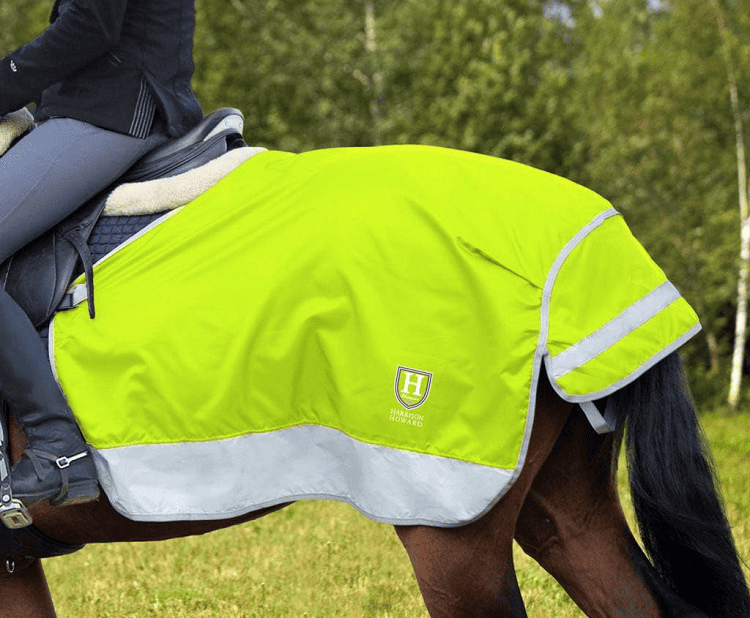 For anyone looking for affordable quarter sheets incorporating the luxury of design and form, the Harrison Howard FocalMax could be a reasonable consideration.
With its durable, waterproof nylon outer layer, the sheet offers an excellent solution to moist conditions. But that's not all; this quarter sheet also comes with a 240g polar fleece lining which adds extra warmth, making it suitable for trips in snow.
And, of course, the thing that highlights this sheet, literally, is its 270° high visibility provided by the reflective Hi-vis stripes ensures safety during low-light conditions.
Another thing that I really like about this option is its design. Unlike most quarter sheets that have a streamlined design running throughout their length, this horse quarter sheet comes with a flap-shaped cover at its end. This feature allows your horse's tail to have freedom of moment which is something you should never overlook during riding or show jumping.
Pros
The durable, waterproof nylon outer layer offers excellent warmth and protection.
Comes with a very affordable tag.
Cons
Only comes in a smaller size, making it unsuitable for larger breeds.
Amigo Flyrider Quarter Sheet – Fluorescent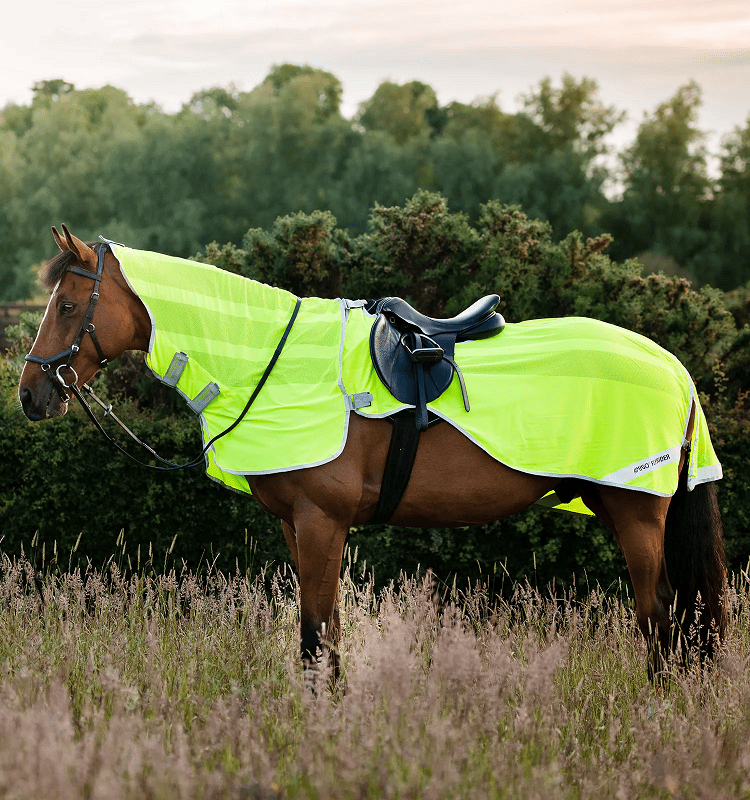 Experience optimal fly protection and enhanced visibility with the Amigo Flyrider Reflective Quarter Sheet in its eye-catching fluorescent colorway. This option features a completely soft scrim polyester design, giving it its signature lightweight and also making it quite breathable.
Despite being breathable, it offers a little protection against those pesky flies. However, I wish it would have been treated with a fly-repellant solution for added bug repulsion.
In addition to the hind quarter sheet, this pick also comes with a detachable hood to protect the shoulder and neck of the horse, which is a nice inclusion considering its relatively high price. It also comes in four different size options, making it perfect for almost any breed. And let us not forget, it just takes a damp cloth to clean this quarter sheet.
Pros
Its polyester build makes it relatively lightweight.
Comes with a detachable face hood for added protection against flies.
Available in several sizes.
Cons
It is hard to remove wrinkles from it.
Therapeutic Sheets
These quarter sheets are designed to provide therapeutic remedies to your horse. They are highly recommended for horses with muscle soreness or stiffness, and often incorporate specialized materials such as ceramic or magnetic fabrics that act like tiny messages for your equine partner, which help promote increased blood circulation, muscle relaxation, and recovery.
Fenwick Liquid Titanium Quarter Sheet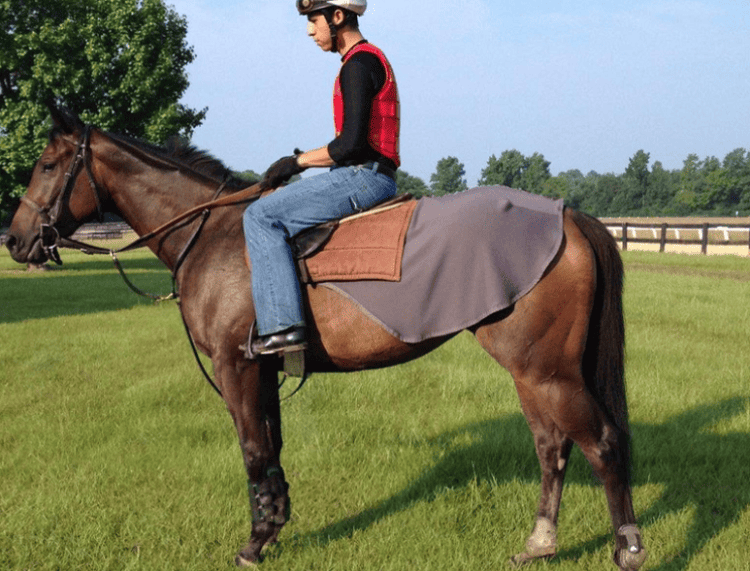 If you want a quarter sheet that is sleek and based on advanced technology, the Fenwick Liquid Titanium Quarter Sheet is your way to go.
Crafted with Fenwick Liquid Titanium Far InfraRed fabric, this therapeutic quarter sheet offers a range of benefits for your horse's well-being, which includes improved blood flow and accelerated healing, thanks to its patented technology that harnesses the natural properties of titanium.
Still, if that's not something that excites you, let me tell you that these quarter sheets also offer outstanding moisture-wicking properties that will help keep your horse's back dry, ensuring optimal comfort during workouts.
But before you ask about any special care this quarter sheet needs, allow me to say that these sheets can be washed like another pair without affecting their therapeutic properties.
While it is on the pricy side, considering the wide range of benefits it provides to your horse's health, I believe, it is well worth it. However, if you're considering buying this sheet, I would also recommend pairing it with a bamboo saddle pad for even better results.
Pros
It is made of unique fabric, offering therapeutic capabilities.
Moisture-wicking technology keeps the horse's back dry and comfortable.
Cons
Its sleek design makes it a little short.
Bucas Therapy Quarter Sheet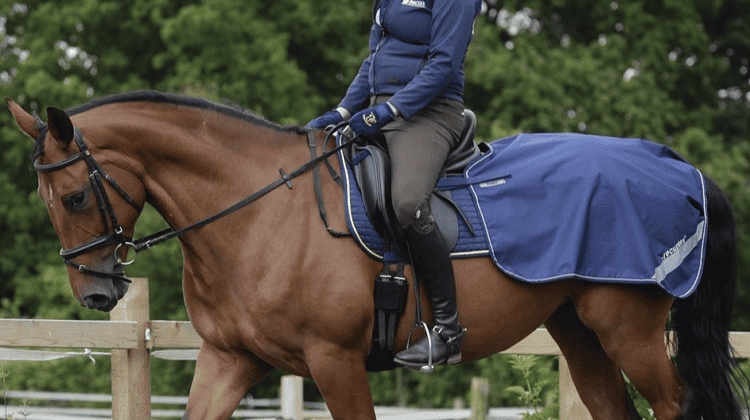 Taking about therapy sheets, if your horse is facing back pains or has suddenly slowed down on the onset of the winter season, then you might want to take a look at the Bucas Therapy Quarter Sheet.
Designed for horses with back problems or those requiring more warm-up time, this sheet facilitates effective muscle warm-up and even enhances recovery during the cooling-down phase.
But before you think it is only meant for a specific group of horses, this horse quarter sheet also promises improved blood circulation and oxygen flow, making it useful for every sort of horse.
Still, you have to be careful about its size, as, though it does not get under the rider's leg, its overall build is a little small compared to any other item on my list.
In addition to its therapeutic capabilities, this quarter sheet offers a waterproof, breathable rip-stop outer layer that ensures durability and shields your horse from weather elements.
And on top of that, it also features a silk lining along the rim, which in my experience, is perfect for horses with sensitive skins. Not to mention, the sheet prioritizes safety with reflective strips at the rear by providing visibility during low-light conditions.
However, all of these features come at a price, and in order to get your hands on this one-of-a-kind quarter sheet, you would have to spend around USD 200
Pros
Comes with a hook & loop attachment and fillet string for added security.
A ripple design that is less prone to small tears.
The seller offers a 2-year manufacturer warranty.
Cons
This quarter sheet only comes in one color option.
It is pretty expensive.
FAQs
Question: How Do I Choose the Right Size Quarter Horse Sheet for My Horse?
Answer: To select the appropriate Quarter Horse Sheet size, measure your horse's back length from the withers to the tail base. Also, consult the manufacturer's sizing chart for guidance, as most sheets are available in small, medium, or large sizes or based on length measurements.

However, during measurement, ensure that the sheet covers the horse's hindquarters adequately without being too loose or tight.
Question: How Do I Properly Attach a Horse Quarter Sheet to My Horse?
Answer: Properly attaching a Horse Quarter Sheet is essential for a secure fit that doesn't hinder your horse's movement. And this can be achieved by using Velcro closures, surcingles, or leg straps.

To begin with, position the sheet evenly over the hindquarters, ensuring it doesn't interfere with the saddle. Then, adjust the attachments to achieve a snug and comfortable fit while avoiding excessive tightness. However, after a short riding trip, don't forget to check if the sheet is leaning toward one side and make necessary adjustments accordingly.
Question: Can I Ride with A Horse Quarter Sheet On?
Answer: You can ride with a horse quarter sheet, provided it doesn't impede your horse's movement or interfere with the saddle fitting.

Therefore, don't forget to choose a riding quarter sheet with features like cutouts or gussets to ensure unrestricted leg movement. Still, as a rule of thumb, avoid riding with the quarter sheets if it seems very tight to your horse's body.
Best Quarter Sheets for Horses: Conclusion
When it comes to your equine partner, selecting the right horse quarter sheet plays a pivotal role in enhancing the well-being and comfort of your beloved horse. However, you have to be mindful of its size, durability, and comfort in order to make the right choice. And remember to maintain your sheet properly to ensure its longevity.
Out of all the remarkable options available, the one-Quarter sheet that stands out as my favorite is the Harrison Howard Acclimate Fleece Horse Quarter Sheet.
Crafted with meticulous attention to detail, this exceptional quarter sheet embraces luxury and practicality. Its high-quality fleece material offers superior insulation and comfort, ensuring your horse stays cozy during those chilly.
Not to mention, its exquisite design allows unrestricted movement and minimizes any sort of discomfort that an ordinary sheet might bring to your horse.
However, should this particular quarter sheet not align with your needs, this comprehensive guide unveils many extraordinary alternatives to choose from. But remember, whatever sheet you buy, don't forget to clean it thoroughly after every few rides and store it in a dry place. Happy hunting!