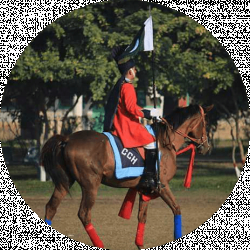 Latest posts by Boo Ali Khan
(see all)
If you think you are a food lover, let me tell you that horses adore eating more than you do. But when it comes to feeding your equine buddy, the first question that pops up in one's mind is what is the right way to feed a horse; after all, one doesn't have excess to green pastures all the time.
In this best horse feed bucket guide, I will be examining different feed buckets while also explaining what to look for in a bucket and how to overcome some of the common problems associated with these pails.
In addition to that, as ordinary buckets do not answer every feeding requirement of a horse or horses, I will also be talking about some alternative feeders to provide my fellow equestrians with every option to serve their needs.
Bottom Line Up Front
Every horse feed bucket is attuned to a specific purpose. But for general feeding, if I have to choose one bucket that I really like, I would go for the Little Giant Better Bucket. This bucket comes in two sizes and, unlike conventional horse feed buckets, offers an ergonomic style that saves the horse's coat from any damage.
However, when it comes to controlled feeding to maintain your horse's digestive system, I would also suggest the NRTFE Hay Net Slow Feed Bag.
My Selection Criteria
I have ensured that my picks fulfill the following criteria:
The feeders are made of sturdy material.
The picks cater to the different feeding needs of a horse.
Most of the picks offer various sizes.
Choosing The Right Horse Feeder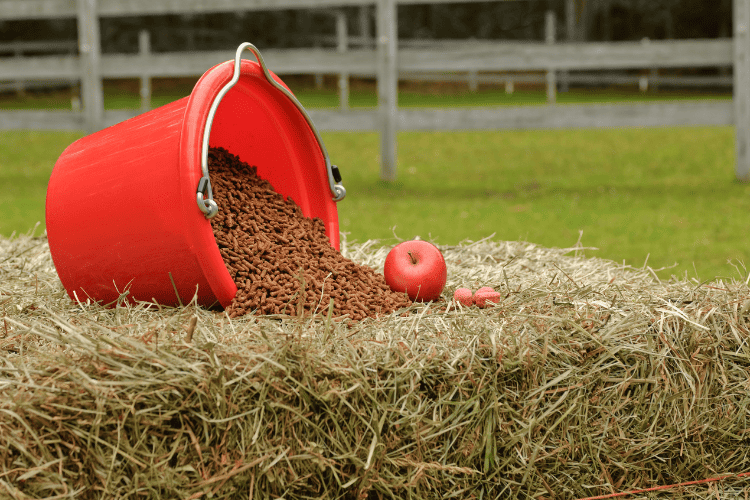 Number Of Horses
Before picking a feed bucket, the first question you must ask yourself is how many horses you intend to feed. A conventional bucket is usually for feeding one horse at a time; if you want to feed more horses simultaneously, you should go for a feeding tub or a combo feeder.
Type Of Feed
The type of feed also determines what sort of bucket you should have. If it is hay or green grass, you can choose almost any sort of feeder. However, if you want to feed grains, pellets, or hay cubes, avoid feeders with narrow openings.
Feeding Habit Of Your Horse
You should also not overlook the feeding habit of your horse. Though horse feed buckets are used to feed any horse, if your horse is more energetic or aggressive, I suggest avoiding a conventional feeding bucket and resorting to controlled feeders.
Common Problems With Horse Feed Buckets And Their Solution
Stench After Frequent Use
After frequent use, especially while dealing with moist feed, the bucket starts giving a very foul odor. Therefore, it is imperative to thoroughly clean your bucket with water and detergent and dry it under sunlight afterwards.
Tipping Over
The horse feed buckets can easily be tipped over by your equine buddy. This not only leads to wastage of feed but also results in colic if the horse starts eating from the ground. However, it can be avoided by placing the bucket in some corner of the stable or by tying it to a stall.
Gaping Of The Attachment Hole
This issue is prevalent in those plastic feed buckets that have metallic bails. With time, the attachment holes of these buckets start to gape, especially when subjected to carrying more than the recommended weight, which eventually leads to damaging the nostrils and eyelids of the horse. Thus, it is always recommended not to overload the bucket and apply rubber or tape on the attachment holes while feeding the horse.
My Top Suggestions
Compact Feeding Pails
These are small to medium-sized buckets suitable for feeding your horse small portions of hay or chaff. These feeding pails are usually made of plastic but are also available in stainless steel.
Plastic Animal Feed Bucket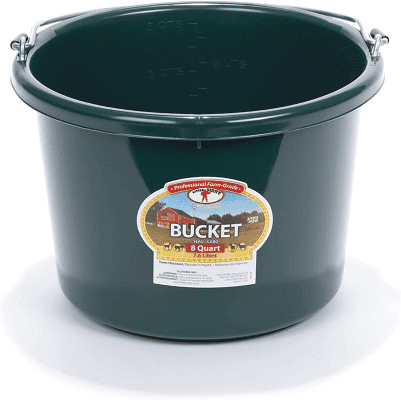 This bucket is the most-seen item in barns. Made of Polyethylene plastic, this bucket offers excellent strength and is best for feeding any sort of roughage to your horse.
It has a very minimalistic design consisting of a round-shaped bucket with a steel handle at its top. But unlike most buckets, the handle is not attached to the plastic holes of the bucket.
On the contrary, there are round hooks at the edges of the bucket with which the handle is attached. And before you say it is a very trivial feature, these hooks do not let the bail come off the bucket, nor do they gape when it comes to carrying heavy weight.
And although this option is pretty sturdy and weatherproof, in my opinion, it offers a little narrow opening, which might make feeding hay to your horse a little tricky.
Pros
Comes with a heavy-duty handle.
The hooks provide more strength to the bucket.
It is weatherproof.
Cons
It does not have a sufficient opening.
MPP Flat Sided Hanging Feeding Pail Snag Free Heavy Duty Stainless Steel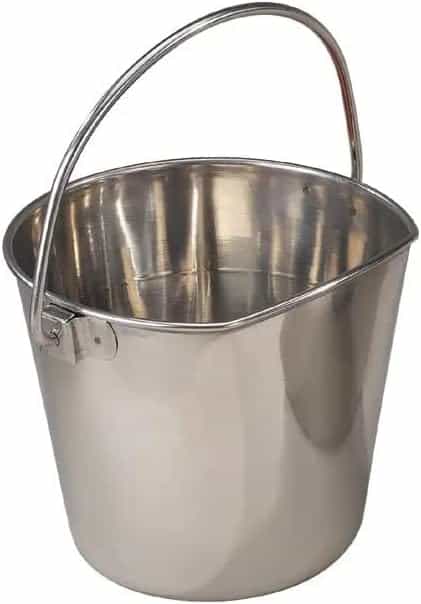 This U.S made bucket offers a stainless steel build product that can withstand strong tug and pull. Moreover, what gives this bucket more strength is its slightly flexible nature, which saves it from indentation and rupturing due to sudden pressure.
This feed bucket offers one flat side, allowing it to be tied efficiently against a wall. And though this might not seem like a significant feature, for horses who eat aggressively or have a habit of spilling things, the flat side saves the feeding bucket from tipping over.
If you ask me, this steel bucket should be a necessary addition to a horse stable, as when your horse gets sick, a stainless steel bucket provides a sterile option to monitor medicine.
With its 8.5 litre capacity, although this feeder bucket cannot hold significant portions of horse feed, it is perfect for your horse's one-time meal and storing water.
Pros
Its flat side saves the feeding bucket from tipping over.
Ideal size for daily meals.
Cons
This bucket is smaller in size.
Little Giant Better Bucket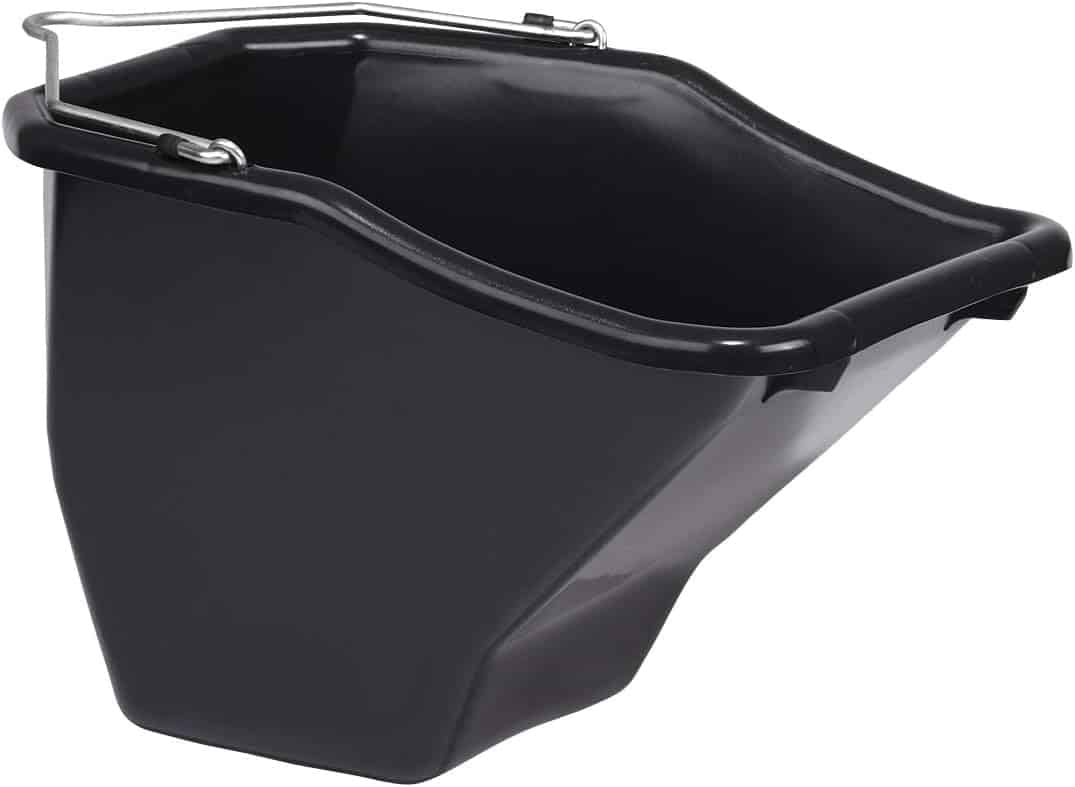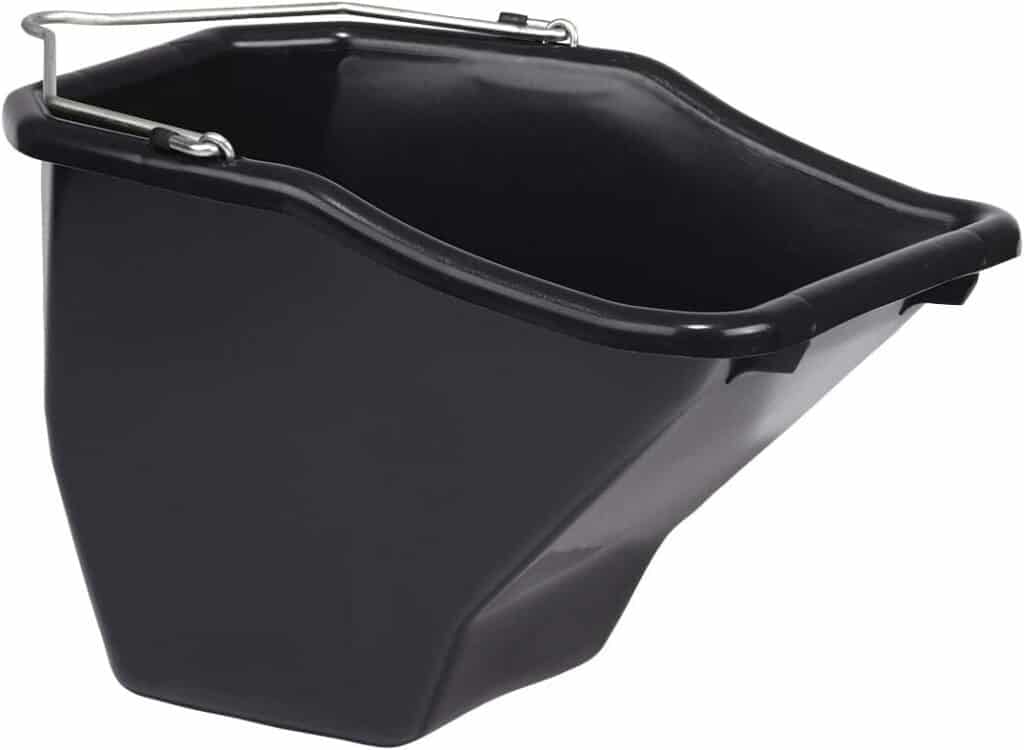 If I have to select the most ergonomic bucket for feeding a horse, I would always go for this Little Giant Better Bucket. This unconventional horse feed bucket is specifically designed for horses to provide them with maximum comfort while eating.
Also, because of its slanted side, its edges do not touch your horse's head, saving its coat from any unwanted abrasions. This horse feed bucket is offered in four colors – black, blue, green, and red – and comes in two sizes. However, I would suggest the 20 Quart option, as the smaller one can only carry feed for one meal.
Made of high-density polyethylene, this bucket can withstand hot weather. But you still have to be careful about its discoloration when exposed to sunlight for an extended period.
Pros
This bucket provides ergonomic built.
The bucket can withstand hot climates.
Cons
This bucket does not come with a bucket clip holder.
Feeding Tubs/Containers
Feeding tubs/containers can be considered big buckets which can hold a sizeable quantity of any sort of roughage. Though some of them can be hung or fixed to a wall, they are usually placed on the ground.
Feed Tub Recycled Rubber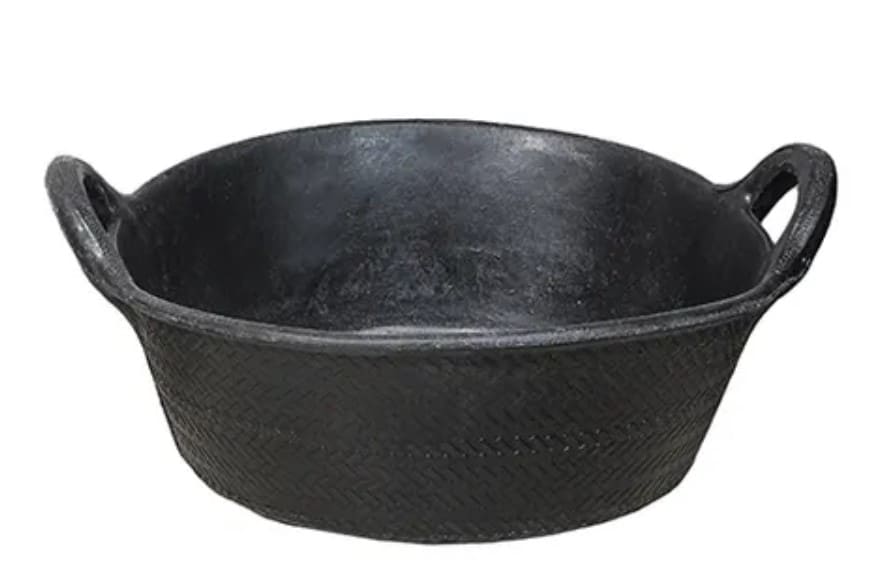 If you ask me about one barn product that can last for ages, I will definitely recommend this rubber tub. Made of recycled rubber, this tub is built in a single piece. This not only saves it from wear and tear but also works fine with storing water.
The outer surface of this feed tub is rugged, while the inner surface is relatively smooth. With its two strong handles that make the part of its main body, this tub can easily manage heavy loads.
This tub comes in 5 different sizes, ranging from 12 to 80 liters. And before you start thinking that this tub looks very plain and does not add to the allure of a stable, I have to say, for the quality this tub offers at such a price, there aren't many similar options available in the market.
Pros
Available in 5 different sizes
The one-piece rubber built makes it almost indestructible.
Comes at an affordable price.
Cons
Waldhausen Flexibowl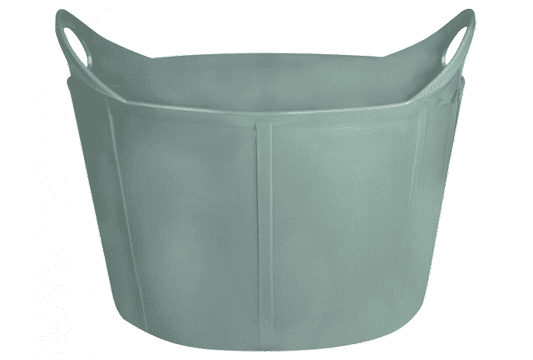 If you want a mix of plastic and rubber, this feed bowl is for you. With a capacity of about 17 liters, this feed bucket is made of food-safe plastic, making it suitable for a variety of feeds or even water. Moreover, its build makes it appropriate for frequent use even at hot temperatures without worrying about degrading its quality.
What I really like about this bowl is that despite being a perfect fit for a stable, it isn't merely attuned to barn use. Its color options, lightweight, and flexibility allow it to be used for laundry or storing different things. But I would not recommend carrying heavy weights in this bucket as its handles aren't that sturdy.
All in all, for a price of about $10, this German-made bowl is an affordable option for one's house and barn chores.
Pros
Pretty affordable.
Comes with 100 days return and refund policy.
Cons
Not suitable for carrying heavy things.
Combo Feeders
Though not precisely buckets, the combo feeders serve the very purpose of feeding a number of horses. They cost a lot more than feeding tubs or buckets but are an essential addition to stables or barns with several horses.
Wall Mount Combo Feeder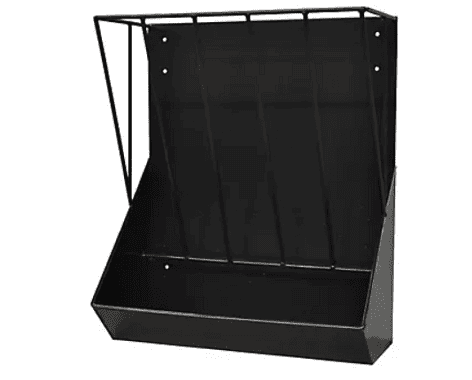 Made of 16-grade steel, this combo feeder can be mounted on a wall, stall, or even inside a trailer. It offers a two-and-a-half feet vertical feeder frame with a grate at its front and a tray at its bottom and also comes with two mounting clips.
What I really like about this feeder is that, unlike most feeders, the tray of this combo feeder prevents the wastage of feed and keeps the place clean, which makes this feeder also suitable for feeding grains or chaff.
Its two feet width makes it suitable for feeding two adult horses, or three ponies, at a time. But I have to say, with constant usage, its paint might chip off, especially if your horse has a grinding teeth problem, which would eventually lead to rusting.
Pros
This feeder is also suitable for feeding grains.
It offers easy installation.
Cons
This feeder is prone to rusting.
TARTER EQUINE PRO-HAY FEEDER W/ HAY SAVER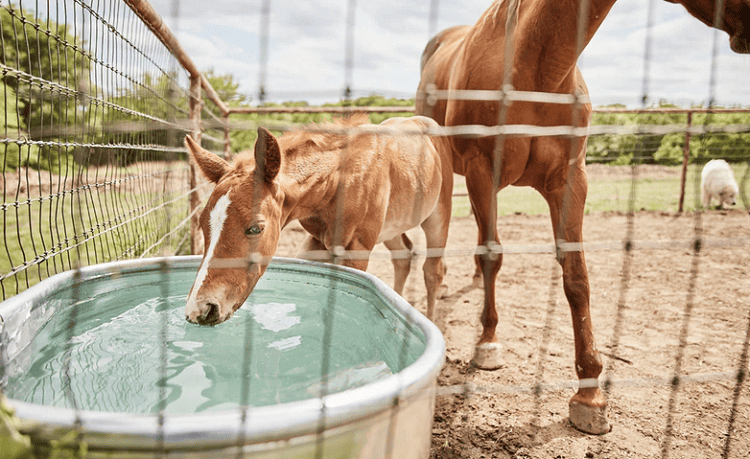 If you are into farming, Tarter would not be a new name for you. Introducing the Equine Pro Hay Feeder with Hay Saver, the best feeding option if you are a number of horses.
With its eight feet diameter, this hay feeder offers a very minimalistic design consisting of round dividers, a hay saver, and loop legs. And despite weighing almost 170 pounds, it can be easily managed because of its three-piece build. Still, remember, this feeder does cost a lot.
This Tarter hay feeder comes in powder-coated red color and is perfect for moist outdoor environments. However, though it looks like a big feed pail and can accommodate a whole round bale of hay, it does not have a base, which can lead to wastage of feed, especially chaff, or even result in colic. Also, it is not suitable for feeding grains or pellets.
Pros
Suitable for feeding 8-9 horses at a time.
Comes in three pieces for easy management.
Cons
This feeder does not offer a base.
Controlled Feeding Options
As the name suggests, these options provide a good check on your horse's feeding routine. They exist in a variety of shapes, from nets to plastic boxes, each varying in price. Though most of these controlled feeding options are not meant for feeding mixes, pellets, or concentrates, they are a good option for hay and fresh grass.
NRTFE Hay Net Slow Feed Bag for Horse Feeder Full Day Feeding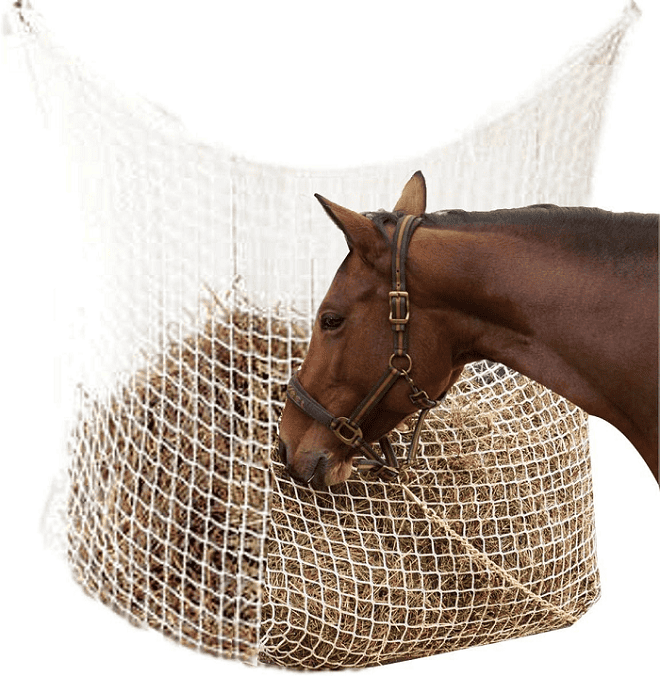 Cheap, sizeable, and multipurpose, this is what this feeder is. Made of poly mesh, this hay net has almost an inch wide holes and comes in two different sizes. However, for the little price difference they have, I would suggest going for the five feet (approx.) option, as it can easily manage a square of bale.
This hay net is usually hung from the stall; however, if you are not looking for controlled feeding, you can use it like an ordinary bucket by placing it on the ground with its mouth open.
But before you get too hyped for this feeding option, I have to say that you shouldn't expect too much sturdiness or quality from this feeding net. The net gets torn up easily if you have an energetic horse who doesn't like waiting to finish his meal. Still, for its price bracket, it is not a bad deal after all.
Pros
This feeding net is pretty affordable.
It can fit a whole bale square.
It can be used as an ordinary feeder.
Cons
This feeder doesn't last long against chewing.
High Country Plastics Slow Feeder Saver Jr.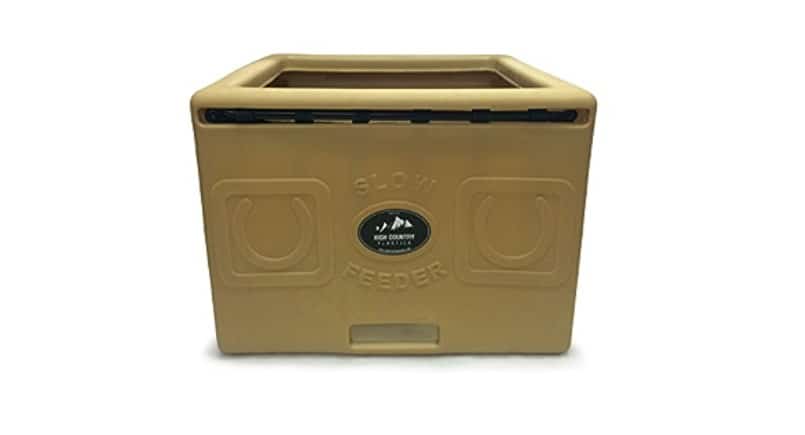 Apparently, this feeder looks like any other horse-feeding container, but with the introduction of a steel grate, this container ensures slow feeding.
With a two-foot opening, though this horse feeder isn't too big, it can easily feed two horses. Moreover, with its almost three-inches grate openings, it really takes care of the horse's digestive system by forcing it to take small bites.
Talking about its build, this feeder is pretty sturdy and can withstand harsh temperatures. Not to mention, being made of high-grade plastic, you don't have to worry about corrosion, even if your horse likes chewing the feeder.
And though this might be a mundane detail for some equestrians, because of a cleaning slot at its bottom, you can even wash it thoroughly without even needing to lift it. However, the only bummer is that you have to spend almost $200 to get your hands on this slow feeder.
Pros
This feeder offers a sturdy build.
It has a clean-out slot at its bottom.
Cons
It is pretty expensive for a feeder of this size.
Treat Balls/Ball Feeder
Though they are less common, these treat balls are small in size and offer an entertaining way to give treats to your horse. They range from 5 to 10 inches and are usually made of plastic.
Jolly Hay Balls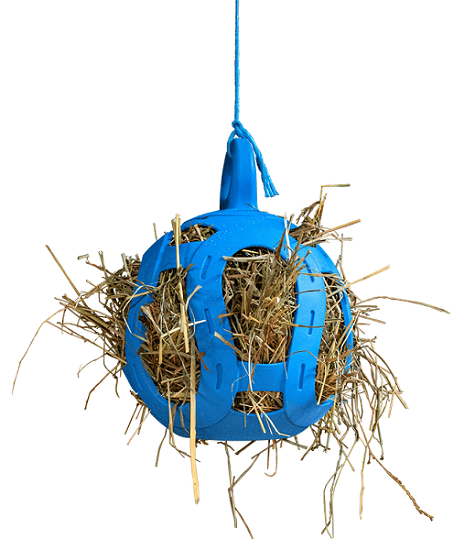 If you think only dogs like to play with balls, then I believe you haven't seen a horse going bananas over a ball. This ball feeder is for all those equestrians who want to provide a playful time to their equine buddies while also ensuring that they don't overeat.
This ball feeder is almost eight inches wide and weighs 1.3 lbs. Made of good quality rubber, this hay ball has several openings allowing you to stuff any sort of roughage. But for its small size, it is not primarily focused on feeding a proper meal; on the contrary, you can stuff cubed alfalfa or sliced carrot or apple chunks to treat your horse.
This Jolly feeder has a loop at its top, through which you can suspend it with the help of a cord or strap. However, don't forget to ensure the quality of a cord, as I have often seen horses chewing the cord after they are done with their treats.
Pros
The quality rubber saves it from wear and tear.
It has numerous openings to stuff treats.
Cons
This ball feeder does not offer a proper mouth.
FAQs
Question: What to do if my Horse kicks its feeding bucket?
Answer: Horse kicking the bucket, also known as pawing, is very common among horses. Though certain reasons can be associated with this pawing, such as pain, frustration, boredom, or even hunger, you cannot do much about it.

However, to stop the feed from getting wasted because of kicking, you can adopt the following solutions:

• Place your bucket in the corner of the stall
• Tie your bucket to the wall or stall.
• Use a heavy container in place of a pail.

Question: Can I Give my Horse Water in a Horse Feeding Bucket?
Answer: It depends on what sort of feeding bucket you have. Most horse feeding buckets these days are made of polyethylene, which makes them good for carrying and storing water.

However, you should be careful when it comes to stainless steel buckets. Though a good quality steel bucket can be used for water, when it comes to cheap and low-grade steel feeding buckets, they are usually porous at their seams.

So, before bringing your bucket or container into the stable, as a rule of thumb, fill it with water and leave it in the open for an hour or two. And if it doesn't leave any watermark on the ground, it is good to go.
Question: What Should be the Size of my Horse feeding Bucket?
Answer: Though it depends upon one's usage, try to avoid buckets with less than a 10-inch opening and 9-inch depth. Width and height should be really considered while choosing a bucket for your horse, as a small-sized bucket will not only prove difficult to feed but will also damage the horse's coat.

Moreover, for general feeding purposes, it is better to choose a sizeable bucket, as it is more convenient to half-fill a big bucket than to fill a small bucket again and again.
Best Horse Feed Buckets Guide: Wrapping-Up
When it comes to feeding a horse, a single feeder is not suitable for all purposes. Therefore, before choosing a perfect bucket for you, you have to be careful about its intended use, the number of horses you are feeding, and the feeding habit of your horse. But if I have to select one bucket for ordinary feeding a horse, it would be the Little Giant Better Bucket.
What attracts me the most toward this bucket is its ergonomic design. Also, it comes in three different colors and two different sizes to choose from.
However, this feed bucket is suitable for one horse only, and if you want to feed more horses at a time, the wall climb combo feeder might be a good option for you. Not to mention, for controlled feeding NRTFE Hay Net Slow Feed Bag is a good choice as well.
But whatever feeder you use, don't forget to clean it thoroughly and look for its wear and tear after every few uses.
Read More: Ways to Keep Horses Hydrated: A Horse Hydration Guide