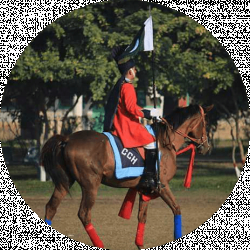 Latest posts by Boo Ali Khan
(see all)
As a fellow horse enthusiast, I deeply understand the profound impact that quality clippers can have on both the grooming process and the overall well-being of our beloved horses.
And if you've found yourself tirelessly searching through numerous markets, only to be left bewildered by the vast array of options available, fear not! You have arrived at the ultimate guide that will unravel the secrets of selecting the best horse clippers.
In this best horse clippers guide, I am going to explore every facet of these essential grooming tools. From the motor's power to the blades' versatility, I will try my best to help you find the ideal clippers for your equine companion.
So, let's delve into this comprehensive guide to make clipping a joyous experience for your stable buddy.
Bottom Line Up Front
When it comes to horse clippers, there are various factors to consider before finding yourself a perfect match. And among the top contenders, one of my personal favorites that checks most of the boxes is the Andis AGC Super 2-Speed Clipper.
Thanks to its powerhouse clippers, it can effortlessly tackle any coat type, delivering professional-grade results that will leave your equine companion looking their absolute best.
Also, it comes with a two-speed option to provide versatility for different grooming tasks and a detachable blade system to allow for easy cleaning and maintenance. Not to mention another standout feature is its ergonomic design, offering a comfortable grip that reduces hand fatigue during extended grooming sessions.
My Selection Criteria
When selecting these horse clippers, I ensured that each pick met the highest quality, performance, and usability standards. Therefore, the key factors I considered while picking these Horse Clippers include:
Cutting Power: Horse clippers need sufficient cutting power to tackle the thick and coarse hair commonly found on horses. Thus, the models of my picks come with robust motors and sharp blades to ensure efficient and smooth cutting without any tugging or discomfort for the horse.
Versatility: As horse grooming involves various tasks, from merely trimming to reaching the mane, I prioritized clippers that offered versatility by allowing users to switch between different blade sizes and cutting lengths to accommodate different grooming needs.
Durability: Grooming equipment should be built to withstand regular use and last for years. So, I focused on clippers with sturdy construction and durable materials, ensuring they could withstand the demands of grooming sessions and the occasional bumps and drops.
Common Problems with Horse Clippers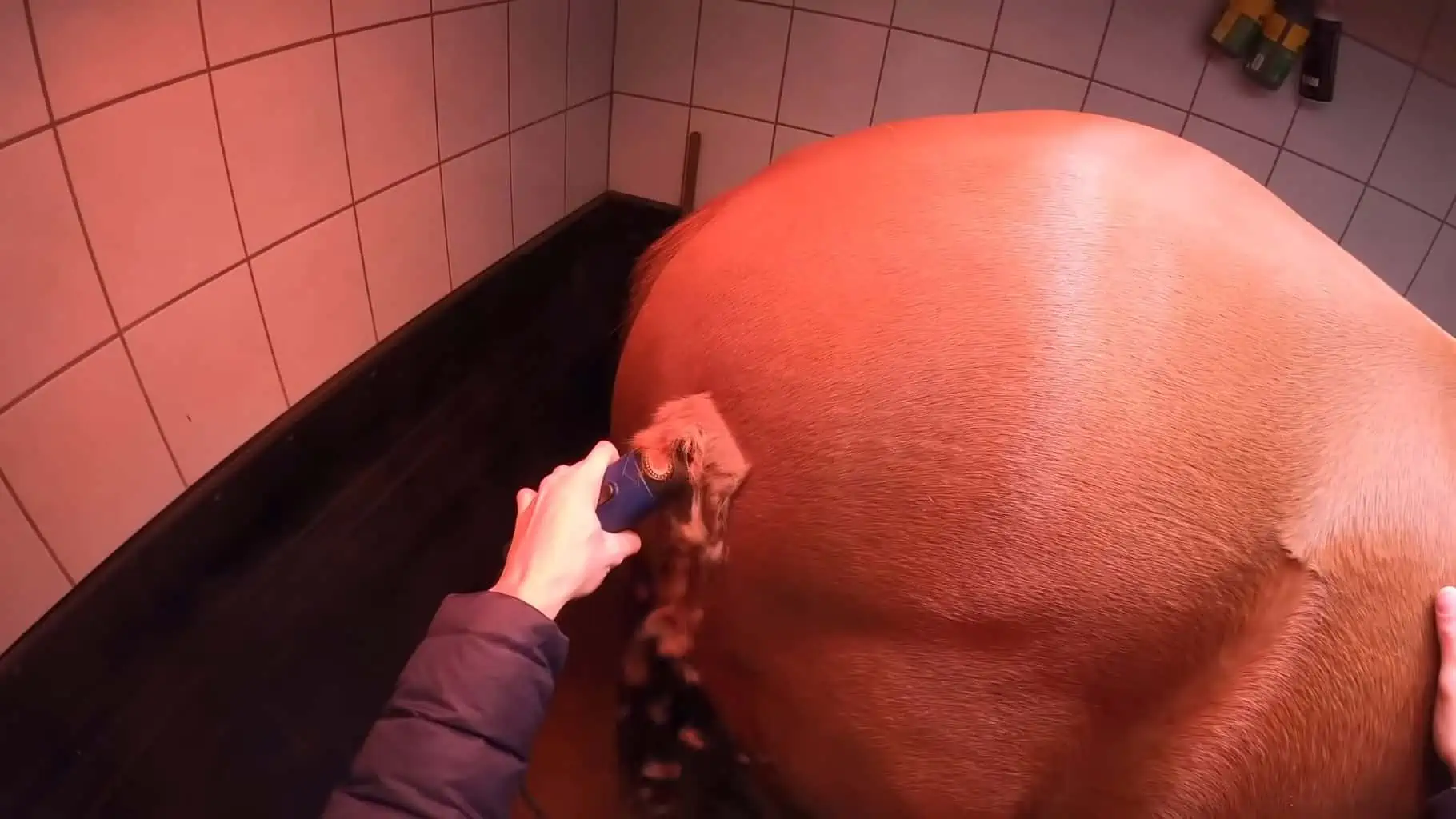 Blade Getting Dull
One common issue with horse clippers is blade dulling over time, which can result in inefficient cutting performance.
This can be caused by dirt, hair buildup, or decreased greasing, which not only affects the clipping but also impacts the battery and motor of the clipper. However, this problem of dull blades could be addressed by proper maintenance and blade wash, or replacing the blades every few months.
Overheating and Motor Strain
Horse clippers can sometimes overheat during extended grooming sessions, especially when used on thick coat or matted horses coat.
This can lead to discomfort for both the horse and the groomer. To avoid overheating, I recommend taking regular breaks and allowing the clipper to cool down every 30 minutes. Applying clipper coolant or lubricant can also help dissipate heat and maintain optimal motor performance.
Noise and Vibration
Another common problem with horse clippers is excessive noise and vibration, which usually comes with time and can result in nervous horse.
As a horse owner, opting for clippers with quieter operation and lower vibration levels can help create a calmer and more comfortable horse care environment. But this issue usually comes from clogged motors, so cleaning the motor every few months would be a good option.
Steps to Maintaining Your Horse Clippers
Proper maintenance is vital to ensure your horse body clipper delivers optimal performance and stands the test of time. So, here are a few essential steps to keep your body clipper in top shape:
Regular Cleaning and Lubrication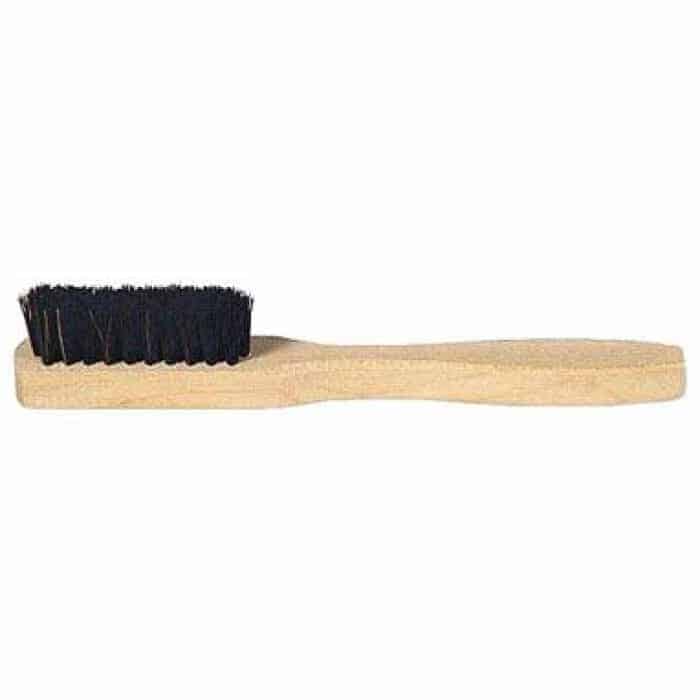 After each use, take the time to remove hair and debris from the blades and housing. A brush or blade-cleaning solution works wonders for this task; even alcohol is good for blade wash. To keep everything running smoothly and prevent rust or corrosion, don't forget to apply clipper oil or lubricant to the blades and moving parts.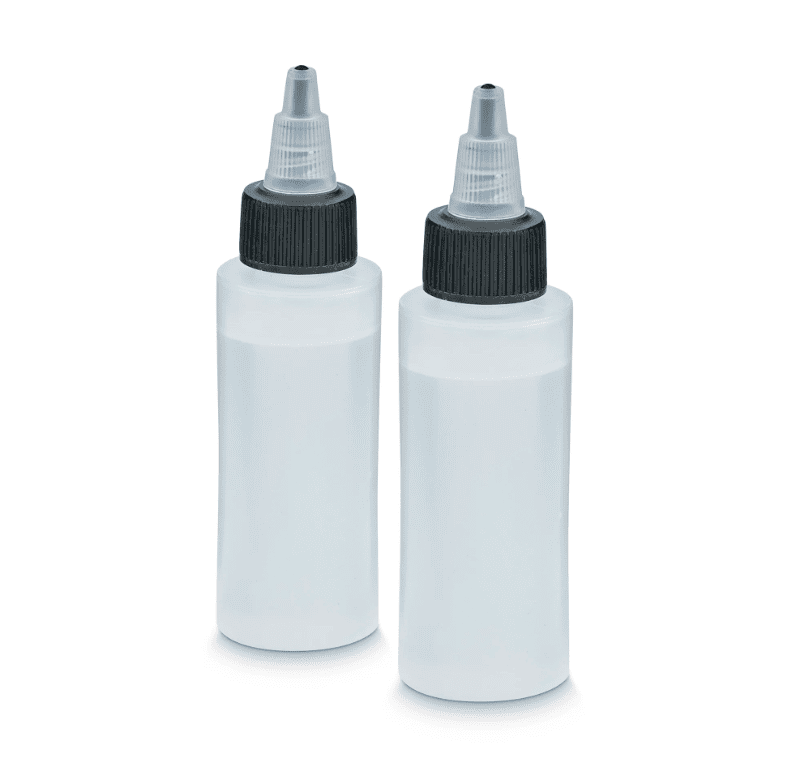 Blade Maintenance
Give your blades some love by regularly inspecting them for wear and tear. Suppose they appear dull or are not cutting as efficiently. In that case, it's time to either replace them or seek the expertise of a professional blade sharpening service.

Storage and Protection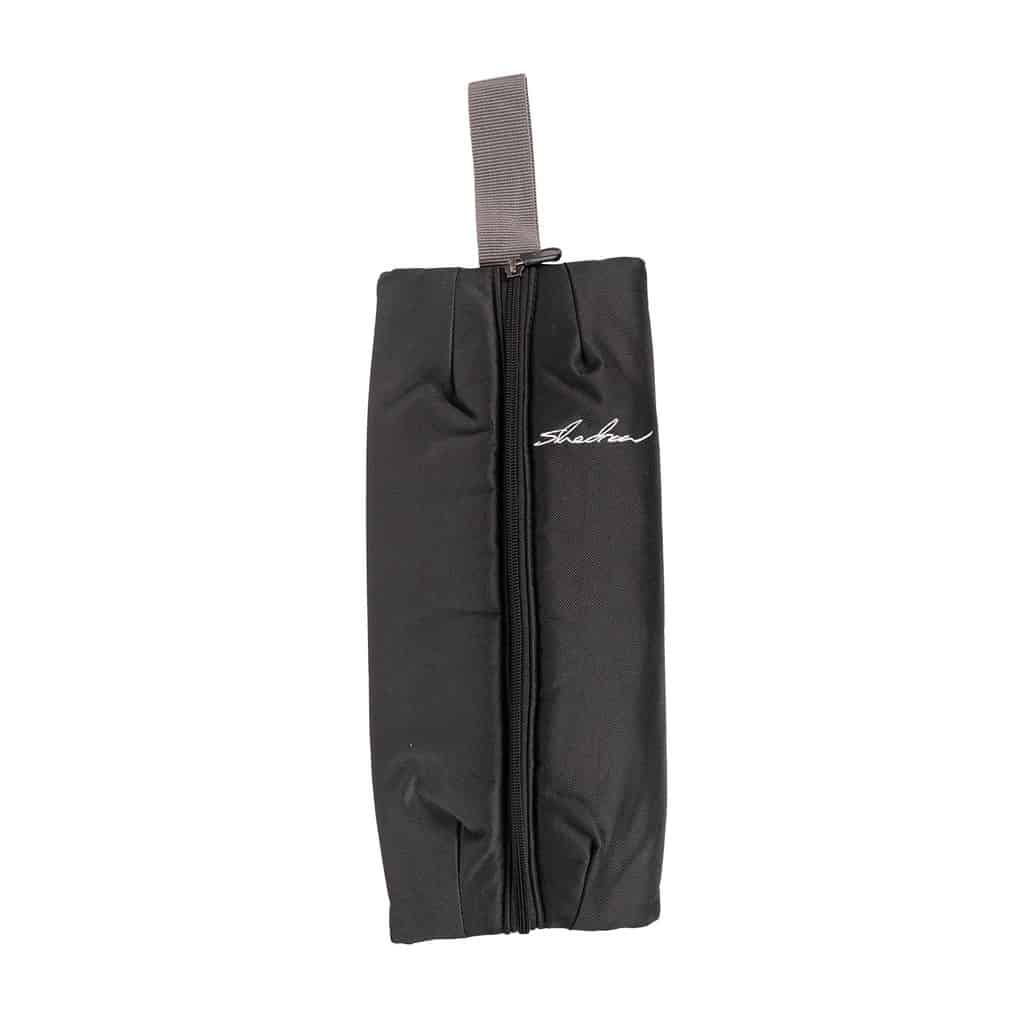 Proper storage is crucial to safeguard your horse clippers when they're not in use. Find a clean, dry, secure spot for them, preferably in a clipper case or bag. And remember to avoid extreme temperatures and direct sunlight, as these can impact their overall performance and lifespan.
My Favorite Picks
Heavy Duty Horse Clippers
For horse care experts dealing with thick, coarse, or heavily matted coats, these heavy-duty clippers are always the ideal pick.
The heavy-duty clippers are designed with powerful motors typically ranging from 2,000 to 3,000 strokes per minute and wide blades around 2-3 inches to tackle the toughest horse clipping tasks. But because of their big size, these clippers can be quite noisy, making them unsuitable for nervous horse breeds.
Lister Fusion Horse Clipper

The two main selling points of the Lister Fusion Horse Clipper are its powerful 360W motor, delivering exceptional speed, and its two-speed settings, catering to various clipping needs, which make shedding off your horse's rough coat very convenient.
This clipper measures almost a foot in length and offers a slim and well-balanced design, which provides optimal handling. Also, its double fan design keeps the whole thing cool, which, in my opinion, is directly related to increasing its motor's longevity.
The Fusion Clippers also have a fully serviceable motor and automatic overload protection, and if that wasn't enough, it also comes with a 1-year warranty. But personally, I am really impressed by the size of its blade, which is about three inches in length, that not only helps in smooth clipping but also does the job in no time.
Pros
The Fusion Clipper's 350W motor is perfect for long and heavier coats.
It offers variable speeds for precise cutting.
Its big blade makes it easy to sheer.
Cons
Its big size is hard to manage.
The clipper costs an arm and a leg.
Heiniger Xplorer Cordless Horse Clipper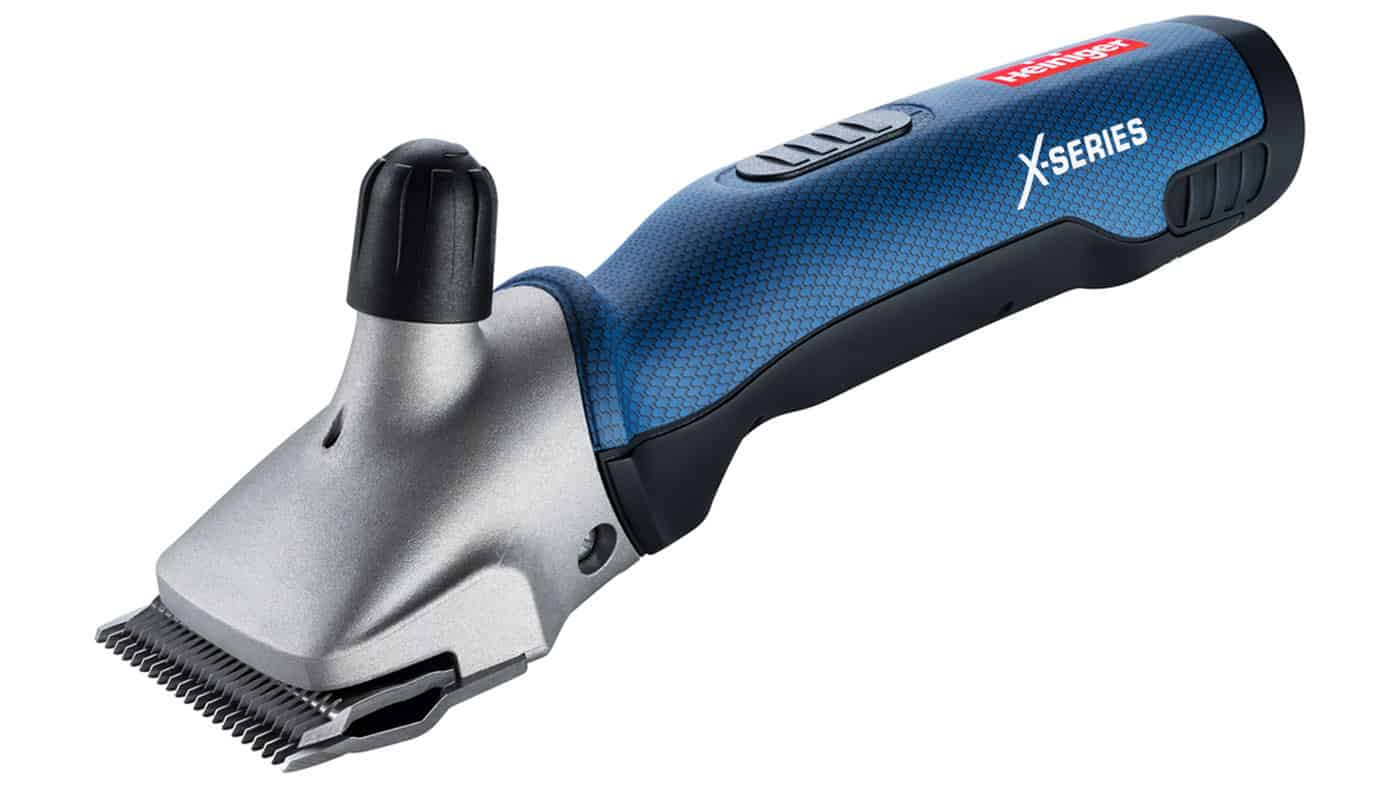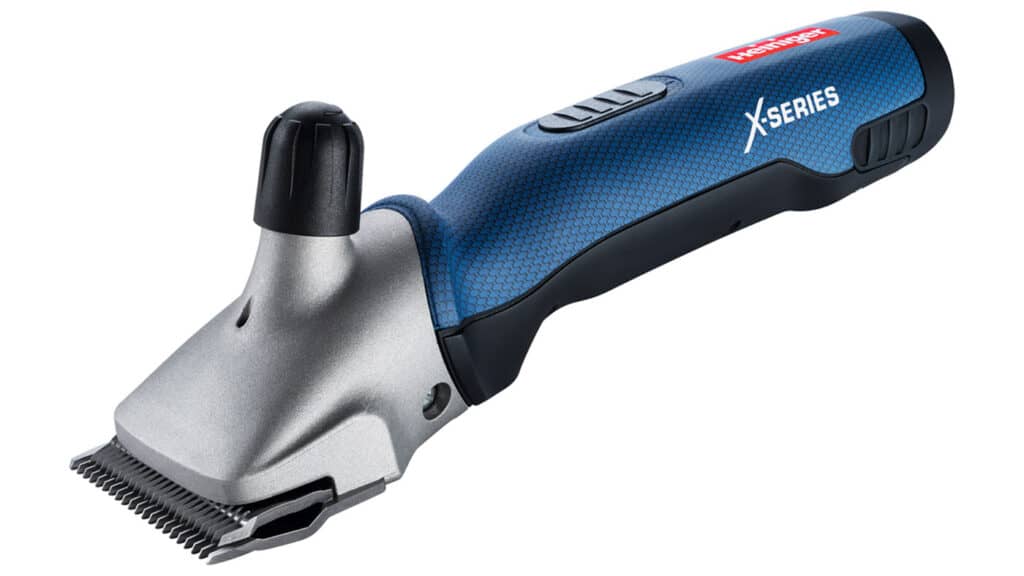 If you're looking for a cordless clipper with no compromise on power, the Heiniger Xplorer Cordless Horse Clipper is your answer; after all, with its 2600 mAh battery, you don't have to worry about constantly charging it.
This small angle grinder-looking clipper has a 2450 dbs./min powerful motor, and its sharp blades are another plus point that can effortlessly glide through any type of coat, delivering professional-grade results.
It also comes with a reasonably large handle, which feels great in the hand and gives the perfect grip for longer grooming sessions.
Moreover, with a carrying case, a dedicated screwdriver, and servicing oil, this clipper also offers a three-year warranty on electrical components. But before you add this clipper to your cart, let me tell you, it is definitely going to burn a hole in your pocket.
Pros
The Heiniger Xplorer clipper has a fairly lightweight design.
The clipper only produces 65 dB(A) of noise, perfect for keeping your horse calm.
It features a removable battery.
Cons
The clipper's high price makes it a bad option for equestrians on a budget.
Budget-Friendly Horse Clippers
For any horse care expert or a horse owner who wants to give their equestrian buddies a fresh look without breaking the bank, these budget-friendly clippers are a great option. But it's important to note that due to their lower price tag, the clippers in this category may have slightly less power and may not be suitable for a big horse breed or thick coat.
Oster A5 Turbo 2-Speed Animal Clipper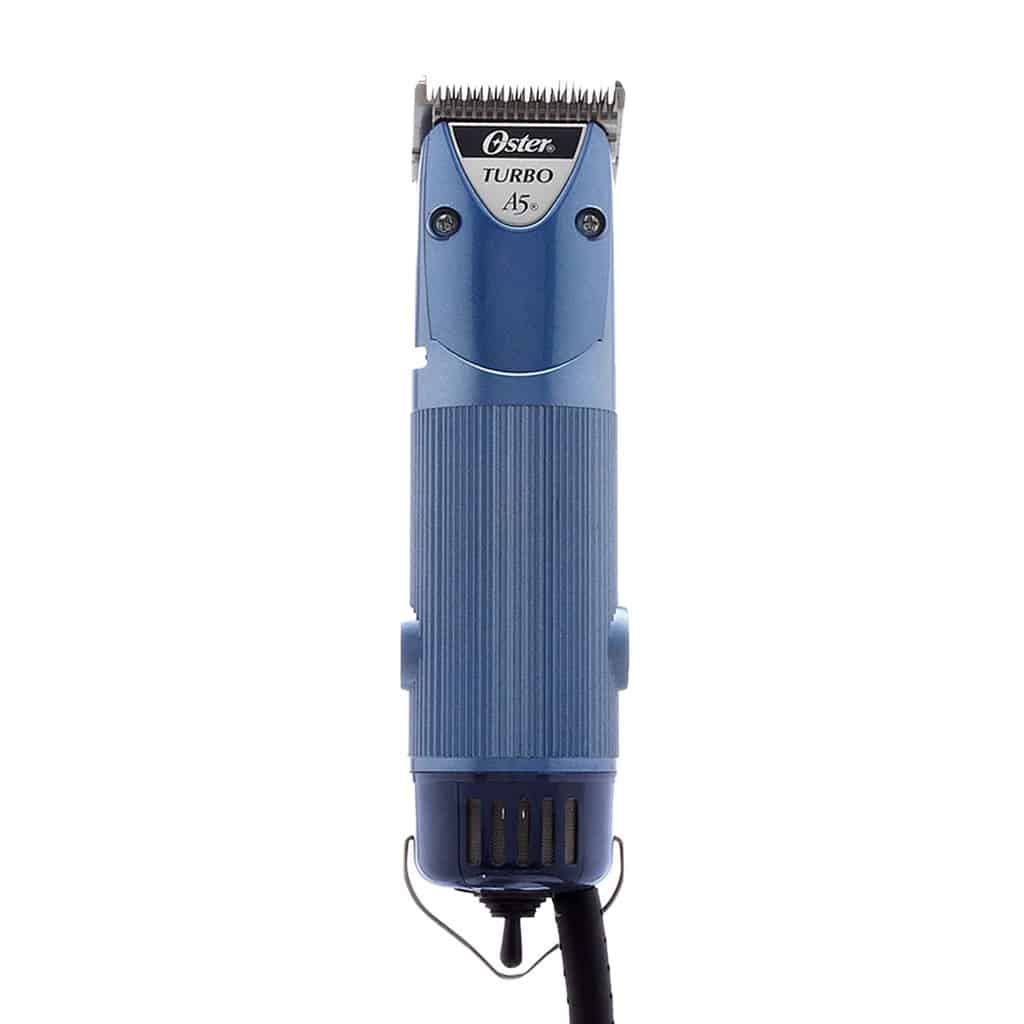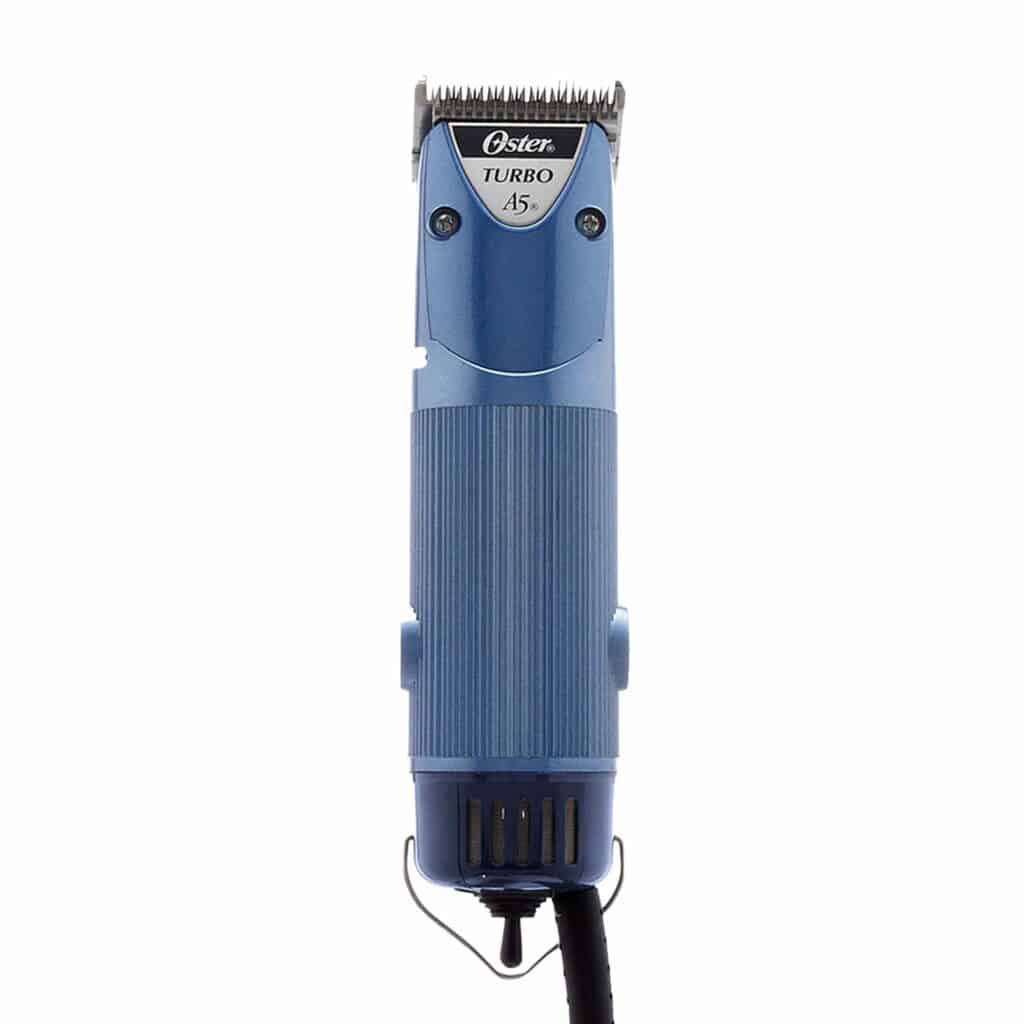 For those looking for outstanding build quality and a durable clipper, I would highly recommend the Oster A5 Turbo 2-Speed Animal Clipper.
This full-metal clipper will certainly provide you with reliable performance for years to come. But despite its metallic build, it comes with a ribbed texture on the handle, which offers an ergonomic grip for comfortable and precise grooming sessions.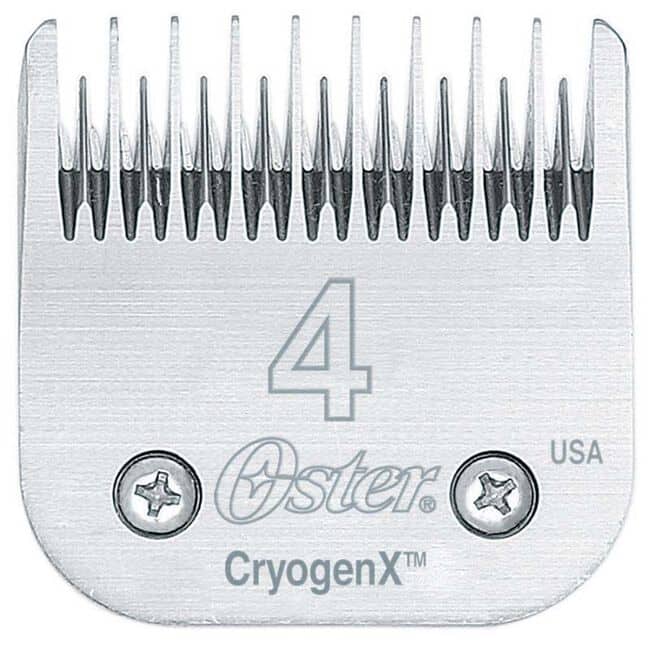 Another standout feature of the Oster A5 Turbo is its compatibility with a wide range of Oster A5 Cryogen-X blades, notably the Take-Down-Quick Wide Blade series. These blades offer not only a wider design for faster grooming but also a convenient quick swap feature, saving you valuable time during grooming sessions.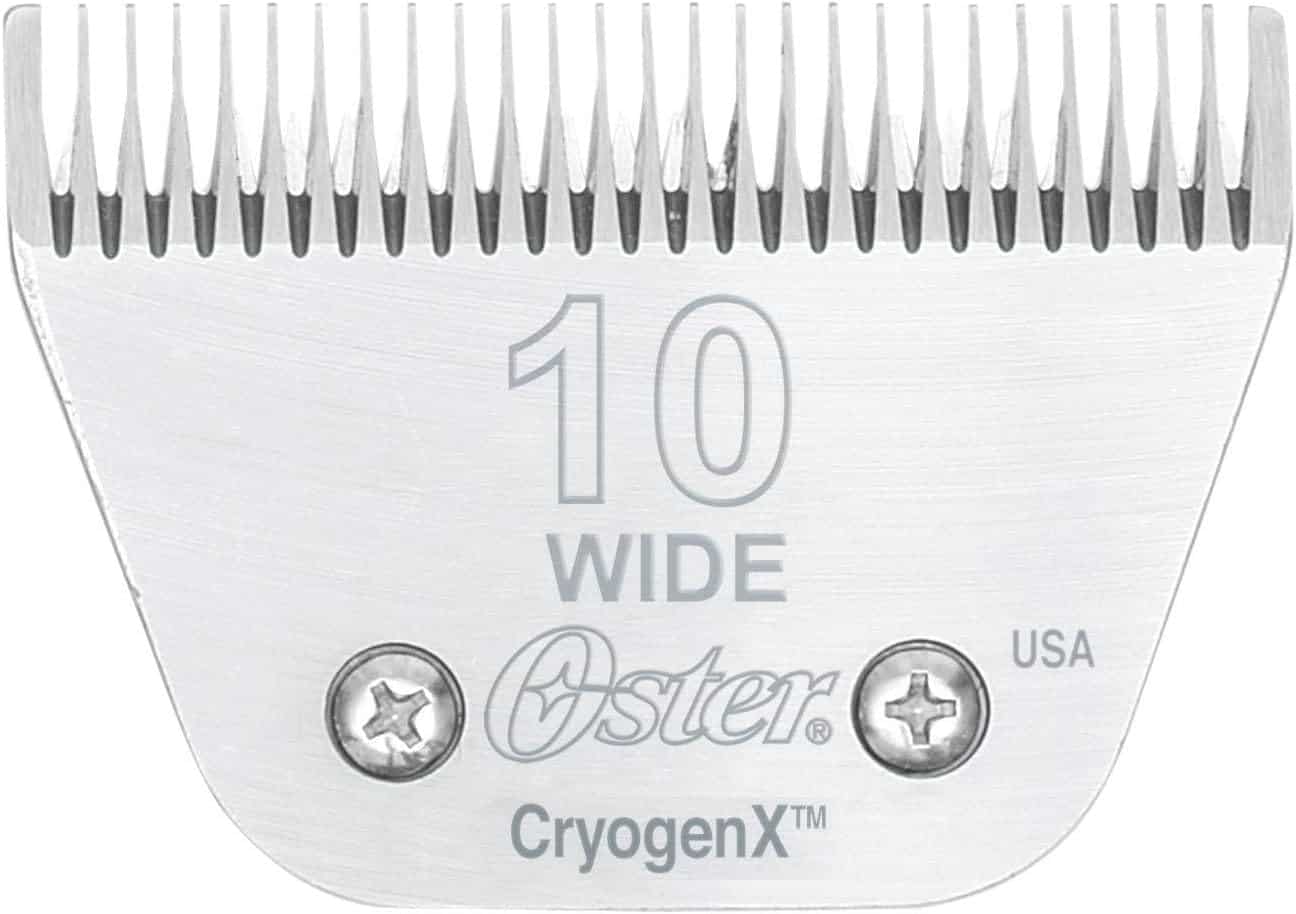 However, I should mention that this clipper is on the noisier side, which might be a little problematic for dealing with sensitive horses.
Pros
This clipper is compatible with a variety of blades.
Its full-metal build makes it shockproof.
Its insulated faceplate ensures cooler operation even during longer grooming sessions.
Cons
The Oster Turbo A5 2-Speed Clipper is a little noisy.
Liveryman Classic Horse Clipper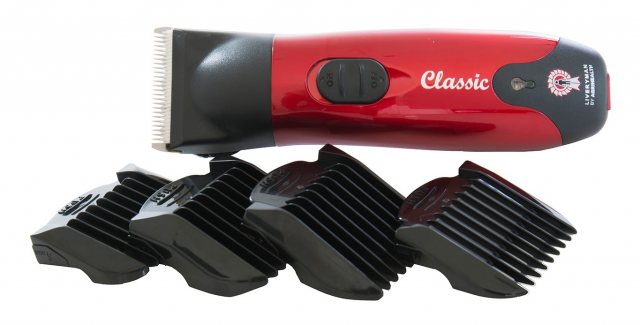 Now coming towards the cheapest pick on my list, this Liveryman Classic Horse Clipper offers a blend of performance and elegance. It has a powerful and efficient brushless motor, which, despite being very quiet as compared to Oster clippers, ensures optimal performance while maintaining a lightweight design.
With the inclusion of 4 add-on combs ranging from 3 to 12 mm and its adjustable blade, one can have endless options for precision grooming. And to top it off, its lithium polymer battery also offers extended runtime at around 200 mins on a charge of just 150 minutes. Not to mention, this clipper comes with a two years warranty.
So, if you ask me for an affordable option that offers design and versatility, you don't want to overlook this option. But remember, this clipper does not cut thick horse coats and is only suitable for small trims and hogging.
Pros
The clipper's adjustable height and additional combs allow for various cutting styles.
Its lithium polymer battery lasts for approximately 3.5 hours of uninterrupted grooming.
It is pretty affordable.
Cons
These clippers offer no air vents, which can lead to overheating.
Professional Horse Clippers
These Professional Clippers are the go-to option for equestrians seeking salon-quality results.
These clippers are engineered with high-quality materials, advanced technologies, and variable-speed motors to deliver precise and more versatile cutting performance, making them perfect for a professional groomer or horse owner. However, they cost more than an ordinary body clipper.
Andis AGC Super 2-Speed Professional Clipper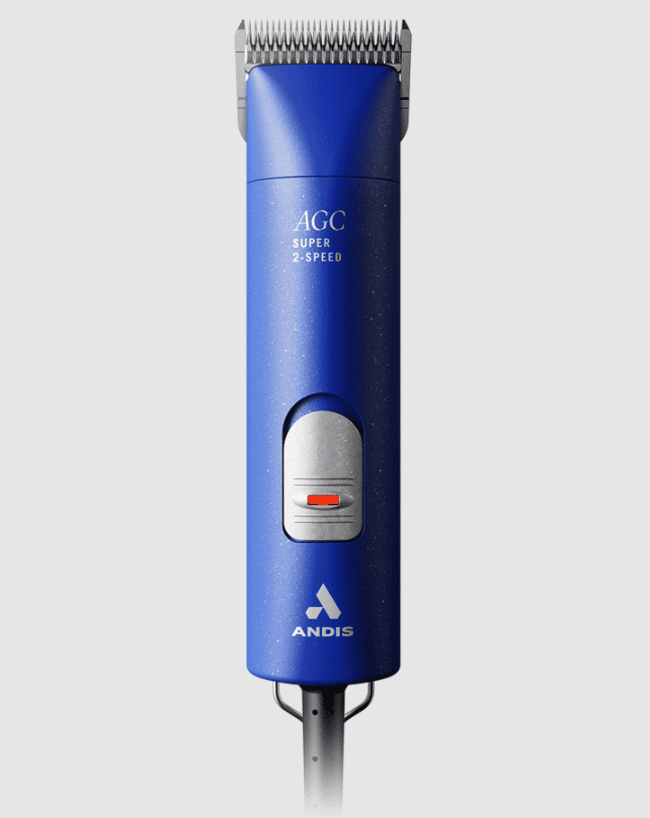 Take your grooming to the next level with the Andis AGC Super 2-Speed Professional Clipper, providing precision and power for all your grooming needs. This reliable clipper is built to tackle even the toughest grooming tasks. The two-speed motor provides versatility, allowing you to switch 4400 SPM for quick trims and a lower rate for precision work.
The detachable blade system offers convenience and flexibility in achieving different cutting lengths. And its quiet operation and reduced vibration ensure a comfortable grooming experience for your horse. It also has quick access controls right on the front, making it very convenient to handle.
Another worth-mentioning feature of this clipper is its color; its dusty look allows it to cover smudges and smears. Still, although it has a sizeable cylindrical build, it weighs around 500 grams only, which might feel cheap in hand.
Pros
The speed rotary motor can cut through even the thickest coats.
Its two-speed motor makes it suitable for both quick trims and precise work.
Cons
This set does not offer any additional blades.
Andis Excel 5-Speed+ Horse Clipper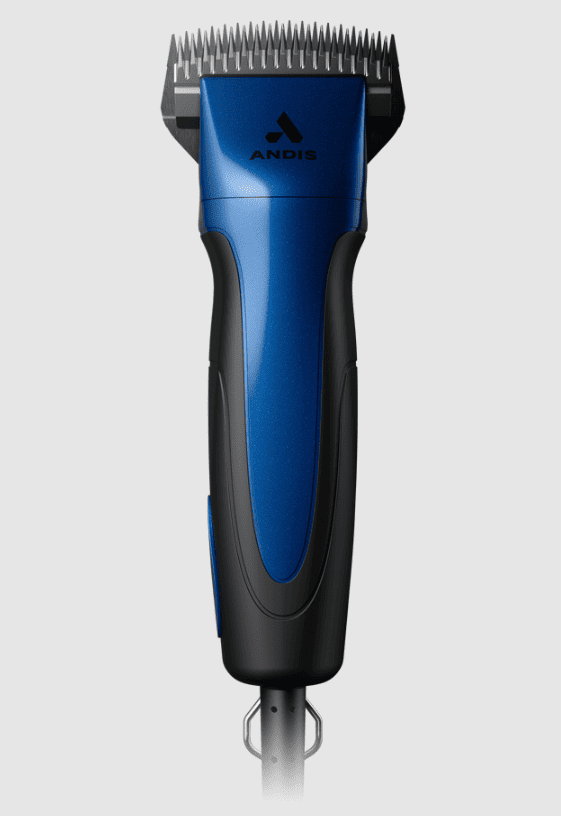 I would really recommend this pick for all those equestrians who want a dashing touch to their grooming accessories. Sleek body, two-tone color, and wedge-shaped blade, the Andis Excel 5-Speed Horse Clipper scores 10/10 for design in my eyes.
Though this clipper weighs almost the same as any professional-grade clipper, it is half their length and also costs almost half of such clippers. Also, it comes with a CeramicEdge size ten blade and clipper oil, so you don't have to worry about buying them separately.
This US-made clipper offers a blade speed of up to 4,500 strokes per minute, which is sufficient for even the most challenging coats. And if that wasn't enough, it also features a curved handle which, in my opinion, provides a pretty comfortable grip. But I must mention the handle's rubber grip does not last long and starts deteriorating after a few months.
Pros
The Andis Excel 5-Speed Clipper offers five additional speed settings.
Its detachable blade system can easily be replaced in case of damage.
Cons
This clipper is a little heavy compared to other clippers in this category.
Cordless Horse Clippers
For those who value freedom of movement and convenience during grooming sessions, I would recommend these cordless clipper picks. They come with cordless rechargeable batteries, providing extended runtime for uninterrupted grooming sessions and extra maneuverability. However, their price range and build quality vary a lot.
Laube 305 Speed Feed Cordless Clipper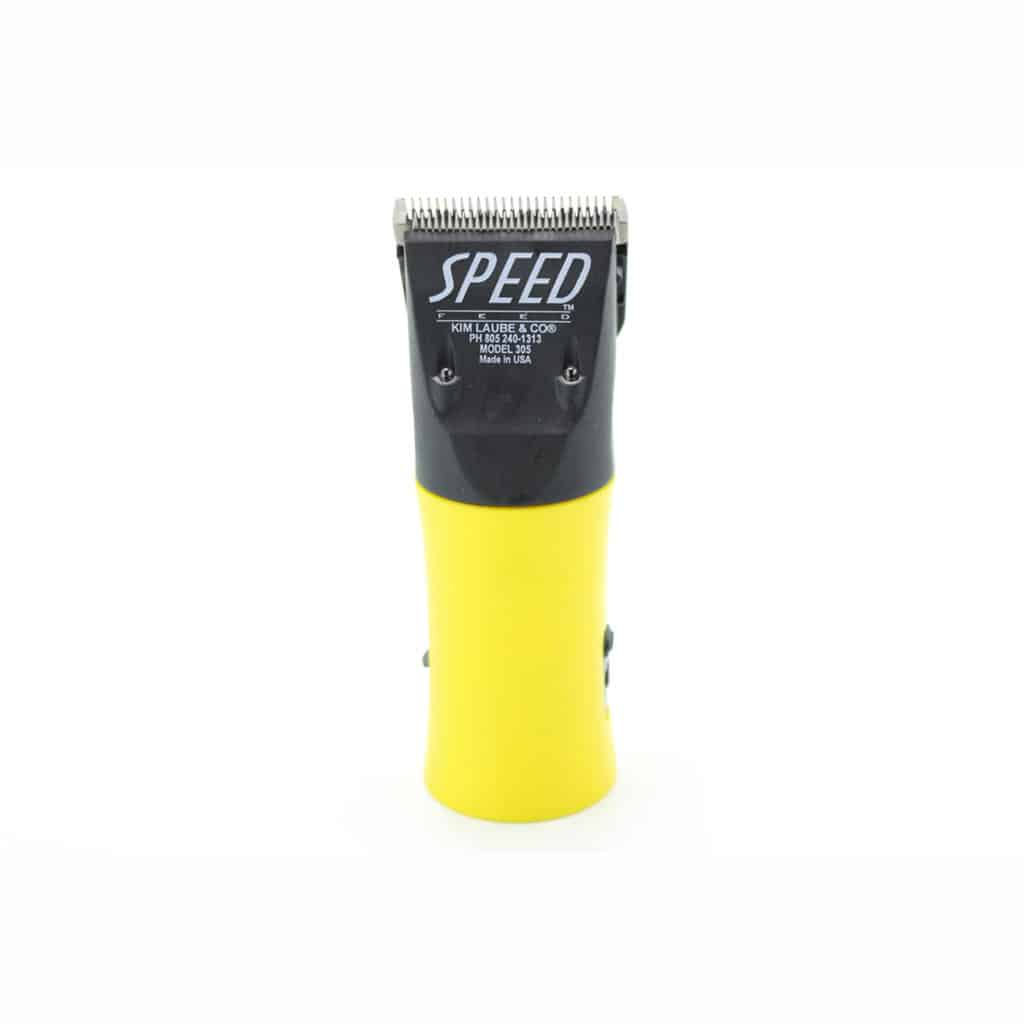 Introducing the pony master, the Laube 305 Speed Feed Trimmer, a suggested pick for veterinarians and groomers who constantly have to adjust their blades to achieve the exact trim they want.
With its 5-in-1 adjustable steel blade, the most unique thing about this clipper is its front-mounted LED lights. Though this feature might look a little silly, when you are grooming your equestrian buddy for a Horse Show, you would never want to miss any detail that might go unnoticed because of poor lighting, especially when dealing with areas that are not easily accessible.
But of course, that's not all; this clipper also comes with two Nickel-metal hydride batteries, which last longer than traditional alkaline batteries used in most clippers.
Still, do remember that Laube Speed Feed Trimmer is primarily designed for small and miniature horse breeds, which limits its compatibility with larger species that usually have thick coats.
Pros
The Laube 305 Speed Feed Trimmer features a 5-in-1 adjustable steel blade for precision trimming.
The kit includes two nickel-metal hydride batteries.
The clipper offers a variety of color options.
Cons
The trimmer is mainly tailored for smaller breeds and is not good for thick coats.
The clipper's less ergonomic design can be uncomfortable for many equestrians.
Wahl Professional Animal Arco Clipper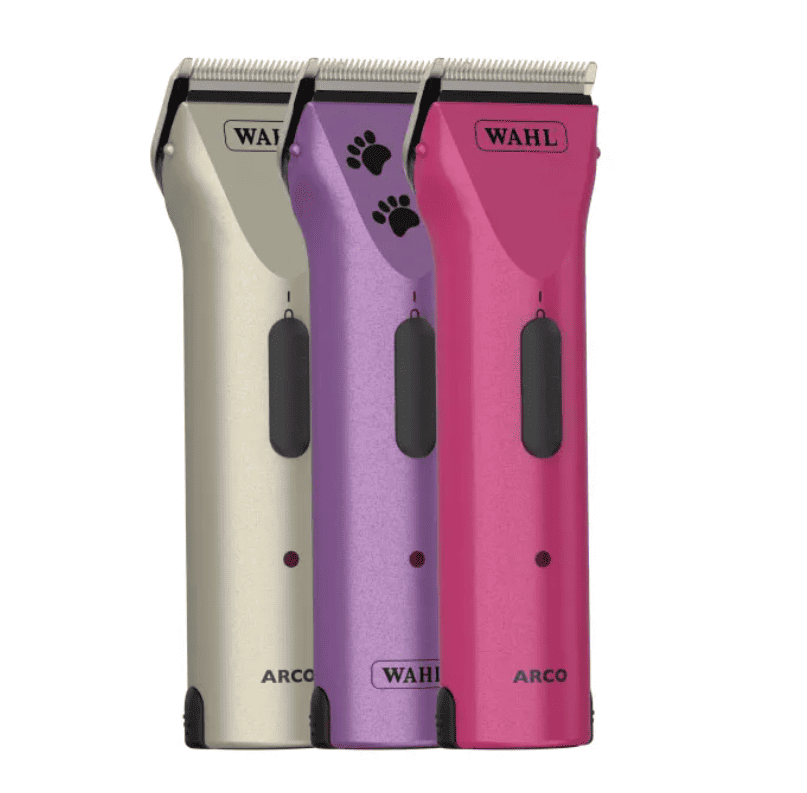 If you're looking for a compact horse clipper, then the Wahl Professional Animal Arco Clipper could be an option for you. It allows you to effortlessly customize the length and texture of your cuts with its adjustable five-in-one blade.
And although it features a fully plastic build that might feel cheap in hand, in my opinion, it also helps keep it reasonably lightweight, which provides the perfect comfort during extended sessions, not to mention its slightly curved build for better handling.
I should also mention that this clipper only features 80 min run time on one battery, which can be on the lower side for some equestrians.
But to counter this, it does come with an extra battery which can be easily replaced, effectively increasing its run time to 2.5 hours. And to top it all off, this clipper features several colorways, which can be interesting for equestrians like me with a knack for style.
Pros
These clippers offer an overall compact design.
The clipper comes with an additional battery.
This horse clipper comes in gold, pink, and purple colors.
Cons
These clippers are not suitable for heavy coats.
FAQs
Question: How Can I Pick the Perfect Horse Clipper?
Answer: While choosing the perfect horse clipper, as a rule of thumb, you should consider the intended purpose of the clippers, whether it's for general grooming, body clipping, or specific area trimming. But if you want a clipper that serves all the purposes, look for an option with a powerful motor that could easily manage thick or coarse horse hair.

Also, decide between cord or cordless clippers, considering the freedom of movement you might need, but remember the cordless option may have limited battery life.

Other features worth considering include the Interchangeable quiet and low-vibration blades to minimize stress on the horse. And if you are a professional clipper, prioritize the ergonomic design and a comfortable grip to reduce fatigue during grooming sessions. Lastly, factor in your budget and read product reviews to make an informed decision.
Question: What's the Average Lifespan of a Horse Clipper?
Answer: The lifespan of horse clippers can vary based on quality, frequency of use, maintenance, and the tasks it is used for. But generally, high-quality clippers from reputable brands, such as Wahl and Oster, tend to last longer, even for decades, especially if they have robust motors and durable construction.

From a practical point of view, while it is difficult to provide an exact lifespan, the longevity of horse clippers directly depends upon proper care and usage.

Question: How are Horse Clippers and Trimmers Different?
Answer: The main difference between horse clippers and trimmers lies in their intended use and functionality. Horse clippers are designed for larger-scale grooming tasks, such as body clipping, and they typically have more powerful motors and wider blades to cover larger areas efficiently.

On the other hand, trimmers are generally used for more detailed work and touch-ups. They have smaller blades and are ideal for trimming sensitive areas, such as around the face, ears, or hooves. Trimmers also provide greater maneuverability and precision for intricate grooming tasks. And they are lightweight and often operate at lower speeds to ensure accuracy and safety in delicate areas.
Summing Things Up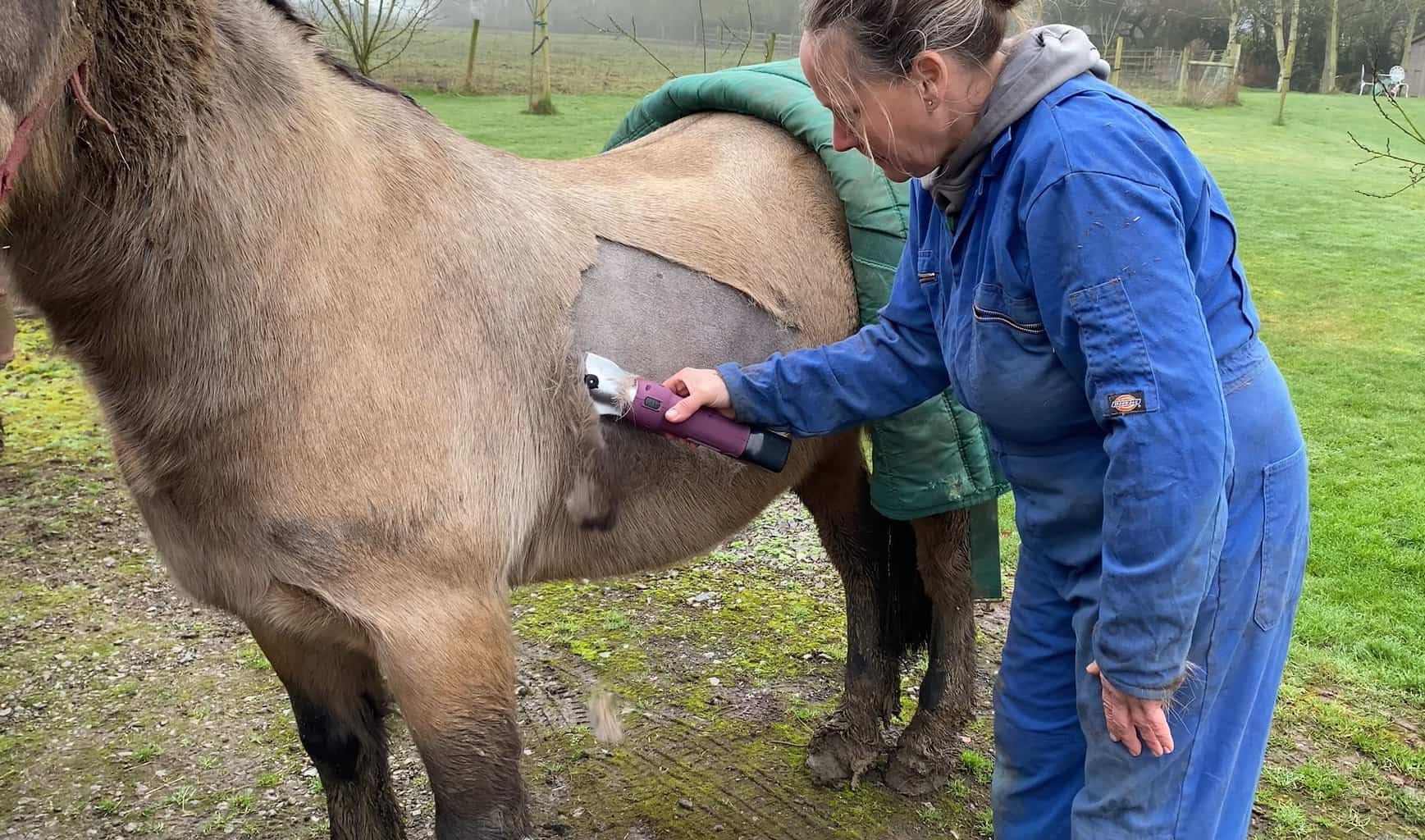 In the realm of horse grooming, selecting the best horse clippers is crucial for maintaining your equine companion's well-being and appearance. As the equestrian world advances, these tools have become more refined, making the grooming experience safer and more enjoyable for groomers at any level.
Among the unique options available, one clipper that stands out as my personal favorite is the Andis AGC Super 2-Speed Clipper. It comes with a powerful motor and two-speed settings to switch between efficiency and precision. Not to mention, this US-made clipper comes at an affordable price compared to other clippers of the same quality.
Still, if this clipper does not suit you, do not forget to look at the other incredible alternatives highlighted in this comprehensive guide that perfectly aligns with your unique requirements. So here's to joyous grooming sessions ahead as you and your equine buddy embark on numerous enchanting Horse Shows together.
Read More: Horse Ownership Guide