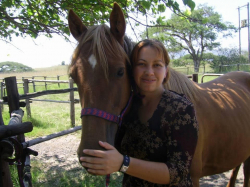 Latest posts by Talitha vanNiekerk
(see all)
When you first bite the bullet and purchase your first horse (and there will probably be more with time), you enter the scary world of horse boarding. If you live on your own land with large fields and white picket fences to complete your dream, you probably don't worry about boarding costs. 
However, if you're like the rest of us (who wonder if it's not better to simply grate your dollar bills to stuff those into hay nets, as it all goes the same place anyway), you're looking for affordable horse boarding solutions. 
With over a decade of experience running a large horse boarding facility, I've definitely had an insider's view of the different boarding options' costs, care, and pros and cons. Let me help you make the most informed decision for your beloved equine pet. 
Bottom Line on Horse Boarding Facilities
I have always preferred it when new horse owners opt for a full livery service (full sleep-in). The sleep-in or full option may be slightly more expensive than self-serve boarding or pasture boarding. However, the difference is negligible if you factor in all the other things you need to buy for self-serve when you can get those as part of the complete package (including peace of mind). 
New horse owners often don't realize just how much a horse can eat during the night in their stable, so they usually don't bring enough hay and concentrate to feed their horses (or overfeed and trigger laminitis). 
The best boarding choice is to go for the full self-lease option, where you do minimal for your horse as the grooms at the facility will provide hay, feed, and basic grooming needs. In this way, you have more time to ride and enjoy your horse. 
Horse Boarding General Overview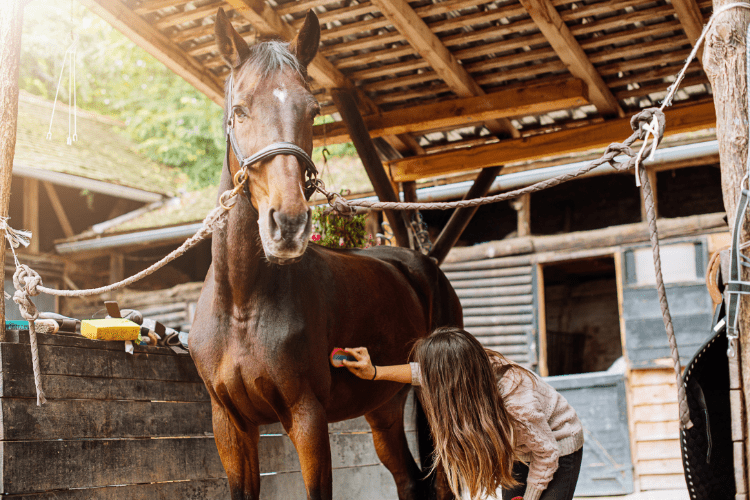 Before we dive into the different types of horse boarding facilities, it's important to know what to look at, where to find the best places to consider, and how to evaluate the different facilities. Let's get started. 
Horse Boarding Must-Haves
When considering a facility for your horse, there are a few aspects you need to verify at the potential stables or yards where your horse may be boarded. 
Neatness and Order
Horses thrive on order. A yard or barn with neat stables, ordered tools, clean beds, freshwater, and well-allocated storage is ideal for building your horse's trust. A boarding facility with no storage space will end up with awkward tools stacked about, which could cause injuries and drama. 
Correct Industry Partners and Services
While you may wish horses could live on love alone (which would be kinder to your budget), horses are complicated animals with needs. As a responsible horse owner, you should ensure your horse will have access to the best health care and maintenance. 
Check that your horse has access to a qualified farrier to check and maintain their hooves with a scheduled visit every 8-10 weeks.
Every six months, your young (under 10-years old) horse should see the dentist for a dental float. Or, if you have a senior horse over 10 years, you should schedule their dentist checkup once a year. 
Equine bodyworkers are also an essential part of the boarding process. Your horse may develop a strain that requires a chiropractor or other therapists to help them get back on track in their new career or enjoy their full retirement. 
Sufficient Space and Grazing
Horses graze almost 22 out of 24 hours a day. Ensure your horse has loads of natural grazing or sufficient ad-lib hay during the day and night to keep their digestion in prime condition. Part of the grazing routine is enough space to move around, which translates into good gut movement. 
A horse with room to run and romp will be physically and mentally healthier. My personal favorite is for a horse to have the company of a few other horses when grazing, with run-in shelters during the day and comfortable stables during the night. 
Room for Riding and Training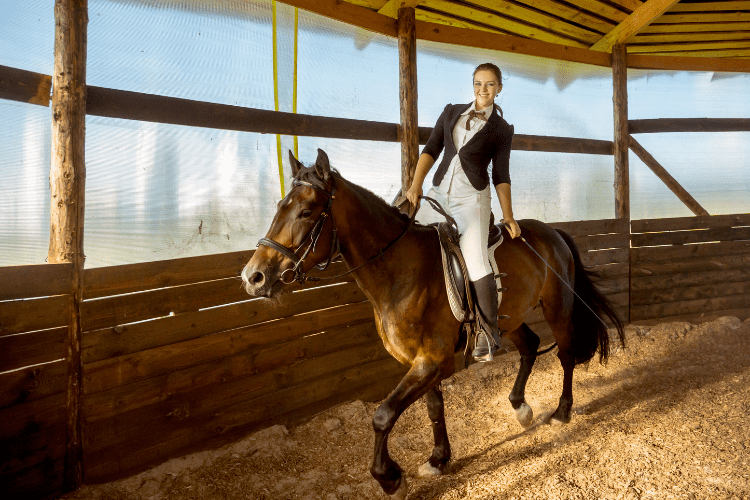 You will be boarding your horse, intending to ride them. Whether that riding is for leisure, competition, racing, or other types of riding, you will need riding space. A facility with training venues like arenas, lunging rings, jumping arenas, cross-country courses, large pastures that allow for outrides, and scenic routes to nearby venues will be a huge plus. 
If you compete, then training with qualified trainers will be necessary. In-house trainers may help you day-to-day, but you should also have access to specialized trainers when needed. 
Day-to-Day Care for Your Horse
You probably won't be able to see to your horse's day-to-day needs. When you work, you may not have the time to feed them, groom them, or always ride them. Injuries may go unnoticed if you have your horse boarded at a place with limited supervision. 
It's far better to take your horse to a boarding facility with hands-on staff who will check your horse for signs of illness and injury every day, feed them consistently, and take care of the mundane tasks of cleaning hooves, brushing, blanketing, cleaning up their stable, and leading them to and from their pasture. 
Having a facility with the right staff can make a huge difference in your horse's temperament and riding success. The whole atmosphere of the boarding facility starts with the owners, manager, grooms, and any additional staff. 
What to Look for When Deciding on a Boarding Facility
The moment has arrived, and you need to find boarding for your first horse. The decision-making process should be logical, with as much detail and careful consideration as possible. When you look at a boarding facility, you should take a notebook and pen with measuring tape and comfortable paddock boots. It would help if you walked the camps where your horse will be grazing.
If you find the facility has loads of mud, you can expect there to be conditions like thrush and hoof rot. Always ask yourself: Is it safe, secure, and serene? You want your horse to be safe and secure, and free from injuries at the facility. Your horse should also enjoy a serene and peaceful life at this boarding facility. 
Use this checklist to help you assess whether a boarding facility is right for you:
Are the paddocks well planted with a diverse range of grasses?

Is there ample water available?

Will the horses have shelter during the day and a dry place to sleep at night? 

How is the muck processed to keep the environment hygienic? 

What training facilities are available to your horse?

Are there vets a short distance from the facility in case of emergencies? 

How knowledgeable are the staff, or do you have to cope independently?

Are the perimeters of the paddocks or pastures well-maintained, and are the stables in good condition?

Can you afford the boarding fee AND the additional costs that may apply to your horse?

What are the extra options you can add to your monthly boarding packages, such as grooming, extra exercise time, and bathing of horses?  
Viewing the Boarding Facility
Don't just phone and expect the manager to happily discuss everything over the phone. Instead, book an appointment to view the facilities. Tour the facilities with the barn manager to get a real feel for the place and the people. 
I recommend you go when the horses are all in the stable yard. Usually, this will be early morning or late afternoon. While there, notice how the staff interact with the horses. Do they wave arms, shout, or whistle endlessly, or is there a sense of calm and purpose with horses moving smoothly to their stables or paddocks? 
If the horses are led in, notice how they are led. Should the horses be allowed to move to their stables or paddocks at liberty, see whether there is effective management of the access gates to ensure the horses safely go where they should. 
Meeting the Manager of the Facility
The manager of the horse boarding facility will be the head of the ship. They are responsible for the smooth operations at the barn, yard, or ranch. If you have any complaints while your horse is stabled, you will be speaking to them—so make sure they are approachable. 
During your interview with the manager, you may want to ask the following:
How long have you been a stable yard manager?

What made you interested in horses?

Do you have horses here too?

Have you ever had a horse injured in this yard? And if so, what happened? 

What is the level of training your staff has?

Which vet does the yard mostly work with for its horses?

Which is the longest-staying resident (horse) at the yard? 

What are some of your horse/herd management policies here? 

What are your burial arrangements if a horse should pass while a resident at the facility?

How many hours do you spend at the facility per day? 

What are the safety protocols for horses and people in the yard? 
Where to Find Horse Boarding Facilities in Your Area
While several horse boarding facilities will pop up when you do a simple Google search and add "near me," there are better ways to find the best in your area. 
Here are some great places to search and tips on finding the best for your horse and your riding needs: 
Ask the local riders in your area where they all stable or board their horses. If you are already attending shows, you can ask other local competitors where they stable or board, and you can also approach event organizers for information. 

Ask wider by joining local and state-wide horse forums. 

Approach your local vet and animal feed store for advice on local clients that run facilities. 

Farriers, equine bodyworkers or dentists, and chiropractors may also have tips on which places are great and even some smaller facilities that are more exclusive and may not advertise. After all, these are places where they work. 
An Explanation of Horse Boarding Options
There are several boarding options for horses, and the type you choose depends on what benefits most appeal to you, while the negatives are minimal to you and your horse. How good the boarding facilities in your area are may also weigh in and influence your decision.
Full-Service Horse Boarding Option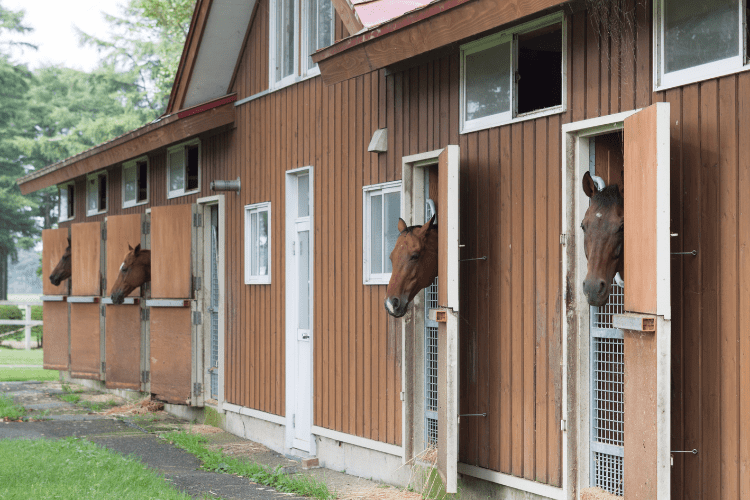 The full-service option for boarding your horse will likely be the most expensive. Like the name says, it is when you simply come and enjoy your horse with no responsibilities regarding feeding, providing hay, leading the horse to and from turn-out areas and stables, and more. 
Services that may be included in full-service horse boarding are:
Dental visits 

Annual vet check

Vaccinations and booster shots 

Deworming meds

Daily grooming 

Daily feeding of high-quality feed as per vet's requirement (sometimes included in monthly fee)

Lunging when you can't get there

Grazing or turn-out time

Use of a range of equipment at the facility, such as lunging rings, arenas, horse walkers, horse solariums, and different training aids

A dedicated groom who looks after your horse, grooming, feeding, and even saddling them (some facilities even have an exercise rider who warms up your horse before you get there)

Use of in-house trainers and coaches
It may sound like a match made in heaven, and a full-service horse boarding facility certainly offers loads of benefits, but there are always cons too.
Pros
Ideal for those who work long hours and want to own and ride their horse but can't take care of essential horse maintenance 

Horses receive dedicated care 

Limited chance of injuries for your horse

If you use an exercise rider, your horse is always well behaved and ready when you get there

These facilities have loads of storage, so there is no need to cart all your horse equipment with you

These facilities arrange many events, shows, and competitions

Knowledgeable and qualified staff are on-hand to assist you

Ideal boarding for performance riders who actively compete

Great place for a new horse owner to get lessons and learn
Cons
The biggest con: the price ($1,000-$2,500 per month)

You may not use all the facilities, but you'll still be paying for them

These boarding facilities can often be very competitive, making it difficult for non-competition riders to fit in

Many different people will be working with your horse, and this is not always in the horse's best interest
A full boarding or full-service boarding facility is often a thing of beauty! The whole setup and management is usually a well-oiled machine of industry perfection. However, this can be a high-pressure environment, and not all horses or riders cope in such a place. 
The cost of a full board is usually very high. The fee may be less in the country, but this increases your travel time to and from the facility. When the facility is on the urban-rural fringe, the costs may increase substantially, but the bonus of still having space to ride out can potentially outweigh the increase. 
Finally, the full board yards located in the city's heart or near the high-value residential areas are the most expensive. Boarding your horse at such a facility can set you back more than $2,500 per month. 
Part Boarding Facilities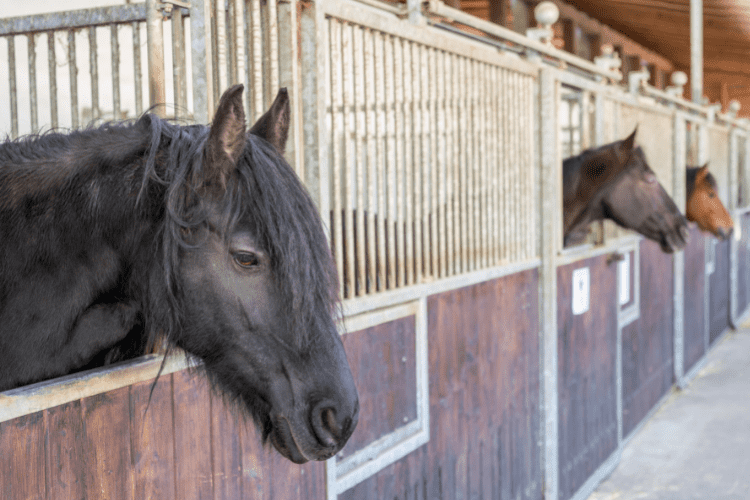 If you don't feel up to the dramas and costs of full board facilities, then a part board facility may be best. Facilities like part boarding options offer high-quality services, with much of the "dirty" work done by the grooms at the facility, leaving the owner free to tack up and ride. 
Services you can expect at a part board facility include: 
Basic care and leading of horse to and from stables and paddocks

Putting your horse's blanket on and removing it the next day during winter

Feeding your feed and supplements (the cost of feed is added to the monthly fee)

Giving the horses hay at night and in the outside areas where horses graze or roll during the day

Cleaning up and mucking out of stables and common areas

Clean water for the horse morning and night

Basic health care such as two to three deworming meds annually

Some of the required vaccinations of communicable diseases are given, like equine influenza, to protect the health of all horses at the facility
A part board facility is a great way to stretch your budget. While the monthly cost is much lower than a full board, you should keep in mind that the fees don't include many of the extras you will need to purchase, such as nighttime hay, extra shavings for bedding, medicines, feed, supplements, farrier and dental costs, and more. 
Pros
The biggest pro is a budget-friendly fee of $400-$500 per month

Basics like cleaning, feeding, and maintenance are taken care of, making this a good option for competition riders who like to exercise their own horses

More relaxed environment for horses and riders

Low chance of horses getting injured

Grooms muck out stables and provide hay for nighttime

Grooms lead horses to and from stables

The facility will welcome external trainers to assist with training
Cons
Some of the tasks involved in horse care will still be the owner's responsibility 

Owners need to exercise their own horses

Owners are responsible for grooming their horses unless the grooms are paid extra

Fewer facilities available for use
A part boarding facility will often have the essential equipment and facilities such as a lunging ring and arena, but they may not have "nice-to-haves" such as a second jumping arena or cross-country course. While the costs are lower, there are more hidden costs such as feeding, extra hay, medical needs, and the time required to take personal care of your horse. 
Self-Care or DIY Boarding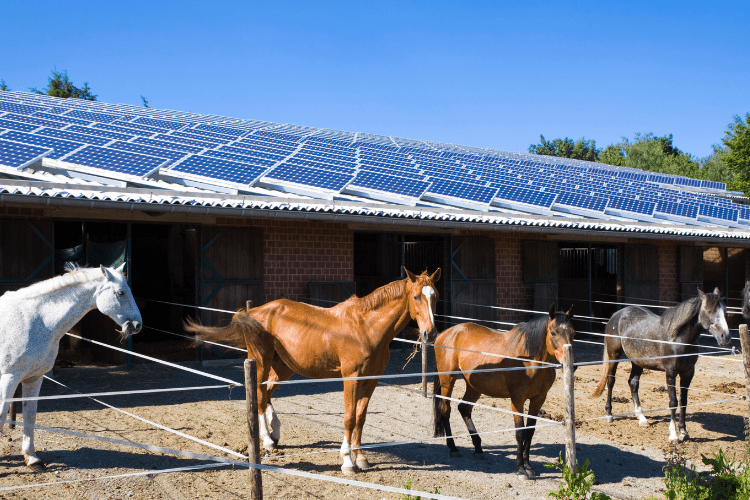 For the thrifty (and if you have a lot of time on your hands), you can opt for a self-care or DIY yard, where there are no grooms to take care of mucking out or feeding. A self-care facility may also not have staff to lead the horses in or out, making it a much bigger responsibility for the riders as they will have to be at the yard at least twice a day. 
Services offered by a self-care or DIY boarding facility include:
Shelter for the horses such as a run-in shelter or stables

Management for the facility to help with keeping an eye on the horses

Wash facilities, arenas, lunging rings, and loading areas

Storage may be optional or cost extra at these facilities 
Pros
Very affordable monthly fee of $100-$200

Relaxed atmosphere; owners often work shifts to get the horses taken care of

Horses are often kept in small herds, which is a better social dynamic 

Outside trainers welcome

Owners often get together to buy bulk deals on shavings and hay
Cons
Owners need to be much more hands-on with their horses, which is difficult if you work long hours

Horses can get injured more quickly in a herd dynamic while playing 

Any additional services such as vaccinations, injections, and deworming cost extra

Feed and all hay will be extra
The self-care or DIY boarding facility is ideal for those who work half-day or are studying and have time available during the day to groom and muck out stables. Since there aren't always knowledgeable staff available, it falls to the owner to be responsible for their horses and check them daily for injuries or signs of illness. 
Pasture Boarding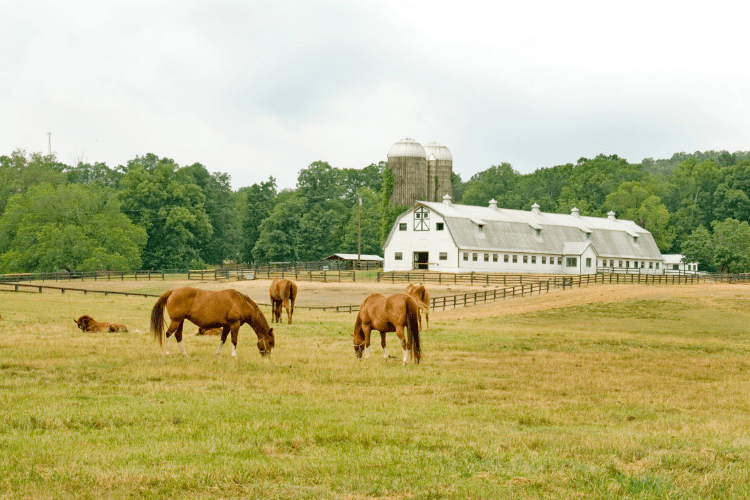 Finally, if you don't want to keep your horses in a stable yard and prefer a more natural environment, you can find a pasture boarding facility. The services offered at such a facility are bare essentials such as:
A large grazing paddock or pasture

Several horses are kept in a herd dynamic 

The facility owner may check over the horses daily and let the horse owners know if there is a problem with the horses

The basic infrastructure will be maintained, such as fences, gates, animal pens, and shelters. 
Pros
Natural grazing is healthiest for horses 

Stress-free environment 

Loads of natural exercise for the horses

The perfect solution to horses that are prone to ulcers or other health concerns

Affordable at less than $100-$120 per month
Cons
Not all horses do well "living out"

Hidden costs such as hay, feed, medical care, rugs, and vet bills may escalate quickly

Horses may be stolen in open pastures

Usually, there are no facilities such as arenas and lunging rings as this is a farm setup
The cheapest option is to board your horse at a pasture boarding facility. However, this is not ideal for all horses or all owners. A horse kept in a pasture will grow a denser coat, need clipping more often, and could suffer serious conditions like mud fever and hoof rot. 
Retirement Boarding
While retirement boarding isn't (strictly speaking) a type of boarding facility, it is worth mentioning that horses can be kept in any specialized facilities to retire. Retirement facilities will keep the horse comfortable and ensure their quality of life. 
Training Boarding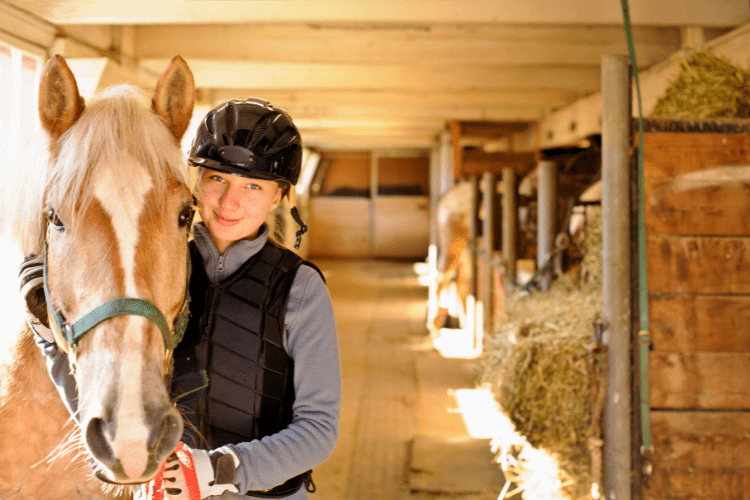 A horse that is going into training may be sent to a trainer. Often, trainers have their own stabling facility. If your horse is being retrained or trained, they will usually be kept at a boarding facility that is equipped for the training process. 
FAQs
Question: Do Horses Like Being in a Stable?
Answer: Horses prefer to be outside where they can run if a predator should attack them. Horses also prefer to graze naturally over an all-hay diet. 
Question: What Type of Horse Boarding is Best for Your Horse?
Answer: The type of horse boarding best for your horse will depend on your horse, the facilities available, and your budget.
It is not advised to opt for the most expensive boarding facility and then have no money left for medical care or extra hay. Instead, take a holistic approach and make sure your horse is comfortable and well looked after. 
Question: How much does it Cost to Board Your Horse? 
Answer: Horse boarding costs depend on the type of boarding selected. The cheapest is pasture boarding, and this can cost between $100-$120 per month. The most expensive boarding costs range from $1,000 to $2,500 (or more) per month. 
Question: Is it Cheaper to Board Your Horse at Home? 
Answer: While it may be cheaper to board your horse at home, there are other reasons to board your horse at a professional facility. If the boarding facility has lunging rings, arenas, horse walkers, and professional trainers, it may be worth it to keep your horse there while you are training your horse. 
Question: Will My Horse be Fed as Part of the Self-care Boarding Contract?
Answer: Any of the different boarding facilities may feed your horse if it is stipulated in the contract. Stipulate how much feed, what time of the day, and if there are any supplements in your feed. Usually, a self-care facility will ask that the owner buy their own feed and hay. 
The Final Boarding
Whichever stabling or boarding facility you choose to look after your horse, you should ensure they are responsible, communicative, and fair. Your horse's health and safety should come first, so be sure you ask for as much information about the stables, paddocks, and equipment as possible. 
If you're still learning, don't forget to check out my horse ownership guide for all the information on how to care for your horse and their feeding, grooming, and care requirements.