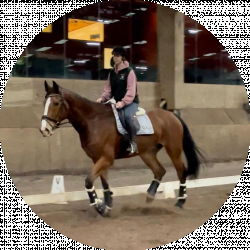 Latest posts by Maddy Chiffey
(see all)
Stomach problems are relatively common in horses, but it can be a worrying time for owners (I know this from personal experience). On top of that, they may have very loose droppings. As an owner, this is pretty annoying when you have to deal with the clean-up.
Luckily, there are supplements for horses with loose droppings, and these can make a huge difference to your horses' well-being.
Supplements can improve the gut biome, relieve stomach ulcers, and reduce inflammation, leading to a happy horse with a settled stomach (and, therefore, a happy owner).
But when you're trying new supplements, how can you know which ingredients really work?
I will tell you what to look for, and recommend some excellent supplements for your horse that could just make a world of difference.
The Bottom Line Up Front
I really like Visceral+ – these are excellent, high-quality supplements that not only promote healthy gut bacteria but also offer relief from stomach ulcers, can improve your horses' mood, and even strengthen their immune system.
I'd also recommend GastroEase EQ Total Digestive Support Powder. Specifically designed for stomach issues, this is a relatively affordable powder that can help to settle an upset stomach and improve the problem of loose stools.
Best Digestive Health Supplements for Horses at a Glance
What to Look for in Digestive Health Supplements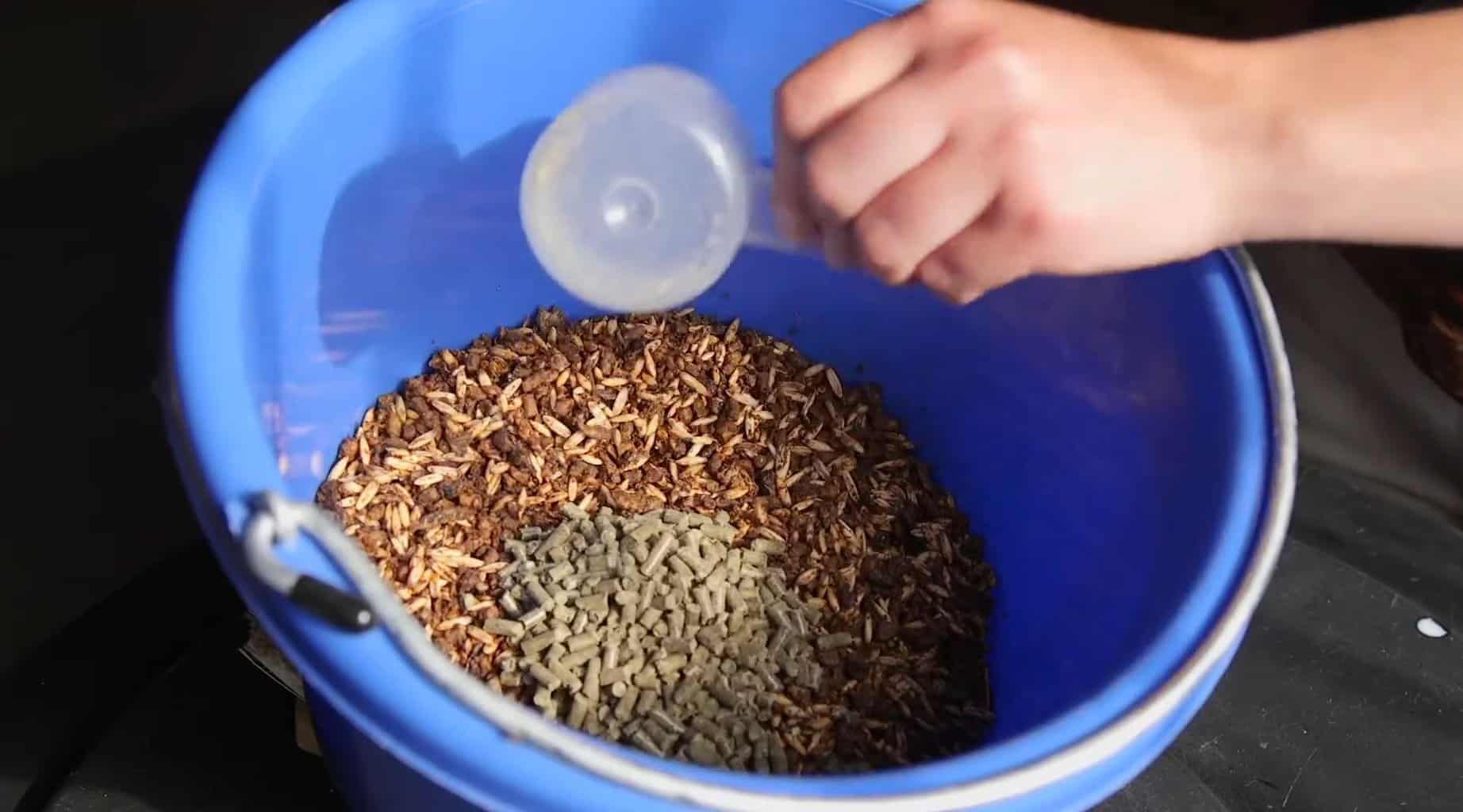 Trying to find the root cause of your horses' stomach problems can be tricky, depending on the type of horse breed you have. Here's what to look for in digestive health supplements:
Gut Bacteria
Just like in humans, horses' gut bacteria can have a huge impact on their overall health. Supplements can help to encourage healthy bacteria to grow, which will not only help your horse to feel more comfortable but may improve the loose droppings situation you're having to deal with!
Probiotics and prebiotics are great for this; again, just like in humans, these ingredients are powerful in terms of promoting healthy gut bacteria to grow.
This is particularly helpful if your horse has recently been on antibiotics. Antibiotics, while life-saving, can really mess with the gut biome, and these supplements may help to mitigate that.
Read More: Best Antibiotics for Horse Wounds: What to Expect When Your Horse Has an Injury
Inflammation/Acids
Your horse may be having loose manure because of inflammation; this can make your horse feel uncomfortable, too, which we obviously want to avoid!
Look for supplements that help to deal with inflammation, calming your horses' stomach with ingredients like seaweed and chamomile. This can help to settle the stomach and digestive tract.
You can also look for ingredients that reduce stomach acids, allowing healthy bacteria to thrive.
Fiber Absorption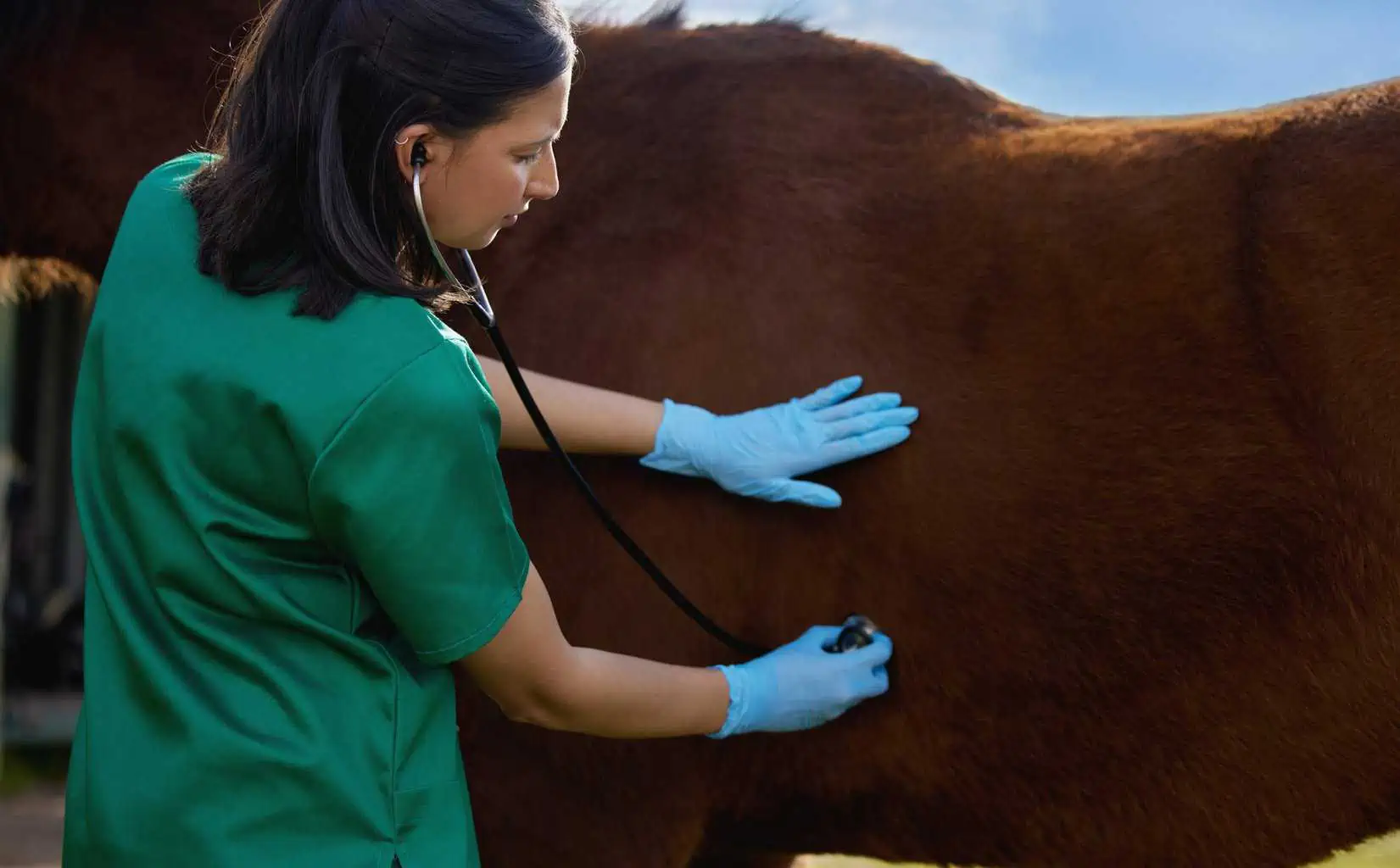 Some horses just find it difficult to absorb fiber, especially if you have an older horse. This can lead to all kinds of stomach issues, including loose droppings. Look for supplements that can help horses to process fiber healthily.
Extra Vitamins/Minerals
Supplements may deal with multiple issues at once. For example, they may help improve horses' immune systems, reduce general inflammation and muscle pain, or even increase bone strength and density, like calcium and vitamin E.
These tend to be a little more expensive, but if your horse has multiple ailments, you can deal with all of it in one swoop.
Pricing
Some supplements can be pretty expensive. I think we all know that horse ownership is a pricey hobby, and it can be hard to balance the budget when it comes to buying equipment, finding the best horse feed, and finding the perfect tools for horse care.
Having helped my own horse through stomach problems, I can say that sometimes, it's worth investing a little extra in order to give your horse the best chance of regaining some normality in its gut health.
Sometimes, a good solution is to splash out on the more intensive (and expensive) supplements to begin with, and when significant improvements have been made, you can switch to cheaper supplements for maintenance.
5 Best Supplements for Horses With Loose Droppings
Here are five excellent supplements that can help horses with loose droppings and are worth introducing into your horses diet. They all contain helpful ingredients to support a healthy gut biome, reduce harmful stomach acids, and settle your horses' stomach.
I've tried to include a range of price points so that you can find something that suits your budget!
Visceral+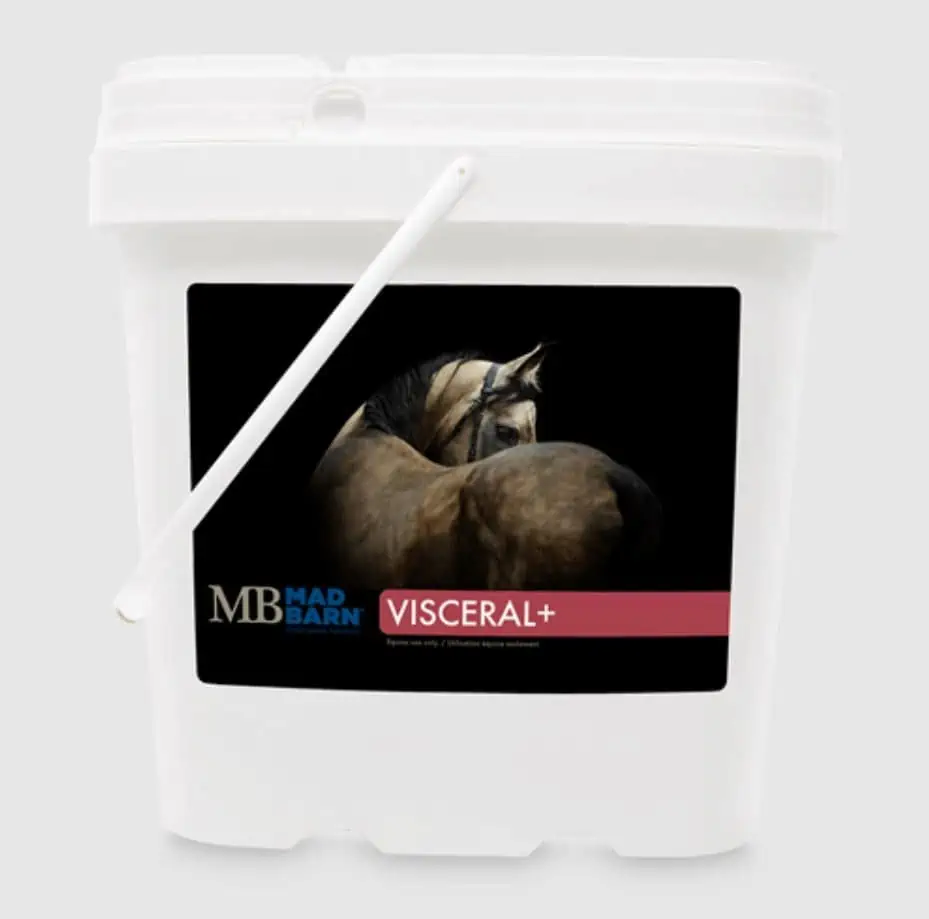 Visceral+ is an excellent choice for all kinds of health conditions, not just gut problems. However, it is specifically designed to help with stomach complaints, with probiotics, yeast, herbs, amino acids, and minerals to improve your horses' gut health.
I like the fact that they use Bio-Mos, a special kind of yeast that has been used for over 20 years. This yeast is excellent for gut health, particularly when treating stomach ulcers, and can also support the immune system.
Other ingredients include:
Magnesium
Glutamine
Kelp
Meadowsweet
Milk Thistle
Peppermint
Methionine
Choline
Probiotics
These ingredients aren't just great for reducing gut inflammation and promoting healthy gut bacteria (which should, in turn, help your horse to have more solid droppings).
It also promotes overall well-being, the immune system, athletic performance, energy metabolism, tissue repair, and nutrient absorption, and even helps balance your horses' moods. There are a lot of benefits to using these supplements: they're like a superfood for your horse.
Unfortunately, there is a downside. The pricing is pretty steep, at $89.99 for 31 servings. I know from experience that having a horse with stomach issues is emotional and stressful, so it's worth investing in high-quality feed and supplements to improve it. If you're on a tight budget, however, this could be a stretch.
They offer a slight discount if you order in bulk, so if you've got the cash up front, it may be worth doing this if you see an improvement after a month or so. Or, you could use these supplements for treatment and then switch to a cheaper supplement once your horse starts to produce more solid droppings for a while. In the short term, I do think it's worth the cost.
Pros
Includes a yeast engineered to promote healthy gut bacteria
Reduces gut inflammation
Can reduce stomach ulcers
Promotes general well-being, an improved immune system, and improved tissue repair
Cons
Pricey even for one month's worth of supplements
Protexin Equine Premium Gut Balancer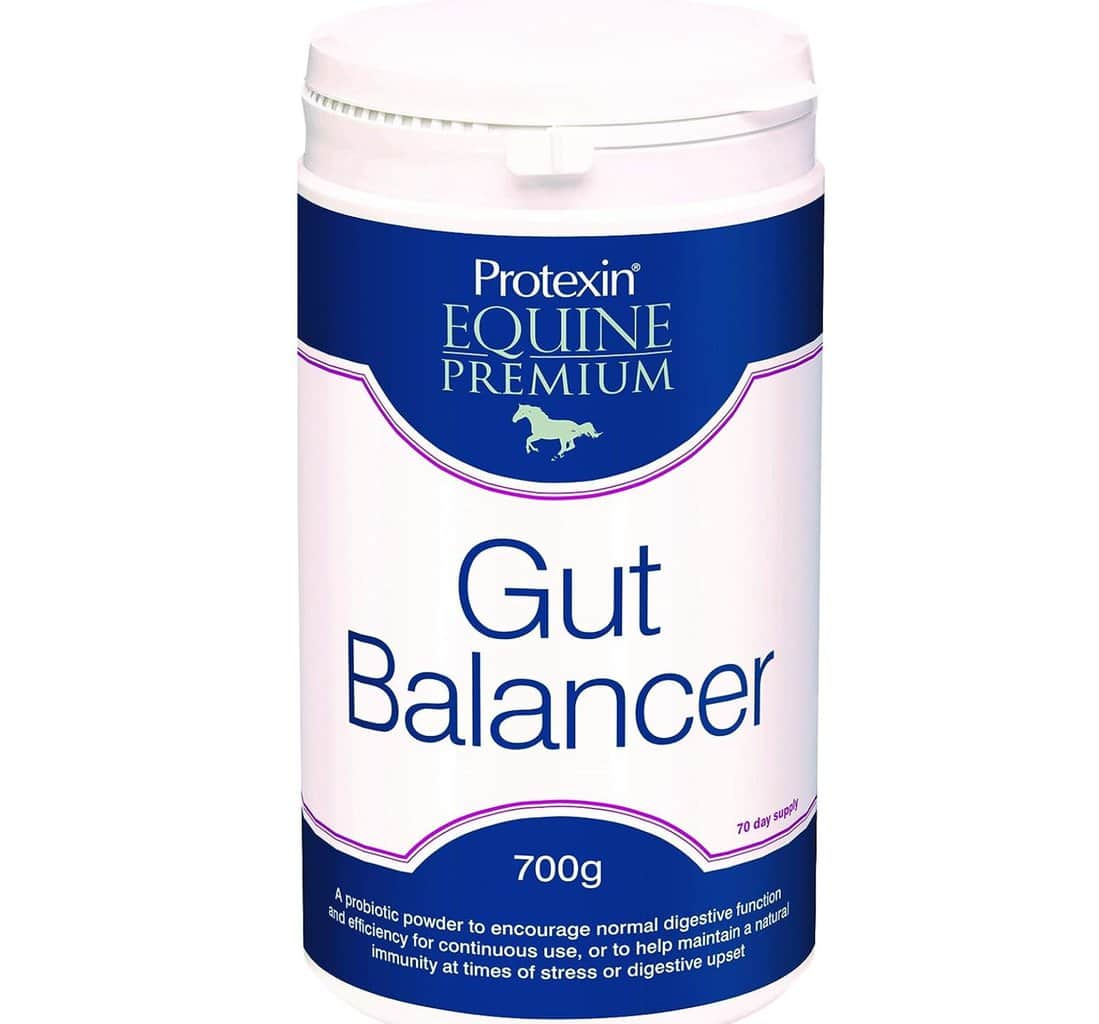 Protexin Equine Premium Gut Balancer contains a mixture of prebiotics, probiotics, and yeast. This can help to heal your horses' gut microflora, improving their digestive function, which should help with the issue of loose droppings.
The ingredients include:
Potexin probiotic
Preplex prebiotic
Alfalfa meal
Brewers' yeast
This is the kind of supplement that would be ideal if your horse is about to take a round of antibiotics or if they've just had to take some. Antibiotics can interfere with a healthy gut biome, and these supplements will support their recovery. If loose droppings are a recent issue, antibiotics could be the culprit. In that case, these supplements are perfect.
It also works if your horse is under stress. Stress can sometimes cause an upset stomach, leading to loose stools. The ingredients in these supplements can help to mitigate that. If you've ever had a stressed horse (like I have), you'll know how important it is to calm them as quickly as possible!
The downside to these supplements is that they don't have many extra ingredients for other conditions. They're specifically designed for stomach complaints but lack the extra vitamins that are included in other supplements on this list.
The cost comes in at around $55 for 700g, which is about 70 days for a maintenance dosage. I think this is pretty reasonable, given the helpful ingredients for your horses gut.
Pros
Contains all the ingredients you need for a balanced gut biome
Good if your horse has recently taken antibiotics
Works well for stress-related stomach complaints
Cons
Lacks extra vitamins for immune support
SUCCEED Digestive Conditioning Program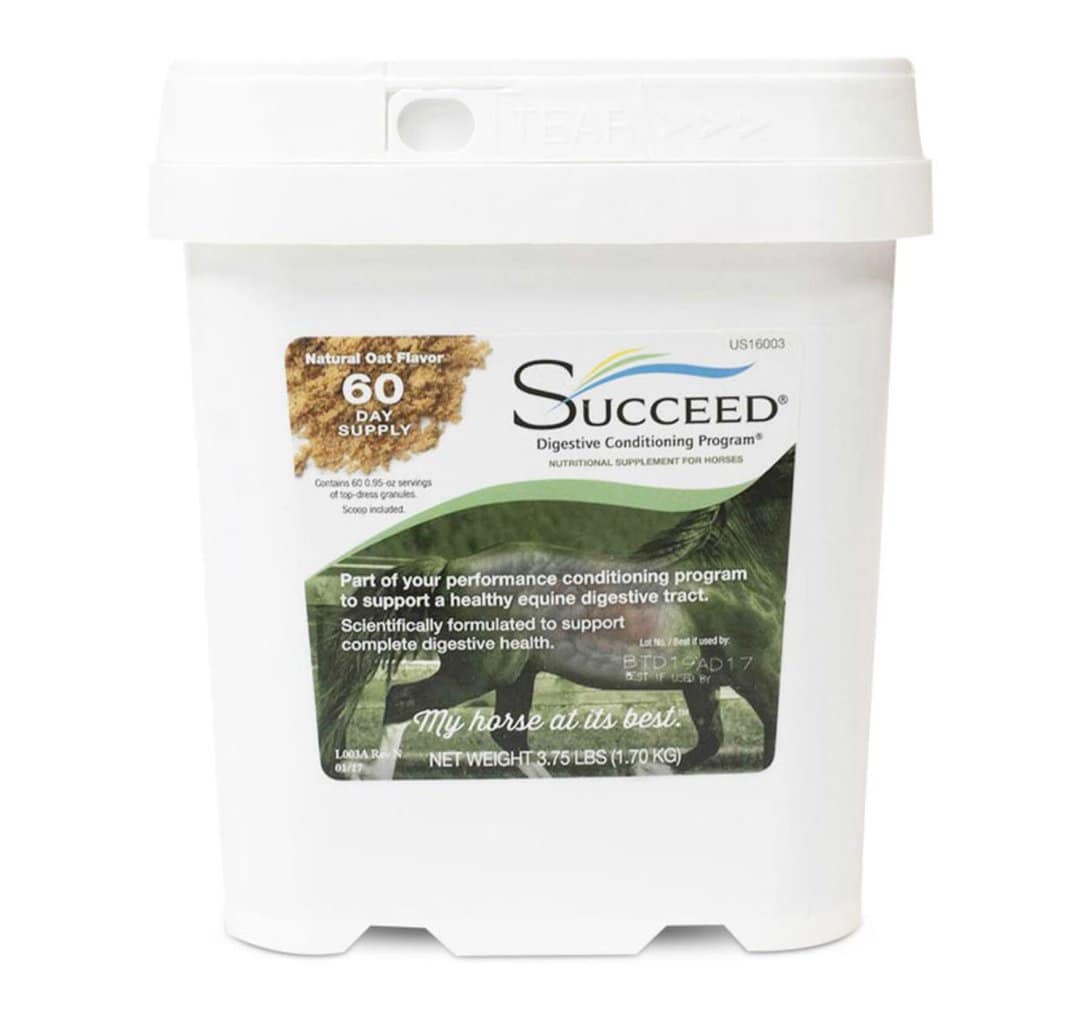 The SUCCEED Digestive Conditioning Program can only be bought in the US through a vet (both online and from local equine vets). It's a once-a-day supplement packed with natural ingredients designed to settle your horses' stomach, as well as the hindgut.
It's a long-term supplement, so it may take some time to fully work, but it's an excellent choice for horses with sensitive stomachs.
The ingredients include:
Oat flour
Oat oil
Irradiated Dried Yeast
Threonine
Glutamine
These ingredients are designed to promote a healthy gut bacteria, as well as reduce inflammation. If your horse suffers from stomach pain, this could work out well for them. You may even notice an improvement in their demeanor, having a more settled stomach.
These supplements are available in two forms: granule and paste. Both have the same ingredients, so it depends on how you prefer to give your horse supplements and what their specific needs are. Paste tends to be better for treatment, and granules tend to work better for maintenance for a healthy horse.
The downside is the pricing: a 30-day bucket costs just over $110, which is a huge investment if you're on a tight budget.
Pros
Contains natural ingredients for improved digestion
Offers long-term comfort for horses with stomach problems
Available in two forms (granules and paste)
Cons
Pretty steep pricing compared to some of the others on this list
GastroEase EQ Total Digestive Support Powder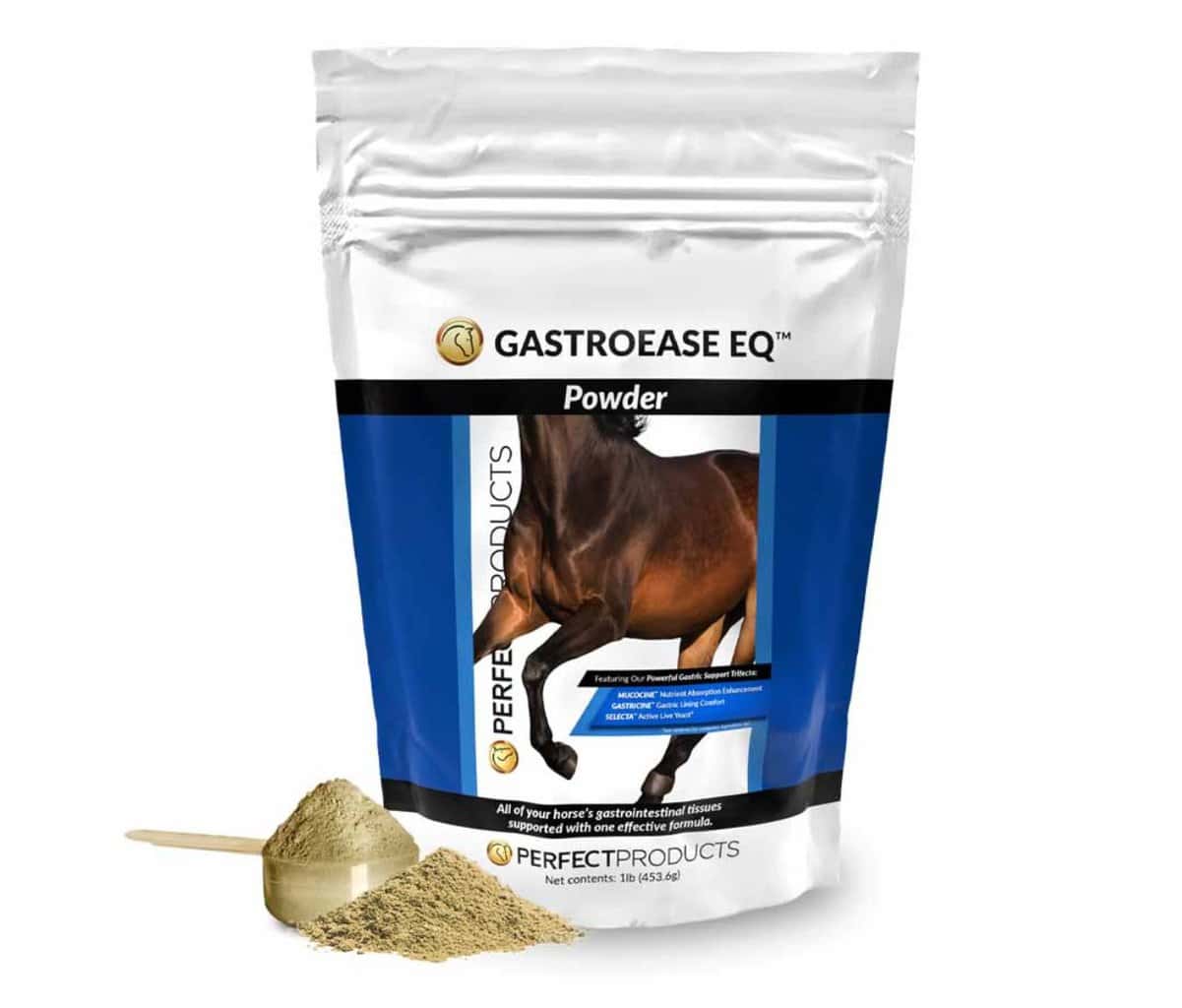 GastroEase EQ Total Digestive Support Powder is a useful supplement for maintaining your horses' gut health. It has acid neutralizers and soothing agents to settle your horse's stomach, supporting a healthy gut lining. It also contains probiotics, which encourage healthy bacteria, and prebiotics, which help with hindgut functions.
Ingredients include:
Gastricine – for gastric lining comfort
Mucocine – for nutrient absorption and hindgut function
Selecta – active live yeast
These are just three of the ingredients, but they alone are very powerful in terms of helping to solve a variety of stomach issues, including loose stools. These ingredients can heal gastrointestinal tissue and protect it against future damage.
It comes in two forms: powder (for maintenance) or paste (for targeted use). Which one you go for will depend on what particular stomach upset your horse has – I'd recommend talking it through with an equine vet before you decide.
The downside is that it doesn't contain ingredients for general horse health, for example, for joint maintenance or immune system support. Still, for your horses digestive system, it is excellent.
The pricing is decent, at around $60 for 30 scoops. It's still a decent chunk of money, but cheaper than some of the others on this list.
Pros
Powerful ingredients for restoring balance to gut flora and reducing diarrhoea
Can heal and protect gastrointestinal tissue
It can be used to either maintain gut health or target a particular problem
It might help with hindgut problems
Cons
Doesn't contain many extra vitamins for immune support,healthy joints, and so on
Triacton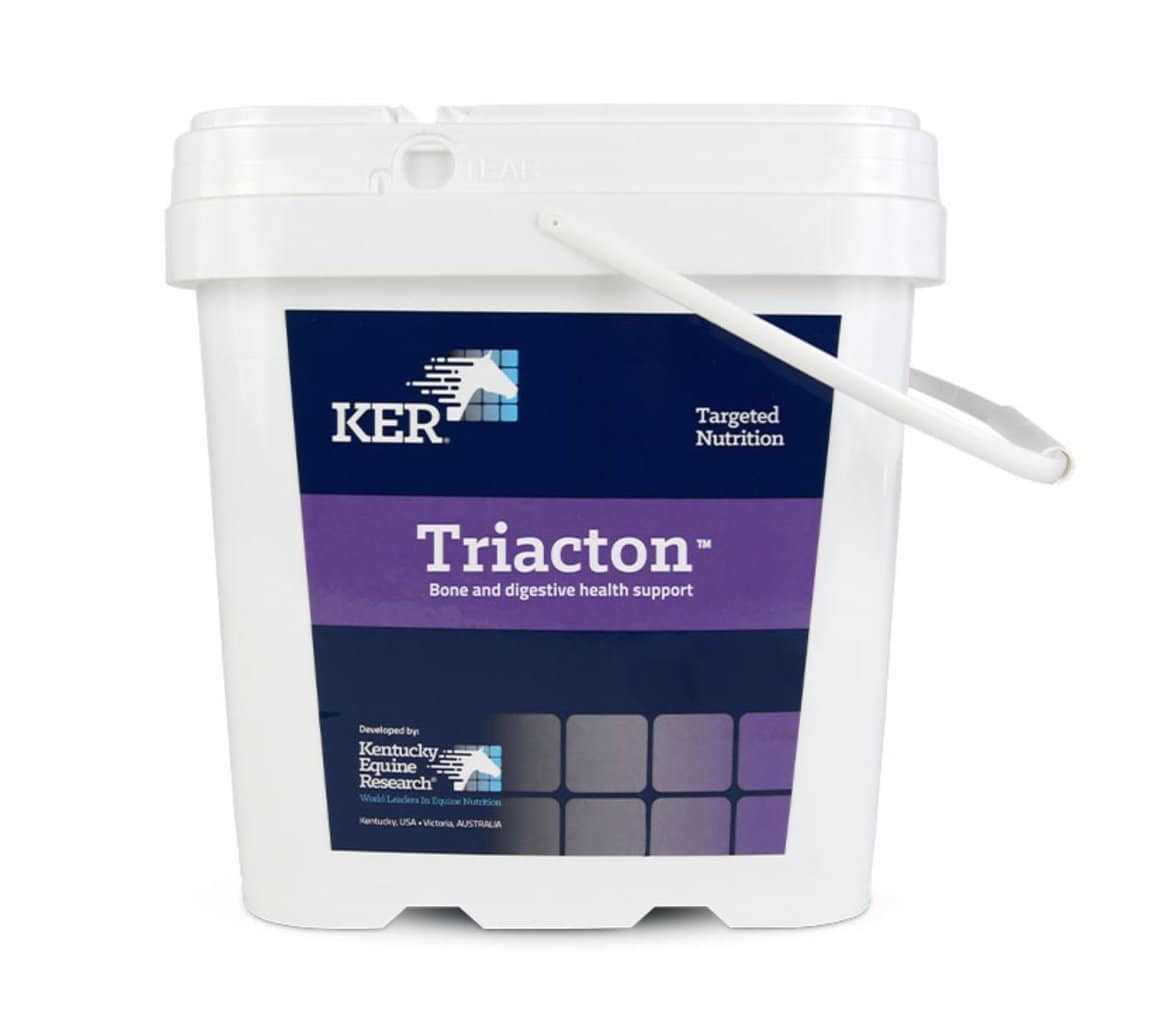 Triacton is an excellent supplement, not just for stomach health but also to support good bone density. It's worth the investment to help two problems in one.
In terms of gut health, it can reduce acidity and decrease the likelihood of ulcer formation. It can promote beneficial bacteria in the cecum and colon, which means that any stomach upset should start to settle. If your horse struggles to digest fiber, this could really help out and may solve the issue of loose droppings.
It also includes ingredients to help young and athletic horses, like racehorses, polo ponies, and other working horses. It includes bone-building ingredients like magnesium, zing, and manganese, all of which can help to maintain bone health and body condition.
Ingredients include:
Seaweed-derived calcium
Yeast
Manganese proteinate
Vitamin A
Vitamin D3
The downside is that it may take a little while to kick in, but it's worth persevering to see the results.
They come in pellet form. The pricing is pretty good, too, at just under $65 for a 5kg package.
Pros
Reduces acidity in the stomach
It can prevent ulcers from forming
It might help horses to digest fiber more effectively
It will help to strengthen the bones of working horses
Cons
It may take a little while to work
FAQs
Question: What causes loose stools for horses?
Answer: Horses, just like humans, can sometimes have 'tummy troubles' that seem to come out of nowhere. It could be something they ate or even stress causing loose stools.

It's worth looking into improving your horses' gut biome – the healthy bacteria in the gut need a little encouragement sometimes, and solving this issue may make a big difference in terms of the consistency of your horses' droppings.
Question: How long do supplements take to work?
Answer: Supplements can be a slow burn – it may take months, or even up to a year or more, for supplements to really start showing a noticeable difference. However, you may start to notice a difference after a month or so. Hopefully, you'll start to notice more solid droppings and a happier, more contented horse. I've noticed subtle changes in my horses within 4-6 weeks when changing supplements (but not always – it depends on the supplements and whether the ingredients work).
Question: Do horses have to take supplements forever?
Answer: No, they don't. You don't need to keep giving your horse supplements. If horses have a healthy diet, they may not need supplements at all – they don't need them to survive in the wild. However, if your horse struggles with particular problems (like joint pain, fragile bones, or stomach issues), supplements can make a huge difference, and it's worth giving them to horses for maintenance.
Question: What other supplements do I need to give my horses?
Answer: You don't need to give any supplements to your horses unless you feel they have a specific need (or if it's been recommended by your vet). If you notice your horse struggling with a particular problem, I'd recommend first talking to your equine vet. This is particularly important for foals and older horses, as they have different dietary requirements.
To Recap…
Visceral+ really is excellent. These supplements are pricey, but in my opinion, well worth it. They can help promote healthy gut bacteria, relieve ulcers, and soothe the pain your horse may be experiencing.
I know what it's like to have a horse suffering and in pain; it's horrible to watch, and these supplements could really make a difference. Plus, it can solve the loose droppings issue, which is a pain to deal with from the human's perspective!
However, I'd also like to shout out GastroEase EQ Total Digestive Support Powder. It's a little more affordable, designed specifically for stomach issues, and can help make your horses' droppings go back to normal after an upset stomach. It's a good supplement to try out.