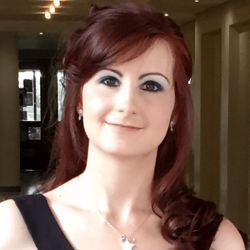 Latest posts by Denine Walters
(see all)
The best horse treats to keep on hand depends on your horse's health, nutritional needs, taste, and what you can buy or have at home. Treats help add variety to your horse's diet; I give my horse a treat or two for extra love or to praise them for a job well done. Treats also work well when you need to give your equine friend medicine. 
The problem is that horses have specific nutritional needs, so you can't give your horse just anything to snack on. These "guilty pleasures" need to be suitable for horses in general AND for your specific horse. With plenty of horse-friendly human food options and a wide range of commercial treats, it isn't always easy to know what is the best. So what are the best horse treats you should keep at home or in your tack room? 
Bottom Line Up Front: What Are the Best Horse Treats? 
The best horse treats are easy to buy and store, suitable for your horse, and that your horse likes to eat. Horse treats can be divided into commercial snacks and foods in your fridge, freezer, or pantry.   
I've found the following to be the best store-bought horse treats:
Commercial Horse Treat vs. Organic, Human Food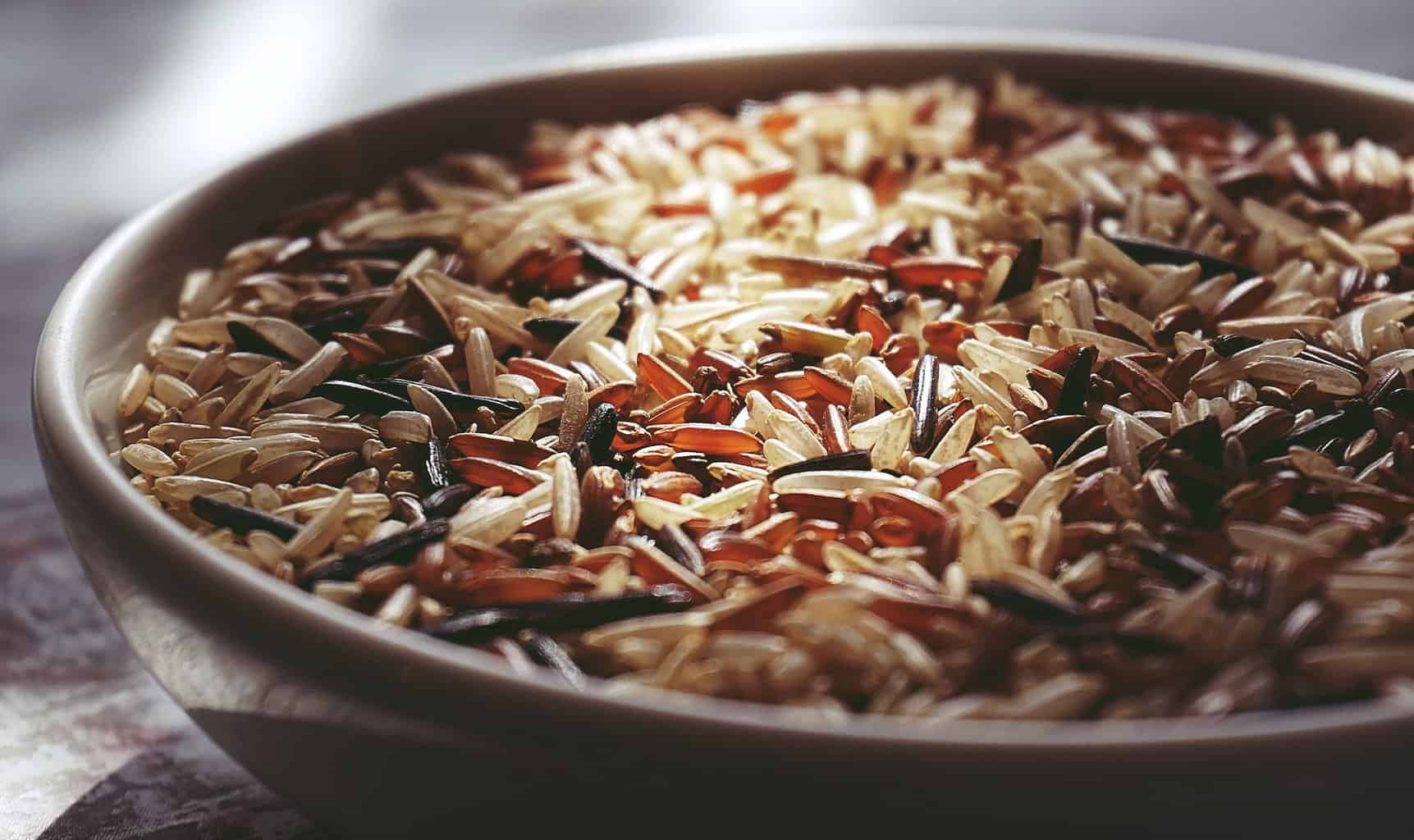 Do you want your horse to snack on commercial treats made specifically for horses, or do you want to feed your horse-human (and organic) treats?  
Both options have pros and cons: 
Pros and Cons of Commercial Horse Treats vs. Human Foods for Horses 
Commercial Horse Treats 
Human/Organic Horse Treats 
Pros 

Premade, so they are easy to feed 

Amount to feed may be on the label 

Custom-made for specific dietary needs 

The right size, so they are easy to use while training a horse 

May cater to different life stages of a horse 

Various options, so your horse can try other treats 

Readily available in your kitchen or easy to source from your local grocer 

All-natural treats 

May be healthier than commercial horse treats (depending on the amount fed) 

Easily digestible 

Many options, so your horse can stay interested and try new treats 

Has many health benefits 

Cons 

May contain excess sugar and preservatives, which are unhealthy 

Not all the ingredients may be listed on the label 

Can be pricey 

May not stay fresh for long 

Store may be out of stock with the specific brand and flavor your horse prefers  

May spoil quickly 

May contain mold or pesticides, unless the treats are thoroughly washed 

Need to be cut or sliced into bite-size pieces 
Luckily, this isn't an either-or situation. I like to alternate between commercial and human treats to keep things interesting for my horse. 
How to Choose the Best Horse Treats: My Selection Criteria 
Choosing the best horse treats can be challenging. It's also essential to know what treats are no-nos for all horses, which removes some "options" from the treat list. 
We will accommodate all budgets

We will provide a variety to ensure we find something that fits your horse's preferences 

We will only include treats that are safe for horses and will be mindful of any common ailments and conditions
We will only include treats that are readily available either in your home or via common marketplaces
The 5 Best Commercial Treats for Horses to Keep on Hand 
Here are the best commercial horse treats that my little herd loves: 
Equus Magnificus The German Minty Muffin Peppermint Horse Treats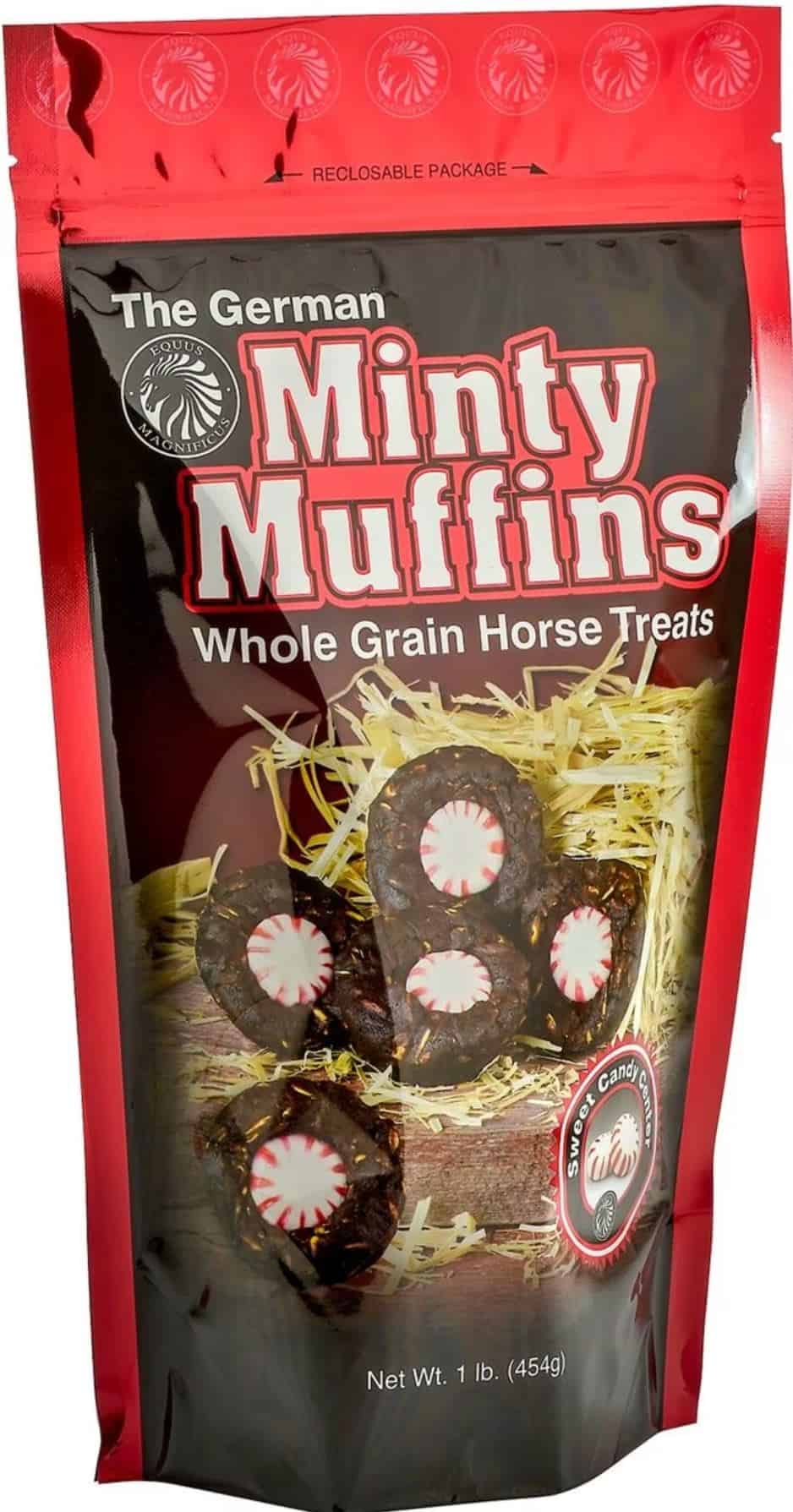 The Equus Magnificus The German Minty Muffin Peppermint Horse Treats are a great option since it comes in a resealable bag. The muffins are made from natural ingredients, and the artificial flavors are in small enough quantities to not be a big worry.  
Pros
Come in two sizes (one-pound bag and six-pound bag), so you can test the treat out on your horse before buying the larger, cost-effective option  

Most horses love the peppermint flavor 

Great if you need to hide medicine inside the muffin 

Give your horse one muffin as a treat, making the bag last longer 
Cons
If you don't properly close the bag, the muffins dry out 

The treats sometimes arrive mushed together in one big blob
What I like about it 
My horses love the muffins and the flavor, so that's a win for me. I also like that the muffins contain added vitamins and minerals, such as vitamins A, D, E, and various Bs, calcium, magnesium, and phosphate.   
Omega Fields Omega Nibblers Low Sugar & Starch Apple Flavor Chews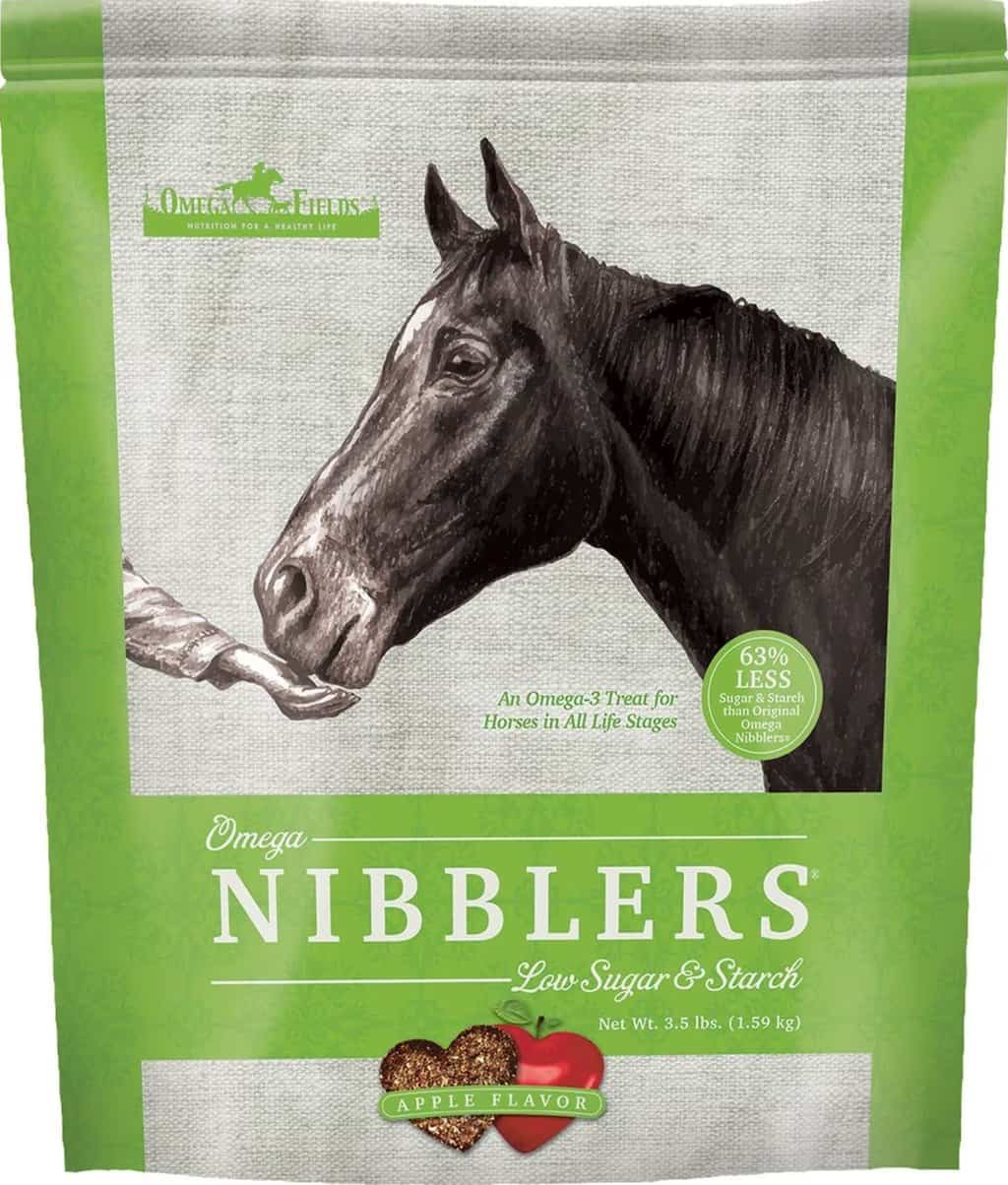 The Omega Fields Omega Nibblers Low Sugar & Starch Apple Flavor Chews are heart-shaped and super cute. Use the nibblers as a treat and a supplement for your horse. 
Pros
Apples are a firm horse favorite, so these apple-flavored nibbles are a win 

Low sugar and starch content, making it an ideal and occasional treat for obese horses    

Rich in

omega-3 fatty acids

, vitamins, and nutrients to boost your horse's health (skin, coat, hooves, and more)

No artificial preservatives 
Cons
Only comes in a 3.5-pound bag, so if your horse doesn't like these, you need to pass them on or throw them away   
What I like about it 
I love the bag detailed with feeding instructions and a guaranteed analysis of the amount of protein, fat, sugar, etc. With about 215 treats in the bag, this is a cost-effective option for my little herd.   
Stabul Nuggets Molasses-Free Strawberry Horse Treats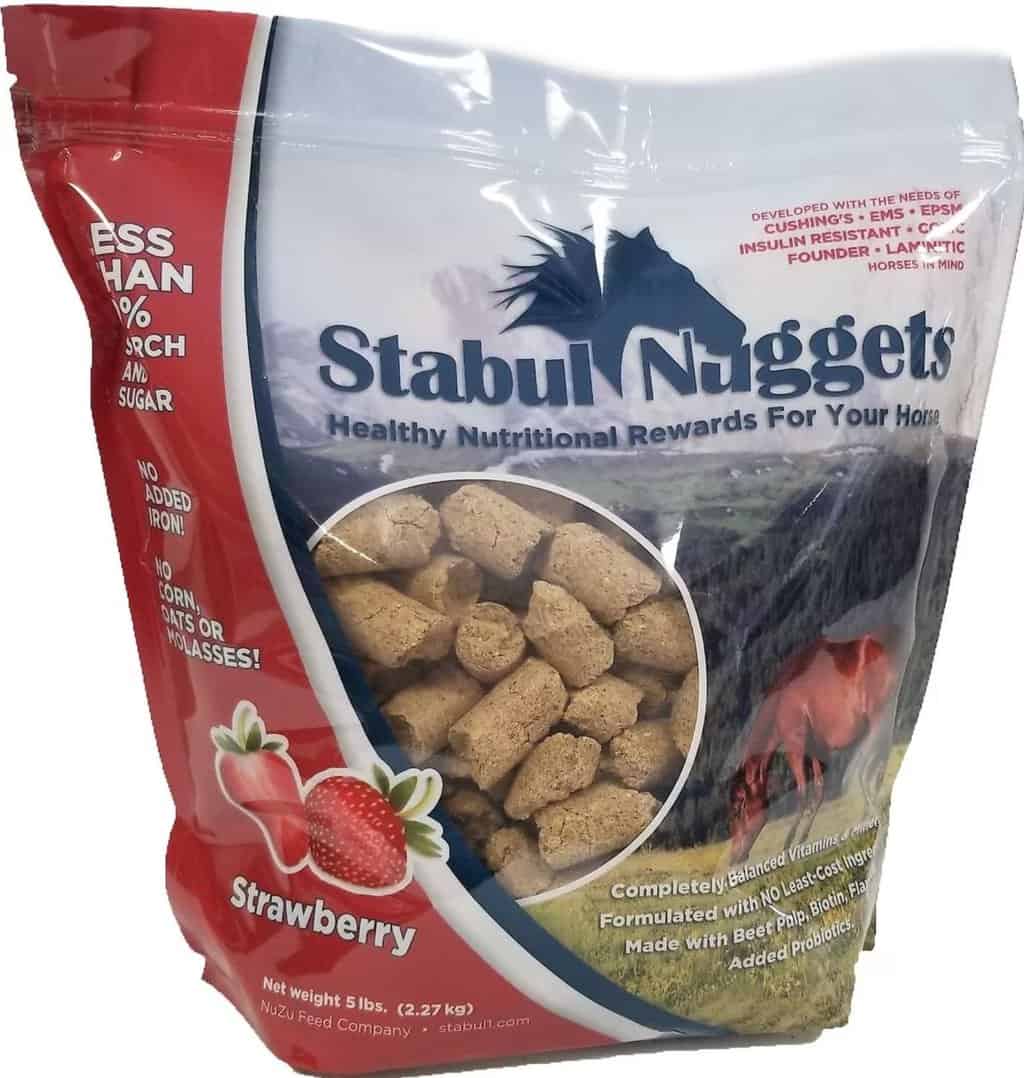 For a strawberry-flavored option, choose the Stabul Nuggets Molasses-Free Strawberry Horse Treats for your equine friends. It's a low-sugar and starch treat that's high in fiber. 
Pros
Safe for horses with chronic health conditions, like laminitis, EPSM, EMS, insulin resistance, and Cushing's disease 

The 5-pound bag of treats will go far  

The pellet-shaped treats are something most horses are familiar with, so they are more likely to love the treats 
Cons
The treats contain preservatives, but when fed in small quantities, it's not a cause for concern  
What I like about it 
The bag also has a guaranteed analysis of the amount of fiber, protein, and other vitamins and minerals, so I know what my horse is eating.  
Mrs. Pastures Horse Cookies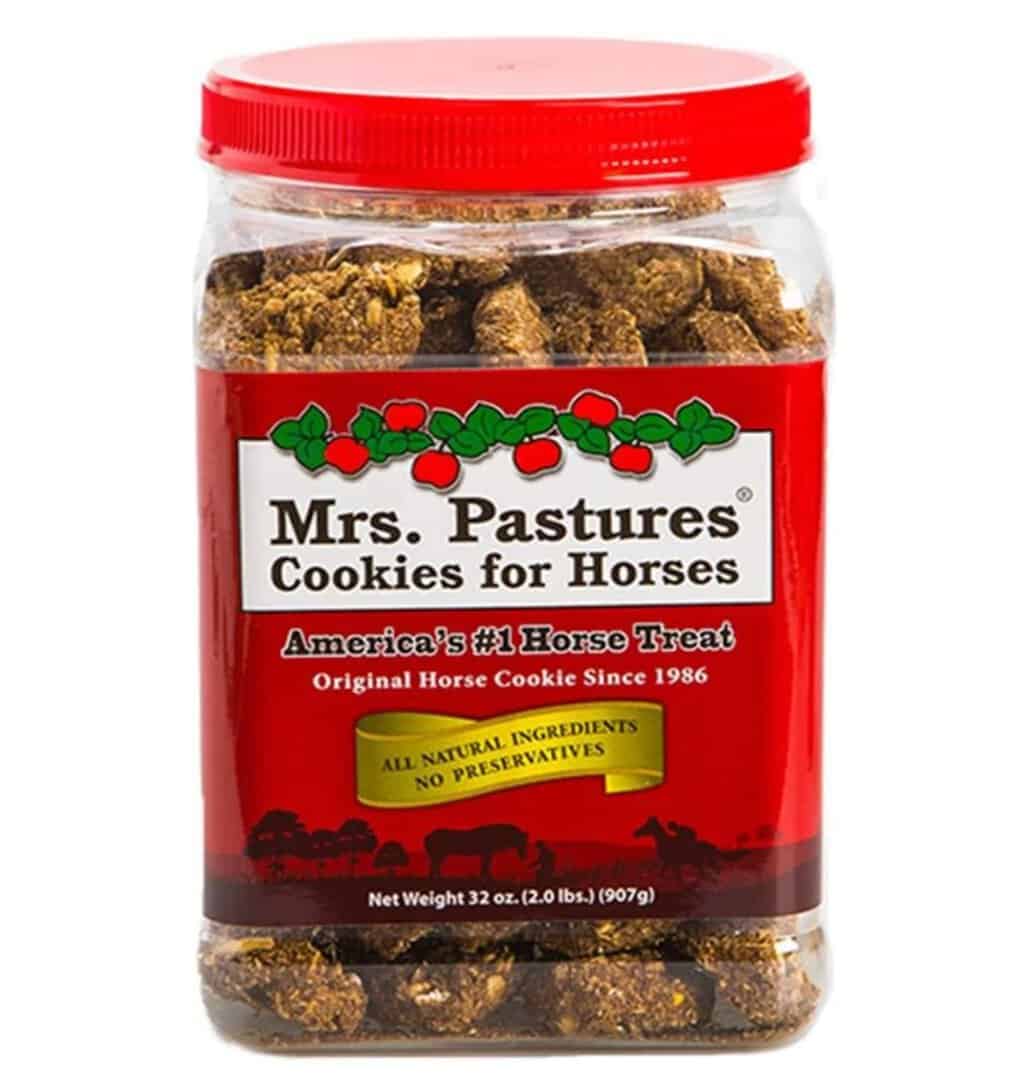 Mrs. Pastures Cookies for Horses is a firm favorite among my horsey friends. It's not "America's #1 Horse Treat" for no reason.  
Pros
Come in an 8-ounce pack, 32-ounce holiday jar, 2-pound jar, or a

15-pound refill box

so you can see if your horses like the treats before buying a bulk option 

Made with natural ingredients with no preservatives, so it's healthy for my horses 

The cookies are compact and don't crumble when I keep a few in my saddle bag or jodhpurs' pocket  
Cons
A horse with dental issues may struggle to eat the hard and crunchy cookies  
What I like about it 
I give my horse one or two treats every couple of days, so the container of cookies lasts me quite a while, making it cost-effective.  
Uncle Jimmy's Hangin' Ball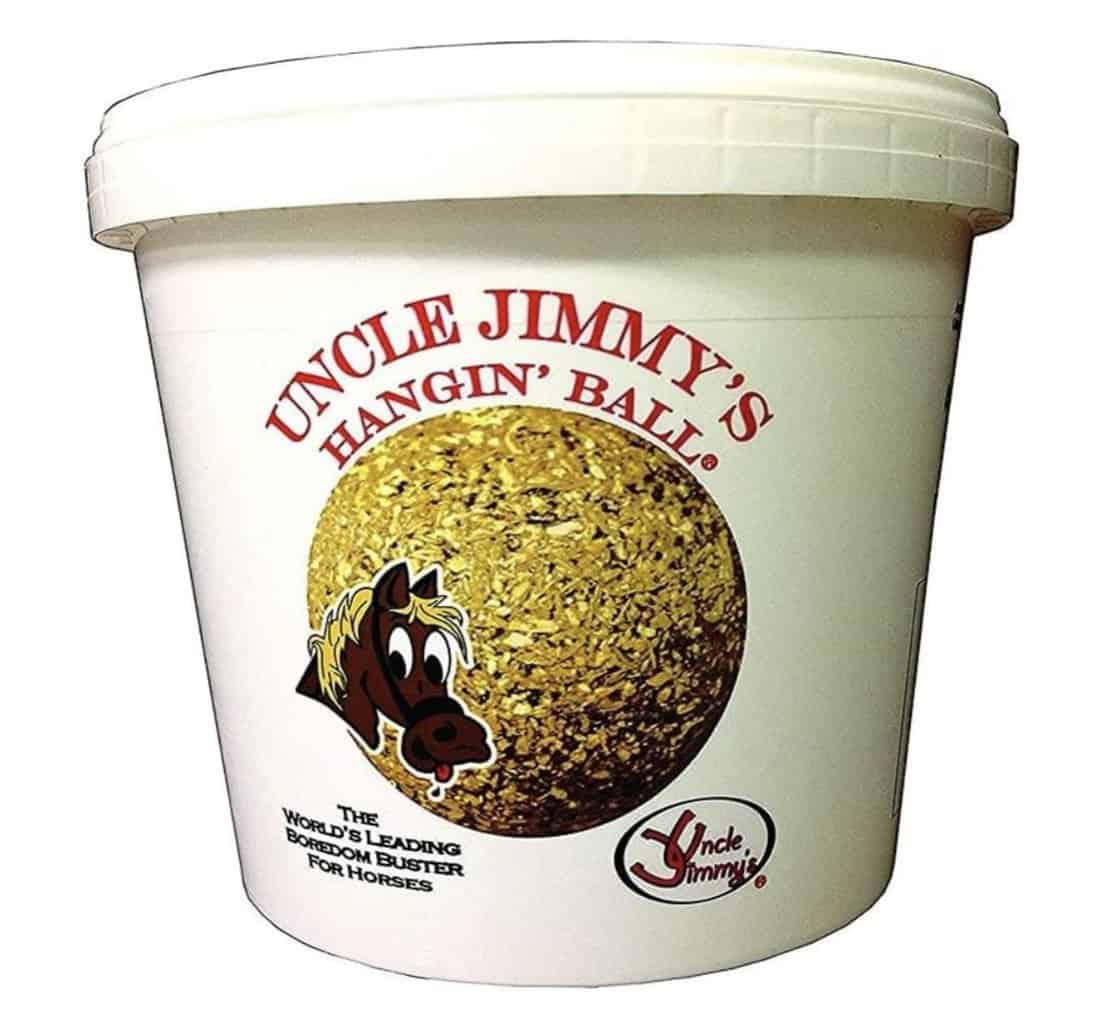 A unique horse treat is Uncle Jimmy's Hangin' Ball. Hang the treat ball in your horse's stable and let them have fun trying to bite and lick the ball. 
Pros
Available in six flavors: apple, carrot, molasses, peppermint, sweet & salty, and no sugar added 

Easy to hang with the durable cotton loop 

Keeps horses engaged, especially if they are stuck in their stable because of illness 
Cons
The ball is sticky, so don't be surprised to find your horse's mane stuck in it 

The ball can separate from the string, especially in hot weather when the ball softens, so you'll have a sticky mess on the stable floor  

Quite pricey, and you can make hanging ball treats for a lot less – if you have the time  
What I like about it 
I love that the treat comes in a no sugar added option, making it ideal for horses that are overweight or have insulin resistance, Cushing's disease, or sugar intolerances.   
The Best Horse Treats You Likely Have in Your Pantry 
Vegetables, fruit, grains, cereals, nuts, seeds, and homemade horse snacks are excellent treats for your horse. Here are the best treats you may have around your house for your horse: 
Veggies
Fruits
Cereals & Grains

Carrots 

Lettuce 

Butternut squash 

Pumpkin 

Sweet potatoes 

Turnips 

Green beans 

Peas 

Beets

Appels 

Pears 

Bananas 

Apricots (remove the stone) 

Berries 

Grapes (and raisins) 

Pineapples 

Oranges 

Tangerines 

Grapefruit 

Mangoes 

Peaches (no stone) 

Dates 

Coconut (no husks) 

Cantaloupe and other melons 

Cucumber

Oats 

Barley 

Corn 

Wheat 

Rice 

Millet seeds (pearl millet)

Nuts & Seeds
Other 

Sunflower seeds 

Linseed (flaxseed) 

Peanuts 

Pecan nuts

Peppermint candies 

Popcorn

Mushrooms (check for mold)

Sugarcane (or sugar cubes)
You can also make a few treats for your horse. 
Recipe for Horse Bars
Ingredients
Instructions 

1 lb. flaxseed (linseed) 

½ cup whole oats 

½ unsweetened apple sauce 

2 tbsp. cinnamon powder 

2 tbsp. pecan nuts, chopped 

2 cups hot water 

Preheat your oven to 350℉. 

Mix the ingredients in a bowl. 

Add the hot water and mix until the ingredients are well combined. 

Line a baking tray with parchment paper, or use cooking spray. 

Spread the dough evenly on the parchment paper and cut into squares or fun shapes with cookie cutters. 

Bake for 60-70 minutes. 

Store in an airtight container once cool. 
Recipe for Horse Muffins  
Ingredients
Instructions 

¼ cup ground flaxseed (linseed) 

½ cup molasses 

¾ cup warm water 

2 cups oat flour 

2 cups oats 

1 tsp. pink Himalayan salt 

½ tsp. cinnamon powder

1 cup berries (strawberries, blackberries, and/or raspberries) 

Preheat your oven to 375℉.

Spray a mini muffin pan with cooking spray. 

Soak the flaxseed in warm water until it becomes swollen and sticky (usually overnight).

Add all the ingredients, except for the berries, to the flaxseed. 

Scoop the batter into a mini muffin pan. 

Press a berry or two into the middle of the batter. 

Bake for 18-20 minutes. 
Tips for Feeding Horse Treats 
When feeding your horse treats, keep these tips in mind: 
Don't feed horse treats when your horse demands it. This spoiled behavior can lead to biting, and you want to remain in control of when and how you feed treats. 

Choose easy-to-feed horse treats that are safe and in the right size so your horse doesn't choke. 

Feed one treat at a time so your horse doesn't get greedy and gobble too many treats that can cause them to choke. 

Always feed with an open hand away from your body so your horse doesn't – accidentally – bite your fingers. 

Inspect all treats for signs of mold, and don't feed these to your horse. 

Treat your horse to various snacks to keep things interesting for them. 
FAQs
Question: What special treats can you give a horse? 
Answer: Special treats for your horse include commercial treats you buy at your tack shop or an online retailer like Amazon or horse-friendly human food, such as carrots, peppermints, berries, pumpkin, melons, sunflower seeds, pecan nuts, and popcorn. You can also make muffins, cookies, bars, and hanging treats for your horse. 
Question: What treats are unsafe and toxic to horses? 
Answer: Unsafe and toxic treats for horses include avocados, cauliflower, cabbage, broccoli, potatoes, rhubarb, chocolate, coffee, tea with caffeine, soft drinks that contain trimethylxanthine, onions, and tomatoes. 
Question: What treats can you give a picky horse? 
Answer: Using trial and error is best when you have a picky-eater. Try firm favorites like apples, carrots, grapes, cucumber, celery, peppermints, and pecan nuts, and see what your horse likes. 
The Last Horse Treat
You can keep your horse entertained and guessing with the variety of available horse treats. Mix horse-appropriate human foods and commercial treats, and see what's best for your horse and your budget. I also like baking and experimenting with horse-friendly ingredients and making delicious Moonshine muffins, bars, cookies, and hanging treats.
Learn more about horse care with this detailed horse ownership guide so you can give your horse the love and support they need.