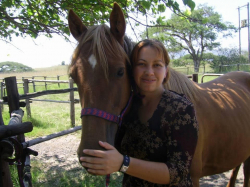 Latest posts by Talitha vanNiekerk
(see all)
When you finally make the leap and get your own horse, you end up with an unanticipated chore—mucking their stall. Until you get to do this task yourself, you've probably never given it a second thought. You may have paid a groom to clean the stalls at the yard where you learned or where your horse was initially stabled.
But when you bring your horse home, it's up to you to keep their stall clean and hygienic. It's time to learn how to clean and maintain your horse's stall, or as I tell my students: "Time for stall mucking 101."
Bottom Line Up Front
To clean your horse's stall effectively, you will need to make a decision about the type of bedding material you will use, as well as what tools and products you need to keep their stall nice and clean.
Here are the best products and tools to invest in and also the best bedding types to consider: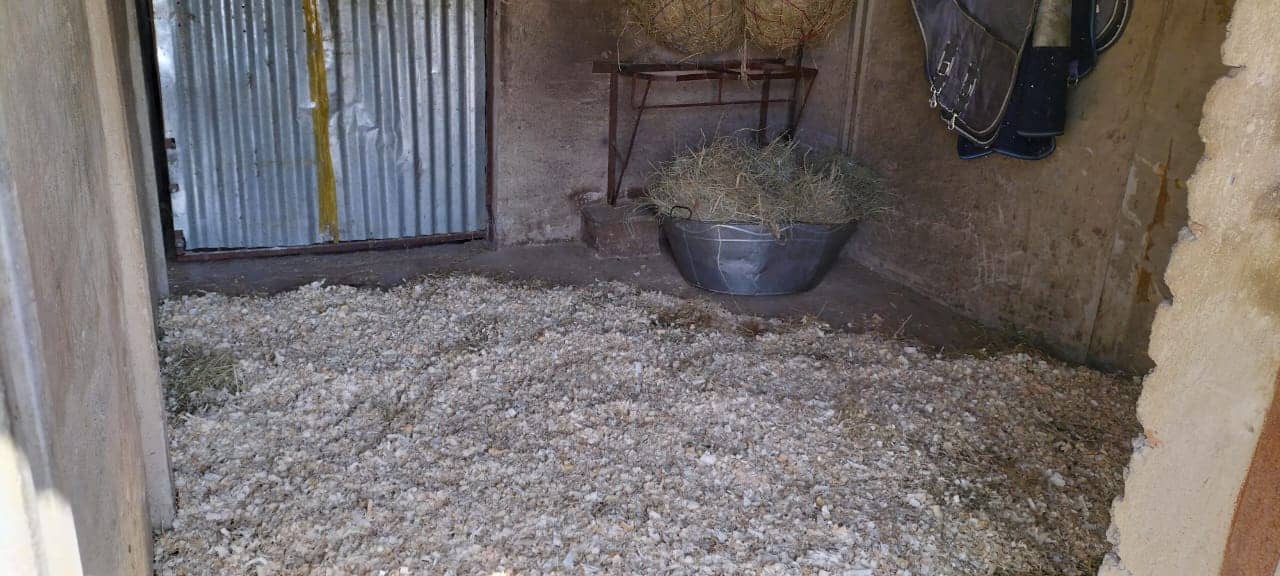 Method of Cleaning a Stall (aka Mucking Out)
Cleaning a stall isn't a fun job, but it's really vital to ensure your horse remains healthy and prevent conditions such as foot rot, greasy heel, and mud fever from spreading. While everyone has their own unique approach, the goals remain the same:
Remove urine-soaked bedding and poop balls.

Clean and dry the floor.

Ventilate the bedding to dry it and destroy any bacterial buildup.

Spread the bedding evenly to ensure sufficient padding for the horse's hooves and legs.
Steps for Cleaning a Stall
Ready to get your hands dirty? Okay, so you don't have to since I'd recommend wearing gloves when cleaning a stall.
Here are the steps to muck out:
Remove the water bucket

. Wash it, and leave it in the sun to dry.

Use the muck fork, spade, or rake to scoop up large patches.

Collect urine-soaked bedding and manure, and place these in the wheelbarrow to remove to the muck heap.

Rake any unsoiled bedding aside

. Open the area where the horse most constantly urinates or defecates. (Most horses have a poop or pee spot that is the most heavily soiled, and this is where the worst waste will be.)

Air it out.

Allow the area where the horse pees and poops to dry out while you focus on the remaining bedding.

Pick the remaining bedding.

For a quick clean, you can roughly drag the rake through the rest of the bedding, scooping any dropping balls aside to add to your wheelbarrow.

For a thorough clean.

If you are doing a thorough clean, work from the outside to one side of the stall, diligently removing any droppings and wet bits of bedding until you only have clean and unspoiled bedding remaining.

Use a stable sanitizer.

To ensure the stall and bedding remain hygienic, you can use a stable sanitizing powder or opt for a basic solution in scattering diatomaceous earth (aka Fuller's Earth or DE) on the stable floor. Concentrate on the pee spots.

Saving bedding

. For a stable that's got loads of bedding material that's partially soiled, you can mix some DE into the bedding to help dry it out and sanitize the material by killing any bacteria or insects like lice.

Dry the stable

. Once you have cleaned the whole stall, you can leave the stall for as long as possible to dry out fully.

Neaten up the stall.

Rake the bedding to form a central bed that covers the whole of the stable floor or at least the areas where the horse will spend most of their time. The bed should be a minimum of six inches thick to pad the floor under your horse's hooves and prevent wear on their joints.

Top up the bedding.

If your horse's bed is getting thin, add additional bedding. You can add this as a top layer or mix it through the existing bed to freshen up the bed.

Add water and hay

. Replace the bucket and fill it with fresh drinking water, ensuring your horse has enough hay to get them through the night or until the turnout time.
Stall Bedding Options and Cleaning Tips
The type of bed you choose for your horse's stall will greatly influence how you clean their stall and what the cost of mucking will be.
| | |
| --- | --- |
| Bedding | Cleaning Tips |
| Sawdust Beds | Use a spray bottle with water to lightly spray and reduce dust before raking. |
| Wood and Paper Shreds | Add extra DE to dry out paper. |
| Hay and Straw Bedding | Add some sawdust on pee spots to prevent urine running all over the stable floor (under the hay or straw). |
| Pellet Beds | Use a pond rake to remove manure clumps. |
| Rubber Mats | Only add a softer bedding material in the area where the horse lies, and wash the mat with a garden hose when mucking out. |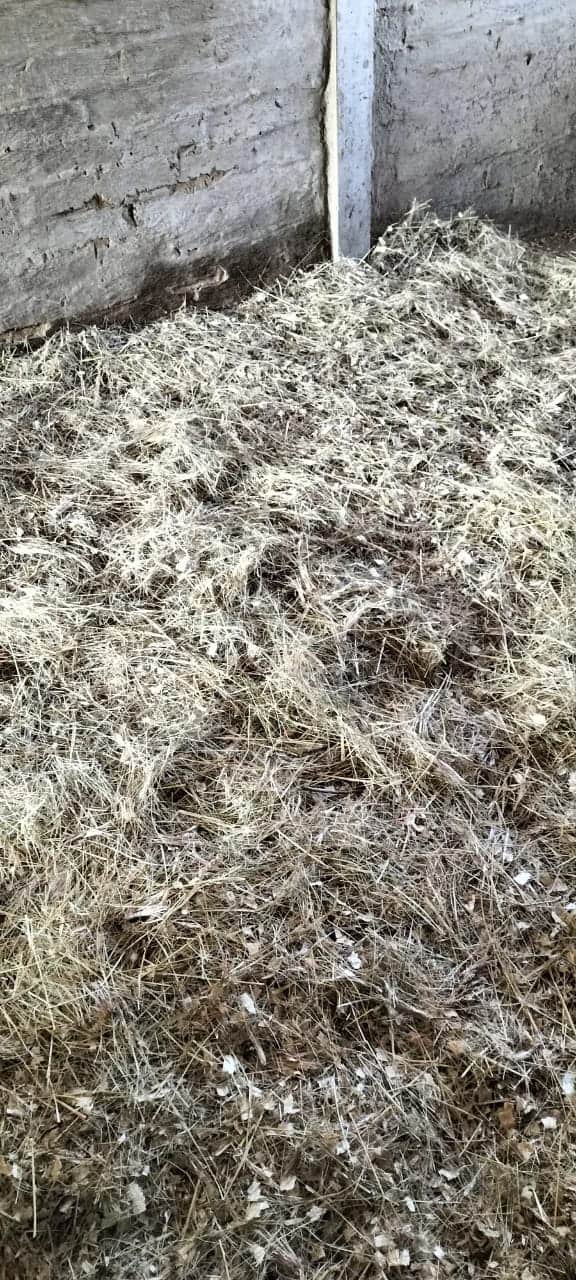 Best Stall Muck Out Products
When you want to keep a clean stall, you have to invest in the best products to help you muck out effectively and with as minimal wastage as possible.
Manure Fork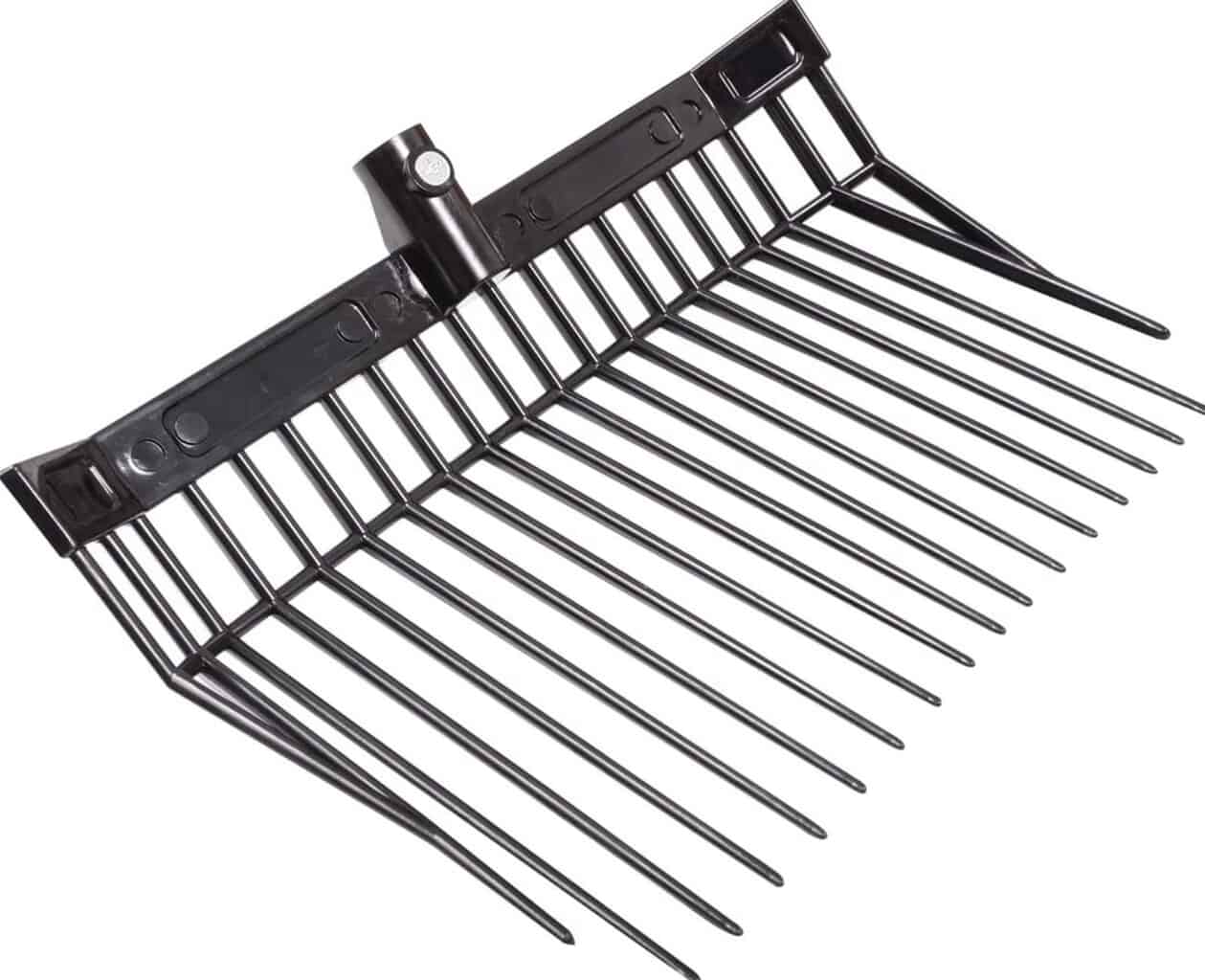 An effective manure fork is a simplistic tool, but it's vital for cleaning without creating a bigger mess than you had before you started. The Cashel Manure Fork is sturdy and will last you many years.
You want a manure fork that's wide, not too heavy, and has teeth at the right angle for separating and scooping heavy poop from the bed.
Pros
Made from flexible and reinforced plastic

Teeth are flexible enough to scoop poop in the paddock too

Great price and lightweight at less than 1.2 pounds
Cons
The fork isn't steel, so the teeth can break

Only the head is included, and finding a sturdy handle can be challenging
Manure Spade
In the stall, you need a specialized spade that is designed to act like a ladle to pick up the poop balls as you rake them in with the fork or a leaf rake.
The Mipcase Manure Spade Head is ideal for the stable yard. From harrowing a patch in your paddock to cleaning your stable, the Mipcase Manure Spade works well to collect manure and urine-soaked bedding. Pair it with a great rake.
Pros
Wider head to help collect manure

Lightweight to transport between stalls

Made from quality iron for sturdy construction

Sharper edge helps in collecting and scraping manure that's been pressed into the stall floor
Cons
No handle included

The iron will rust if not cleaned after each stall mucking session
Heavy-Duty Broom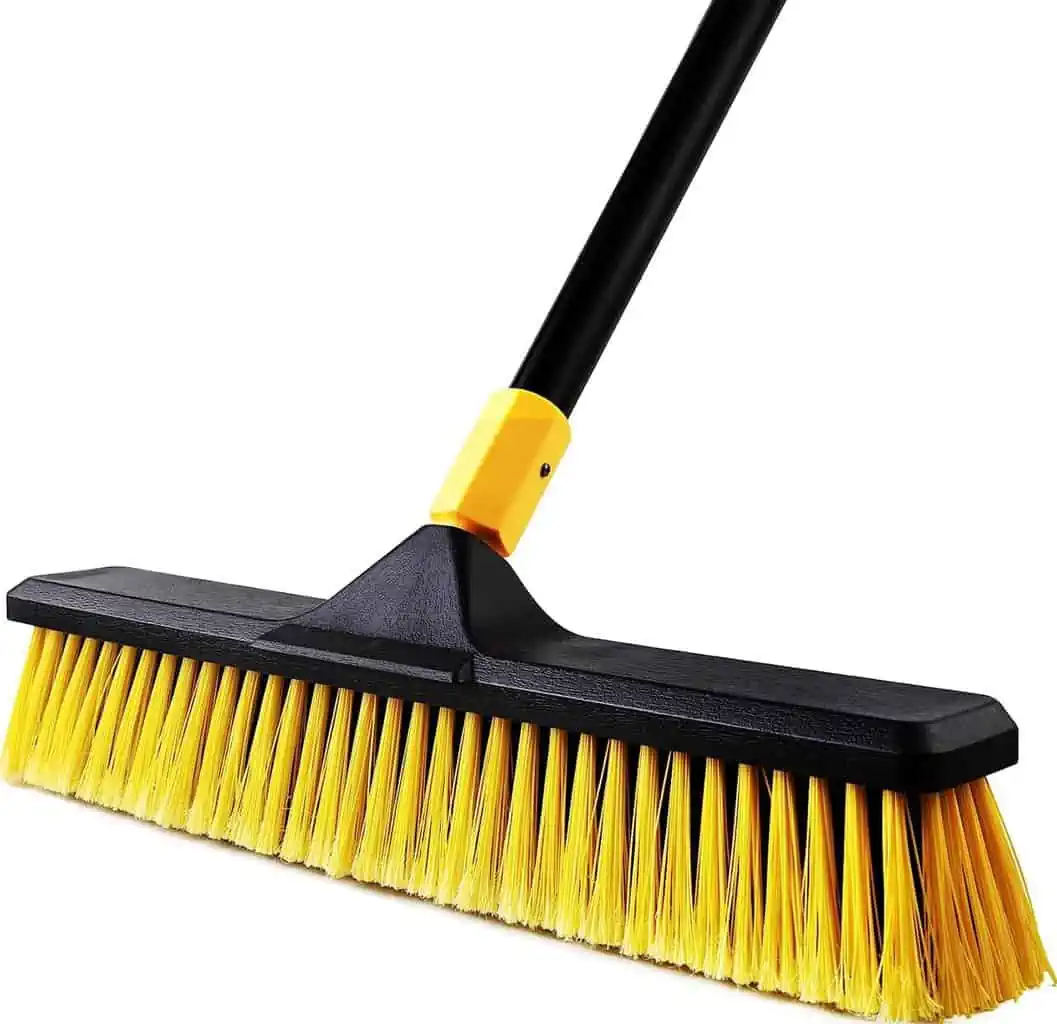 Mucking out produces copious amounts of dust. To keep the dust down and clean any exposed surfaces, you will need a heavy-duty broom to sweep dust and even soiled bedding. The Yocada 18 Inch Push Broom is ideal for just this job.
Pros
A wider and thicker head for maximum sweeping area coverage

Firm bristles are ideal for concrete floors

Can be used to sweep walls

Great price

Iron pole is adjustable for different height users, saving your back
Cons
Doesn't make you fly like

Harry Potter

Some of my friends say the handle is a bit uncomfortable, but changing the handle is not a big deal
A Great Wheelbarrow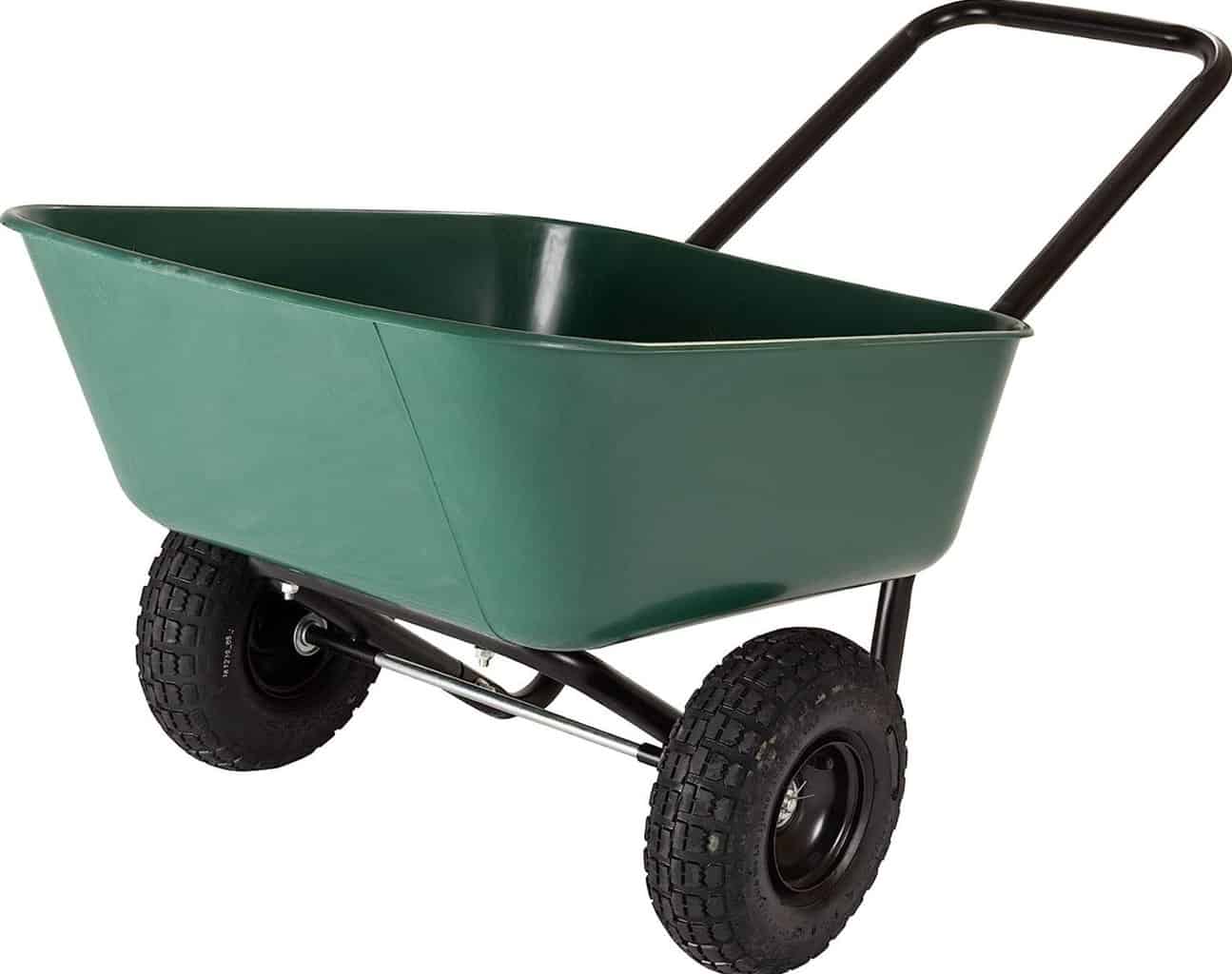 While you can use whatever wheelbarrow is available at your stable yard, a great wheelbarrow is a vital part of your mucking out kit. The Garden Star 70019 Garden Barrow Dual-Wheel Wheelbarrow is a really nice partner for the poop-collecting job.
Pros
Very maneuverable

Large enough load for one messy stable or two moderately clean ones

Can tip forward to rake the poop into the load area

Affordable

Easy to assemble

Lightweight enough for anyone to use, even the kids (if you can get them to help)
Cons
Shorter handle, which is not ideal for tall people

Tires need inflation, so keep a socket on hand to remove the wheels if you don't want to take the whole wheelbarrow to the gas station.
Diatomaceous Earth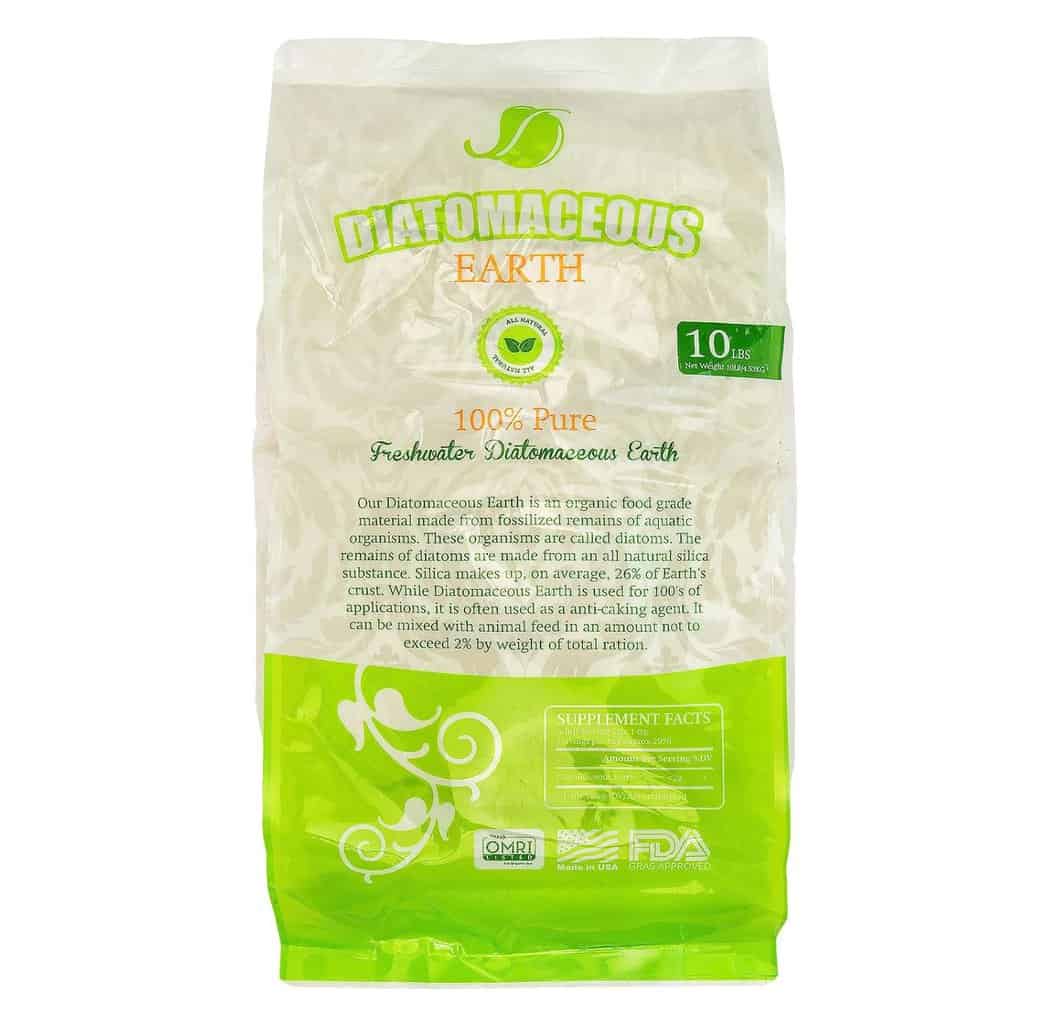 My secret ingredient for a cleaner stable with a bed that lasts longer and stays drier is to add diatomaceous earth, and any quality will do. I often use Diatomaceous Earth Food Grade as it's widely available and relatively cost-effective.
Pros
Fully organic, so no harmful chemicals

Dries liquid and prevents smells

Kills stable lice and ticks

Horses can ingest it without any danger (some riders feed it to their horse)
Cons
The powder gets everywhere, so watch out when wearing those costly Ariat boots or breeches

Wearing a mask is recommended until the powder settles onto the floor
When to Clean a Stall or Muck Out
Beginner horse owners are always surprised by how often you need to clean your horse's stall and muck out. The answer to how often you should muck out depends on how much time your horse spends in their stall and each horse's hygiene habits.
Horse Hygiene Habits
Frequency to Clean
The Clean Queen

– poops and pees in one spot

Half muck out in the morning

Full muck out once a week

The Poop Princess

– marches through manure, turning bed into fertilizer

Full muck out every morning

Light muck out in afternoon

Heavy dusting with DE

Stan the Stallion

– builds a stallion pile and urinates in same spot

Scoop up manure pile and remove urine each morning

Full muck out as needed
Golden Rule: If you don't want to sit in the bedding, don't expect your horse to spend time in it either. So keep the stall as clean as possible for a healthy and happy horse.
Muck Out Your Stall, Not Your Wallet
One of the biggest concerns of horse owners is how to save on costs. We'd rather buy pretty tack than spend money on extra bedding, especially if we don't have to.
You can save money when mucking out; here's how:
Build a mixed bed

. Recycle old hay (not when moldy) and mix it with sawdust for a thick bed that saves money. Reduce sawdust bill by 50%.

Sell muck

. Bagging your horse's manure while mucking out can bring in some cash if you can sell this to local gardening fanatics.

Use a muck bed

. Manure is basically grass, and when it dries, it forms a fibrous bed that is absorbent and soft. The trick is drying it. Add some DE to keep it clean and hygienic.
FAQs
Question: What does mucking stalls mean?
Answer: When you muck out a stall, you clean the stable, removing any animal droppings and urine so the stable remains clean and hygienic. The process usually includes replacing the bedding material so the floor is covered. 
Question: How often should you muck out a stall?
Answer: Stalls for horses are typically mucked out at least once daily, usually in the morning. When horses spend more time in their stalls, some stable yards will muck out twice daily to reduce odor and flies. 
Question: Which tool is best to muck a stall?
Answer: A muck fork or manure fork is best for cleaning stables or stalls of animal waste. The fork is different from regular forks and has more tines, which means the bedding sifts through, leaving the manure in the shaped "basket" of the fork. 
Conclusion
Mucking out is not the most exciting job; you likely want to do it as quickly as possible. Remember to remove large clumps of manure and deal with the pee spots, and the rest of the stable will become more manageable.
Ensure you have the right tools so you can work effectively.
Oh, and if you're wondering, who keeps the cleanest bed? It's stallions, of course. Stallions make a stallion pile (a great heap of manure) that's easy to remove, and they usually urinate right next to that too. Learn more about stallions in my guide to stallions.
Read More: Horse Ownership Guide